2 photos: U.S. Army Africa conducts MEDRETE 15-1 in Burundi
2 photos: U.S. Army Africa conducts MEDRETE 15-1 in Burundi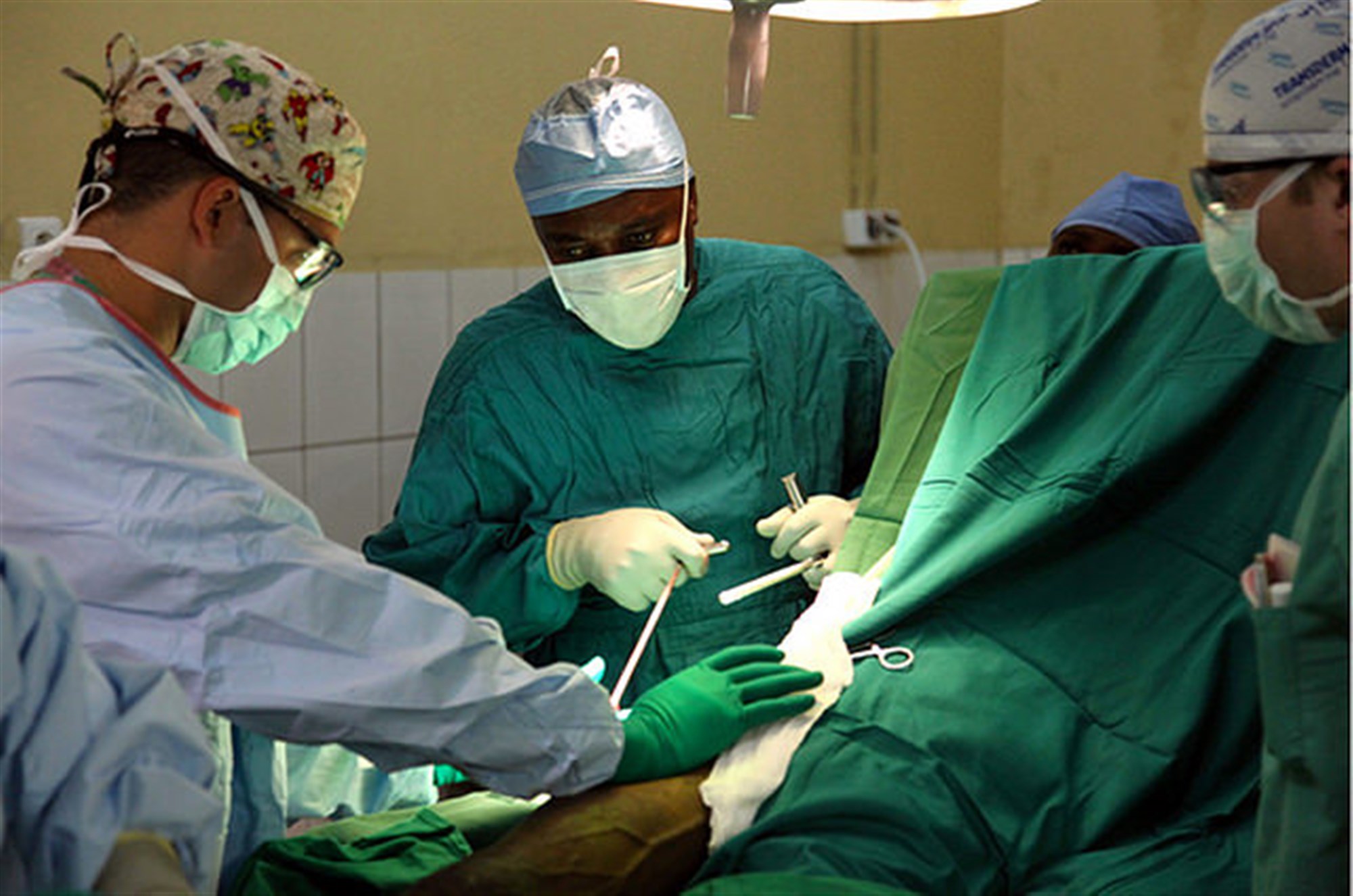 Eleven U.S. Army Soldiers from the William Beaumont Army Medical Center Fort Bliss, Texas and three U.S. Army Reserve Soldiers from the 7th Civil Support Command's 2500th Digital Liaison Detachment partnered with Burundi National Defense Force doctors and medical support staff at the Kamenge Military Hospital during a U.S. Army Africa/U.S. Embassy-Burundi joint Medical Readiness and Training Exercise Jan. 19-30, 2015.
"In general things are going well," said U.S. Army Maj. James Blair, orthopedic trauma surgeon, WBAMC, Fort Bliss, Texas and a Brooklyn, Conn. native. "We've seen some very bad injuries and different ways of treating them. We've shared our knowledge and thought process in treating similar type of injuries."
Blair has participated in two other MEDRETEs in Honduras, 2010 and 2012.
Partnering
U.S. Army Col. Patrick Cook, vascular surgeon, WBAMC, medical officer in charge for MEDRETE 15-1 and native of Walnut, Calif., said the concept behind the training is to give active-duty medical professionals the opportunity to provide medical care in an austere environment and share medical concepts, techniques and strategies with Burundian counterparts.
MEDRETE 15-1 was designed for the medical professionals from both militaries to build and strengthen medical capacity and allow the U.S. medical team to train in an alternatively resourced environment, to share medical procedures and enhance Burundi's military healthcare system's ability to deliver effective general surgery and trauma response in support of regional, United Nations and African Union missions. "We sometimes think the way we do things is the right and the only way to do things and here the majority of their techniques in treating patients work well for them," Blair said. "It gives us an appreciation for the skill set they have."
It's all about logistics
The 2500th DLD Soldiers operated as the MEDRETE 15-1 mission command element. They provided command and control, logistics support, movement control and mission planning for the U.S. medical team during the exercise.
"We had delayed baggage but that was easily resolved after a week," said U.S. Army Sgt. 1st Class Carl Turner, the noncommissioned officer in charge of the MEDRETE 15-1 MCE from the 2500th DLD, 7th CSC and a Brooklyn, N.Y. native. "We had some [medical consumables] on hand from [a] previous MEDRETE. We did cross loading of medical supplies that allowed the medical team to execute their mission."
Turner, who completed a combat jump into Iraq in March 2003, was on his third MEDRETE; he also participated in MEDRETE events in Benin and the Congo in 2013.
In addition to logistical and movement support the 2500th DLD liaisoned with the USEMB-Burundi country team and also facilitated purchasing of humanitarian civil assistance for donation to the Kamenge Military Hospital.
"We spent more than $6,000 on humanitarian civil assistance funding for medical supplies," Turner said. Academics
The U.S. Army medical team also conducted academic classes with local medical personnel, where subjects included vascular trauma, orthopedic surgery and advanced trauma life support concepts.
"I think it's been a very educational and a rewarding experience, Cook said. "The medical professionals are well trained and competent and are only limited by their infrastructure and resources. I think it [MEDRETE 15-1] gives us and our international colleagues an opportunity to share knowledge."
Significant Event
The Director General of the Kamenge Military Hospital said MEDRETE 15-1 was an important event for his country.
"It is very important," he said. "They did a very good job working with them in the operating room. I am happy for this team that came. They the BNDF and the U.S. medical personnel work together. The patients are happy because they did a good job and we are very grateful for that. There was an exchange of experience."
In the future he would like medical providers to travel to the U.S. for additional training.
Closing Ceremony
MEDRETE 15-1 concluded with a formal closing ceremony on Jan. 30, attended by the U.S. Ambassador to Burundi and the Deputy Commanding General for USARAF.
"The United States Army is proud to partner the people of Burundi for this exercise," said Brig. Gen. Kenneth H. Moore Jr., deputy commanding general, USARAF and a Pulaski, Va. native, at the closing ceremony. "Thank you for having us in your country, we seek to help Africans solve African problems and develop capable partners to address challenges, such as those we trained on during this exercise. Moore concluded his remarks with an emphasis on good health and medical care is a critical part of life no matter what country or culture you're from.
"The bottom line is: It doesn't matter where you are from; it doesn't matter your language or background: basic health care is a essential part of a decent life," Moore said. "Hopefully, we brought something to your country these last two weeks during this exercise; the exchange of ideas and expertise, friendship and a lasting relationship between our two countries."