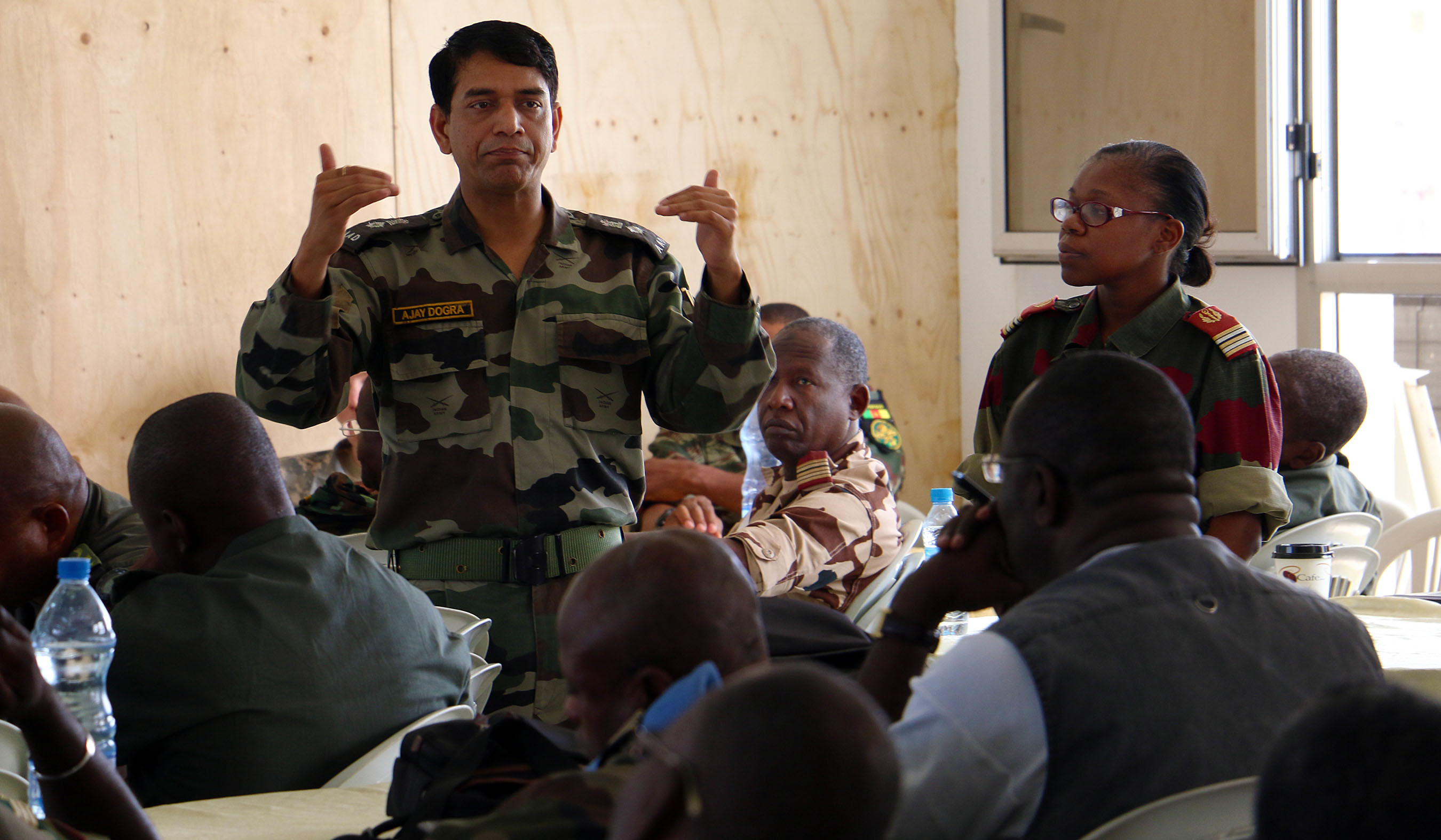 1 photo: Central Accord 2016
LIBREVILLE, Gabon (June 20, 2016) - To set up and sustain a U.S. Army Africa Accord-series exercise is no small task and Central Accord 2016 is the largest, most complex USARAF-led exercise to date. In addition to robust field training and command post exercises, the CA 2016 Joint Exercise Support Group also facilitates an 82nd Airborne Division parachute jump, two international jumps and two course iterations at the French Jungle Warfare school.
The JESG's support cell, 25 select U.S. servicemembers, will coordinate for and distribute an estimated 75,000 liters of water, 72,000 meals and 4,200 personnel transports over three weeks to support approximately 1,200 participants at four separate locations, according to Maj. Ryan Crosby, support cell officer in charge with the JESG.
"The biggest success I'd say we've had really is taking the adhoc team and bringing them together," said Crosby, who is also the support operations officer for 703rd Brigade Support Battalion, 2nd Infantry Brigade Combat Team, 3rd Infantry Division. "Even though most of the support [cell are] members of the 703rd Brigade Support Battalion, most of us hadn't worked together before."
According to Crosby, most of his team also hadn't operated in a support cell role previously, but are pulling together to drive forward in the same direction.
"I couldn't be happier with how they've all kind of pulled together here never having worked together before, never having rehearsed this mission," Crosby said. "It was challenging at first, but man, they have really rowed hard in the same direction."
As a battle noncommissioned officer in charge, Sgt. 1st Class Leilani Postell drives daily operations at the support cell. With over 500 exercise participants at two separate locations each and about 100 people at two others, the team of two dozen has to stay connected at all times.
"Right now we're supporting about 16 countries," Postell said about transporting personnel and supplies across their area of operations. "It's a lot of constant movement going back and forth. So, it's a lot of communication, but we're making everything work. If we don't have it, we find other ways to support them."
U.S. Army Africa's exercise Central Accord 2016 is an annual, combined, joint military exercise that brings together partner nations to practice and demonstrate proficiency in conducting peacekeeping operations. It is one of four regional Accords in addition to other missions 2nd IBCT is supporting this year on the African continent as the regionally allocated force for USARAF.
"We support all, we not only support U.S. forces. We gotta remember this is a bigger mission than ourselves," Postell said. "It's the most powerful thing when we put our heads together, its like we get things done really quickly..."
In order to reach logistical mission success, Crosby and his team coordinate efforts with their higher headquarters, 414th Contingency Contracting Battalion, representatives from the Defense Logistics Agency and the Central African nations present.
"We've had great support from our Gabonese partners," Crosby said. "I couldn't be happier with them and how they're giving us, really as guests in their country, all the support we could ask for."
Many U.S. paratroopers strive to jump with multinational partners. 82nd Airborne Division troopers will fly direct from Fort Bragg, N.C. and will first touch Gabonese soil by parachuting onto Pointe Denis, near Libreville. Once on ground, the support cell will put their plans into action and begin moving the other two airborne operations forward.
Crosby described each logistical detail required: moving troopers back and forth from the drop zone, both by bus and ferry, coordinating and overseeing parachute pick-up with 82nd Abn. Div. riggers, and emplacing medical staff and a safety team at the operational area, all while maintaining day-to-day operations for the main exercise.
He expressed his appreciation for support from the 82nd Abn. Div. planners and Gabonese partners who helped coordinate timelines and provided transportation assets.
"It was really daunting at first to look at that, but now I'm pretty happy," Crosby said about the overall logistical preparation and execution process for the airborne mission. "My planners and my transportation guys have done such a fantastic job setting this up. I think this is going to be a great operation."
In addition to combined airborne jumps, another primary logistical and sustainment focus throughout CA 2016 is Soldier welfare, not just to boost morale but also for overall health.
"The better we can control and make an environment where people can have reliable showers, have hand washing stations, are eating chow that has been supervised by a Department of Defense preventative medicine specialist, all those things mean that the Soldiers most likely will not get sick," Crosby said.
"Sure, we can do expeditionary operations, and we can go as austere as we want, but whenever we can get an opportunity to have a shower, have a Soldier sleep in a room that's a decent temperature, get [him or her] a meal they can consume right before they go into 12 to 14 hours of tough, realistic training, … that's obviously what we want to do whenever that's possible," Crosby explained.
A majority of those elements are monitored and related issues resolved by the camp's mayor cell, an element of Crosby's support team not often utilized during a typical U.S. Army brigade-level field training exercise. Conducting mayor cell and reception, staging, onward-movement and integration operations during CA 2016 has proved beneficial for 703rd BSB in preparation for this year's 3rd Infantry Division Warfighter Exercise 17-1 at Fort Stewart, Georgia.
"So the exercise itself will force us to take on exercise muscles that we haven't used in a while," Crosby said. "This has forced us to take a long look at where we're strong and where we're weak and where we can do better, help us improve our standard operating procedures … and come back with some really great lessons learned so we can do it even better next time."