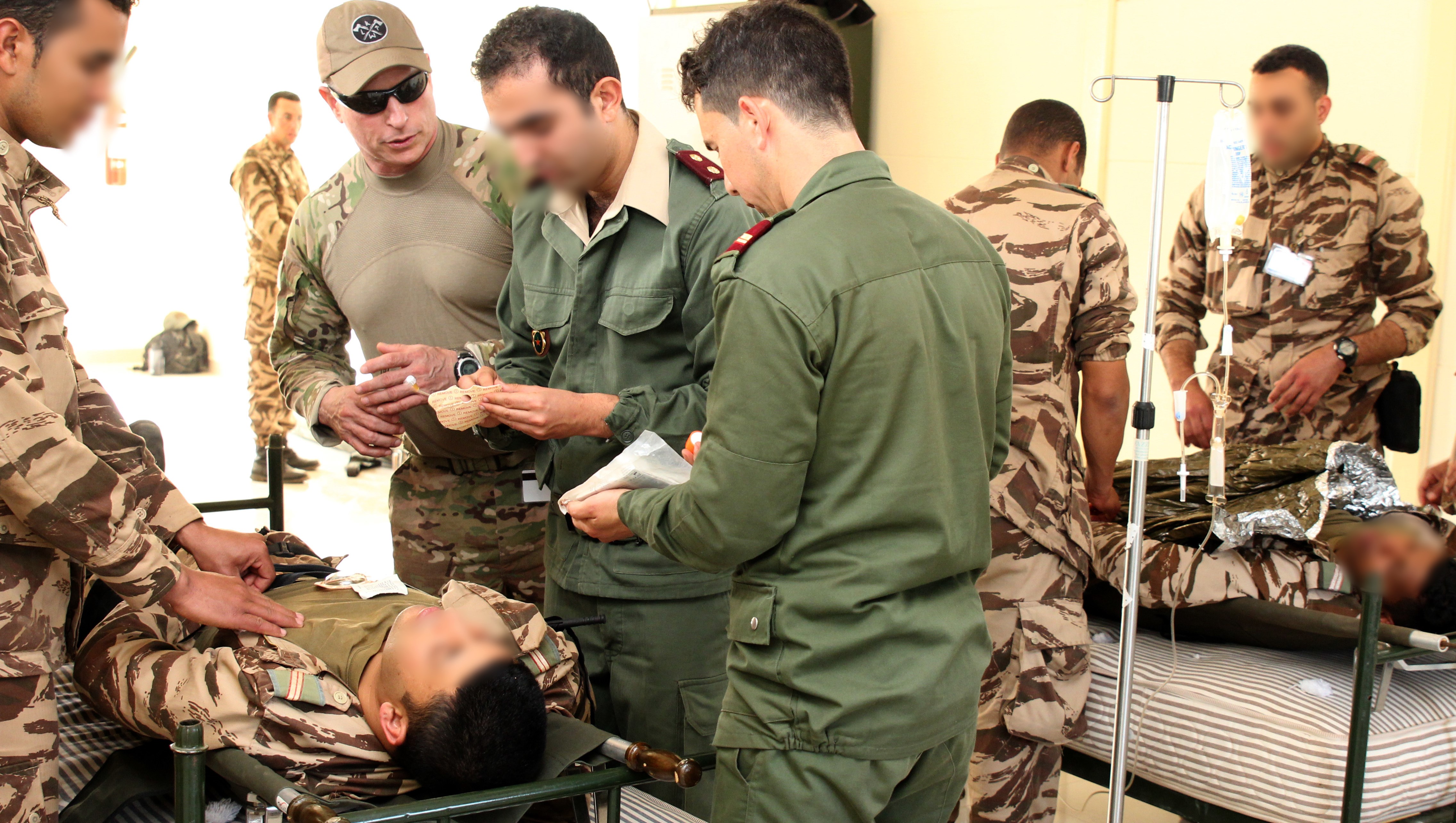 1 photo: Tactical combat casualty care training part of Flintlock 2017
SOUTHERN ZONE, Morocco – Through the sounds of wailing and questions from instructors, the steady voices of non-commissioned officers delivered orders to establish security and address trauma.
When high risk missions in isolated areas can mean days before an available evacuation, special operations forces units must be capable of handling a wide range of medical situations with as little assistance as possible.

Moroccan operators partnered with Marines from U.S. Marine Corps Forces, Special Operations Command to rehearse their procedures for tactical combat casualty care, from the point of injury to initial resuscitation and stabilization at a forward aid station. The training, which took place March 1, was part of Exercise Flintlock 2017, the largest special operations forces exercise in Africa which brings together over 2,000 personnel from 24 partner nations. The exercise focuses on developing capacity across the international network of SOF partners, enhancing interoperability and setting conditions for good governance across the Sahel.

A sergeant squad leader began the day's training by delivering a classroom lecture to his platoon, covering the step-by-step procedure used to assess and address battlefield trauma situations and demonstrating the procedures and related equipment at each step. The acronym guiding the procedure is SMARCH, for setting security, stopping massive hemorrhaging, clearing the airway, restoring respiration, establishing or supporting circulation and preventing the onset of hypothermia or the effects of a head injury. Battlefield-specific considerations were discussed for each of the steps and the sergeant demonstrated the components of each step on a volunteer from amongst the platoon.

The training changed gears and moved to a nearby training field so the squads could rotate through timed buddy aid drills which consisted of a soldier conducting a sprint to their downed comrade, establishing security and returning fire if appropriate before rendering aid. The drill was complete once a non-commissioned officer, officer or Marine partner concluded that the care procedure met standards.

Though still early in their existence, Moroccan special operations forces have trained to this vital battlefield skill many times and their proficiency showed as the training shifted again to scenario-level training. As the squads patrolled through a notional urban area, instructors painted casualties caused by small arms fire and snipers, requiring a coordinated security response and moving the casualties to cover and concealment for further training. Squad leaders transmitted casualty reports and requested ground casualty evacuation. Humvee trucks quickly arrived and Marine exercise partners watched on as the litters were loaded and patients were prepared for movement. The team of care providers at the company forward aid station met the trucks so the medical officer could assign the arriving casualties to appropriate levels of triage and initial resuscitation could begin.

Inside, the aid station staff directed litter bearers in placing the patients, assisting with equipment or assisting with procedures as needed. This part of the training provided a chance for the medical staff to rehearse the tactics, techniques and procedures relevant to battlefield trauma, reinforcing their own internal training conducted over previous days. The final challenge for the forward aid station personnel was a mass casualty scenario with multiple patients across the range of severity, some without the proper equipment such as stretchers, and a chaotic emergency room environment caused by distracting, emotional role players.

"They performed relatively well under the circumstances and with their previous training and our expectations. They had been given explanations and demonstrations, and this was the first time they had done a scenario –based practical application of this type," said a medical trainer from Special Operations Command Africa. "Trying to draw off of the examples we showed them of our aid station, they reorganized the staging of their equipment and supplies to be better prepared to respond."

Exercise Flintlock 2017 runs Feb. 27 through March 16. Throughout the exercise, MARSOC Marines and their Moroccan peers will train together, refining tactics, techniques and procedures across multiple full mission profiles. The two forces will specifically train on small unit tactics, weapons training and fire support, lifesaving first aid and trauma care, command and control and force protection. The improved interoperability will help the two partners share the burden of countering the regional threat of violet extremism.