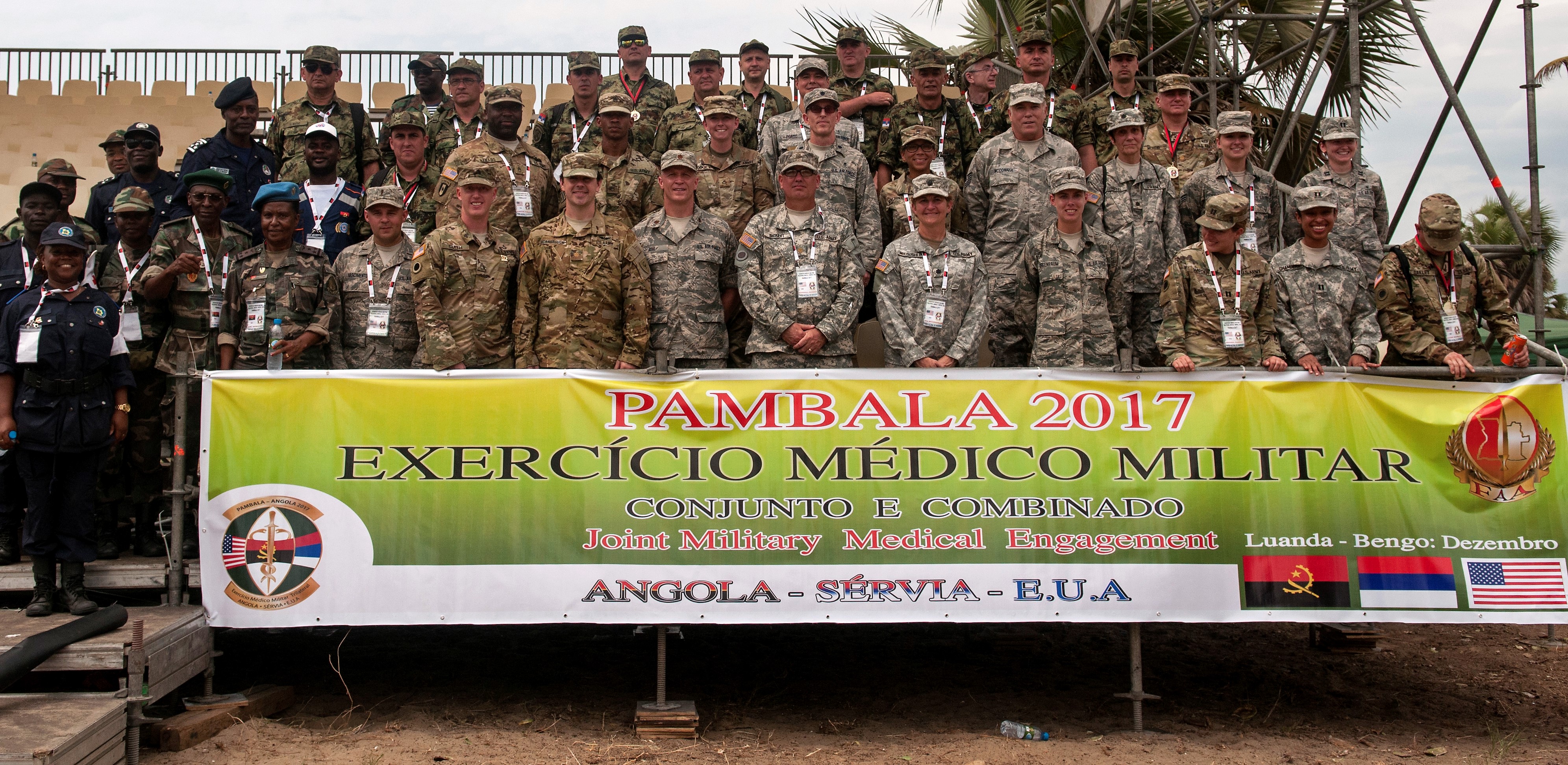 1 photo: Preventive Medicine Unit Supports AFRICOM Trilateral Medical Exchange in Angola, First-Ever for U.S.
PORTSMOUTH, Virginia - In support of a United States Africa Command (AFRICOM) trilateral medical exchange, U.S. Navy Environmental Preventive Medicine Unit Seven (NEPMU-7) deployed their preventive medicine officer to Angola to deliver preparedness and response training for outbreaks of Ebola and other viral hemorrhagic fevers , Dec. 2 - 10, 2017. The medical training was a key component of the two-week trilateral security cooperation engagement, Exercício PAMBALA 2017, involving the Armed Forces of Angola, Serbia and the United States.
Exercício PAMBALA 2017 represented the first time that the U.S. has been invited to participate in an engagement such as this in Angola – a historic step in forming new partnerships and enhancing interoperability.
"This combined medical exchange gave us an opportunity to assist Angola's military to prepare for serious public health threats, and to build partnership with their military and health institutions," said Lt. Col. Chris Kimball, AFRICOM state partnership program coordinator.
Lt. Cmdr. Jason Rice, preventive medicine officer, NEPMU-7, teamed up with Dr. Michael Owens, director of the Global Emergency Preparedness & Disaster Response Fellowship, U.S. Naval Medical Center Portsmouth, to facilitate the training of 48 military and military-affiliated participants who fill key roles in Angola's outbreak and disaster response efforts.
"I am honored to have had been chosen to participate in such an incredibly valuable event, in support of AFRICOM's ongoing effort to foster new relationships and improve the capacity of our partners to respond to these types of global health threats; and also for the opportunity to be a part of such a unique trilateral engagement between the Armed Forces of Angola, Serbia and the U.S.," said Rice.
The workshop prepared Angola's newly formed Pandemic Rapid Response Team to quickly respond to regional or national infectious disease outbreaks of public health concern. Participants included medical personnel from all branches of the Angolan Armed Forces, Ministry of Health, National Police, National Civil Protection and Fire Service, and National Institute of Medical Emergencies; as well as three participants from the Serbian National Army and observers from the Armed Forces of South Africa, Mali, Cote d'Ivoire and Portugal.
Lessons within the training focused on highly contagious hemorrhagic diseases such as Ebola, Marburg, Lassa fever, Rift Valley fever and Yellow fever, but were taught with an all-hazards approach that can be applied to any infectious disease outbreak as well as other chemical or biological hazards.
"This engagement with Angola helped augment the nation's capability to fight infectious diseases, and created momentum within local authorities and health professionals to build a reliable system that will be extremely beneficial to the local population," said U.S. Air Force Staff Sgt. Flavio Porto, training team member and translator.
Practical application and hands-on, simulated scenarios were exercised throughout the week to supplement didactic presentations on national and global table-top planning, response and mitigation concepts, which included experts from the United States Agency for International Development (USAID) and Centers for Disease Control and Prevention (CDC).
Rice and Owens offered the participants valuable real-world insight as a result of their experience in Liberia during the Ebola outbreak of 2014-2015 and provided the tools to effectively respond to the next potential outbreak in Angola or its neighboring countries.
Additionally, Angolan Infectious Disease specialists provided training to U.S. and Serbian service members on endemic tropical diseases such as Malaria, Dengue, Leptospirosis and Schistosomiasis; and Angolan, Serbian and U.S. providers teamed up to deliver medical care to the local population of two villages in Angola's Bengo Province.
"Our instructors provided the Angolan military and civilian medical professionals with valuable infectious disease control principles, with the goal of promoting military-civilian partnerships in their health and security communities," said Kimball.
At the conclusion of the exercise, the participating nation's military, police and emergency response personnel simulated a large-scale infectious disease outbreak and demonstrated their response and containment plans for a hemorrhagic epidemic.
"We were extremely encouraged by the success of the training and the team's dedication to strengthen their outbreak response efforts, as the Armed Forces play such a critical role in the national and regional control of these types of hemorrhagic diseases," said Rice. "We greatly appreciate having the opportunity to work alongside and learn from our Angolan hosts, and look forward to furthering this relationship through future medical engagements."
NEMPU-7, located in Rota, Spain, provides theatre-wide preventive medicine support to Navy and Marine Corps forces and joint and combined military operations throughout Europe, Africa and the Middle East. Whether it's a request for information or a request for forces, the team's highly skilled and trained professionals are always ready.
For more information on NEPMU-7, visit http://www.med.navy.mil/sites/nmcphc/nepmu-7/Pages/default.aspx