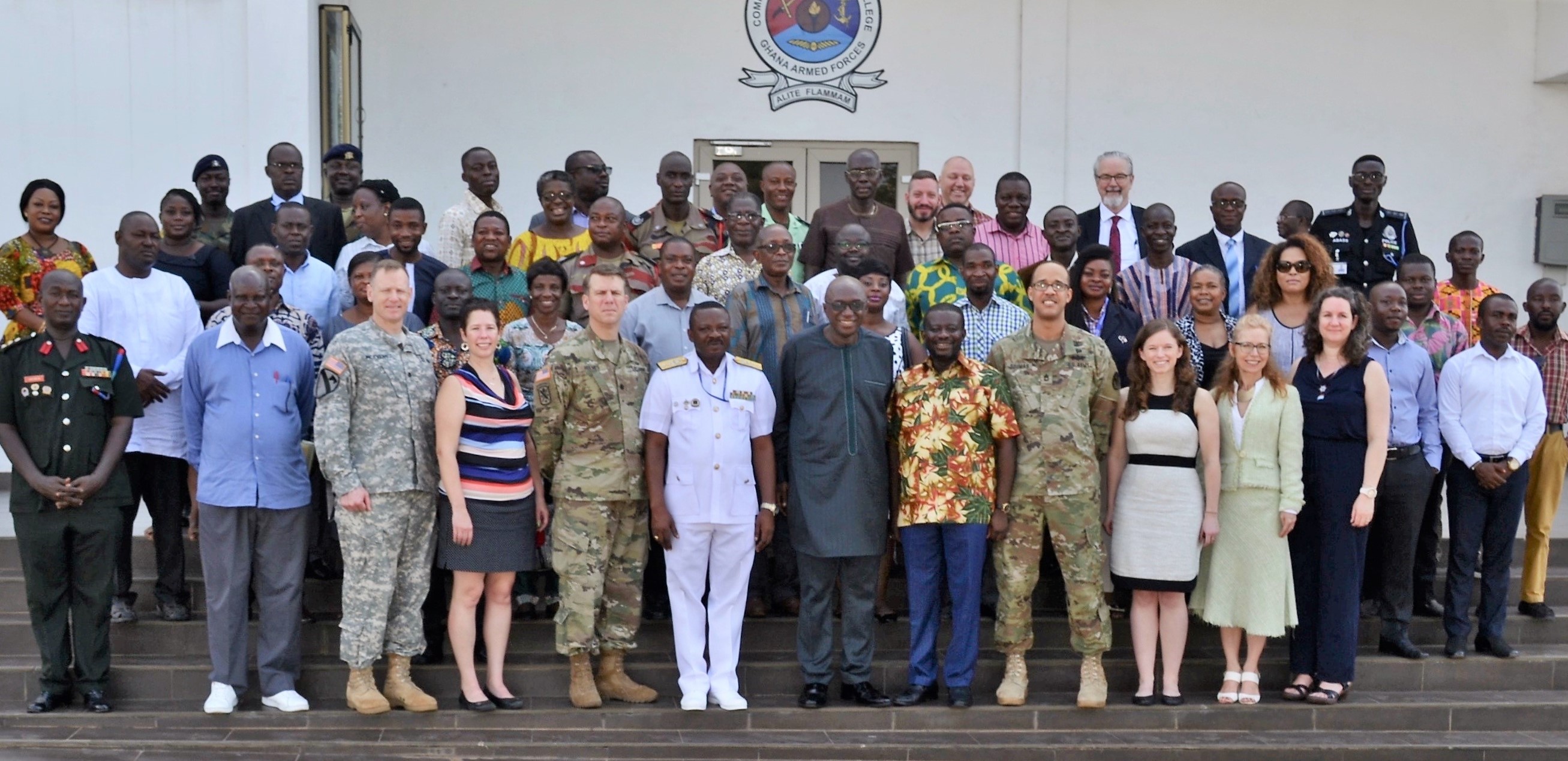 5 photos: United States Africa Command Image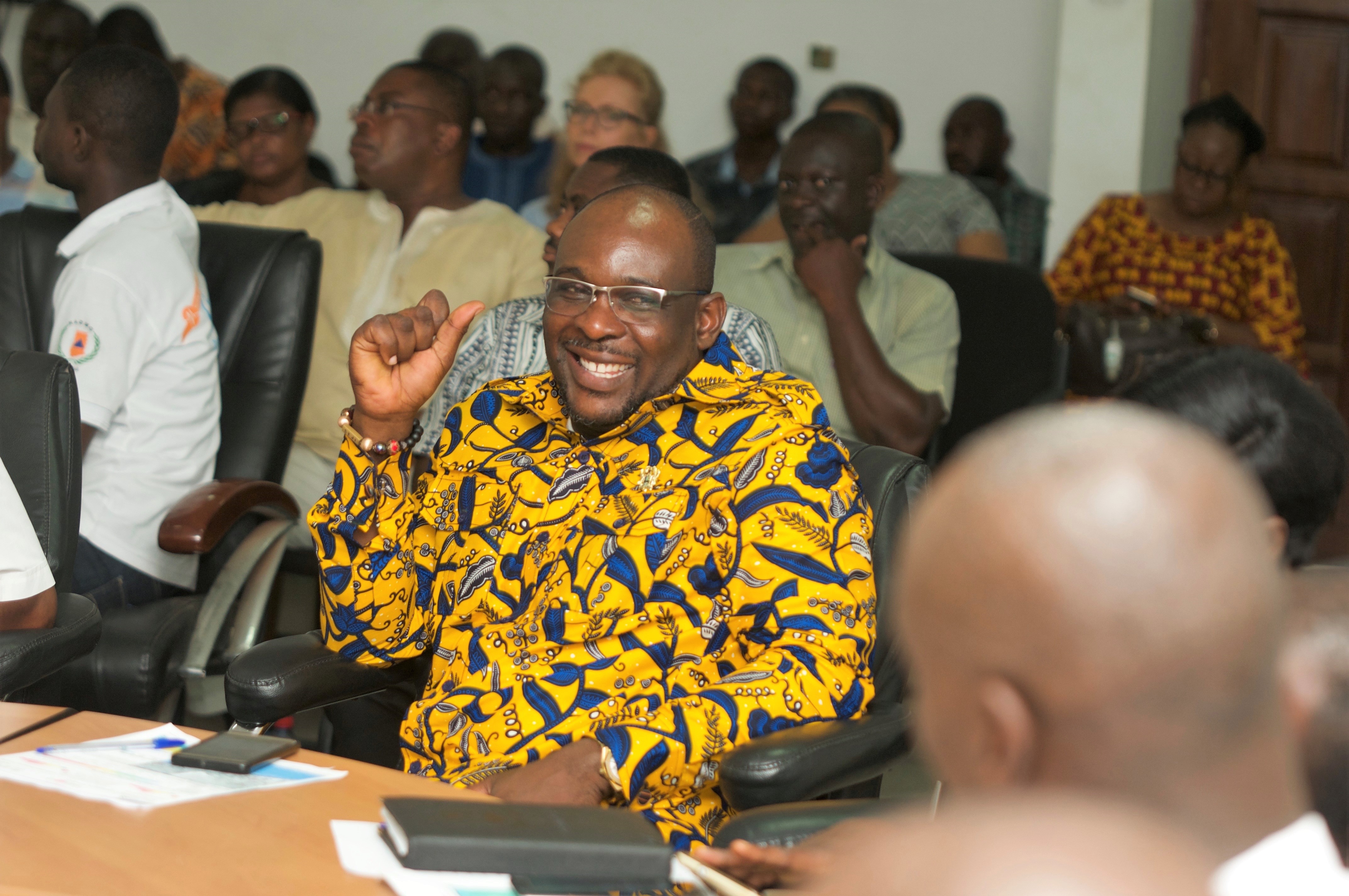 5 photos: United States Africa Command Image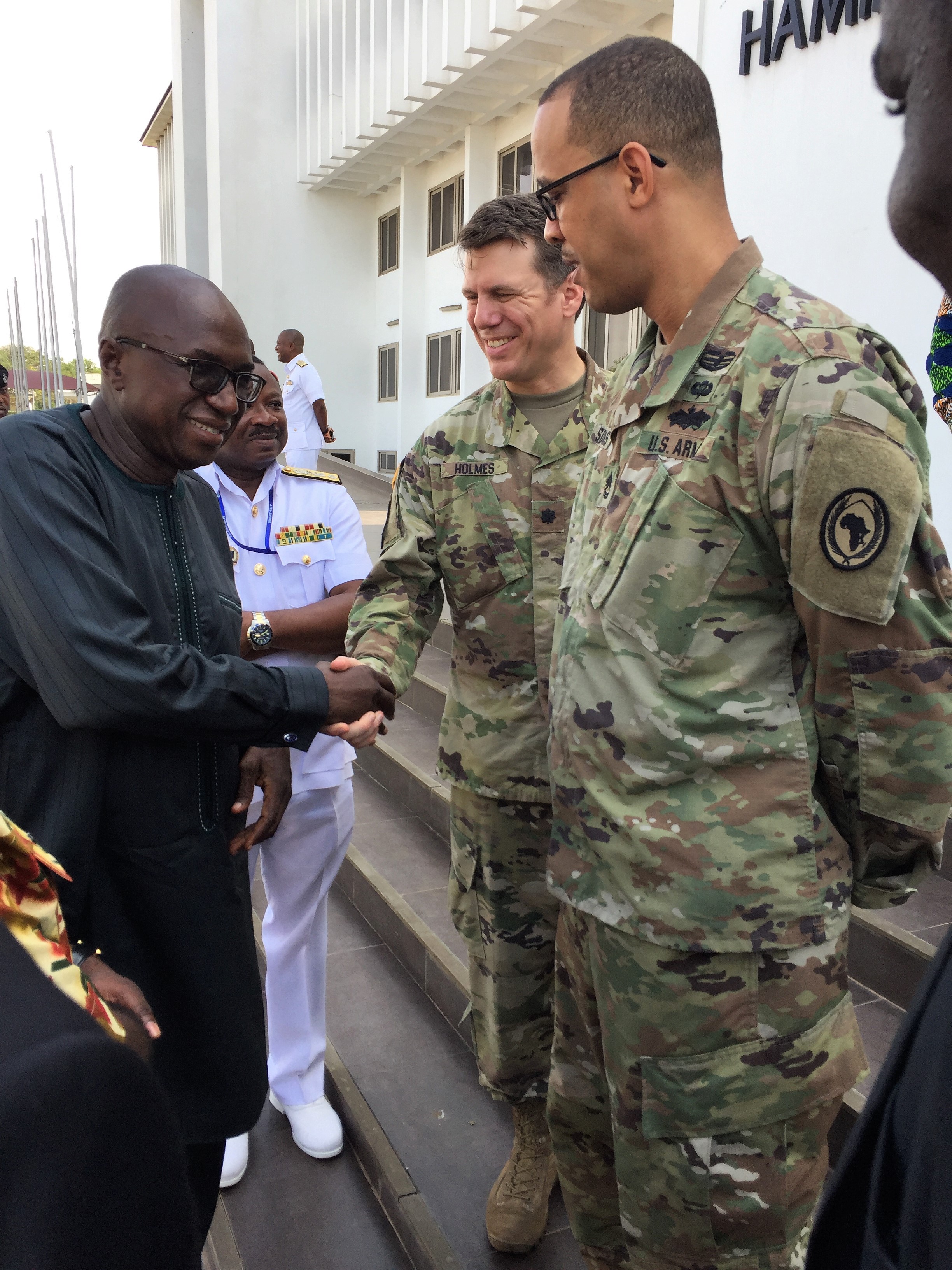 5 photos: United States Africa Command Image
5 photos: United States Africa Command Image
5 photos: United States Africa Command Image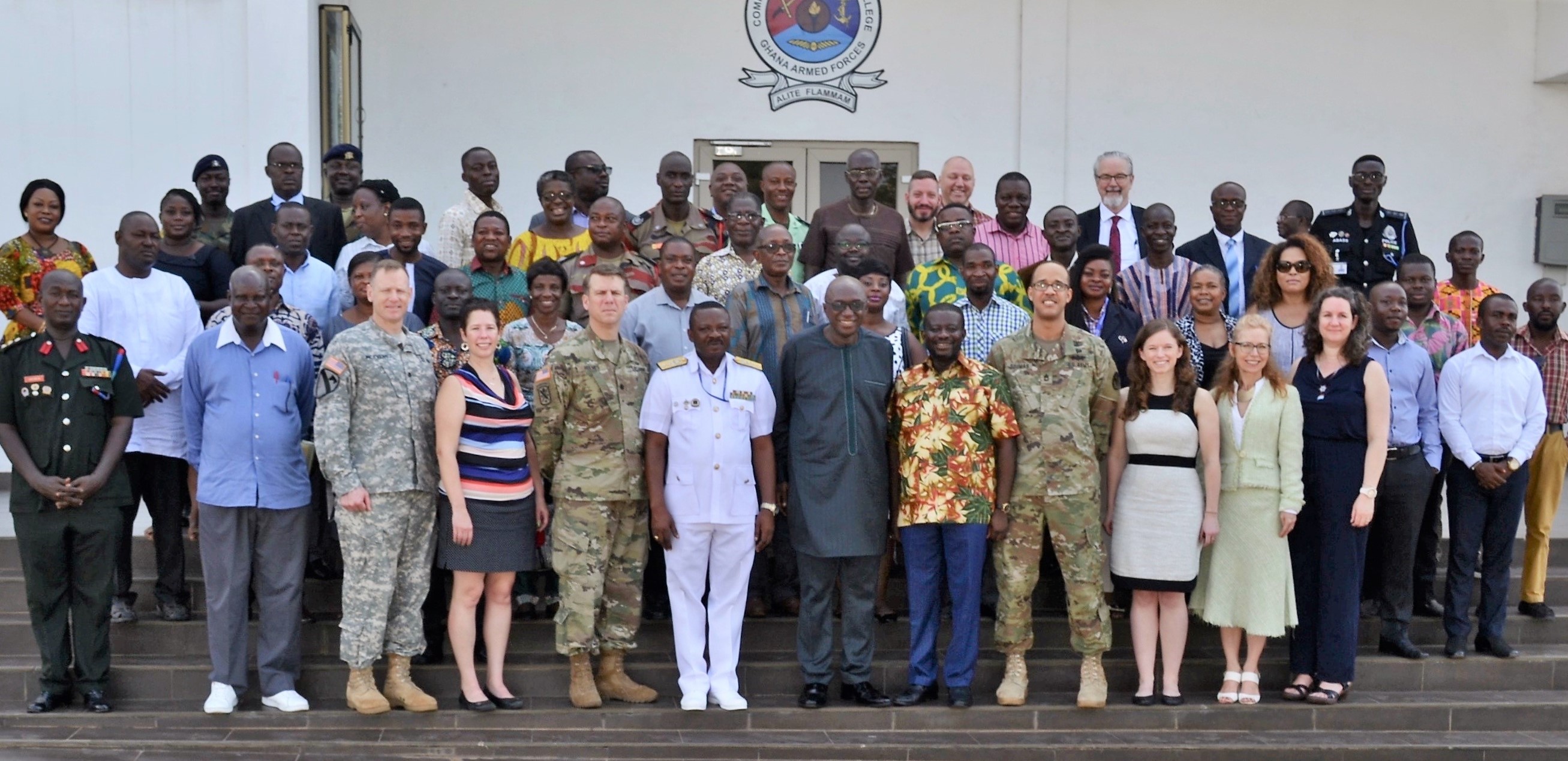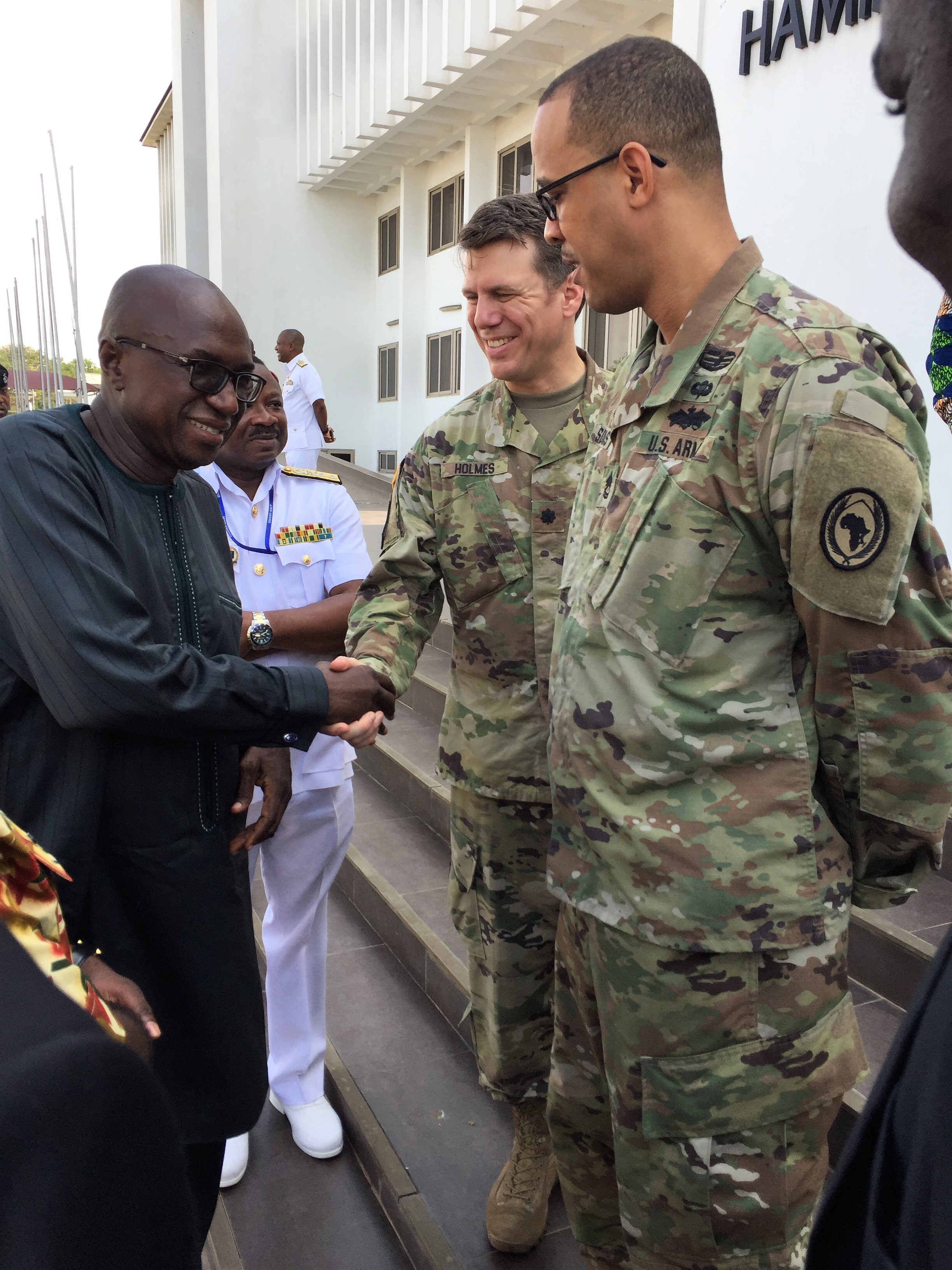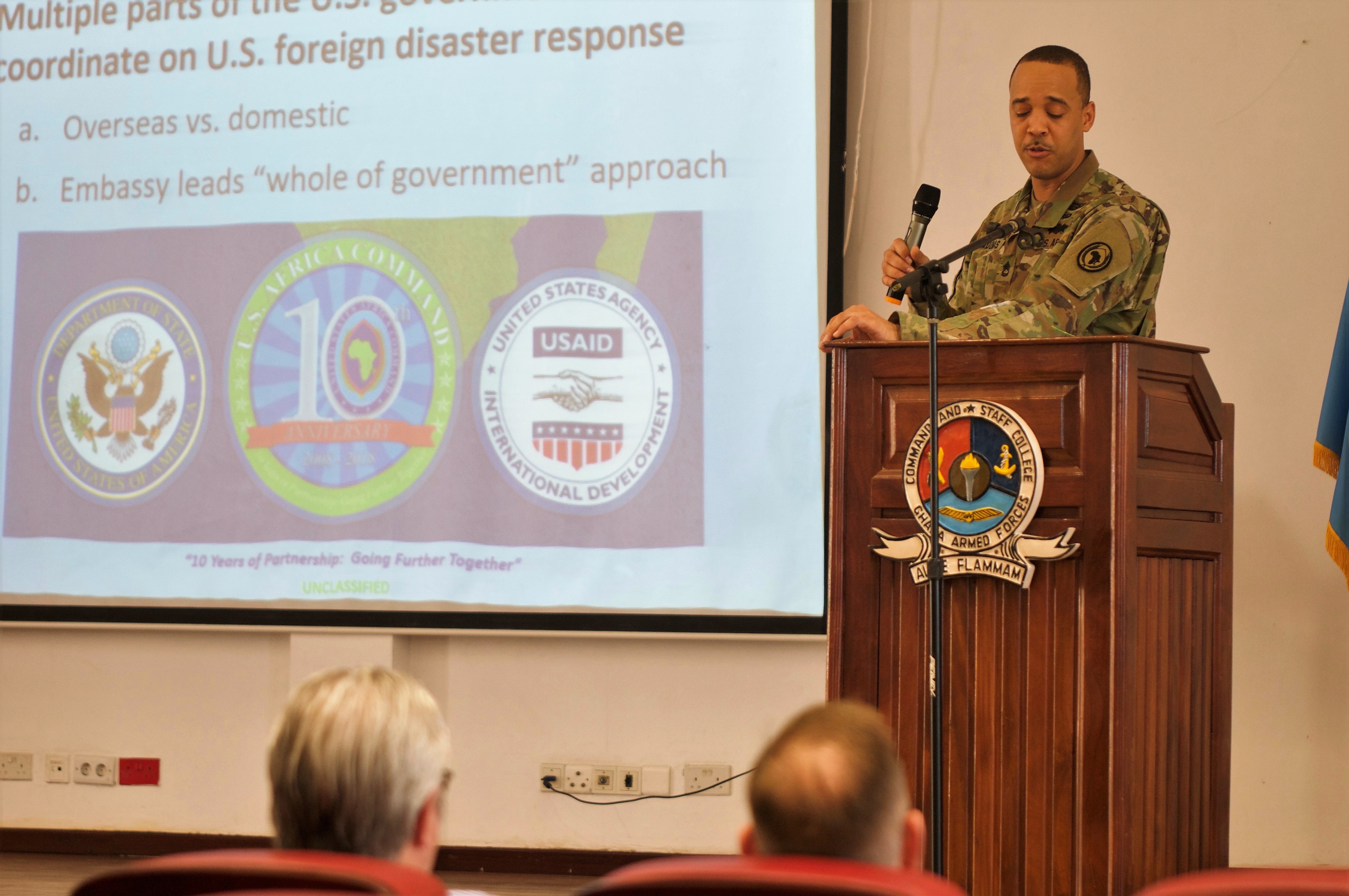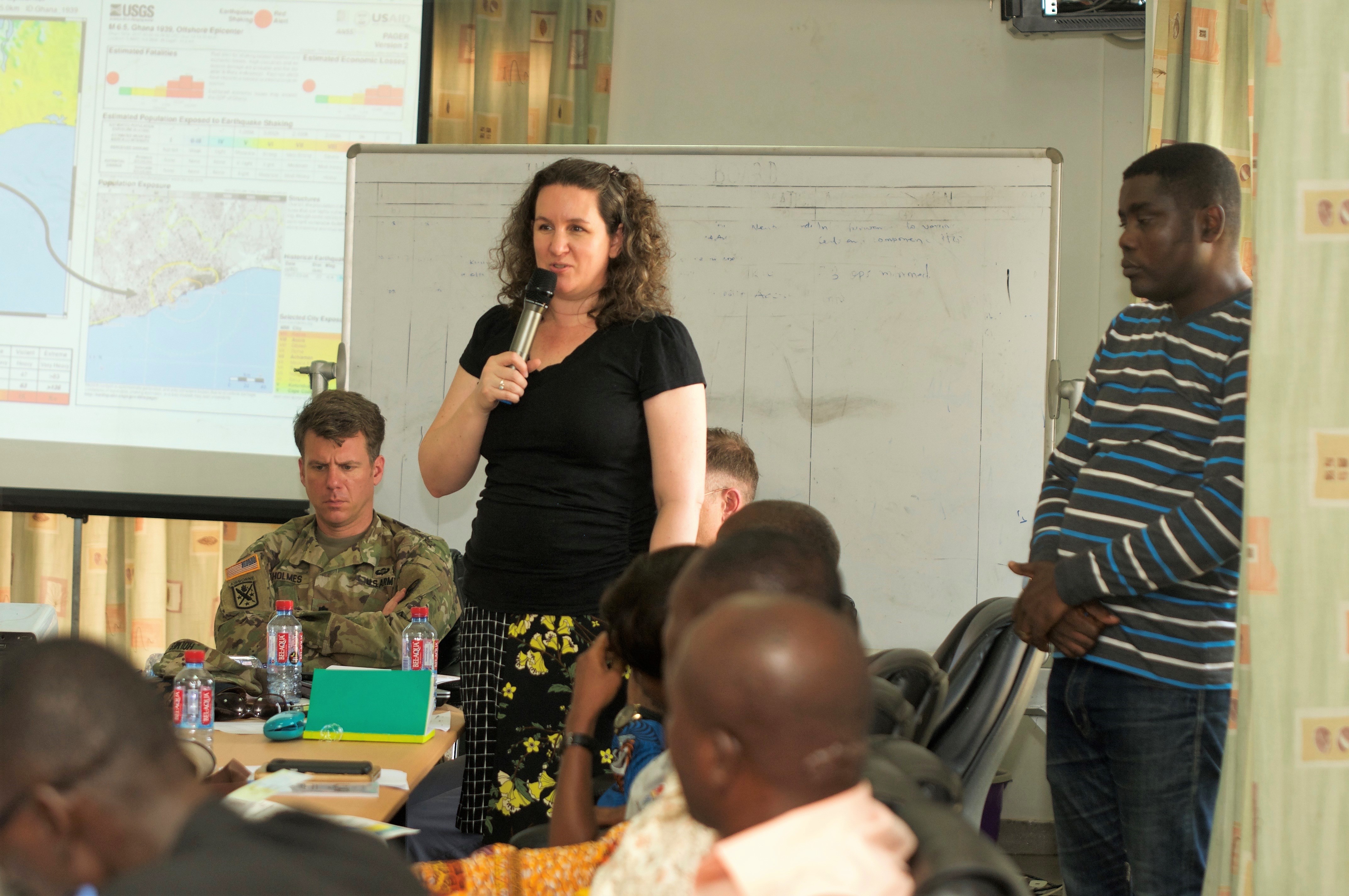 ACCRA, Ghana - U.S. Africa Command staff led a natural disaster response forum held at the Ghana Armed Forces Command and Staff College, entitled "Ghana: A Leader in Disaster Response" here, March 12-15, 2018.
The event was jointly sponsored by Ghana's National Disaster Management Organization (NADMO) and AFRICOM, and brought together multiple Ghanaian government and military emergency response leaders, U.S. Embassy Accra, Ghana's U.S. State partner the North Dakota National Guard, and representatives from other U.S. embassies.
Accra has a history of being prone to earthquakes recorded as far back as 1615, according to Ghana's Geological Survey Authority senior seismologist, Nicholas Opoku.
"Geo-hazards are inter-related and should not be considered in isolation," said Opuku, who pointed out various landscapes in the Ghana area the authority has examined where seismic activity could contribute to dangerous landslides and rock fall.
AFRICOM J37 Exercise Planner Maj. Robert Jones, Department of State Foreign Policy Advisor Robin Cromer, and U.S. Embassy Accra Office of Security Cooperation Bilateral Affairs Officer Maj. Matthew Headley worked closely over the past six months with NADMO to design the forum's three day agenda and tabletop exercise to exhibit a "whole of government" approach to natural disaster response, highlighting civilian-military coordination.
USAID Office of Foreign Disaster Assistance (OFDA) provided an overview of the U.S. foreign disaster response process; AFRICOM J5 Civil Affairs officers LTC Matthew Holmes and non-commissioned officer in-charge (NCOIC) Sgt. First Class Rahsann Soumas explained the U.S. military's supporting role in foreign disaster response.
U.S. Geological Survey Liaison to AFRICOM, Thomas Owens, gave an overview of the USGS earthquake alert system and earthquake modeling based on Ghana's historic seismic activity.
AFRICOM J5 Foreign Policy Advisor and officers from the U.S. Embassy Accra's Consular and American Citizen Services, Public Affairs, and Regional Security Offices discussed ways to better coordinate communications during an emergency, and diplomatic roles in disaster response.
Ghana's emergency responders provide services to a population of approximately three million residents in Accra, including about 30,000 American citizens.
NADMO Director Joseph Ankrah echoed the need to work as a team across government agencies.
"Like in good soccer teams, sometimes defense supports the attack," said Ankrah. "Government agencies must stop turf protection, and work together across our territory, not competing, for the benefit of Mother Ghana."
At NADMO's invitation, Ghana's Armed Forces, National Fire Service, Police Service, National Ambulance Service, Health Service, 48th Engineer's Regiment, Institution of Engineers, public utilities, airport and port authorities, and media broadcasters, discussed how to better coordinate disaster response across their agencies. Participants commented that this forum was their first opportunity as leaders of diverse organizations to meet in such a large group.
Ghana's Minister of the Interior, Ambrose Deby, remarked that the forum was an excellent opportunity for introspection on emergency and disaster response, considering the large growth of Accra's urban population since the devastating Accra earthquake of 1939.
Deby highlighted the need for collaborative preparation for low frequency, high consequence natural disasters, which can destroy decades of development, infrastructure, and human lives.
Ghana has strengthened its emergency response system over the past ten years, assisted by its long term relationship with the North Dakota National Guard through the State Partnership Program, according to North Dakota State Partnership Director, Lt. Col. Mark McEvers.
McEvers presented an overview of North Dakota's 2018 LIGNITE COAST exercise scheduled for May, a joint exercise to boost readiness and practice a multiple-agency response to an earthquake event.
Ghana's preparation benefits its neighbors as well, with Ghana serving as a leading responder to last year's devastating flooding and landslides in Sierra Leone.