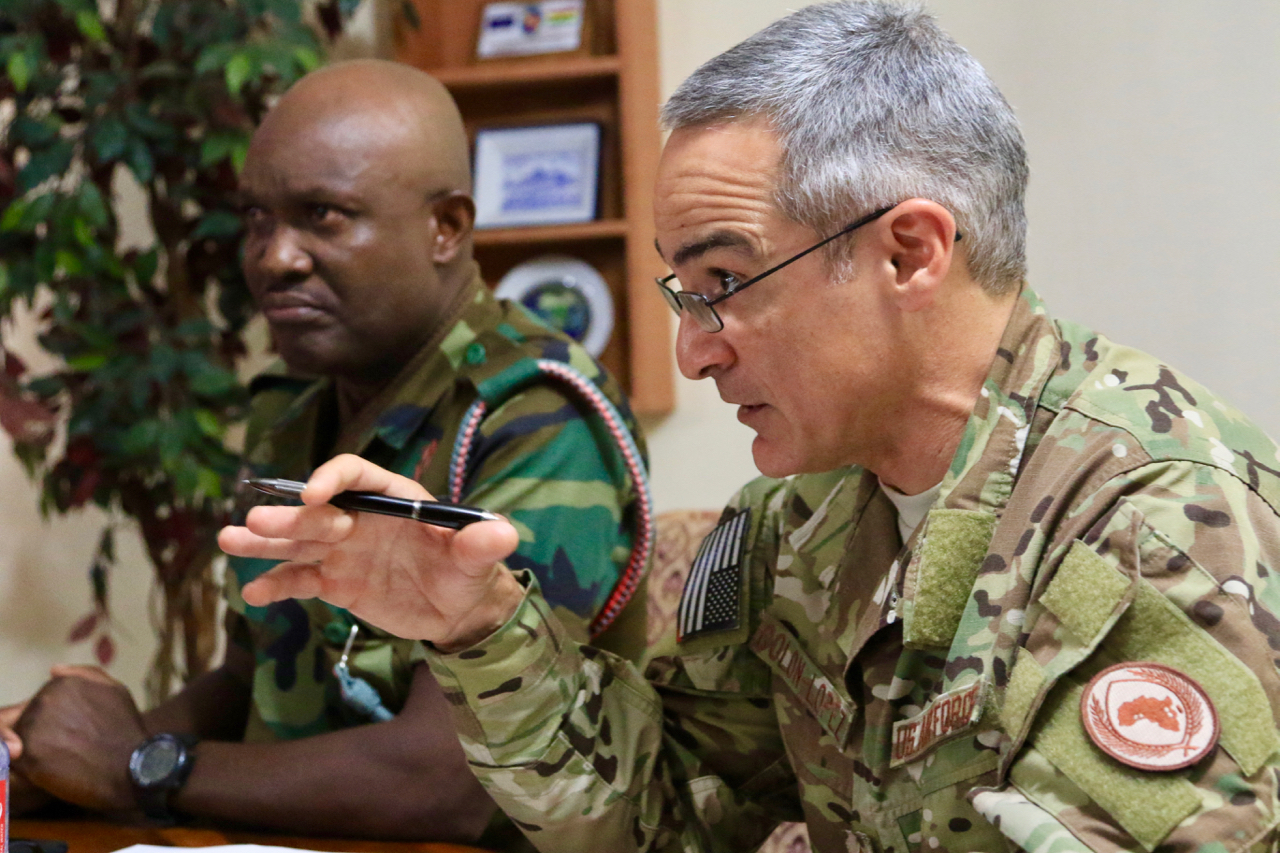 5 photos: AFRICOM senior enlisted leader visits Ghana, aims to bolster senior NCO education integration
5 photos: AFRICOM senior enlisted leader visits Ghana, aims to bolster senior NCO education integration
5 photos: AFRICOM senior enlisted leader visits Ghana, aims to bolster senior NCO education integration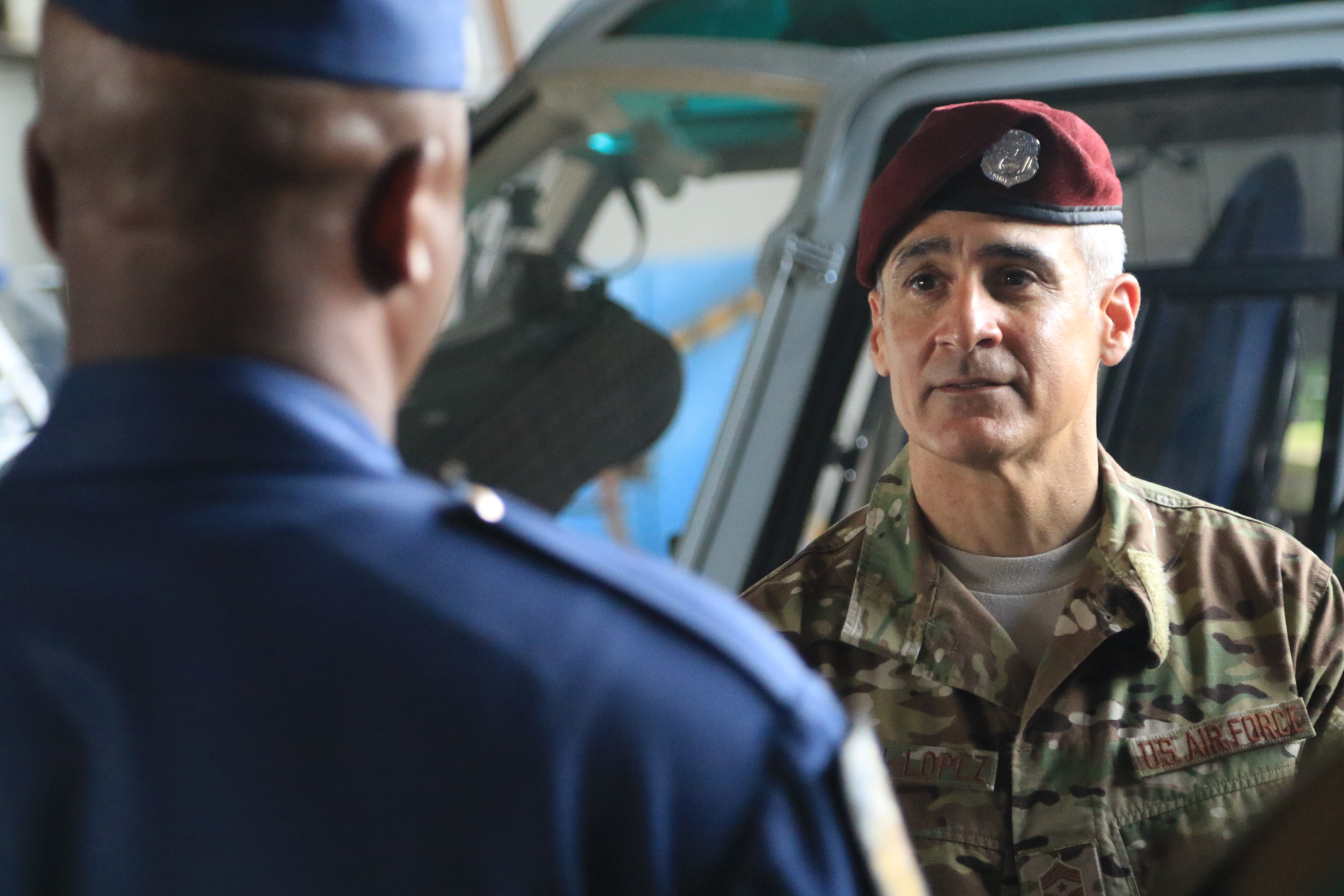 5 photos: AFRICOM senior enlisted leader visits Ghana, aims to bolster senior NCO education integration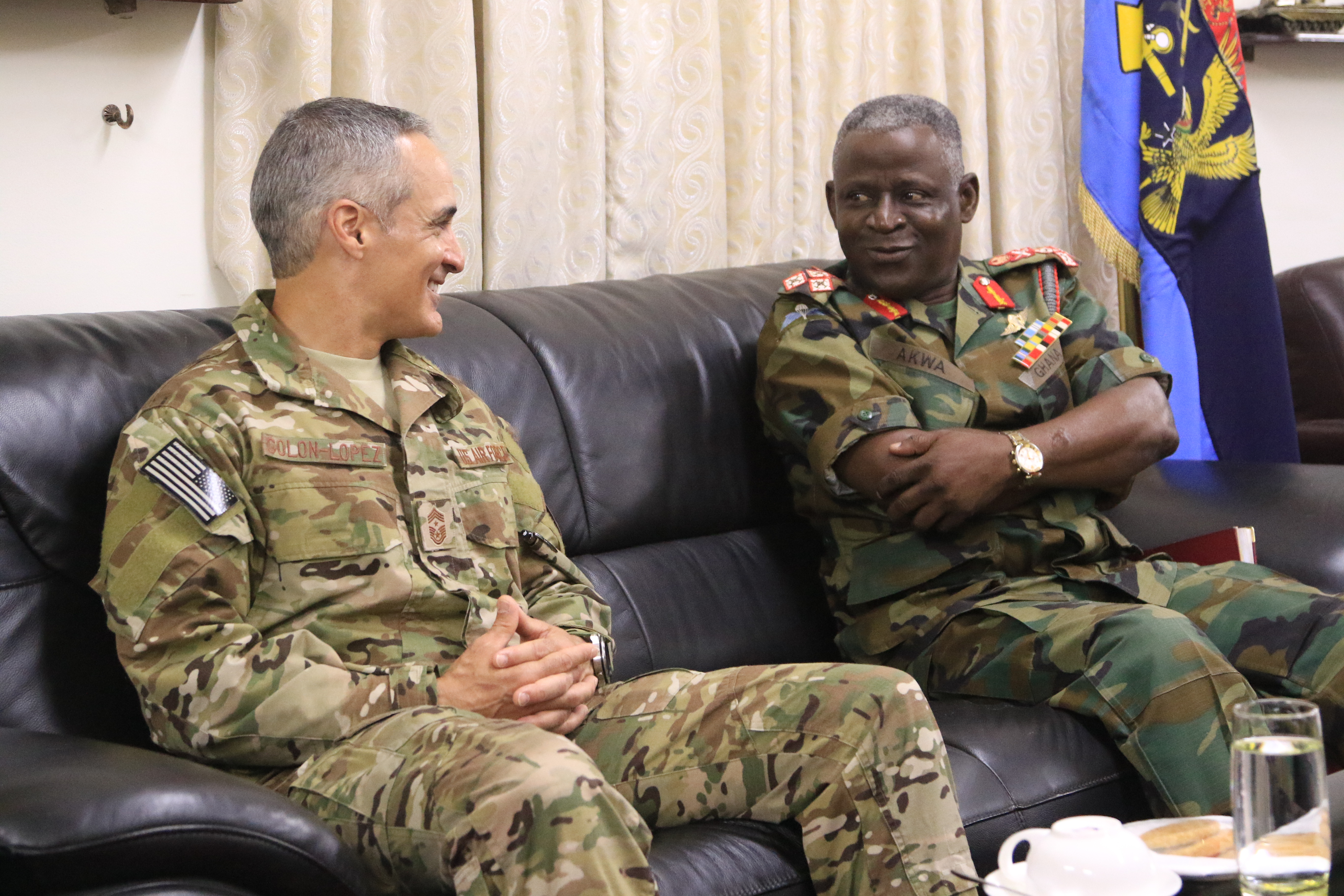 5 photos: AFRICOM senior enlisted leader visits Ghana, aims to bolster senior NCO education integration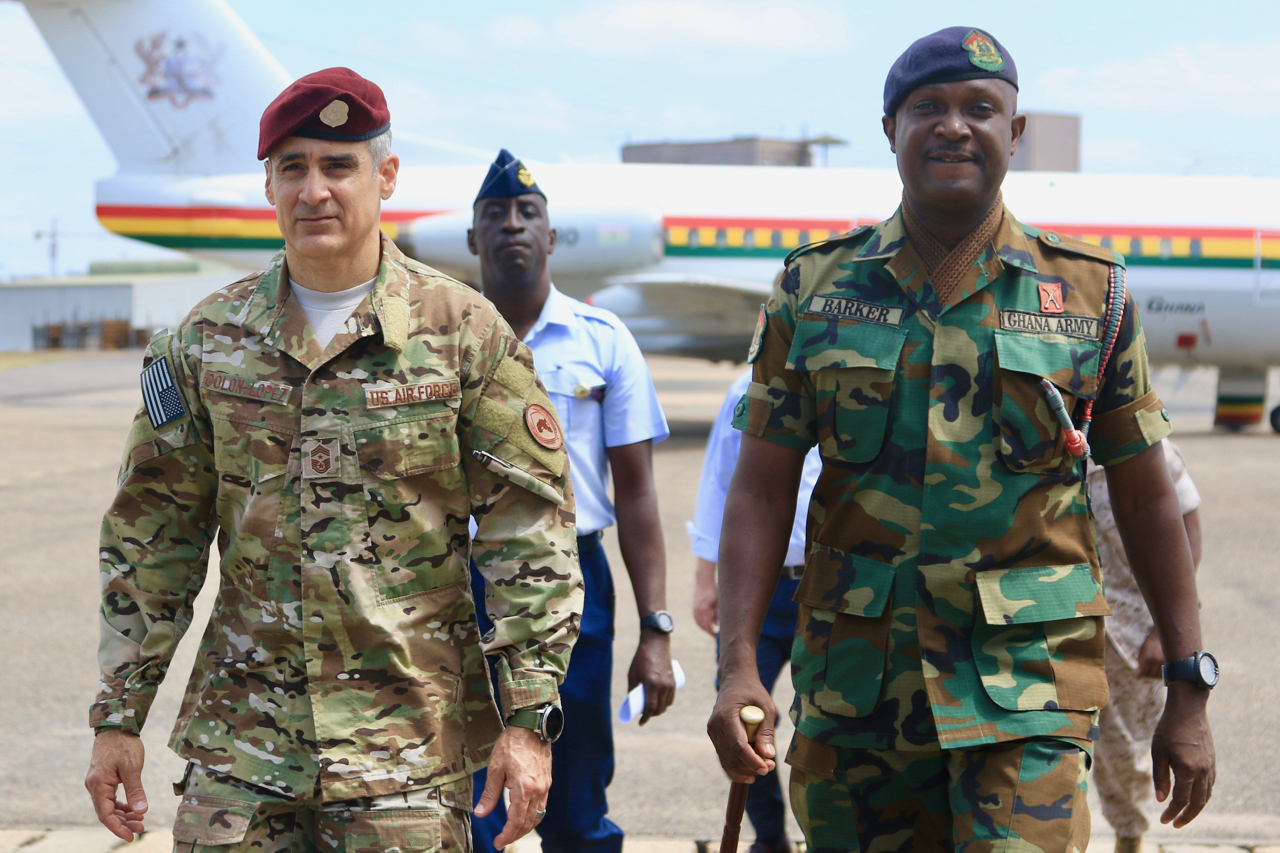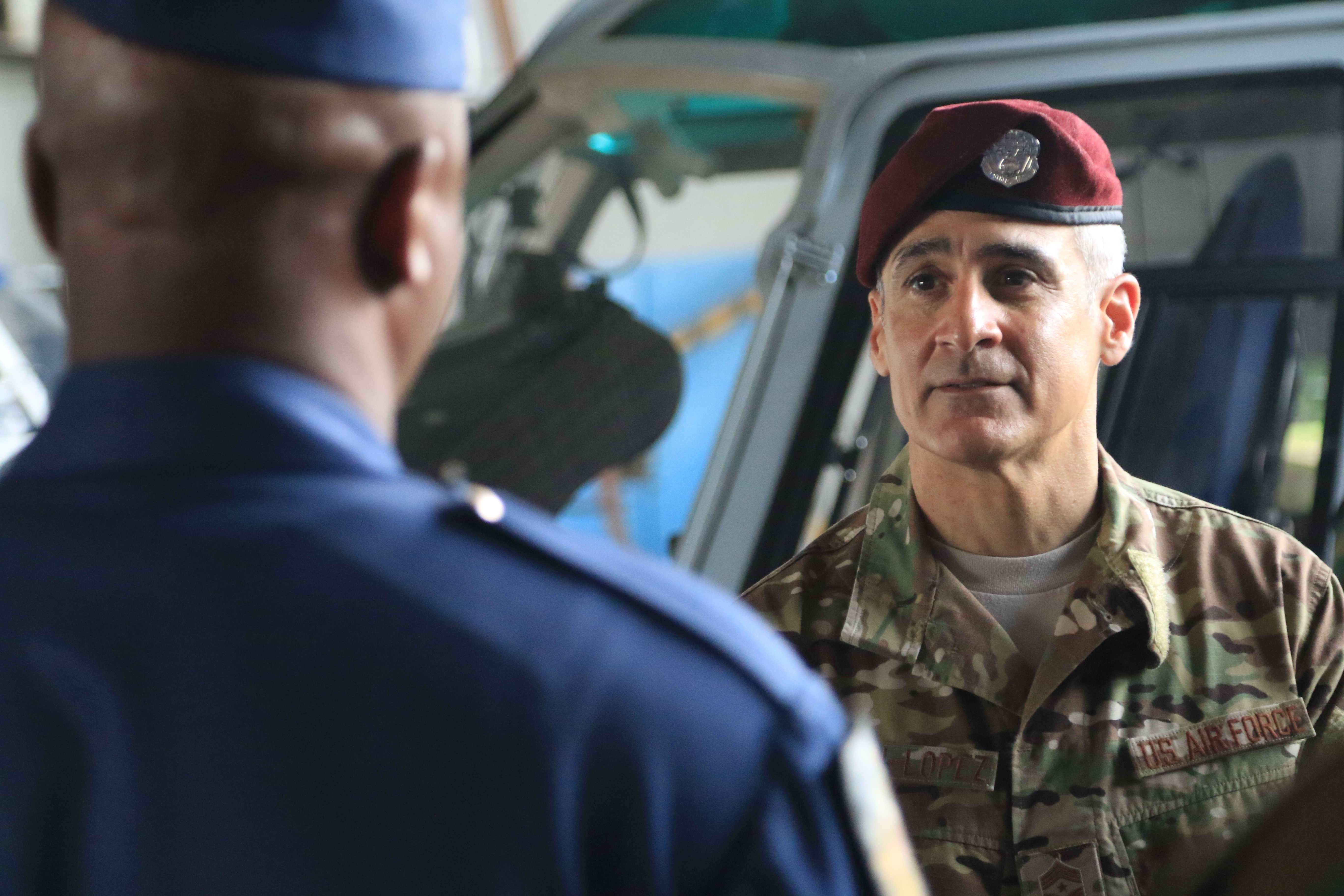 ACCRA, Ghana – U.S. Africa Command's command senior enlisted leader visited the command team of the Ghana Armed Forces to survey requirements for a new enlisted-focused partnership, Aug. 6-7, 2018.
Following the success of AFRICOM's Africa Senior Enlisted Leader conference last November, U.S. Air Force Chief Master Sgt. Ramon Colon-Lopez is leading an effort to provide senior enlisted professional military education for African partners.
"The non-commissioned officer corps is the backbone of any military," Colon-Lopez said to an auditorium full of Ghanaian Armed Forces Soldiers. "If you have an effective NCO corps, you will automatically have an effective and efficient armed force."
Colon-Lopez plans to stress the significance of empowering non-commissioned officers and bridging the gap between a longtime African tradition of separating officer and enlisted roles and responsibilities.
"For the first time since our inception in 2008, AFRICOM will include NCO development in the campaign plan," Colon-Lopez told Ghana's senior enlisted from every branch including the Air Force, Army and Navy. "We have the full support from our commanding general, General Waldhauser. In fact, he testified to the United States Congress how important NCO development is to the success of a military."
The senior enlisted plan will focus on four African partner countries per year. In 2019, AFRICOM will provide professional military education for Botswana, Ghana, Liberia and Malawi. Countries are selected based on their willingness to include NCO's in the decision-making process at the highest level.
"The last thing I want to do is come here and assume what works for the U.S. Armed Forces will work for you," Colon-Lopez said when asking Ghana Armed Forces soldiers and airmen for their wants and needs.
Ghana Armed Forces junior and senior enlisted gave consolidated feedback to the visiting U.S. team. They asked for professional military training either from a U.S. training team sent to Ghana or Ghanaian military personnel sent to the U.S.
"He's my brother from another mother…and another county," said Ghana Armed Forces Sergeant Major, Chief Warrant Officer Ramous Barker referring to Colon-Lopez and the striking similarities in their first names, their positions, date of entry and date of appointment.
Barker provided Colon-Lopez a tour of Ghana's Air Force, Army and Navy headquarters including short visits with each branch's commanding officer. Barker encouraged airmen and soldiers to provide Colon-Lopez candid feedback of their desires and necessities.
"We are young compared to the United States, but our time is now," Barker said addressing Ghanaian troops. "I believe there is always a starting point. One day, when you lie in your grave in peril, you will hear the sound and laugh. You'll think, 'I used to belong to that profession.'"
One Ghanaian soldier asked the senior enlisted team how to better bridge the gap between officers and enlisted.
"Credibility and reliability," answered Colon-Lopez. "If you prove yourself to be a trusted, value-added NCO, your officer will empower you. There are two types of individuals who join the military. Some join for a job or a paycheck. Some join because they truly want to serve. If you are here to serve and you take on your responsibilities, you might get to the point where you don't even see your officer. That's how much he or she trusts you."
Last November, AFRICOM's first Africa Senior Enlisted Conference hosted 32 African senior enlisted leaders. Colon-Lopez and team predict a minimum of 54 senior enlisted in attendance this year in October.