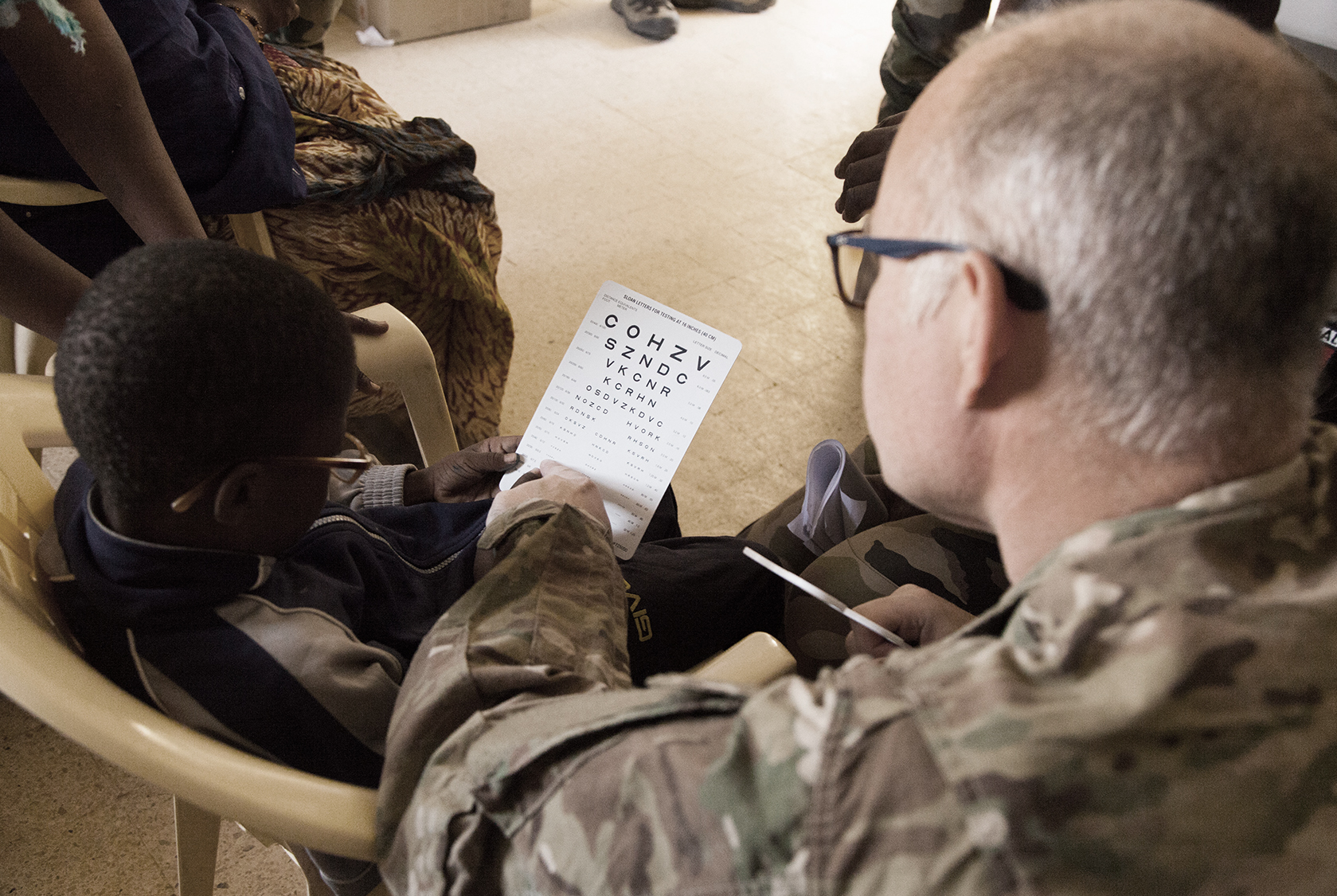 1 photo: U.S. Army photo
KEDOUGOU, Senegal - Senegalese and U.S. Military health professionals treated more than 600 patients during a Medical Exercise Readiness Training (MEDRET) at the Children's School Feb. 25 in Kedougou, Senegal.
The MEDRET was part of Flintlock 2016. Flintlock is an annual African-led Special Forces exercise focused on security, counterterrorism, and military humanitarian support
The combination of Senegalese, Department of Defense, Department of State, Non-Governmental Organizations and other interagency partners provided more than 600 patients with basic healthcare services—well exceeding the initial estimate. Medical services included triage, general medicine, pharmacy, podiatry, optometry and dentistry.
Bravo Company, 82nd Civil Affairs Battalion provided primary coordination between various stakeholders and the Senegalese.
The 82nd Civil Affairs Team Leader, an Army captain from Fort Bragg, worked hand-in-hand with her Senegalese counterparts.
"All of the events throughout Flintlock have been primarily led by the Senegalese. They have their own version of Civil Affairs called the Action Civil Militare," she said.
Together, the teams completed site visits in the most vulnerable areas with those who needed the most assistance, and integrated US military medical personnel as well as local Senegalese medical personnel to accomplish a successful MEDRET.
A Nurse LPN, an Air Force captain from Hurlburt Field, Fla, facilitated efforts in triage.
"Success looks like seeing the smiles and hearing the thank-yous from the people around us and knowing that people are coming here to be seen that wouldn't normally go to see a doctor," she said.
Moustapha Coulibaly, president of Medical Solidarity, drove twelve hours from Dakar to be on-hand for the clinic.
"Kedougou shares borders with Guinea and Mali so it's a very strategic region both in terms of control and security. In case of an outbreak, if Kedougou falls and there's no medical system in place to control any outbreak, the rest of the country may follow," he said.
The locals, especially in Kedougou, have been very receptive to the cooperative effort between local doctors and the Civil Affairs team.
An Air Force major from Hurlburt Field, Fla. provided eye examinations and handed out eye glasses.
"We're doing eye exams for the local villagers so we're seeing kids from two months of age to adults 102 years of age," he said.
One of those patients, Naimouna Niame, a local school teacher was one of his patients.
"I'm teaching here in the kindergarten school so when I heard about the medical evaluations I came to check my body," she said.