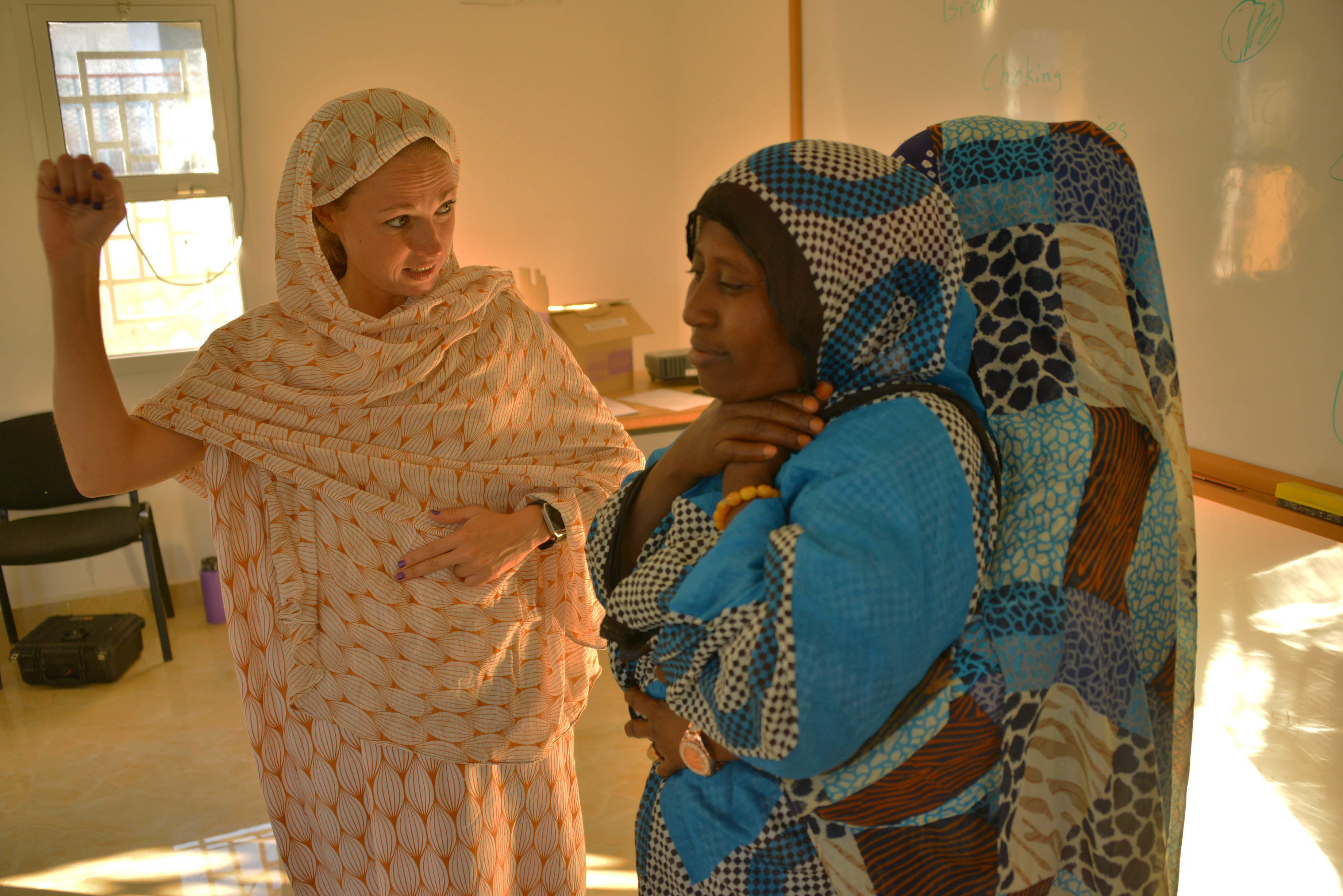 1 photo: Soldiers share best medical practices with Djiboutian caretakers
Tadjourah, Djibouti - A cool breeze sets under the blistering sun as kids play in the streets of Elimo neighborhood. Days can be filled with fun and excitement for children living at the SOS Village d' Enfants compound, but for the caretakers they can be stressful and exhausting.
Watching over curious toddlers and monitoring overstimulated kindergartners can be challenging for caretakers who are responsible for each child's safety and well-being.
In order to enhance its staff's capabilities, staff members and caretakers with SOS Village d'Enfants Djibouti participated in a three day first aid event hosted by U.S. Army Soldiers with C Co/411th Civil Affairs Battalion, who shared best medical practices with the goal to further ensure the continued safety of children residing at the compound.
"I enjoyed all the time being able to talk with people from different cultures, but creating a lesson plan for this discussion group was very challenging," said Sgt. Brian Duckworth, a civil affairs team medic with C/Co 411th Civil Affairs Battalion. "One of the biggest problems was our interpreter didn't have a lot of practice with medical terms so this led to us doing a lot of charades, and exaggerated actions, to try and bridge the language gap."

SOS Children's Villages is the parent organization of SOS Village d' Enfants Djibouti, and according to their website, they have "been working in the city of Tadjourah since 2011 and run family-strengthening programmes which aim to identify the most vulnerable families and provide them with support so that they can stay together. If children cannot stay with their families, they can be looked after by the SOS mothers in SOS family-based care."
During the three-day discussion group, the civil affairs team worked through the language barrier and chose topics dealing with burns, bruises, sprains, fractures, open wounds, and identified common illnesses among children.

Duckworth said his U.S. Army reservist training and past experience conducting combat life-saver courses prepared him for this mission as well as his civilian career, which also played a key role in sharing western medicine concepts with the Djiboutian people.

"In my civilian career I work in emergency medical services so I tend to work with a good amount of new employees, said Duckworth. "We tried to tailor the class to the audience, which is how we arrived at hand washing, choking emergencies, and slowing the spread of viral/bacterial infections."

Through power point presentations, hands on classes, and live demonstrations with Soldiers acting as injured children, the team tackled its mission to arm the group with knowledge as "mothers" who could be responsible for ten children at a time.

"SOS caretakers look after vulnerable children who can injure themselves whilst playing, or at home, and it is important that our staff have the necessary skills to intervene and assist while waiting for an ambulance or medical intervention," said Mohamade Ali, a head administrator for SOS Village d' Enfants –Tadjourah. "Knowing first aid intervention is critical in our line of work as it will allow staff to confidently assist children in emergency situations instead of panicking when faced with a serious injury.

Ali said coordinating the discussion with the U.S. military was easy and they established a solid plan which allowed participants to understand, observe, and ask questions, making sure "mothers" could comprehend what was taught and the importance of forming a partnership through medicine.

With medical care costs rising, the burden is placed on local governments and citizens - leaving areas open to outside influence from forces who might take advantage of the poor by using them to harm U.S. personnel and interests.

As U.S. military forces continue to work with contributing nations to counter violent extremist organizations throughout the Horn of Africa, they do so by partnering with various non-governmental agencies such as SOS Children's Villages. These human capacity building projects are instrumental in promoting regional stability, especially when it means protecting those susceptible to violent extremist organizations.

"It is important for the SOS to establish reliable partners that share the same vision and fight for the rights of the oppressed and the most vulnerable," Ali said. "The relationship between the U.S. military and SOS [Children's Villages] can be strengthened by working together toward the common goal of helping the most vulnerable in Djibouti."

The discussion group not only gave Djiboutians an opportunity to learn the basics of first aid, but it also gave Soldiers the opportunity to connect with host nation partners, a long term benefit for everyone.

"These kinds of missions, in my opinion, are some of the best…that we can do for virtually no money or equipment as we're able to connect with people personally and to help build stronger partners," Duckworth said. "All of these community members, administrators, teachers, and caregivers were genuinely grateful for our time. I have no doubt in my mind that these people left the group with a very positive and personal sense that the U.S. really cares about them."