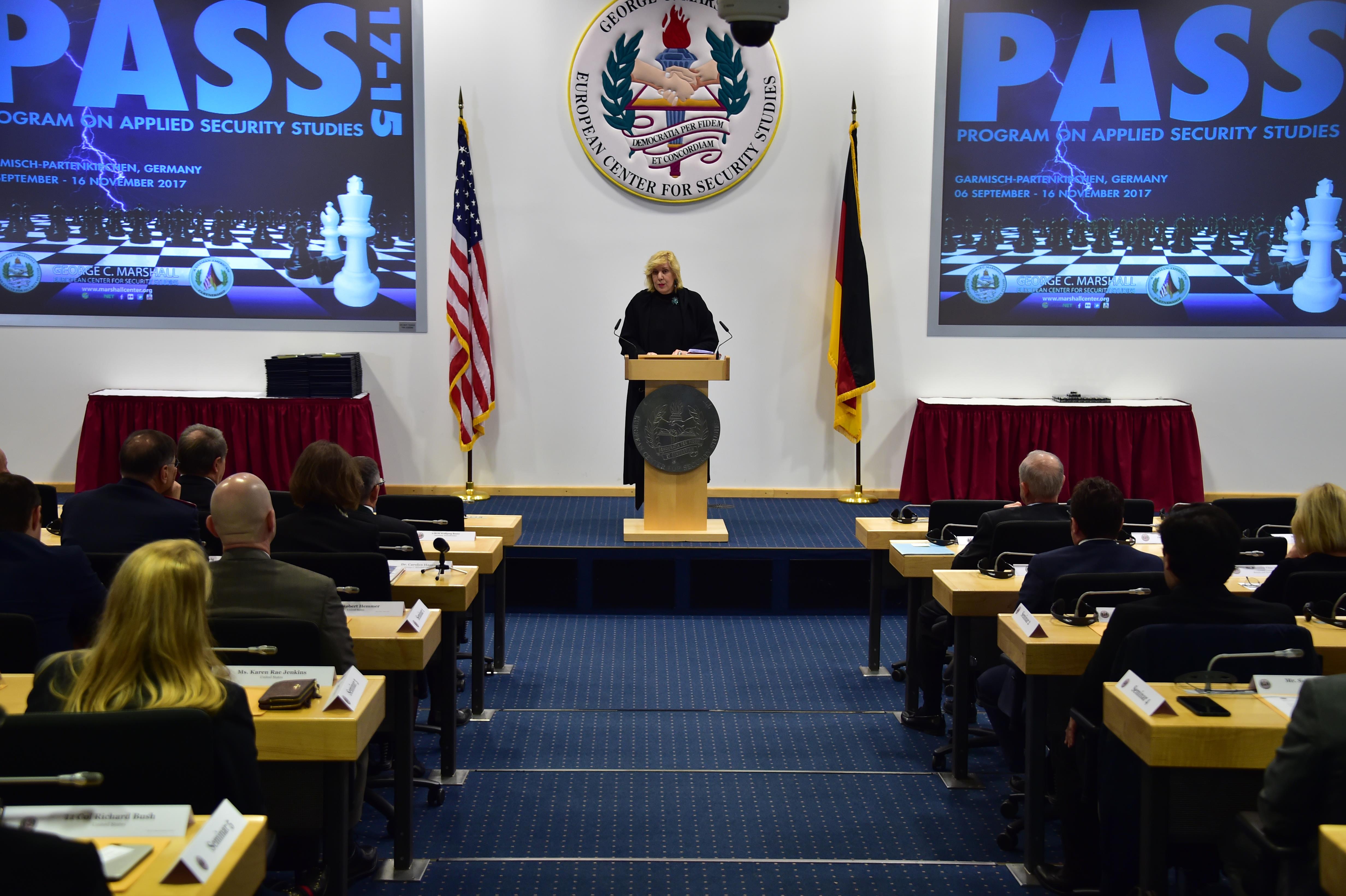 1 photo: Marshall Center Graduates Ready to Tackle Global Threats
GARMISCH-PARTENKIRCHEN, Germany, Nov. 17, 2017 — After examining today's worst global threats to security, 93 professionals from 41 countries, to include 12 personnel from eight African nations, are now armed to be "agents of change" when they return home.
Packing tools to bring strategies to life, these practitioners are heading home after graduating from the Program on Applies Security Studies at the George C. Marshall European Center for Security Studies Nov. 16. The Marshall Center is a German-American security and defense studies institute, based here.
"There are so many things I will take away from this course, especially the ideas I learned about from my classmates on how security situations are solved in their countries," said Nigerian army Maj. Titilayo Adenike Agbomabini, staff officer with the Nigerian military police at her country's army headquarters. "I have heard a lot of ideas that we can follow in my country."
Founded in 2005, this course provides a graduate-level education in security policy, defense affairs and international relations.
Threats to Regional, Global Security
For the past 10 weeks, these professionals experienced more than 300 hours of academic engagement. They studied the world's most challenging contemporary security issues and engaged with experts in 41 interactive lectures and discussions.
"This course has improved my analytical skills as far as the world's security issues are concerned," said Burkina Faso army Maj. Djomagne Didier-Yves Bamouni, who is responsible for training his country's armed forces personnel in domestic and international operations as the operations branch commanding officer at the Armed Forces Defense Headquarters. "I learned that global security issues are far more complex and dynamic than I realized, and I think this was the best forum to understand those challenges and security issues."
These practitioners also investigated security topics such as contemporary war and combating terrorism, choosing four from 34 elective topics.
"What stuck in my mind about this course was how diverse the topics were," said Aiste Aurelija Azbyte-Slott, chief specialist at the Bilateral and Multilateral Cooperation Section of the Ministry of Defense in Lithuania. "These topics are very useful for me as a security professional, because I now have a broader perspective on various issues, many I didn't know before attending this course."
Dangerous Times
The graduation speaker Dunja Mijatović, from Bosnia and Herzegovina, who was the representative on Freedom of the Media for the Organization for Security and Cooperation in Europe from 2010 to 2017, shared what she saw as the greatest security challenge in the world today.
"Today, as we all know, we are living in dangerous times," Mijatović said. "Recent terror attacks and new lines of conflict in Europe are fundamentally altering and challenging the way we think about our basic human rights such as freedom of expression and privacy.
"It's a sad fact that our very own security has become one of the greatest threats to freedom of speech," said Mijatović, who has been working in the field of human rights for the past two decades.
Today's security challenges "illustrate that all of us, collectively, have our work cut out for us," Marshall Center director retired U.S. Army Lt. Gen. Keith W. Dayton said as he addressed the graduating class.
"But, none of us faces today's trials alone," Dayton added.
International Network
This course is set up to build a network of trustworthy international partnerships by encouraging lifelong friendships among participants from widely varying cultures, backgrounds and countries around the globe, some of which have long-standing tensions with each other, Marshal Center officials said.
Course participants are civilian government officials, military and security force service members and government academics, officials said. Many work for their presidents, prime ministers, national security councils and crisis management centers. They also come from ministries of foreign affairs, defense, intelligence and internal affairs and law enforcement agencies. They are commanders, parliamentary and legal advisors, military and police officers, researchers, attachés, professors, specialists and desk officers.
"It is my hope that spending 10 weeks in an environment of such diversity has prompted you to gain new insights, better appreciate the perspectives of others and perhaps even reconsider long-held positions," Dayton said. "Take what you have learned here, and see how it can be applied to your countries.
He added, "Be an agent of change. That's why you were sent here."
The 300 hours of academic engagement also included field study trips to the Dachau Concentration Camp Memorial Site to understand Germany's past and to Berlin to see the country's rebirth and transformation into one of the most important security actors in Europe. While in Berlin, they visited government agencies and heard from leaders in the Ministry of Defense and German Parliament on Germany's current national security policies.
"I will stay in touch with the people I met here because we are friends," said Laura Diorella Islas Limiñana, from Mexico who is currently a researcher and scholar at the University of Bath in the United Kingdom. "It's impossible not to make friends here.
"We have not only been together for 10 weeks talking about security challenges around the world and sharing our thoughts on how to address those challenges, but we also shared breakfast, lunch and dinner together," Islas Limiñana continued. "We got to know each other, and we have shared experiences now. I trust them. If I need their assistance, I believe they will help me."
The students spent more than 80 hours in their seminar groups, sharing national perspectives and getting to know each other, not merely as colleagues, but as friends, officials said. This energizes and builds trust among the Marshall Center's alumni network of more than 12,000 security professionals from 152 nations.
"It is up to you to build a new world, of security, stability and peace for your countries and your regions," Dayton said, "The eyes of your people will be upon you."