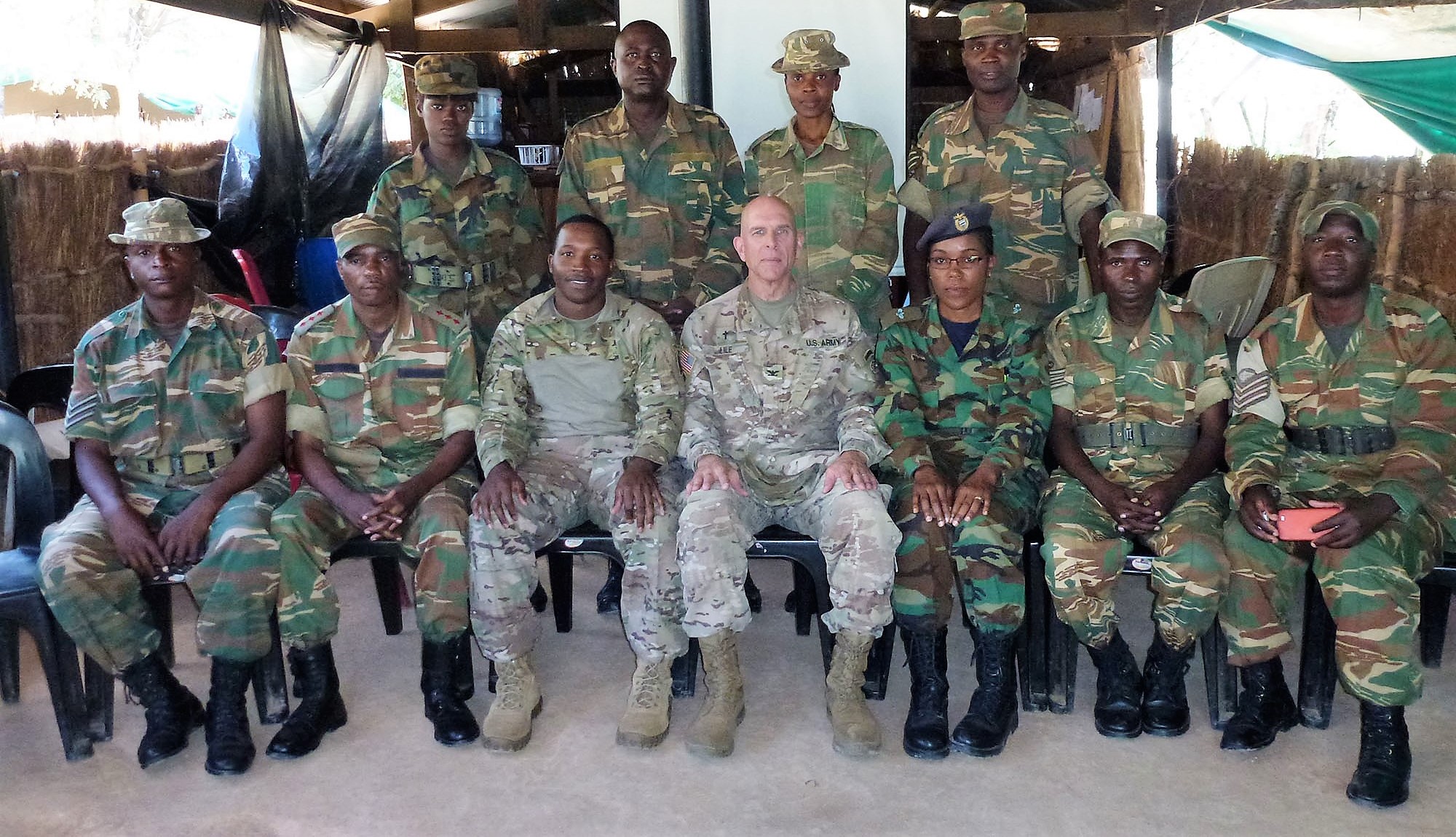 2 photos: U.S. Army Africa chaplains conduct training for deploying Zambian counterparts
2 photos: U.S. Army Africa chaplains conduct training for deploying Zambian counterparts
VICENZA, Italy - The Zambian Defense Force has supported United Nations peacekeeping missions on the African continent for more than two decades. This month, a Zambian army battalion (ZAMBATT 3) will begin a yearlong deployment supporting the U.N. Multidimensional Integrated Stabilization Mission in the Central African Republic (MINUSCA).

During missions that have exposed them to political unrest and violence in several nations, the soldiers have increasingly relied on chaplain guidance for spiritual fitness throughout their deployments. To ensure the Zambatt 3 soldiers will have the support they may need to provide protection in an area of responsibility that covers the 400 kilometers from Tissi, Chad, to Bangui, Central African Republic, Sgt. 1st Class George Butler and Chaplain (Col.) David Lile of the U.S. Army Africa chaplain section conducted a joint training with the accompanying Zambian chaplain team.

The session, which took place at the Nanking army battle training center near Lusaka, Zambia, and included chaplains from the Zambian air force who were preparing for a deployment to South Sudan, was held March 13-16, during week nine of a 10-week pre-deployment training. The chaplains discussed deployment cycle support and the essential spiritual and moral leadership development components for helping troops successfully complete the mission and prepare to adjust to life after redeployment, said Lile, the USARAF command chaplain.

"The requested spiritual and moral aspects of deployment cycle support training is critical for ZAMBATT 3 and ZAF chaplain teams, who will minister to U.N. 'peace warriors' deeply engaged in a rough neighborhood on the continent," he said. "The reality of terror, trafficking and humanitarian disaster in Central African Republic are well documented, therefore, moving troops through a deployment as such, with a successful reunion back to Zambian home soil, takes a great deal of pastoral care."

Because the nature of their work encourages highly positive interactions between chaplaincies of all nationalities, chaplains are often afforded unique opportunities to collaborate with their counterparts across the globe, Lile said.

"(Special staff) interactions between U.S. chaplains and chaplains in every military on the continent -- these are natural validated relationships that only personnel involved in 'sacred space, sacred times, sacred objects and sacred personages' can establish," he said. "Leveraging these interactions often allows command access to elements of country life that are normally difficult to achieve, or at a minimum, opportunities to 'hear' the voices of African troop life from a community building perspective."

Lile also attributes the positive impact the USARAF chaplain team can have on African troops to the military's commitment to his career field.

"The U.S. military has deftly crafted the chaplain corps as an institution responsible for the religious needs of military community, as well as the moral and ethical leadership development, within the larger defense institution," he said. "Most African military chaplaincies are in their infancies, in terms of institution building, within the larger defense institution building project. There is much to offer the continental mission in terms of institutionalizing moral leadership development from the perspective of African military chaplaincies."