Maj. Gen. Joel Tyler, U.S. Army
Headquarters Chief of Staff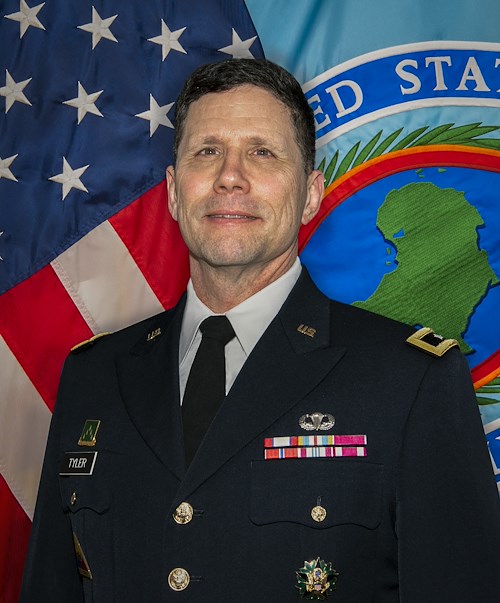 Maj. Gen. Joel Tyler assumed duties as the chief of staff to the commander for U.S. Africa Command on June 21, 2021. Tyler is responsible for exercising day-to-day supervision of the staff, management of matters involving the daily operations of the command, and providing counsel and advice to the commander, deputies and the command senior enlisted leader on all matters affecting the command.
Tyler is a graduate from the University of Arkansas Army ROTC in Fayetteville, Arkansas, where he commissioned as an armor officer in 1988. He holds a Bachelor of Arts in political science, Master of Science in public administration from Central Michigan University, and Master of Arts degrees from the College of Naval Warfare in National Security and Strategic Studies.
Tyler's key command assignments include commanding general of the U.S. Army Test and Evaluation Command, Aberdeen Proving Ground, Maryland; and commanding general, U.S. Army Joint Modernization Command, Army Capabilities Integration Center, U.S. Army Training and Doctrine Command, Fort Bliss, Texas. Tyler served as the deputy commanding general of 1st Armored Division from September 2016 - April 2017, and J-3 for Combined Joint Task Force - Operation Inherent Resolve from Sept. 2015 - Aug. 2016.
Tyler's key staff assignments include service in the Federal Republic of Germany, Republic of Korea and around the continental U.S. in both U.S. Army Forces Command and U.S. Army Training and Doctrine Command assignments.
Major deployment history includes Operation Desert Shield/Desert Storm, 1990-91; Operation Iraqi Freedom I, 2003; Operation Iraqi Freedom V-VI, 2008-09; and Operation Spartan Shield.
Tyler's awards and decorations include the Distinguished Service Medal, Defense Superior Service Medal, Legion of Merit (1 bronze oak leaf cluster), Bronze Star Medal, Defense Meritorious Service Medal, Meritorious Service Medal (silver oak leaf cluster and 1 bronze oak leaf cluster), Army Commendation Medal (4 bronze oak leaf clusters), Army Achievement Medal, Parachutist Badge, and Army Staff Identification Badge.
Other pages in this section