Foreign Humanitarian Assistance
Foreign Humanitarian Assistance programs represent a series of security cooperation activities that support partner nations' provision of essential services while addressing a humanitarian need and promoting regional stability and security.
U.S. Africa Command's focus is to enhance African disaster and crisis response capabilities; strengthen host-nation institutions, and counter violent extremists' messages by improving the civilian population's living conditions while enabling African solutions for African challenges. Foreign Humanitarian Assistance programs reflect a commitment to interagency coordination and cooperation and strive to promote civilian control of the military.
During COVID-19, U.S. Africa Command utilized Humanitarian Assistance programs to support partners also battling the pandemic. Click the map image on the right to view these donations by country.
---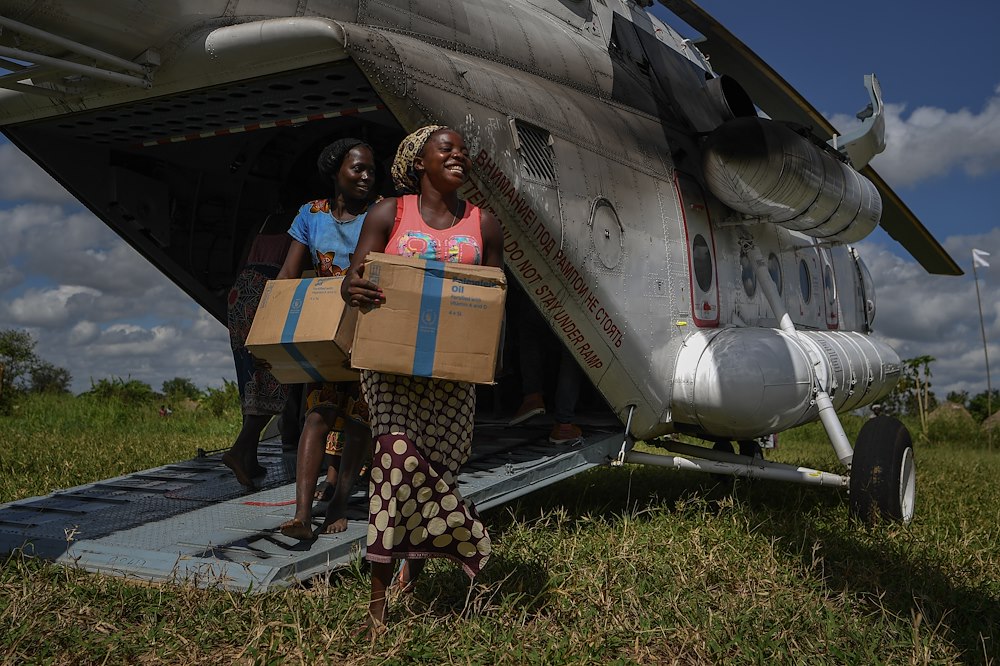 Foreign Disaster Relief
Foreign Disaster Relief activities are unique Department of Defense capabilities (normally airlift or logistics) supporting USAID Bureau for Humanitarian Assistance (BHA) specific requests as approve by the U.S. Secretary of Defense. AFRICOM has responded to two disasters in the last decade (Ebola in West Africa in 2014, and Tropical Storm Idia in Mozambique in 2018), while BHA responds to dozens annually. The international community and BHA are normally able to respond to most disasters without DoD support. It is only the sudden onset catastrophic disasters overwhelming international community that require DoD support.
---
Humanitarian and Civic Assistance
Humanitarian and Civic Assistance (HCA) activities are conducted in conjunction with authorized operations and exercises of the military services in a foreign country, with the approval of the partner nation national and local civilian authorities, and complement - not duplicate - other forms of humanitarian assistance provided to the partner nation by the Department of State and USAID. Funded by AFRICOM, these activities also serve the basic economic and social needs of the partner nation and promote the security and foreign policy interests of the U.S., the security interests of the country in which the activities are to be performed, and the specific operational readiness skills of the service members who participate in the HCA activities.
---
Humanitarian Assistance – Disaster Preparedness Program
The Disaster Preparedness Program (DPP) increases the capacity of African nations to mitigate and prepare for an all-hazard disaster response within the ministry designated to respond. The program supports civilian-military interface and enhancing collaboration and the military's ability to perform their civil support functions. It also improves the capacity for regional interaction and stability in the event of a complex emergency such as a pandemic event. Working with national and regional entities in a comprehensive, holistic manner, the program builds capacity and capability over time. Funded by the Overseas Humanitarian, Disaster, and Civic Aid appropriation (OHDACA), the DPP may provide training, planning support, technical assistance, exercise validation, and equipment purchases.
---
Humanitarian Mine Action
The Humanitarian Mine Action (HMA) program relieves human suffering and the adverse effects of land mines and other explosive remnants of war on non-combatants - including ammunition stockpiles - while advancing theater campaign plan strategies and U.S. national security objectives. The Department of Defense supports foreign governments in detection, clearance, physical security, and stockpile management of landmines and other explosive remnants of war by executing cadre development programs designed to develop capabilities for a wide range of HMA activities including education, training, and technical assistance.
---
Humanitarian Assistance – Other
U.S. Africa Command's Humanitarian Assistance - Other (HA-O) program includes activities designed to relieve or reduce endemic conditions such as human suffering, disease, hunger, and privation, particularly in regions where humanitarian needs may pose major challenges to stability, prosperity, and respect for universal human values. These program activities are funded by the Overseas Humanitarian, Disaster, and Civic Aid appropriation (OHDACA), and address basic healthcare, education, and infrastructure needs. Common projects include the construction of health clinics, schools, and provision of humanitarian supplies, and are intended to reduce the risk of, prepare for, mitigate the consequences of, or respond to humanitarian disasters.
---
Pandemic Response Program
Since 2008 U.S. Africa Command has worked with the U.S. Agency for International Development to establish a Pandemic Response Program (PRP) aimed at assisting African militaries to develop influenza pandemic response plans that are integrated into their country's overall national response plans. Militaries can play key roles in the event of a pandemic, working in collaboration with other governmental, non-governmental, and international organizations to maintain security, provide logistical support for food, medicine, and other commodities, maintain communications, and provide augmented medical care. PRP strives to improve the capacity for regional stability in the event of a complex emergency by providing training and technical assistance and identifies - and at times purchases - limited equipment needed for selected countries.
---
Department of Defense HIV/AIDS Prevention Program (DHAPP)
The Department of Defense HIV/AIDS Prevention Program is the DoD initiative in support of the President's Emergency Plan for AIDS Relief (PEPFAR) that aims to support healthy and functional military forces to provide stability and safety to national and regional populations.
Africa's high rates of HIV/AIDS negatively impact African militaries and other uniformed organizations by reducing readiness, limiting peacekeeping deployments, and increasing risk to military and civilian personnel. DHAPP provides military-to-military program support by assisting in the development and implementation of culturally focused, military-specific HIV prevention, care, and treatment programs. AFRICOM provides oversight and strategic guidance so that DHAPP can develop and implement a culturally focused, military-specific HIV prevention, care, and treatment program. At over $100 million annually and operating in 38 countries, DHAPP is AFRICOM's largest program on the Continent.
Current strategies and interventions employed by DHAPP include: Index case HIV testing (testing spouses, sexual partners, and all children of women who test HIV-positive); Documentation of every new HIV-positive individual and linking him or her into care and treatment; Periodically updating military HIV policies to address HIV testing strategies, chain of command notifications, deployments, stigma and discrimination, and antiretroviral treatment initiation and retention to reflect changes in international normative guidance; Antiretroviral treatment services thru mobile units; Condom and lubricant (where feasible) promotion, skills building, and facilitated access to condoms; Promotion of voluntary medical male circumcision services which can reduce the risk of acquiring HIV infection in HIV-negative men by 60%; and stigma and discrimination prevention training.
Additional coverage
Cameroon, September 2020: Remarks for the Donation of Materials under the Department of Defense HIV/AIDS Prevention Program
---
Excess Property Program
The Excess Property Program permits the Department of Defense to make available, prepare, and transport non-lethal excess property for humanitarian relief purposes to foreign countries. The program covers all costs associated with the transportation of the property from the Excess Property warehouse to the final destination. The program does not fund costs associated with customs fees. Requesters must work through the host nation customs office to ensure customs fees are waived.