Cutlass Express
Cutlass Express is a U.S. Naval Forces Africa led, all-domain exercise in East African coastal regions and the West Indian Ocean. The exercise is linked to U.S. Central Command's International Maritime Exercise to counter malign influence, aggression, and activity along overlapping command seams and maritime regions.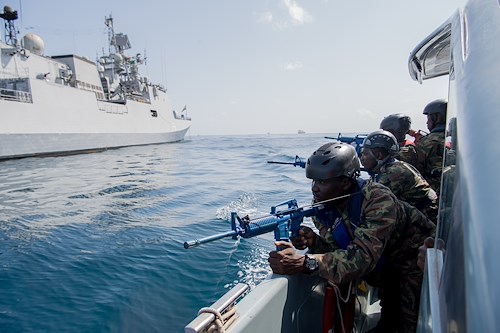 Exercise Cutlass Express 2021, sponsored by U.S. Africa Command and conducted by U.S. Naval Forces Africa, will take place June 26 to August 6, 2021, in the vicinity of Djibouti, Kenya, Madagascar, and Seychelles. CE21 is designed to improve regional cooperation in support of the Djibouti Code of Conduct, maritime domain awareness, information sharing between maritime operation centers, maritime interdiction, adherence to the rule of law, and counter-proliferation interdiction capabilities in order to disrupt illicit maritime activity and strengthen safety and security in East Africa.
The exercise begins with an in-port training period followed by at-sea scenarios and concludes with a senior leadership symposium. The underway portion of the exercise tests the ship's abilities to conduct maritime interdiction operations by boarding teams against simulated suspect vessels, detecting illicit activity, and follow-on evidence collection procedures.
The 13 participating nations include Comoros, Djibouti, Georgia, India, Kenya, Mozambique, Rwanda, Seychelles, Somalia, Sudan, Tanzania, United Kingdom, and the United States.
The previous iteration of the exercise, Cutlass Express 19.2, was the second iteration in 2019 taking place in the Western Indian Ocean. Maritime forces from East Africa, West Indian Ocean nations, Europe, North America, and several international organizations conducted Cutlass Express 19.2 in the vicinity of Djibouti, Madagascar, Mauritius, and the Seychelles, for nearly 3 weeks in October and November. CE 19.2 combined with U.S. Central Command's International Maritime Exercise - with nearly 60 nations participating - to eliminate regional seams, increase U.S. and partner-nation interoperability, and respond as a global maneuver force unbound by geographic boundaries.
Click here for additional Cutlass Express content on DVIDS.
Other pages in this section