Cutlass Express
Cutlass Express is an exercise conducted in East African coastal regions and the West Indian Ocean to counter malign influence, aggression and activity along overlapping command seams and maritime regions.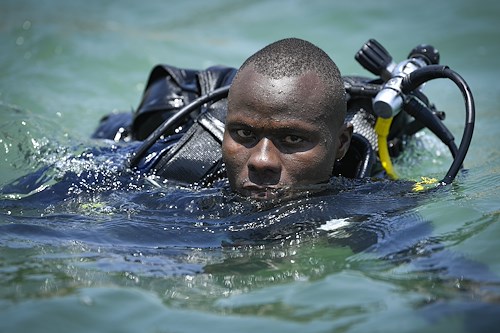 Maritime forces from East Africa, West Indian Ocean nations, Europe, North America, and several international organizations began the multinational maritime exercise Cutlass Express 2022 with an opening ceremony held at the Coast Guard Training Center in Djibouti, Feb. 6, 2022.
CE 22, sponsored by U.S. Africa Command and led by U.S. Naval Forces Europe-Africa/U.S. Sixth Fleet, assessed and improved combined maritime law enforcement capacity, promoted national and regional security in East Africa, and increased interoperability between the U.S., African nations, and international partners. CE22 was linked with U.S. Naval Forces Central Command's International Maritime Exercise, eliminating regional seams and increasing U.S. global capabilities and interoperability.
The 2022 iteration of the exercise leveraged the recently adopted Jeddah Amendment to the Djibouti Code of Conduct, which 14 nations are signatories, as a framework for exercising information sharing practices and enforcing marine rule of law. The participating nations tested their ability to detect or disrupt illicit trafficking, piracy, illegal fishing, as well as search and rescue situations.
Participating nations in Cutlass Express 2022 included Comoros, Djibouti, Georgia, Kenya, Madagascar, Mauritius, Mozambique, Senegal, Seychelles, Somalia, Tanzania, United Kingdom, and United States. Interpol, the U.S. Coast Guard, the U.S. Department of Homeland Security, the U.S. Department of Justice, and the United Nations Office on Drugs and Crime are also participated in the exercise.
Click here for additional Cutlass Express content on DVIDS.
Other pages in this section