Justified Accord
U.S. Army Africa (also known as Southern European Task Force) leads this joint, all-domain exercise in East Africa to enable future operations, maintain strategic access, and build partner capacity to disrupt malign influence, aggression, and activity.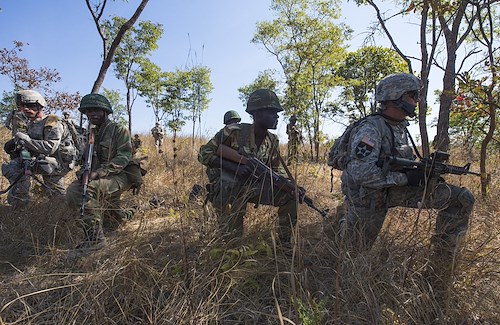 Justified Accord is a military exercise focusing on African partner capability and interoperability in support of United Nations/Africa Union peacekeeping operations. The exercise seeks to assess participant abilities in conducting PKO and to enhance positive bilateral and regional relationships in austere environments with coalition partners.
The 2019 iteration of the Justified Accord took place in Ethiopia, with training to enhance participants' capability for peacekeeping operations and provide an opportunity to employ the African Union Mission in Somalia procedures during times of instability and crisis.

The 10-day training exercise, which helps build partnerships with U.S. Army Africa and the East African military forces, is designed to help USARAF and East African participants improve their capability to respond to regional security threats posed by violent extremist organizations and to more effectively counter the associated ideology. Starting in 2017, Justified Accord alternates annually as a field-training exercise and a table-top exercise.
Click here for additional Justified Accord content on DVIDS.
Other pages in this section