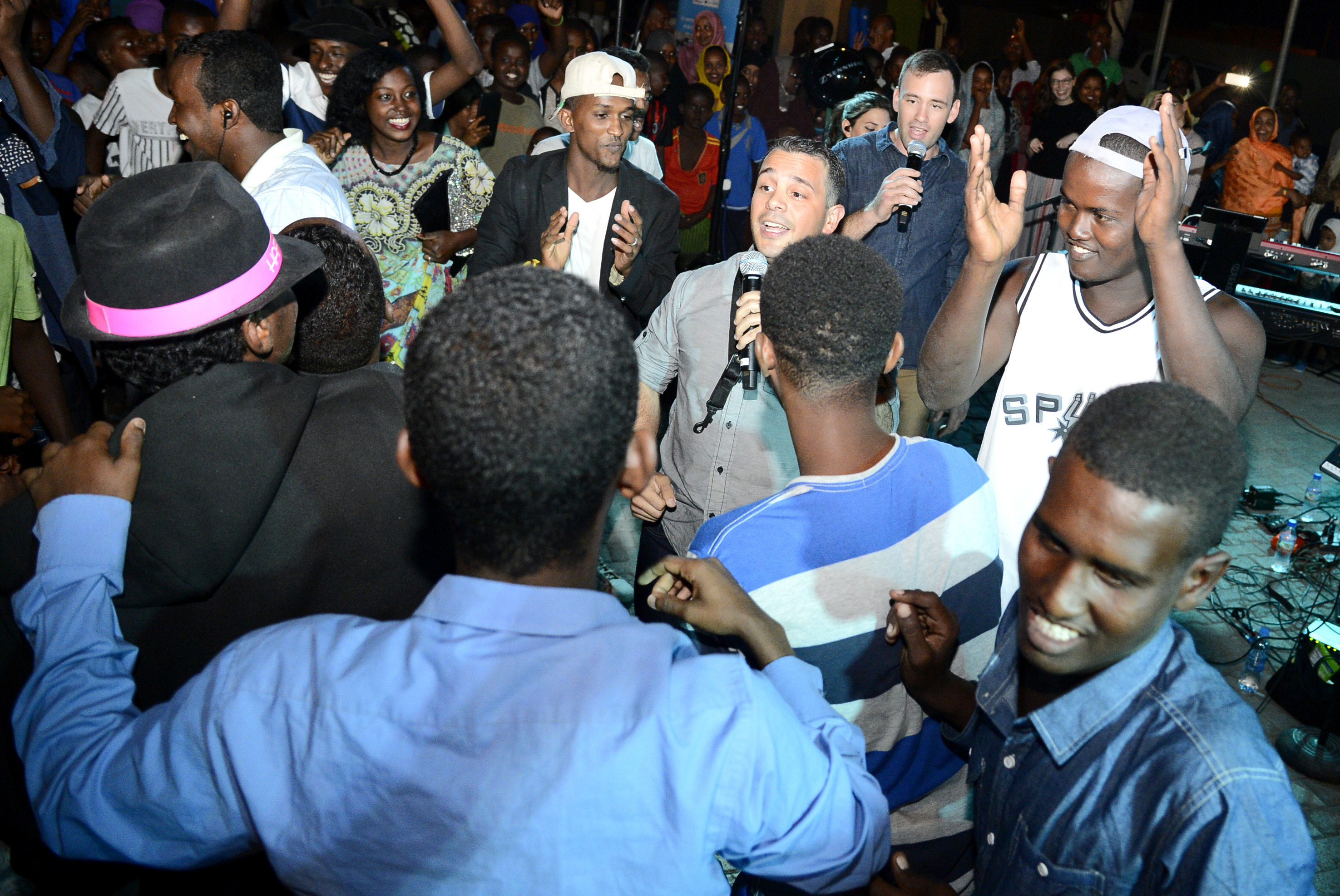 4 photos: U.S. Air Forces Central Command Band builds cultural bridge in Balbala
4 photos: U.S. Air Forces Central Command Band builds cultural bridge in Balbala
4 photos: U.S. Air Forces Central Command Band builds cultural bridge in Balbala
4 photos: U.S. Air Forces Central Command Band builds cultural bridge in Balbala
DJIBOUTI CITY, Djibouti - The U.S. Air Forces Central Command (AFCENT) Band, in cooperation with the U.S. Embassy in Djibouti, performed for the Balbala E-Learning Center here, Jan. 10, 2018.
The AFCENT Band's mission was not only to perform a concert but also help build a bridge between American and Djiboutian cultures.
The Balbala E-Learning Center, run by the international non-government organization SOS Children's Village International, provides vocational training and job placement for young men and women who have dropped out of school.
Jessica Banuls, the public affairs officer for the U.S. Embassy in Djibouti, helped organize and develop the event.
"Balbala is the most populated area in the city of Djibouti, and we would like to expand our outreach to not only help the Djiboutian people but also share our culture," said Banuls.
During the two-hour event, the band played various American hit songs as young adults and children danced and sang along.
U.S. Air Force Staff Sgt. Craig Larimer, a member of the AFCENT Band, reflected on the connection that music can make between people from different cultures separated by thousands of miles.
"We as Americans have a lot more in common with the people of Djibouti, and it shows in the honest response we get from the people's positive feedback to our music," said Larimer.
Throughout the week, the AFCENT Band made its way around Djibouti playing with local bands, artists, and musicians bridging the cultural divide through music.
The people of Djibouti left a resounding impression on the band as well.
"Creating music and experiencing their lifestyle and their goodhearted personalities really puts me in check and is something I definitely want to take back home with me," said Larimer.
The AFCENT Band is the only permanently assigned U.S. Air Force band to the Central Command area of responsibility. Based in Al Udeid Air Base, Qatar, the band includes deployed Airmen from active duty and Air National Guard.