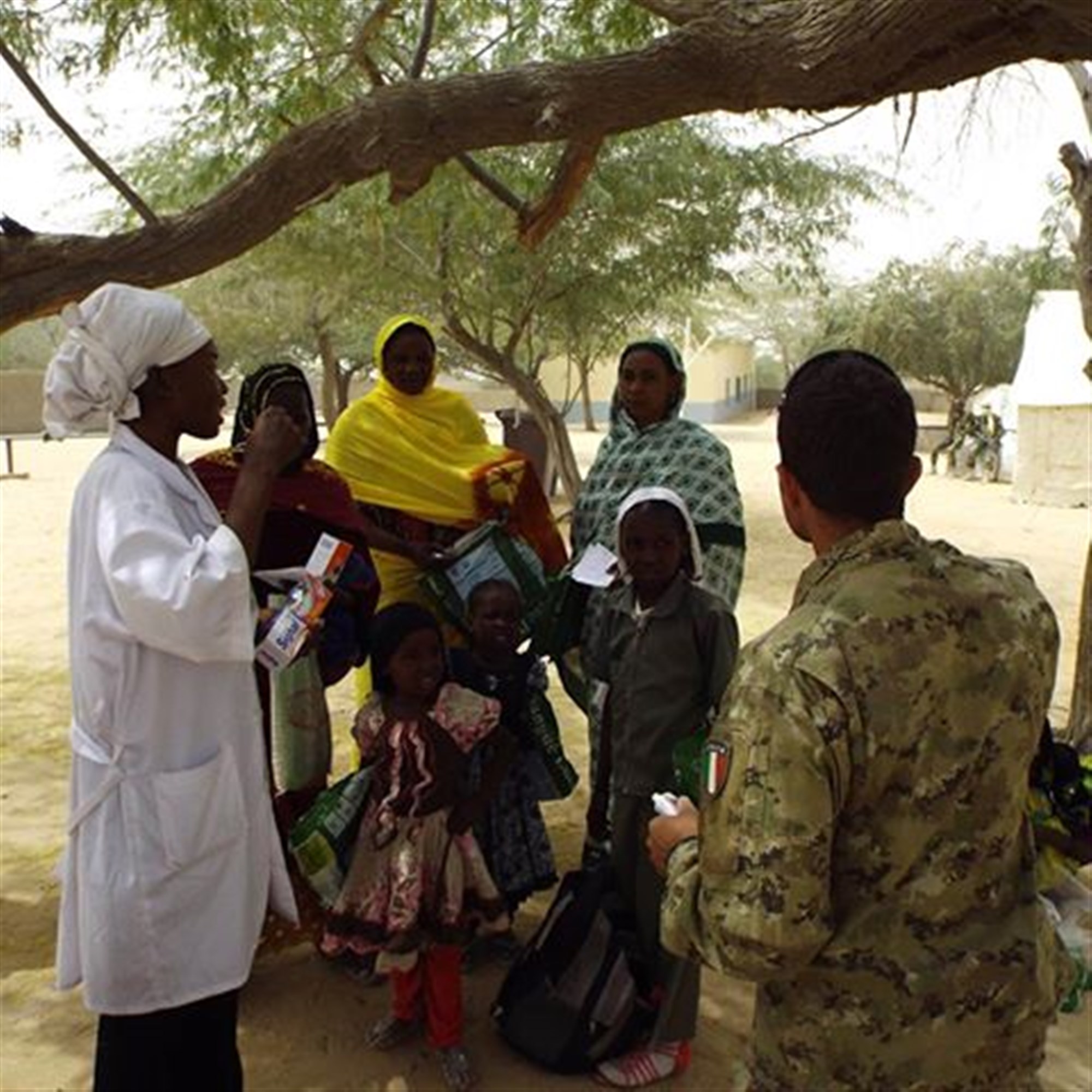 1 photo: United States Africa Command Image
MAO, Chad -- Over 400 local Chadians from the town of Mao received medical screening and care from multi-national troops as part of civil military efforts Feb. 27 during the annual Flintlock exercise which will run through March 9.
This was a similar scene that occurred throughout the exercise in various locations in Chad, including Faya and Moussoro, which brought together 23 countries and local medical providers in support of Civil Military Support Element (CMSE) teams to provide humanitarian care during the exercise.
During the Mao event, the Medical Exercise Readiness and Training (MEDRET) day kicked off with a key leader engagement with local leaders, which combined efforts with UNICEF to ensure proper screening, triage and dissemination of medications to the local population; some of whom traveled for days by donkey, camels and cars to receive care. Recipients were able to choose the service they needed — dental, optometry, primary care and women's health, as well as access to medication via the pharmacy.
U.S. Air Force Emergency Room Doctor, Capt. Rebecca <last name omitted for security purposes> led efforts in the women's health section. "Medicine is great, but reinforcing the basics is most important," said Rebecca.
CMSE Team Leader, Capt. Meredith <last name omitted for security purposes> facilitated efforts for the entire MEDRET. "Having female practitioners facilitate movement is paramount—because women are inherently more comfortable with women providers." This included female nurses, medics and the medical attaché from the U.S. Embassy.
Local female recipient, Fatimah Belchir attended the MEDRET. "We did not intend to receive any of this—we get medicine for ourselves and our children that otherwise couldn't be had."
U.S. Embassy (N'Djamena) Political and Human Rights Specialist, Mr. Djassra Ratebaye was available to translate for medical providers and locals, predominantly in French. "This MEDRET is very useful because they get everything they need in one location—and most of all the treatment they deserve." Ratebaye translated an assortment of ailments to include joint and back pain, and gastric infections.
Malnutrition, dehydration and, in one case, infant pneumonia prompted the providers to send young and elderly directly to the Mao hospital to receive further care.
A dental surgeon with the 10th Special Forces Group out of Fort Carson, Colo., and his Chadian team, removed several teeth, trained the local providers and left behind key supplies. "The real benefit is that the Chadian providers got to see and learn a lot," the surgeon said. "At least now they can better sustain themselves."
The Italians worked hand-in-hand with local Chadian providers to remind recipients on the proper application of dental hygiene. Additionally, they distributed tooth paste and toothbrushes.
The doctor for the Danish team treated several patients. "These medical exercises allow us to do some good while receiving and providing experience for others—it's a win-win!"
Rod Stubina, country chief for International Relief Director, which is funded by UNICEF, was on site. "In the past, the military and civilians never had a connection and these types of activities increase communication as well as decrease vulnerabilities," said Stubina. "Increased resilience to external threats allows for greater sustainability after a shock to the system."
The Chadian host joined Nigerians, Americans, Belgians, Danes, Germans, Italians, and Spaniards during this MEDRET to provide basic health service support by incorporating local government and health providers while building rapport with the local population.