7 photos: Cabo Verde completes disaster preparedness training
7 photos: Cabo Verde completes disaster preparedness training
7 photos: Cabo Verde completes disaster preparedness training
7 photos: Cabo Verde completes disaster preparedness training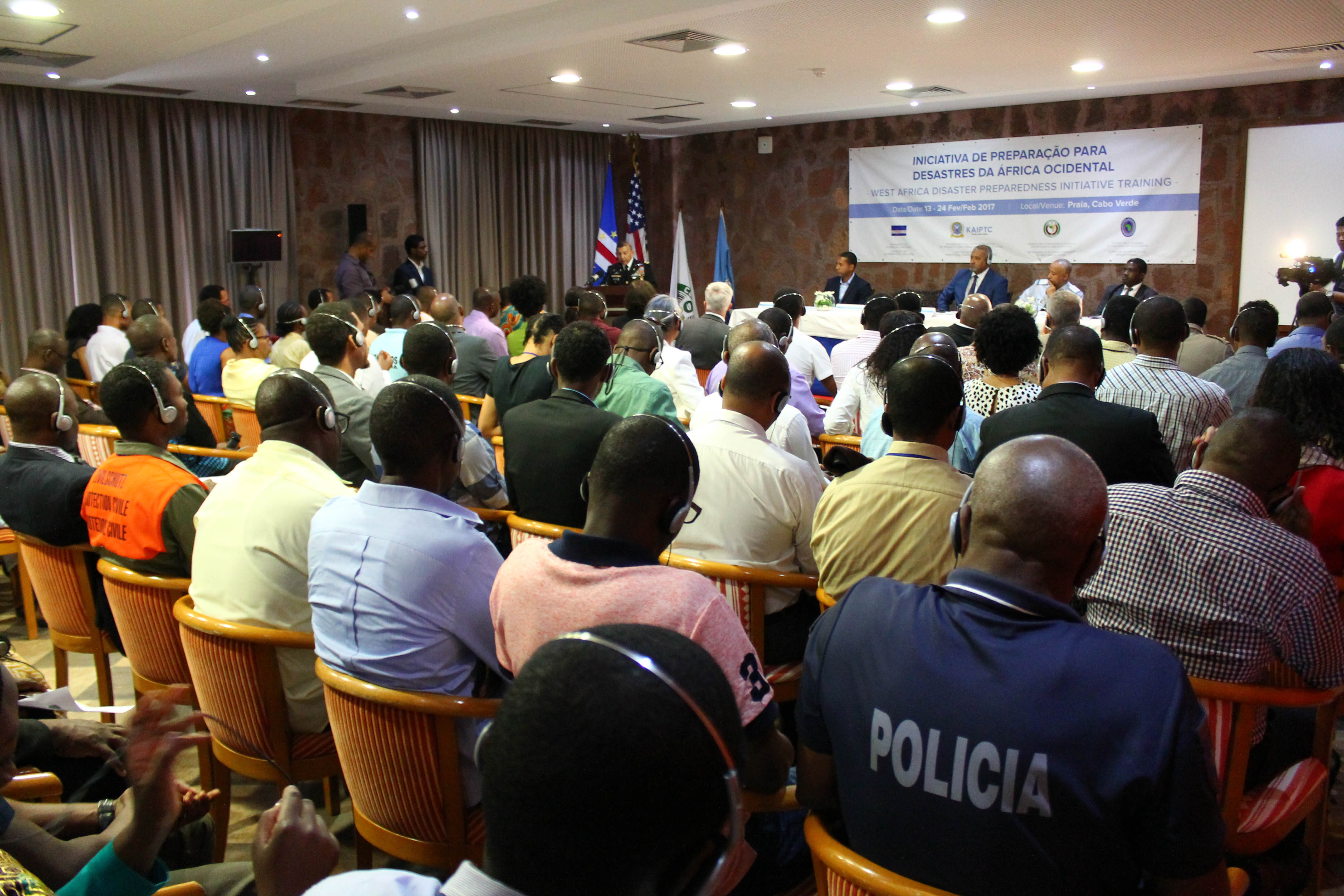 7 photos: Cabo Verde completes disaster preparedness training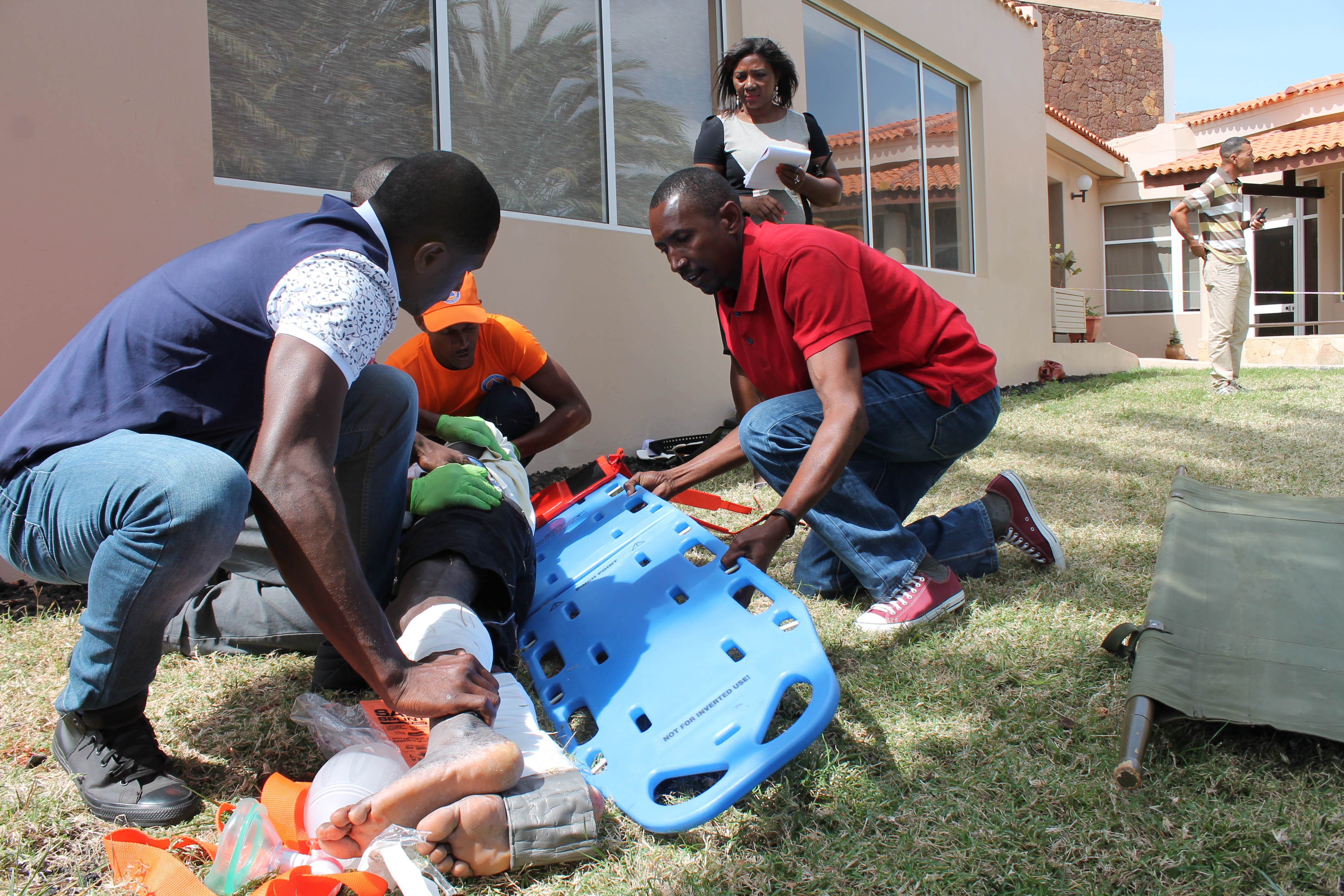 7 photos: Cabo Verde completes disaster preparedness training
7 photos: Cabo Verde completes disaster preparedness training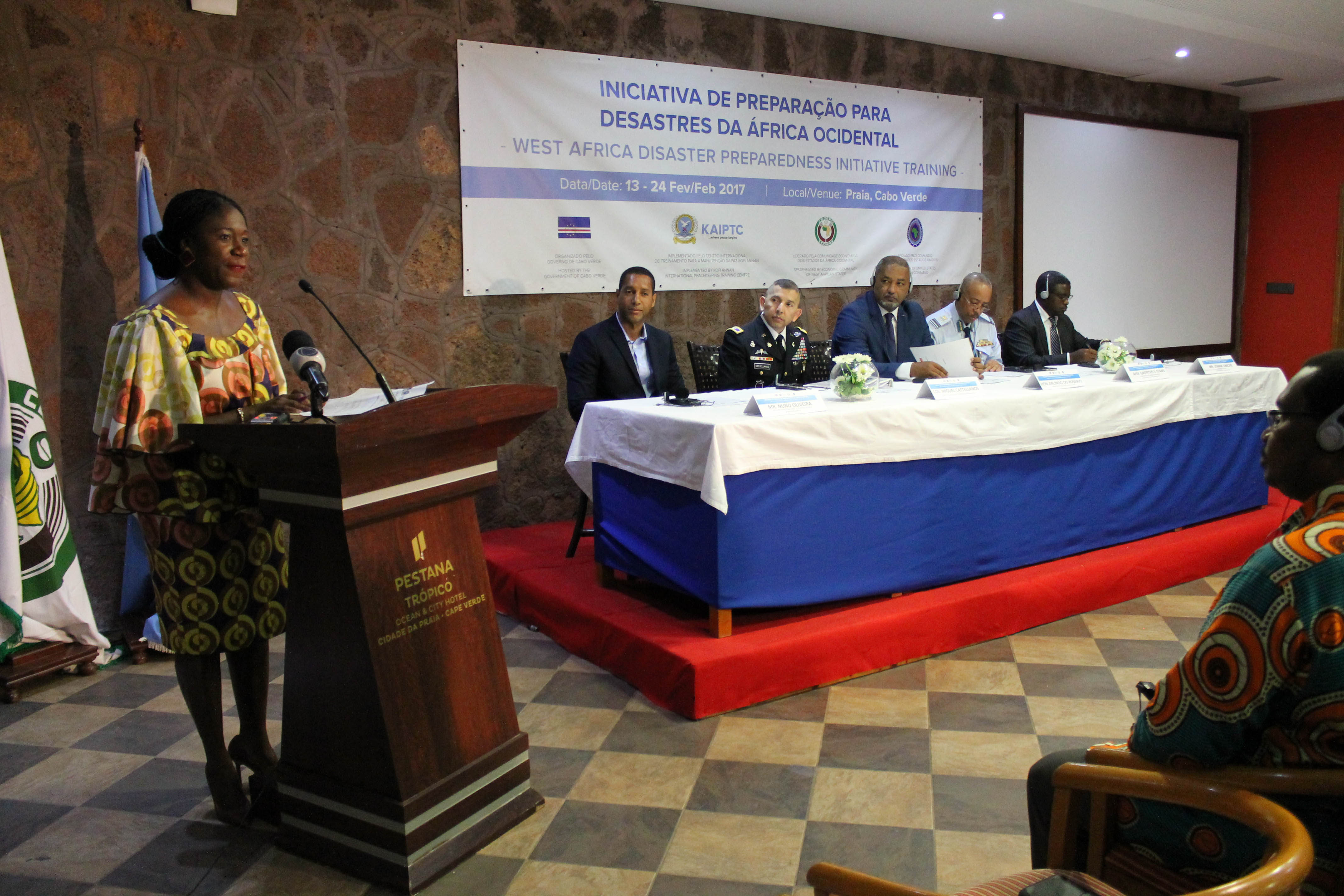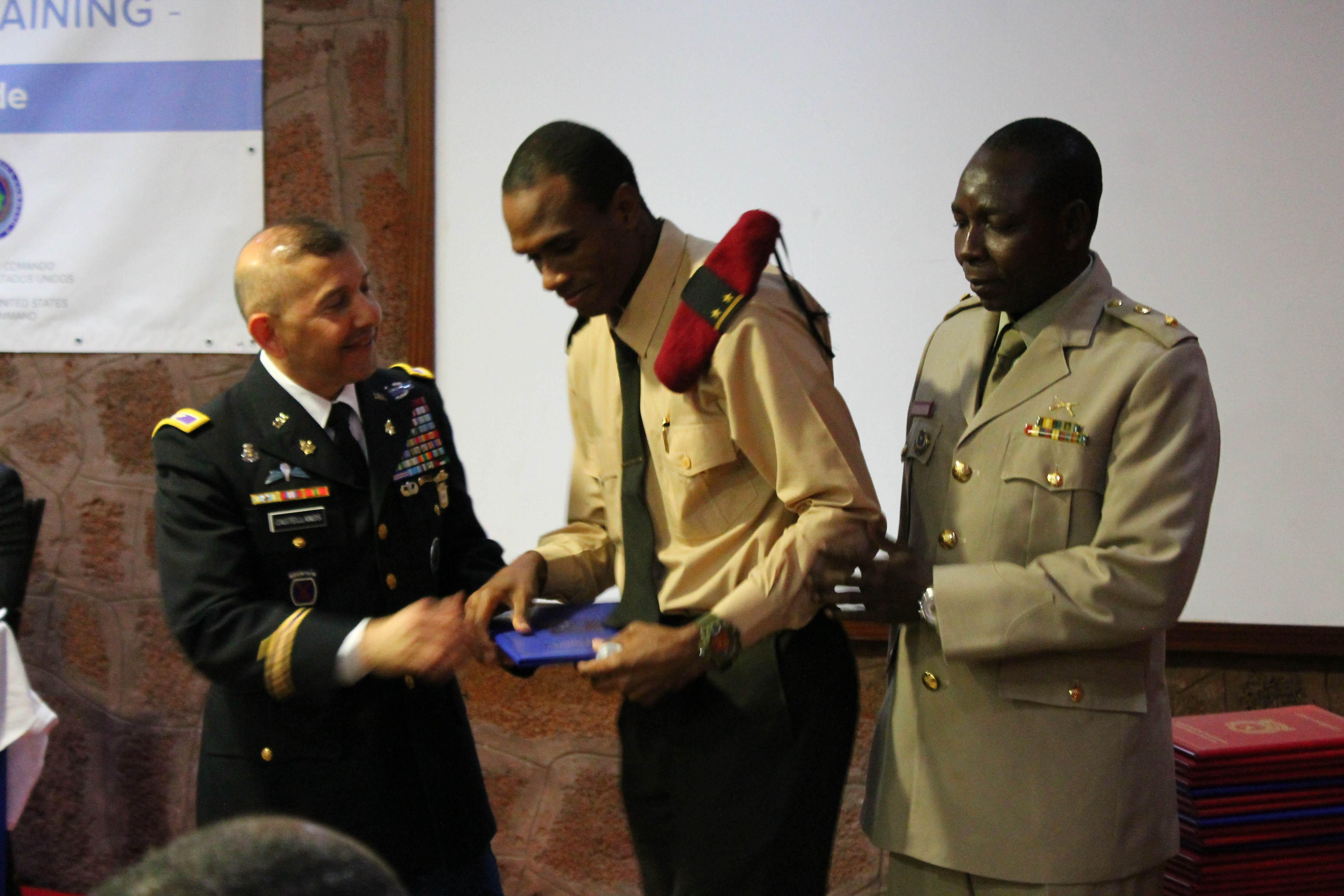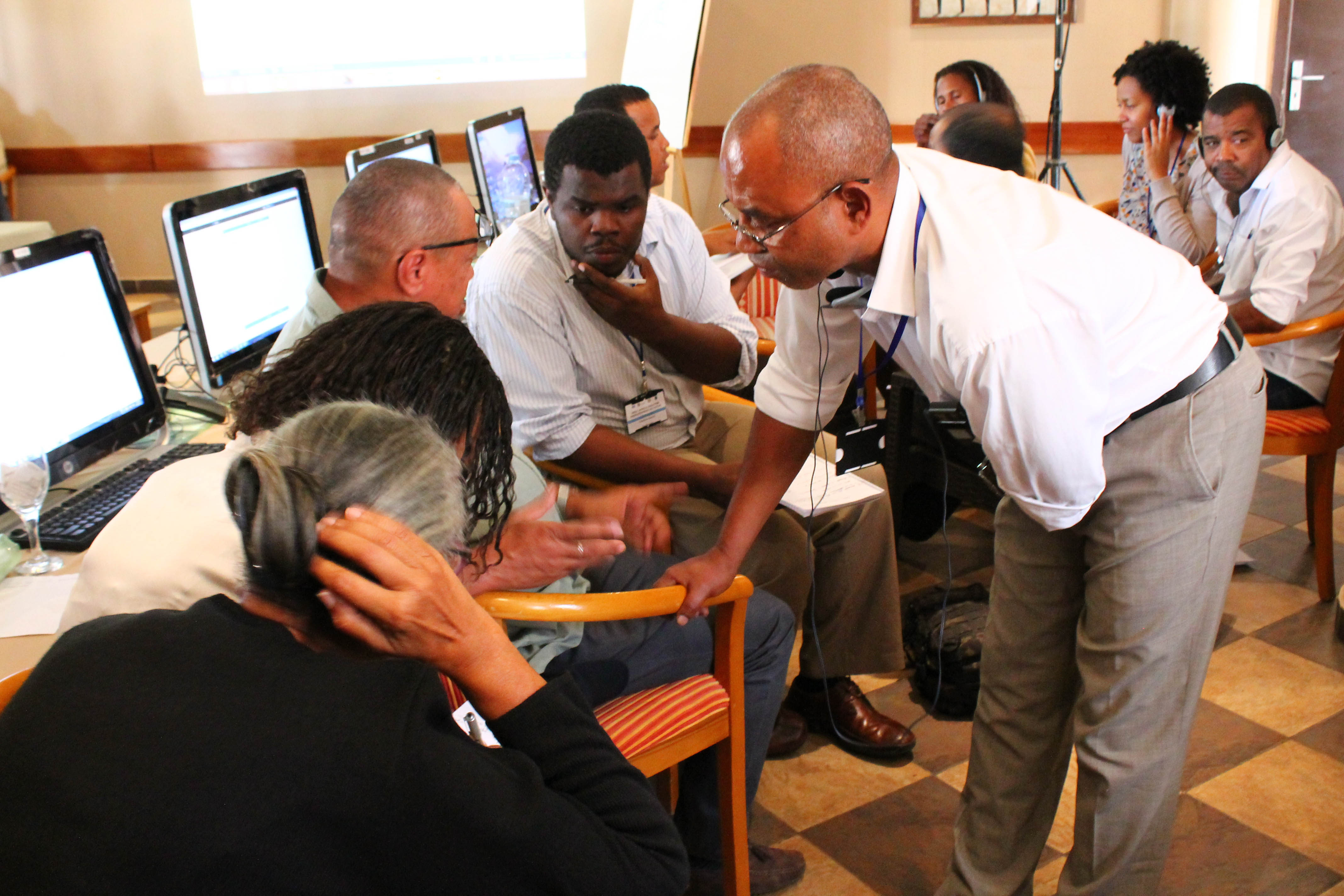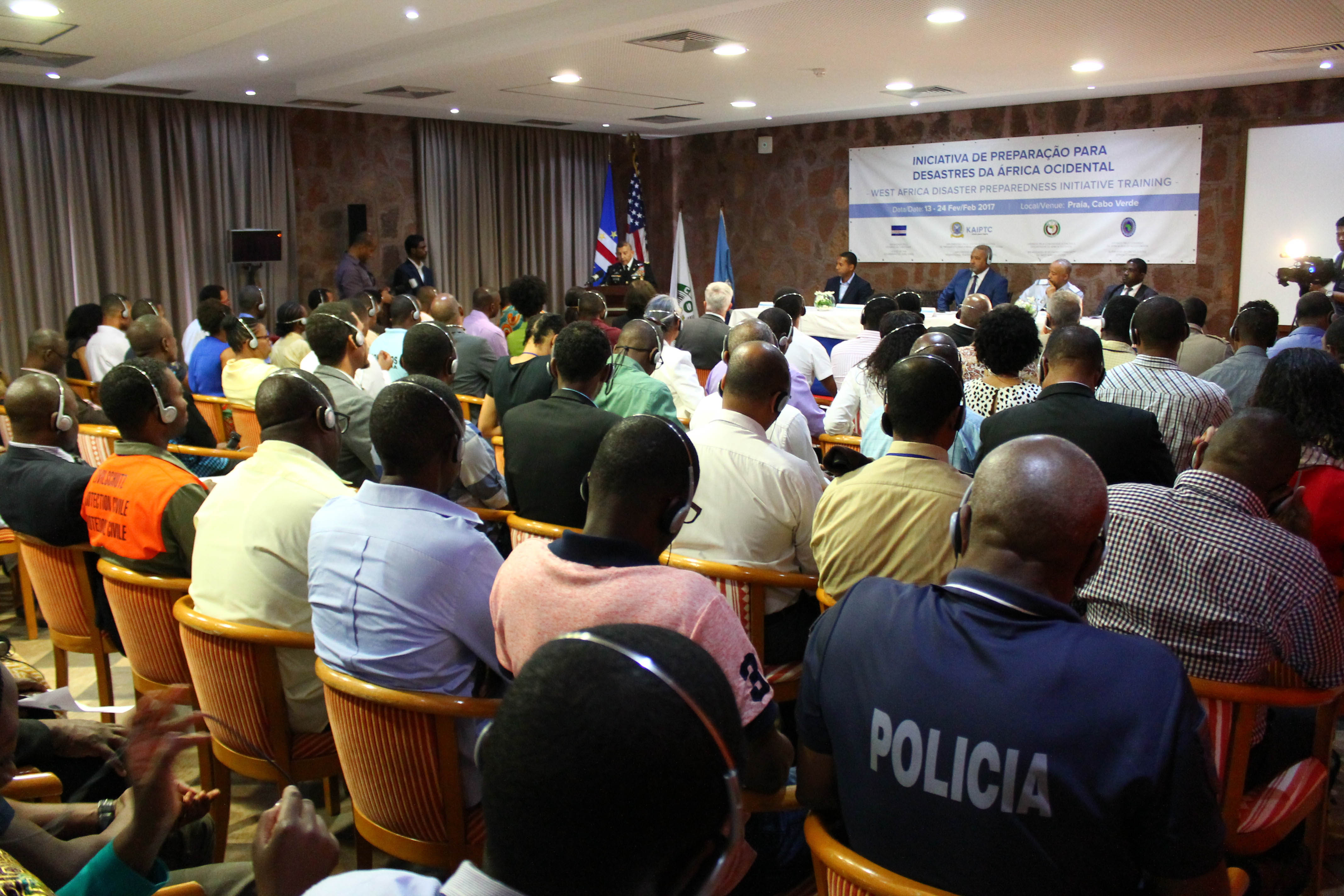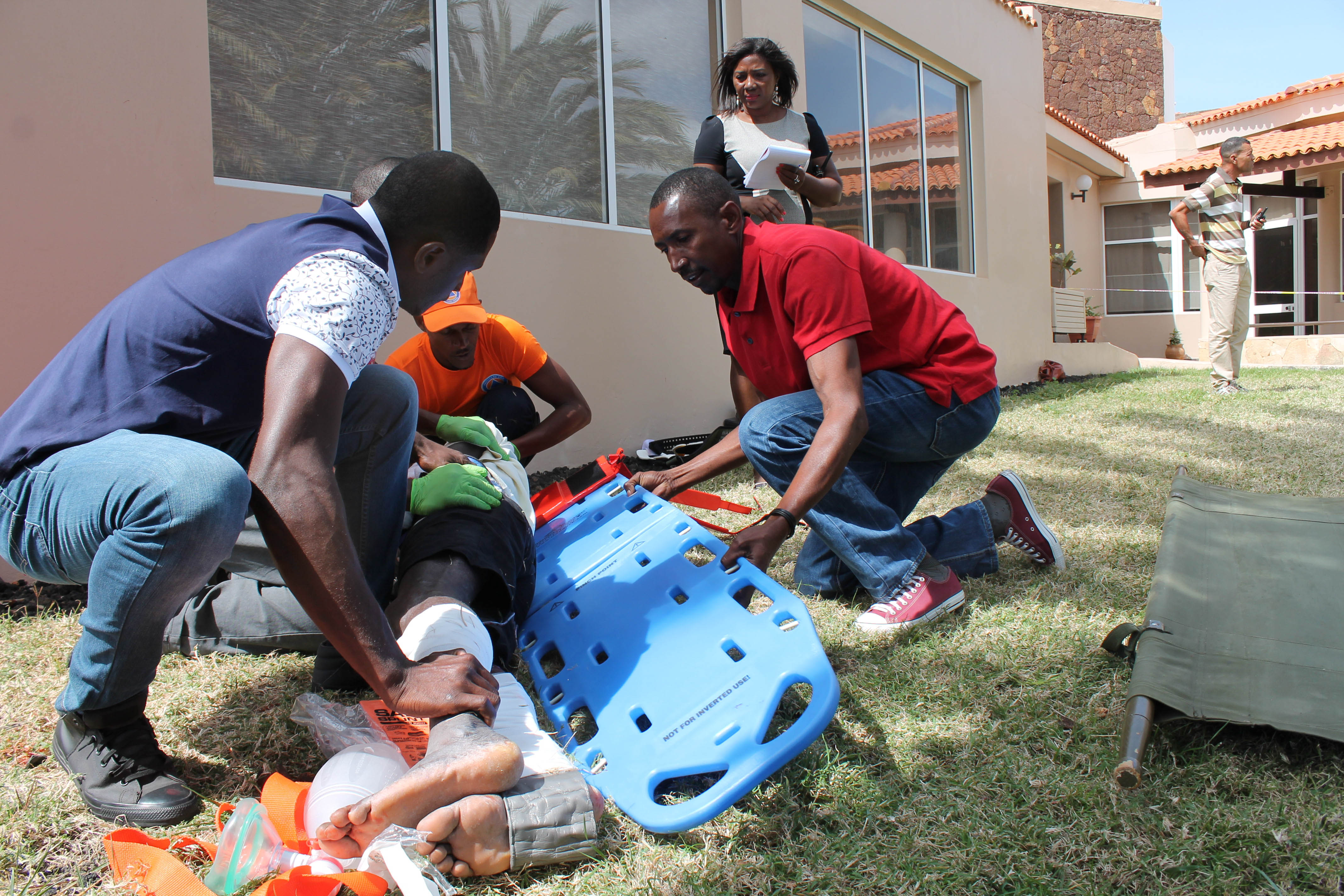 PRAIA – Cabo Verde became the 15th and final country under the Economic Community of West African States (ECOWAS) commission to successfully complete training and participate in the West Africa Disaster Preparedness Initiative (WADPI) program.
Several Cabo Verdean government and civil leaders, to include U.S. Ambassador Donald Heflin and Deputy of Programs for U.S. Africa Command Col. Miguel Castellanos, attended the closing ceremony in the capital city of Praia on Feb. 24, 2017.
"The WADPI program has been one of the cornerstones of AFRICOM's strategic approach to disaster preparedness for the last two years," Castellanos said during the closing ceremony.
The Cabo Verde engagement was conducted over two weeks with 26 facilitators for six partner nations: Benin, Ghana, Guinea Bissau, Kenya, Nigeria and Sierra Leone.
The graduating class of approximately 50 disaster management personnel of the Cabo Verdean interagency were comprised of military officers, health professionals, environmentalists, veterinarians, firefighters, police officers and other officials from the Minister of Health and Internal Affairs.
"It was important for us as a country to bring together all the right institutions to the table because we all have a role in disaster response and management," said participant Nuno Oliveira, the president of the Cabo Verde Civil Protection Service (SNPCB). "At first, however, the participants were a bit apprehensive; but after even two days, they were amazed by the depth of the program's curriculum."
Oliveira further explained that Cabo Verde itself had its own share of recent disasters, including a volcanic eruption on the island of Fogo in 2014 and a Zika virus outbreak in 2015, which made the timing of this particular training all the more important.
"WADPI has now given us new horizons, resources and friendships," Oliveira said during his closing ceremony remarks.
Program history
The WADPI is supported by AFRICOM's Disaster Preparedness Program, in collaboration with the Kofi Annan International Peacekeeping Training Centre (KAIPTC), ECOWAS and the National Management Organization of Ghana. It is funded by U.S. Defense Security Cooperation Agency Overseas Humanitarian, Disaster, and Civic Aid Appropriation (ODHACA) funds.
The goal of WADPI is to enhance all-hazard disaster management and national response capacity by promoting an interagency approach to disaster preparedness, response and management. The program was created as a response to the 2014 Ebola virus outbreak that spread across Liberia, Sierra Leonne and Guinea that killed more than 11,000 people.
Course director Lt. Col. Farouk Mohammed Bashar, who was representing KAIPTC, discussed the three pillars of the standardized training: regional collaboration, regional coordination and interoperability amongst stakeholders.
Since July 2015, WADPI has successfully trained more than 1,400 individuals from all 15 ECOWAS member countries. However, the number could be much higher, according to Faith Cooper, the regional advisor for WADPI.
"This program was designed specifically so that participants could take this knowledge and train their counterparts back in their home country – ideally this acts as a 'train the trainer' program," Cooper said. She added that former Liberian participants, upon their return home, have held supplemental and similar training sessions for an additional 400 government and city officials on the basics of disaster response and management. Additionally, a bill was recently passed through the Liberian Parliament to institute an agency in charge of disaster response.
Referencing the Ebola outbreak specifically, Cooper agreed that WADPI serves as a way for all West African countries to bond together and remember those who died from the disease.
"These participants are learning new skills, building deeper connections with their cohorts and participating in difficult hands-on disaster scenarios – all so they can prevent, prepare for and effectively respond to a tragedy of that magnitude in the future," Cooper said.
Course curriculum
WADPI courses consist of three training curriculums that are conducted simultaneously: operations, health and composite. Operations students focused on training in emergency operations center management, incident command systems, and strategic communications training. The health track provides Ebola and Zika virus disease awareness education, first responder training, integrated "One Health" surveillance and early warning systems program development. The third curriculum, the composite track, focuses on logistics, security, and civil-military coordination during humanitarian assistance and disaster response operations.
Professor Phyllis Addo, a professor in comparative medicine at the University of Ghana and an instructor in the health track, was involved in the creation of the curriculum from the program's inception.
She explained the significance of integrating the One Health concept into disaster preparedness, as it incorporates the human, animal and the environment dynamic when addressing diseases at its root cause. Climate change, for example, can affect the health of animals which can then lead to dangerous vector-borne diseases, such as malaria and Zika – all of which can adversely affect humans. The World Health Organization states that vector-borne diseases account for more than 17 percent of all infectious diseases, causing more than one million deaths annually.
Addo further explained how this concept is being introduced into educational programming as part of the classroom as children are oftentimes more intuitive than adults when it comes to noticing small changes in the environment or different behavior in their animals.
"Our world has become a global village; and our health has now become a shared responsibility," said Addo.
Next steps
Col. Castellanos said during the closing ceremony that "while today's graduation marks the end of the WADPI program as it originally developed, AFRICOM is positioned to continue support disaster preparedness capacity building programs in West Africa."
Castellanos further explained that the command is working activity with key stakeholders from the WADPI program to develop a framework for a regionally-focused, professional disaster management course that could be implemented in other regions of the Africa continent.
"These programs," said Castellanos, "are important security cooperation tools that will continue to enhance disaster preparedness, regional interoperability, and mitigate the effects of all types of future crises."