4 photos: 3rd Air Force commander and command chief visit AFAFRICA Airmen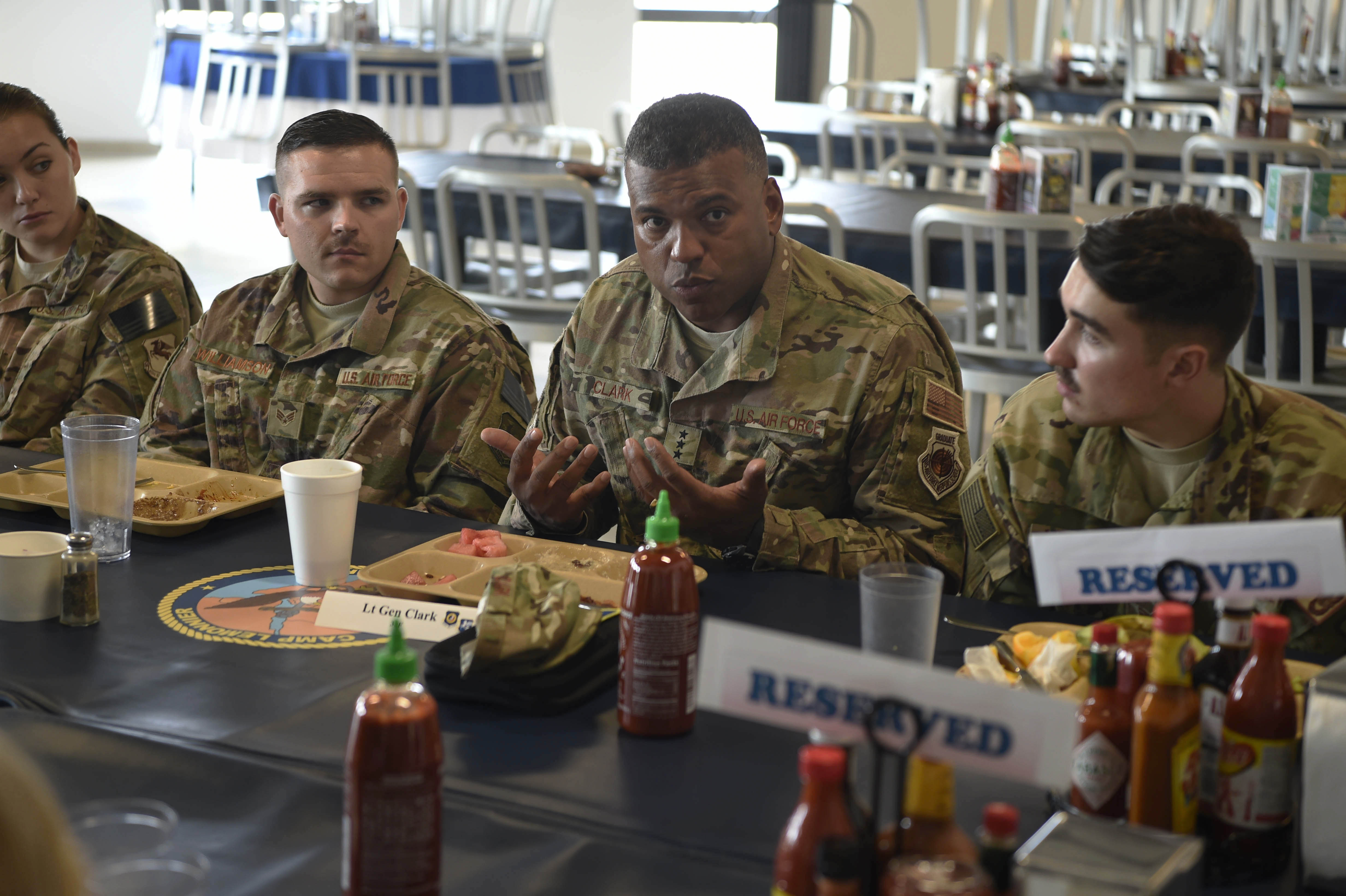 4 photos: 3rd Air Force commander and command chief visit AFAFRICA Airmen
4 photos: 3rd Air Force commander and command chief visit AFAFRICA Airmen
4 photos: 3rd Air Force commander and command chief visit AFAFRICA Airmen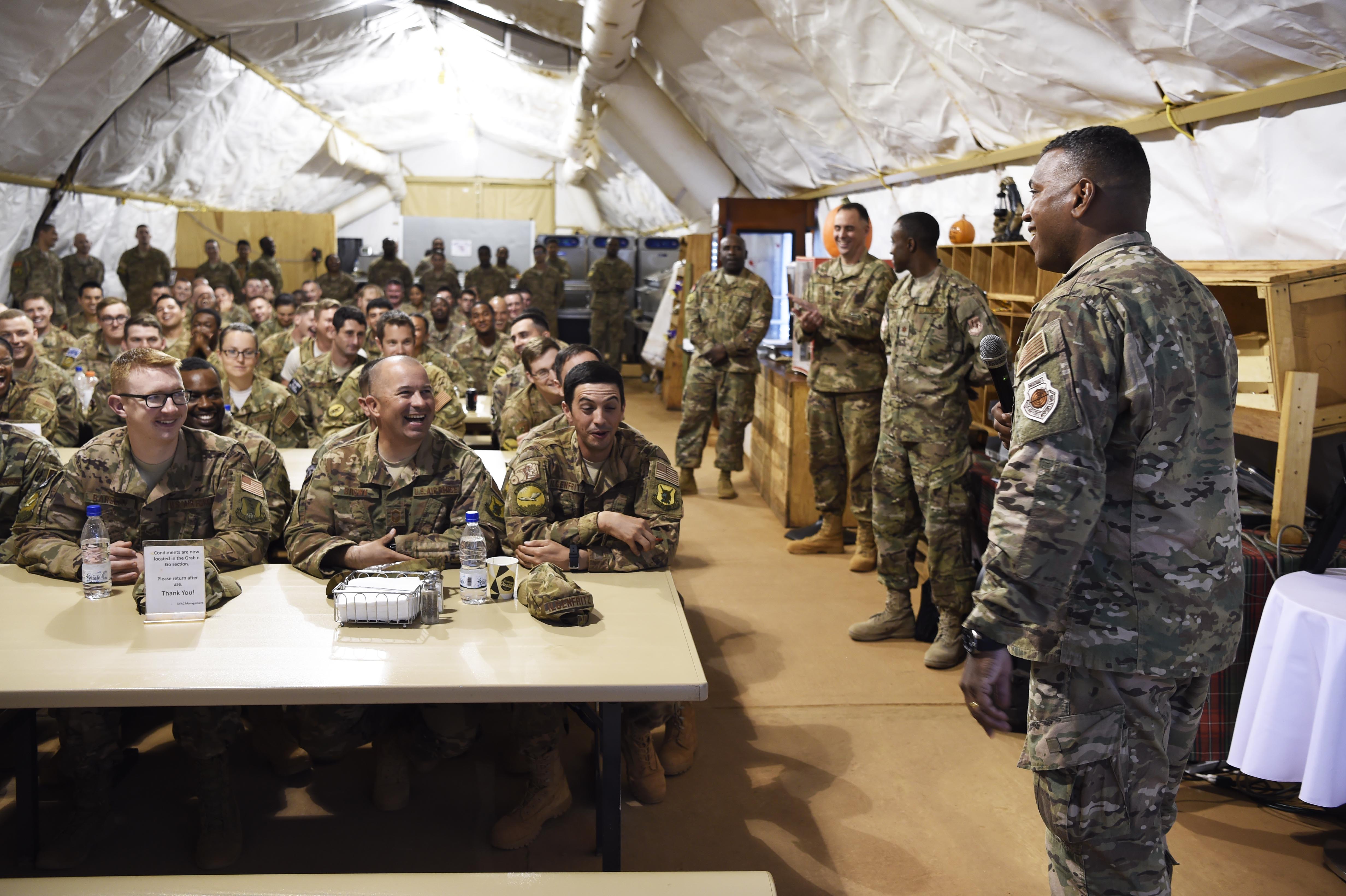 RAMSTEIN AIR BASE, Germany -- Lt. Gen. Richard Clark, 3rd Air Force and 17th Expeditionary Air Force commander, and Chief Master Sgt. Anthony Cruz Munoz, 3rd AF and 17th EAF command chief, traveled throughout Africa to meet deployed Airmen across the 435th Air Expeditionary Wing, from Oct. 16 - 20.
Clark and Cruz Munoz visited Airmen in Djibouti, Kenya and Niger, learning about the diversity of missions, addressing security concerns, highlighting the importance of the mission down range, fielding questions during all-calls and thanking Airmen for their sacrifices and commitment.
"What I'm most interested in is protecting and providing for our people, then taking care of the mission," Clark said.
They started their trip in Camp Simba, Manda Bay, Kenya, where they met with Airmen from the 475th Expeditionary Air Base Squadron.
After a lunch with 475th EABS Airmen, they learned about the different efforts to build up and secure their occupied area in Kenya, despite potential threats nearby.
"We have to treat our Airmen like warriors," Cruz Munoz said. "We can't let them be unprepared."
Clark and Cruz Munoz walked around the camp learning about the specifics of the mission, and recognizing outstanding Airmen along the way, as they did at every location. Cruz Munoz highlighted the pride and professionalism of the Airmen during the tour of the camp.
"Other countries come to us to help build and train their enlisted force," Cruz Munoz said. "We train our enlisted people to be leaders at every level. That's how much we value our enlisted force."
After visiting the camp in Kenya, they continued on to Combined Joint Task Force – Horn of Africa, Camp Lemonnier, Djibouti.
Airmen from the 449th Air Expeditionary Group and its tenant units, to include the 870th Expeditionary Squadron and 33rd Expeditionary Special Operations Squadron, showed off the diversity of their mission from flight line operations, to contracting local resources, to working with mission partners.
"The Airmen here do great work every single day and I could not be more proud of them," said Col. Shawn Cochran, 449th Air Expeditionary Group commander. "We are the only permanent presence in Africa and work very closely with our mission partners to secure this region."
Clark and Cruz Munoz completed their time in Djibouti by giving their first of three all-calls during this trip. They talked about their main priorities: family, taking care of Airmen, and the mission.
"First and foremost, I want to say thank you, to all of you," Clark said. "You're away from your family and friends, in one of the most austere environments, getting the mission done. No matter what you do, you make a difference and we came out here, in part, to make sure you knew that. The Air Force didn't send you around the world just to do nothing."
Cruz Munoz echoed Clark's sentiments.
"I also want to thank you," Cruz Munoz said. "You're the 0.5 percent of the U.S. population that serves in our military, but you project all of our power. I've served in the Air Force for 27 years; I used to get excited about the next thing I was going to do. But now, I get excited about what you guys get to do. I want to be there, right next to you, making an impact."
After completing their visit in Djibouti, they moved onto their final destination; Niger.
Arriving late at the first stop in country, Nigerien Air Base 101 in Niamey, they wasted no time in meeting with Airmen that night around the base. They started with the 409th Air Expeditionary Group Airmen who completed the dignified transfer for the U.S. service members killed near the Niger – Mali border Oct. 4.
"I know that was rough for you guys to see, but you handled it like pros, and I want to say how much it means to us and the families of those Soldiers that you helped get them home," said Clark. "It shows real character and professionalism that you handled the worst possible situation as well as you did."
They finished the night with meeting more Airmen and conducting the second all-call on this trip.
The next day, they met with Eunice Reddick, U.S. Ambassador in Niger, to discuss the state of affairs in Niger, then met with Amirou Abdoulkader, the Nigerien deputy air chief, in Niamey.
Clark and Abdoulkader discussed maintaining good relations between the U.S. and Niger, and supporting each other.
After the meeting, Clark and Cruz Munoz traveled to Nigerien Air Base 201, near the city of Agadez. They toured the base and stopped to talk with members of the newly deployed Base Defense Squadron and the most recent rotation of the 31st Expeditionary Red Horse Squadron about constructing the flight line for future operations.
They wrapped up their time at the air base with their final all-call, answering more questions from Airmen and reminding them of the importance of a U.S. presence in the Sahel region of Africa.
After the all-call, they left for a meeting with the Nigerien leadership in the city of Agadez. The leadership consisted of political, government, police and military representatives.
"Our number one concern for this region is security," said Sadou Saloke, Governer of Agadez. "We lost people too in this horrific attack on our land and share in the condolences with our American friends."
Saloke continued to highlight his biggest concerns for the stability of this region.
"We welcome the Americans here and value our relationship with them," Saloke said. "Our community is the eyes and ears for the base, and the local service members have greatly helped our community through outreach and provided jobs to our people. We want more of this, more Americans here, more prosperity for our people, more interactions with the base and more help building up our own defenses."
Airmen from the air base have helped increase the quality of life for the local communities through toy and clothing donations, buying local goods, employing some of the locals and interrupted a human smuggling route that used to run through the area.
"By working together, we shall succeed," Saloke said. "You are our partners and ambassadors for our goals and for our community."
Clark assured the local leadership that the U.S. is committed to a secure Africa, free from violent extremist organization influence.
"Niger has always been a steadfast ally of the U.S. and we appreciate your hospitality and eagerness to work with us," Clark said.
After the better part of a week, they left Africa having met with local leadership, addressing concerns, meeting Airmen and seeing the mission up close.
"I'm proud of all of you," Clark said. "I know it gets hard sometimes, but you just got to keep driving home nails, getting the job done and know that what you're doing matters."