3 photos: AFRICOM Commander Visits 15th MEU, USS San Diego
3 photos: AFRICOM Commander Visits 15th MEU, USS San Diego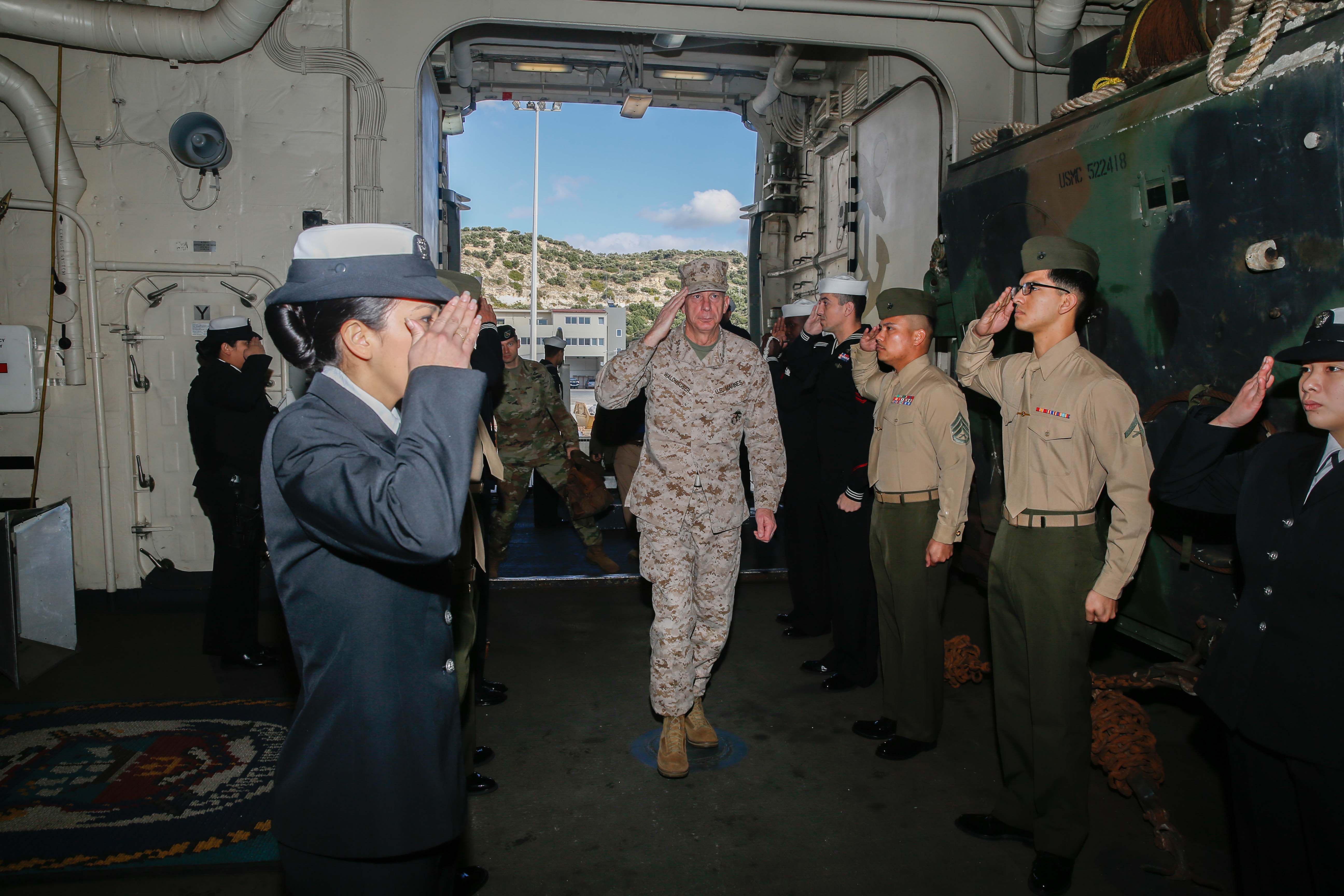 3 photos: AFRICOM Commander Visits 15th MEU, USS San Diego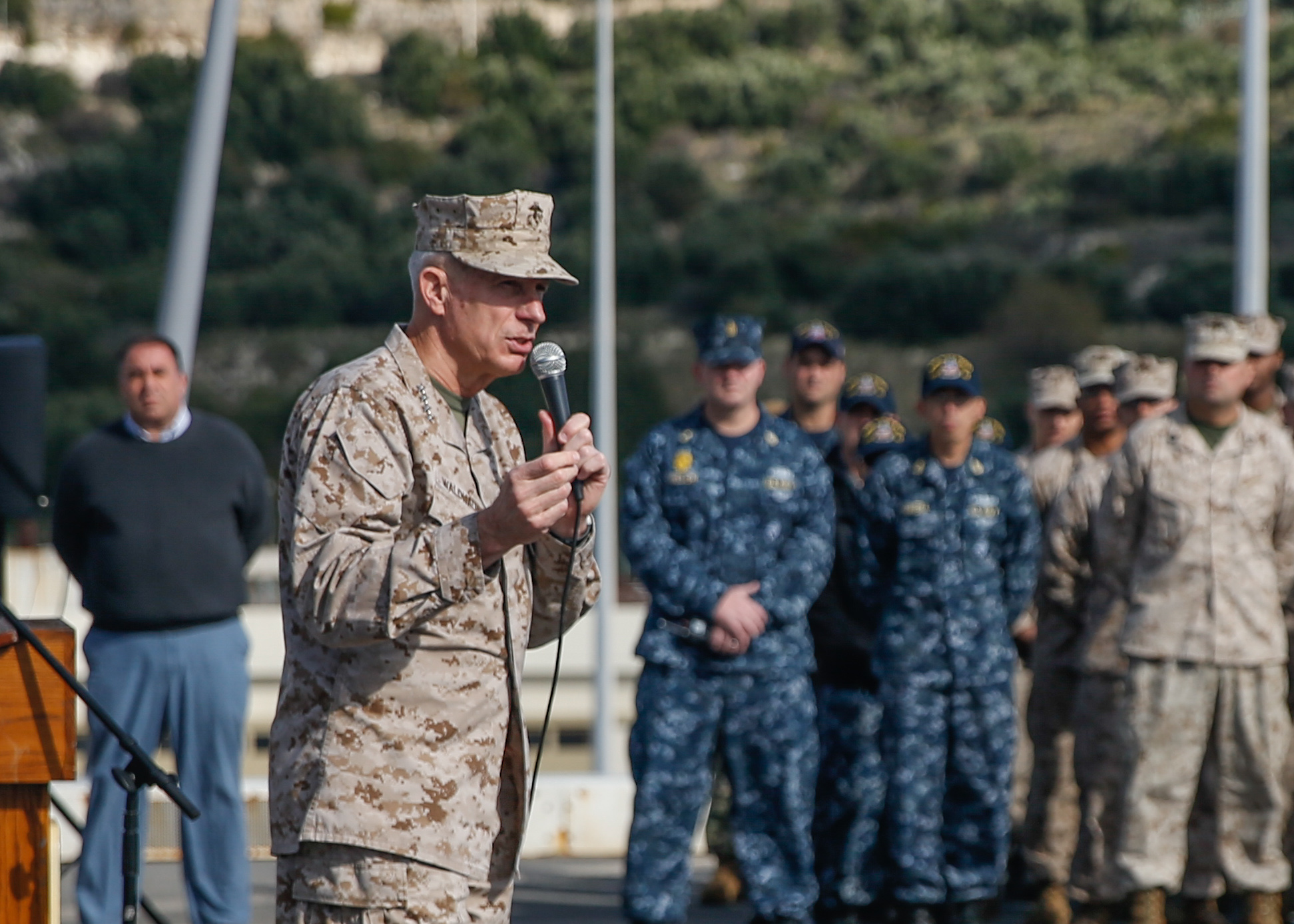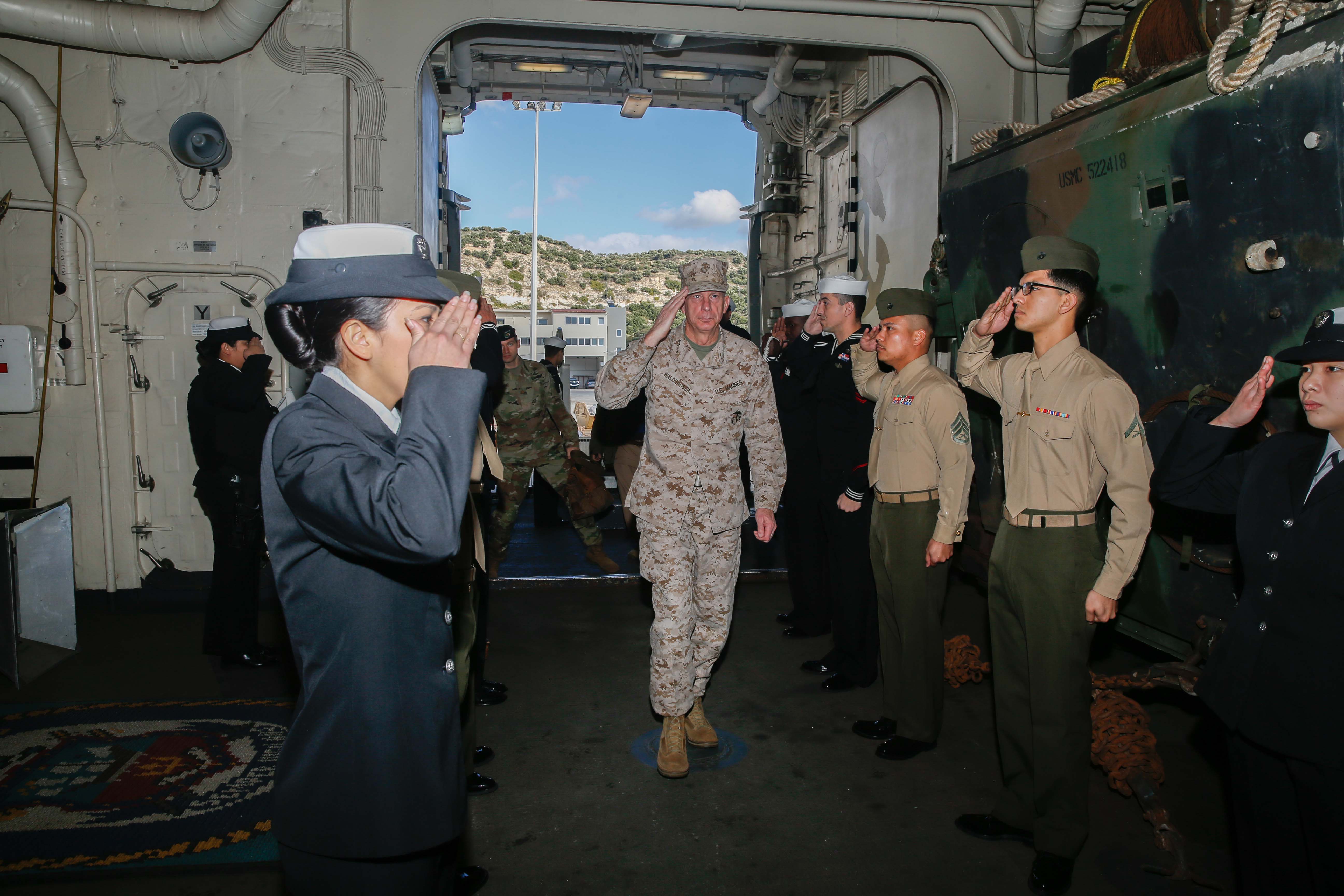 SOUDA BAY, Greece (Nov. 29, 2017) - U.S. Marine Corps Gen. Thomas D. Waldhauser, commander, U.S. Africa Command (AFRICOM), visited the amphibious transport dock ship USS San Diego (LPD 22) and met with members of the crew and embarked Marines and Sailors from the 15th Marine Expeditionary Unit (MEU).
Waldhauser arrived to the ship while it was moored in Souda Bay, Greece for a port visit. Accompanying him was the Deputy to the Commander for Civil-Military Engagement Amb. Alex Laskaris, and the Deputy Director for Plans and Strategic Integration, U.S. Army Brig. Gen. Tim McAteer.
The official party was greeted by sideboys, U.S. Navy Capt. Pete Collins, commanding officer of San Diego and U.S. Marine Corps Lt. Col. Lance Day, commander of troops aboard USS San Diego.
As a former 15th MEU commanding officer and I Marine Expeditionary Force commanding general, Waldhauser appreciated the opportunity to speak to the Blue-Green team of the 15th MEU. He expressed his gratitude for the support San Diego and the MEU provided to AFRICOM during the current deployment.
"The 15th MEU is my favorite MEU in the Marine Corps, and the USS San Diego is the name of my favorite city," Waldhauser said. "We couldn't do our job on the ground without the support from this ARG/MEU. I just wanted to come the ship to personally say thank you for everything you've done."
Waldhauser toured the ship, viewed a presentation on the capabilities of 15th MEU, specifically its RQ-21A Blackjack, unmanned aerial vehicle and chatted with Marines and Sailors. Concluding his tour on the ship's flight deck, Waldhauser promoted four Marines and one Sailor.
"It's not every day that you get to be promoted at sea on deployment," said Waldhauser. "This really is a memorable opportunity."
USS San Diego is deployed with the America Amphibious Ready Group (ARG) and 15th MEU to support maritime security operations and theater security cooperation efforts in the U.S. 6th Fleet area of operations. The America ARG, led by Commander, Amphibious Squadron (PHIBRON) 3, consists of the San Diego, the amphibious assault ship USS America (LHA 6), and the amphibious dock landing ship USS Pearl Harbor (LSD 52). They are operating with the embarked forces of the 15th MEU, the "Wildcards" of Helicopter Sea Combat Squadron (HSC) 23, and detachments from Assault Craft Unit 5, Naval Beach Group 1, Beachmaster Unit 1, Fleet Surgical Team 1 and Tactical Air Control Squadron 11.
The 15th MEU is a Marine Air-Ground Task Force comprised of a Ground Combat Element, Battalion Landing Team 1st Battalion, 5th Marines; an Aviation Combat Element, Marine Medium Tiltrotor Squadron 161 (Reinforced); a Logistics Combat Element, Combat Logistics Battalion 15.