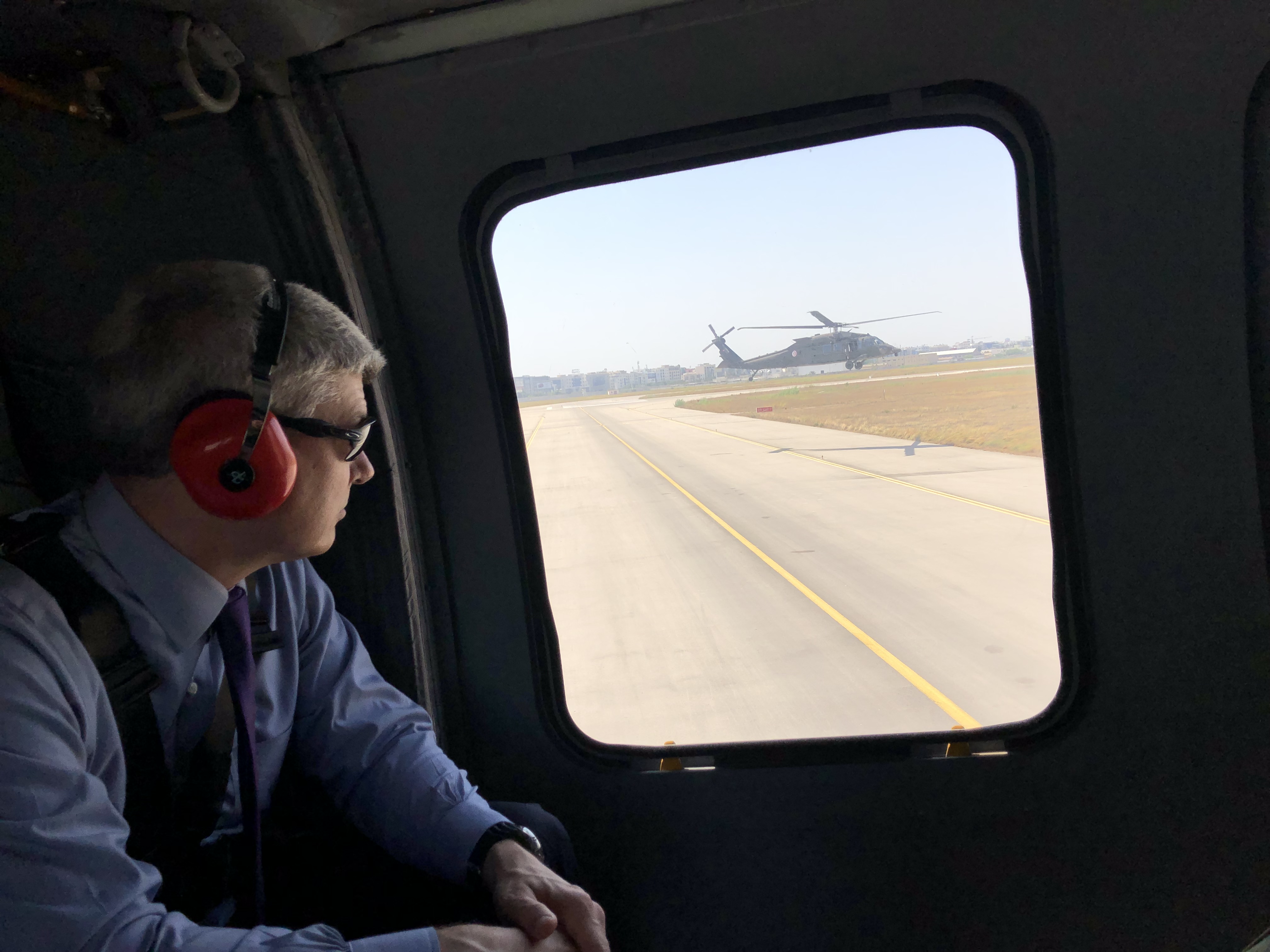 1 photo: AFRICOM Commander visits U.S. Embassy Tunis, Armed Forces in Tunisia
The commander, U.S. Africa Command visited the U.S. Embassy Tunis, saw U.S. and Tunisian security cooperation locations and support, as well as met with senior Tunisia Ministry of Defense service chiefs and officials Aug. 26-28.
Gen. Stephen Townsend met with Ambassador Donald Blome, senior Tunisian defense officials, U.S. personnel and Tunisian forces to see firsthand the impact of broader U.S. whole-of-government efforts in Tunisia while gaining insight into regional security, requirements, and concerns as the country heads toward presidential elections.
Tunisia is actively engaged in AFRICOM multi-national military exercises, airlift missions, and shares a commitment to degrading violent extremist organization influence in the region. With ongoing unrest in Libya, border security was a primary topic of concern during the meeting.
"Tunisia and the United States share mutual defense and security objectives," Townsend said. "Seeing our security cooperation efforts first-hand has increased my understanding of Tunisia's commitment and the mutual desire to make our relationship even stronger. They are critical to counterterrorism efforts in the region."
U.S. Africa Command continues to enhance its partnership with Tunisia and security cooperation with the Tunisian Ministry of Defense by addressing shared security and defense issues and challenges, including counterterrorism. In 2017, the U.S. and Tunisia signed a 5-year bilateral country action plan defining security assistance in the areas of joint operations, counter-terrorism, intelligence development, border security, defense institution building as well as crisis and contingency response. The Wyoming National Guard is also partnered with Tunisia as part of the National Guard's State Partnership Program.
This Department of Defense program connects a state's National Guard with the armed forces or equivalent of a partner country in a cooperative, mutually beneficial relationship.
Tunisian leaders expressed the importance of U.S. training, the enduring relationship, strengthening consultation and the sharing of experiences between the two countries. Tunisia continues to look for ways to partner with the U.S. and is demonstrating this by leading security-related exercises and taking on operations. As a highly capable strategic military partner, Tunisia hosts and is a major contributor to U.S. Africa Command exercises African Lion and Phoenix Express. Tunisia has suppressed ISIS and AQIM affiliates and are actively working to prevent these groups from entering its territory. At the same time, Tunisia has also demonstrated a maturing airlift capability and ability to meet rapid mobility requirements.
U.S. assistance is expanding in Tunisia in other areas as well, supporting economic growth and job creation. For example, the U.S.'s enduring relationship with Tunisia has helped improve its security, enabling growth in several economic sectors and job creation. Earlier in the week, the U.S. Agency for International Development announced the re-establishment of a full USAID mission in Tunisia.
Townsend and Blome also met with senior Tunisian Ministry of Defense officials in an effort to further the partnership and conditions for security and stability within Tunisia and the region. Townsend also visited with Tunisian ground and air forces.
"I've been a soldier almost 40 years," Townsend said. "I know a good soldier when I see one. Our Tunisian partners are getting after the enemy. We have seen a tremendous return on training investment here. Tunisia's security forces are a true success story."
Blome noted that "General Townsend's visit highlights the strong partnership between the United States and Tunisian governments. As Tunisia prepares for its upcoming presidential and legislative elections, the United States continues to be confident in the Tunisian people and their democratic future."