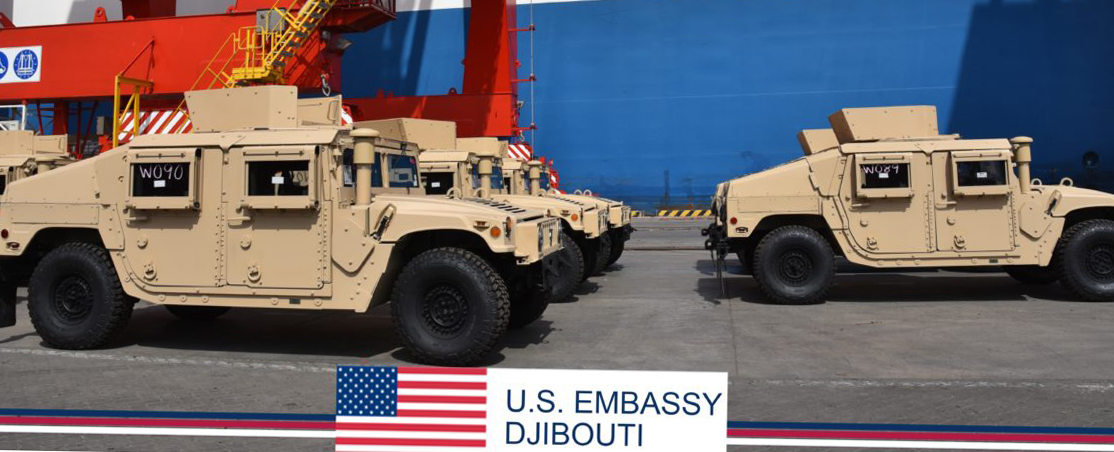 1 photo: United States Africa Command Image
CITY, Djibouti – As part of a $31 million train-and-equip partnership between the U.S. government and the Djiboutian military, a shipment of 54 new Humvees arrived in Djibouti City, Djibouti, this week.
The military vehicles were delivered to Djibouti seven months ahead of schedule to the Armed Forces of Djibouti (FAD) for use by its Rapid Intervention Battalion (RIB), an advanced infantry battalion being trained and equipped by the U.S. military.
"The U.S. offers our partners, like Djibouti, a unique partnership by investing in their security and economy for the people of Djibouti," said Air Force Brig. Gen. Steven deMilliano, U.S. Africa Command (AFRICOM) deputy director of strategy, engagement, and programs.
The $31 million train-and-equip partnership, facilitated by U.S. Embassy Djibouti, U.S. Africa Command, U.S. Army Africa and Combined Joint Task Force-Horn of Africa, reflects the strong, enduring and cooperative relationship enjoyed by the United States and the Republic of Djibouti.
"The key to maintaining a trusted partner is through transparency and reliability" said deMilliano. "We are committed to strengthening the defense capability of our Djiboutian partners while ensuring timely and desired support. This delivery, seven months ahead of schedule, demonstrates the capacity and the commitment of the U.S to its partners across the world."
Centered around a cadre of experienced Djiboutian officers and non-commissioned officers, RIB recruits receive multidimensional skills training as the battalion evolves and grows in capability. Training provided by the U.S. includes, but is not limited to, light infantry tactics, mission planning, weapons training, first aid, land navigation, communication exercises, and additional advanced instruction.
"With the delivery of these vehicles, we will increase the capability of the RIB to conduct mounted patrols and respond quickly to any mission," said Army Capt. Michael Simpson, the officer in charge of RIB training. "We are excited to continue building the strong partnership between Djibouti and the U.S. with this new level of operational training."
AFRICOM's commitment to growing the defense capabilities of its Djiboutian partners includes increasing its naval patrol capacity through logistics, maintenance and seamanship training. Djibouti also hosted two iterations of AFRICOM's Exercise Cutlass Express in 2019, both of which improved combined maritime law enforcement capacity and promoted regional security in East Africa.
Other support arrangements include engineering and construction support to improve base facilities and local roadways.
"(We) had the opportunity to work with the RIB construction team by improving local roads after this month's heavy rains," said Capt. Paul Hinton, the commander of an Army engineer unit assigned to CJTF-HOA. "The road improvements were vital to the recent delivery," Hinton said.
Strategically located in the Horn of Africa, Djibouti is a key U.S. partner on security, regional stability and humanitarian efforts across the region.
The U.S. military presence in Djibouti affords our partners an implicit security guarantee, in addition to economic benefits. The U.S. military's direct and indirect payments total over $200 million annually, equivalent to around 10 percent of Djibouti's gross domestic product. The U.S. government is also Djibouti's second largest employer, behind only the government of Djibouti, including its port operations.
###