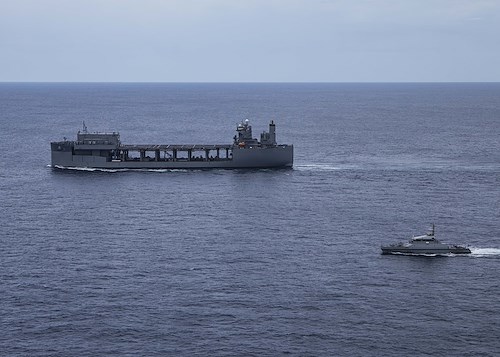 2 photos: USS Hershel 'Woody' Williams operates with the Senegalese Navy
Download full-resolution image
2 photos: USS Hershel 'Woody' Williams operates with the Senegalese Navy
Download full-resolution image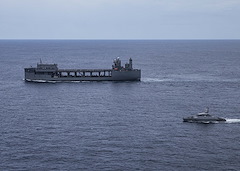 The Expeditionary Sea Base USS Hershel 'Woody' Williams conducted passing and communications exercises with Senegalese naval counterpart patrol vessel Kedougou in the Atlantic Ocean off the coast of Senegal, Sept. 21.
"It was an honor and pleasure working beside the Senegalese Navy Warship OPV Kedougou and her crew," said Capt. David Gray, commanding officer, Hershel 'Woody' Williams, blue crew. "Their team was very professional and outstanding at ship driving, tactical signals, and excellent communicators. The Hershel Woody Williams looks forward to our future interoperability with the country of Senegal and the Kedougou crew."
Hershel 'Woody' Williams and Kedougou used the Senegalese Maritime Operations Center to communicate and pass information to conduct the exercise. Communications Marines from II Marine Expeditionary Force provided additional assets for maritime communications between the two vessels.
U.S. Navy vessels routinely conduct training with allies and partners in order to enhance interoperability and increase capability in order to strengthen the regional maritime security.
Hershel "Woody" Williams is on a regularly-scheduled deployment to the U.S. Naval Forces Africa area of operations and is a key element in integration between U.S. Navy and Marine Corps operations, especially Marine aviation and support to amphibious operations.
Other operations and training the ship can conduct include support to Special Operations, command and control, and staging of equipment and other assets, as directed. The ship will be a long-term presence assigned to the U.S. Africa Command mission set and will support security cooperation missions and operations in and around the African continent.
U.S. Naval Forces Europe-Africa Fleet, headquartered in Naples, Italy, conducts joint and naval operations in order to support regional allies and partners and U.S. national security interests in Europe and Africa.