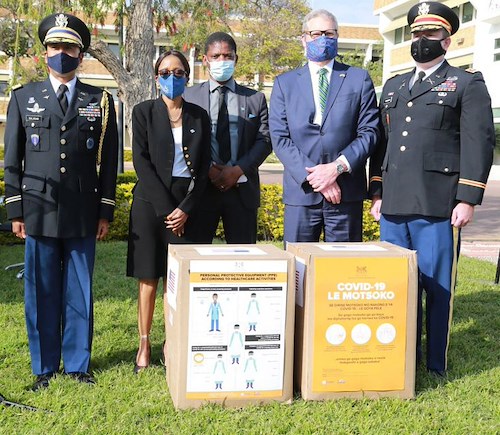 2 photos: Final installment of donated medical equipment reaches Namibia, Botswana
Download full-resolution image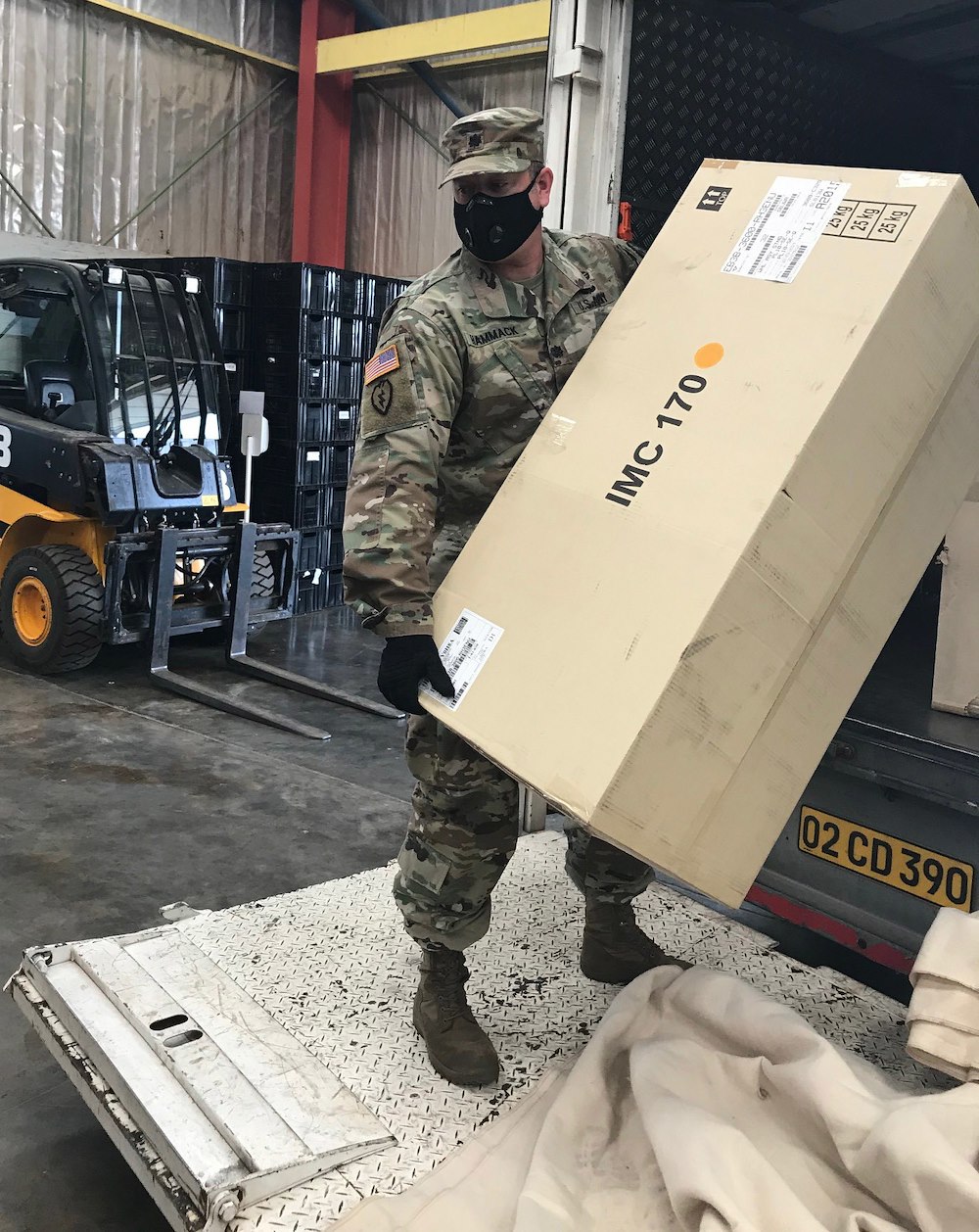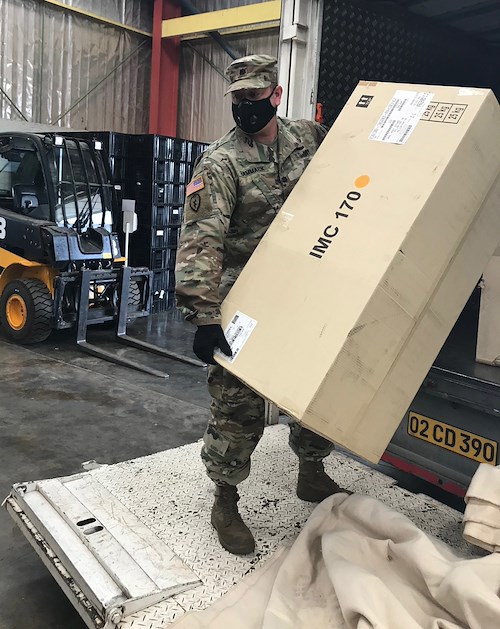 2 photos: Final installment of donated medical equipment reaches Namibia, Botswana
Download full-resolution image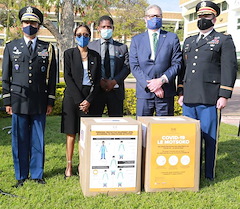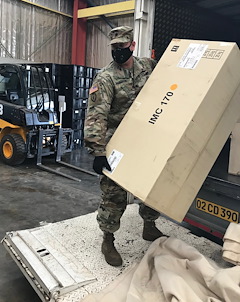 Department of Defense personnel assigned to the United States embassies in South Africa and Namibia transferred 11,000 face shields and 3,000 nasal swaps from the South African side of the border to Namibia on October 8, 2020.
The transferred occurred at the border control point between Nakop, South Africa, and Ariamsvlei, Namibia.
The medical equipment will be used by the Namibian Department of Health and Institute of Pathology as personnel at the agency work to contain the COVID-19 pandemic.
Travel restrictions designed to prevent the spread of the COVID-19 virus prevent people from moving back and forth between the two countries. So American military personnel working at the U.S. embassy in Pretoria, South Africa, brought the medical equipment to Nakop, where their counterparts from the American embassy in Namibia picked up the supplies for transport to Windhoek, Namibia's capitol.
This donation was the final instalment in a $100 million Namibian dollars ($6.71 million US) donation of medical equipment to Namibia announced in the spring by the Lisa Johnson, the U.S. ambassador to Namibia. Delivery of equipment began in March, and U.S. military personnel have transferred equipment at the borders with Lesotho and Botswana in the past.
On September 23, U.S. embassy military personnel transferred 31,600 N95 face masks and 49,546 face shields from South Africa to Botswana at the Kopfontein, South Africa, border checkpoint.
"The masks provide top filtering performance to Botswana and Namibia's medical providers that treat COVID-19 positive patients. The plastic face shields provide longer duration protection to the country's service providers that routinely interact with the general public," explained Lt Col. Darrick Mosley, the U.S Embassy Office of Defense Cooperation Chief.
"We continue leaning on the strong network we have with partner nations and government agencies, which allows us to help protect populations during this pandemic," added Lt. Col. Robert Hammack, the Office of Security Cooperation chief in Botswana.
Namibia is South Africa's neighbor to the northwest and is sparsely populated, with the second-lowest population density of any sovereign country, after Mongolia.
Botswana is South Africa's neighbor to the north. The country is landlocked, surrounded by Namibia, South Africa, Zimbabwe, Zambia, and Angola.
Since the start of the COVID-19 pandemic, South African health officials have recorded 726,823 cases as of November 1, 2020 with 19,411 total deaths. As of Nov. 1 there were 52,082 active cases of the virus, according to the South Africa government.
In Botswana, according to the European Center for Disease Prevention and Control there have been 6,642 COVID-19 cases reported and 24 deaths as of Nov. 2, 2020.
Namibia, according to the World Health Organization, there have been 12,395 COVID-19 cases reported and 133 deaths from the virus.