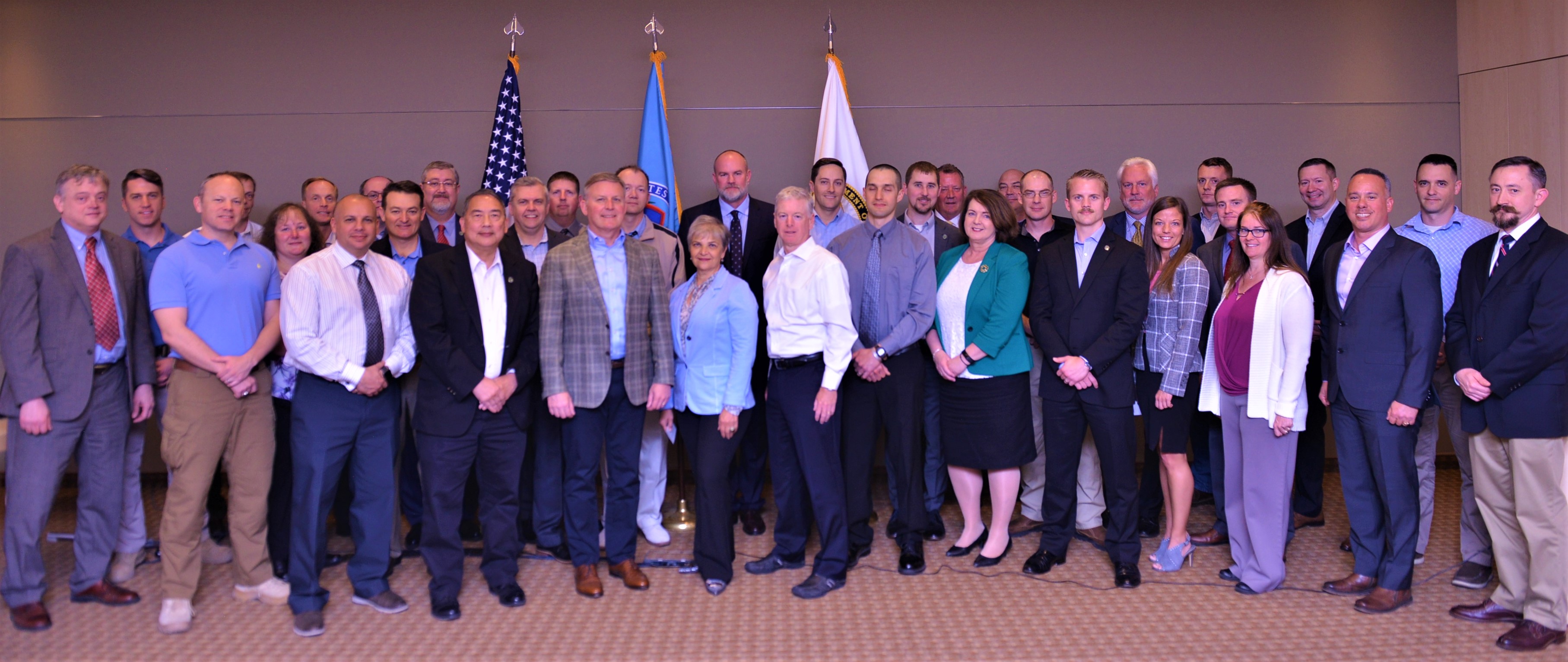 6 photos: AFRICOM Directorate of Resources and Assessments hosts annual workshop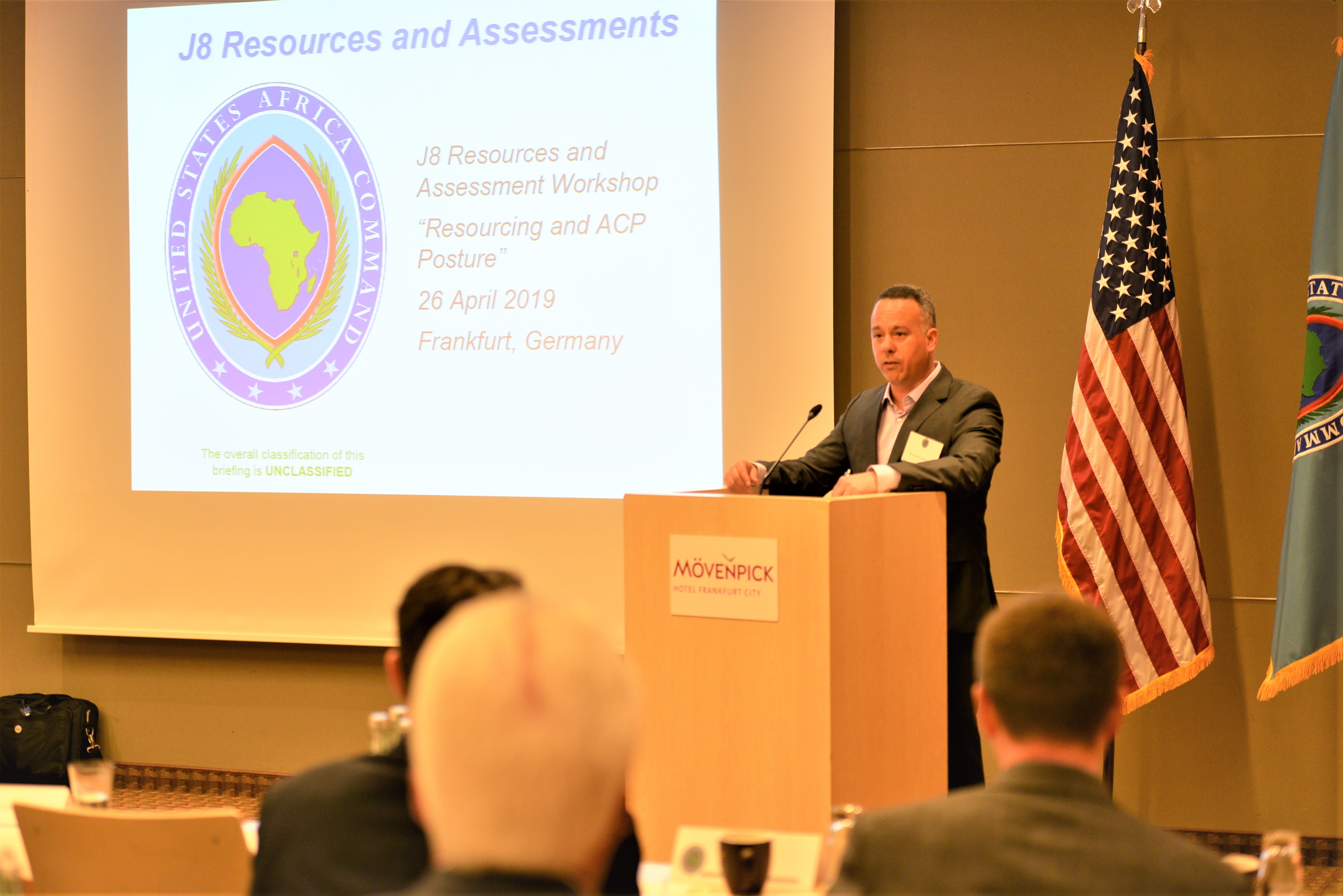 6 photos: AFRICOM Directorate of Resources and Assessments hosts annual workshop
6 photos: AFRICOM Directorate of Resources and Assessments hosts annual workshop
6 photos: AFRICOM Directorate of Resources and Assessments hosts annual workshop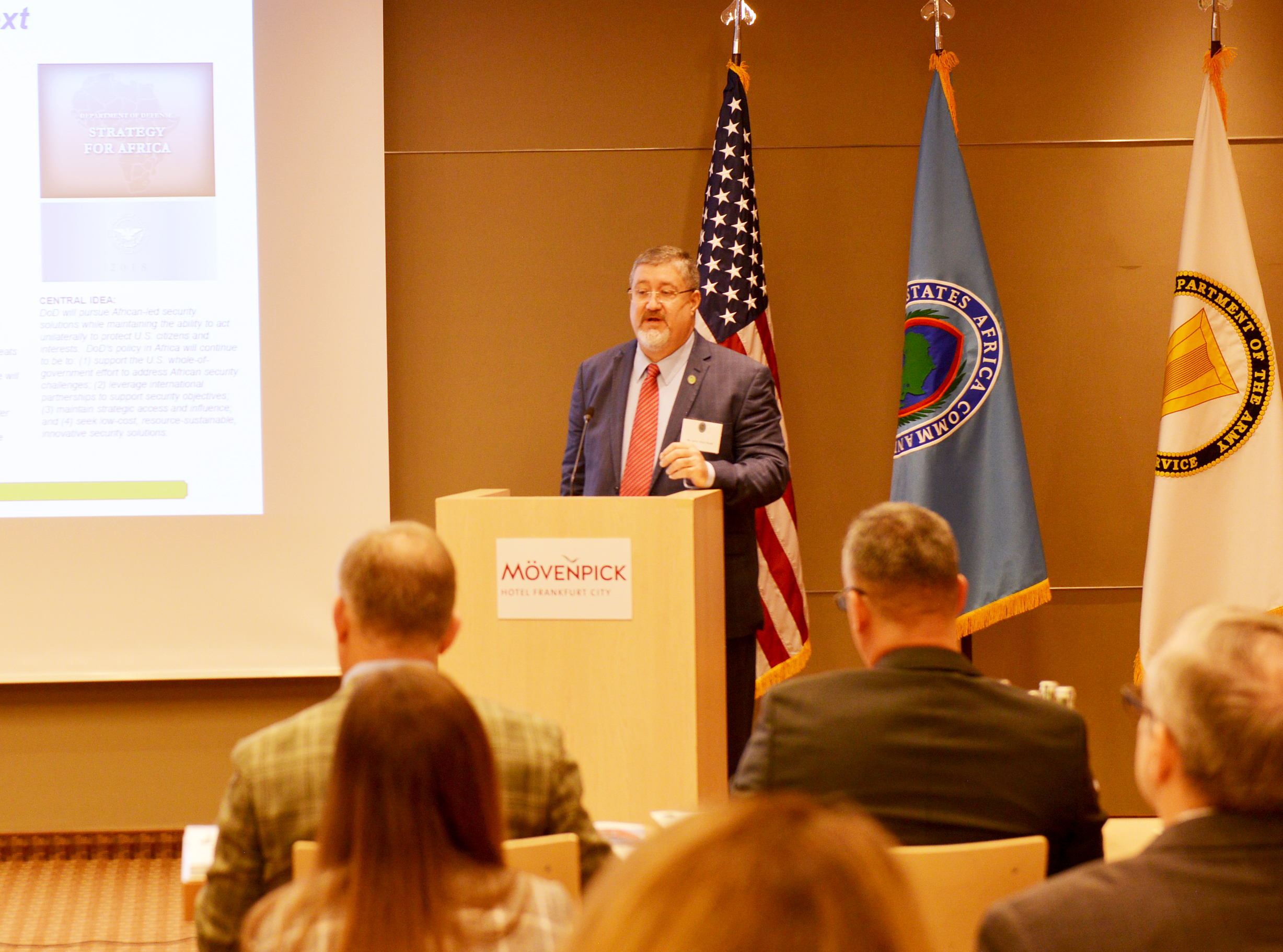 6 photos: AFRICOM Directorate of Resources and Assessments hosts annual workshop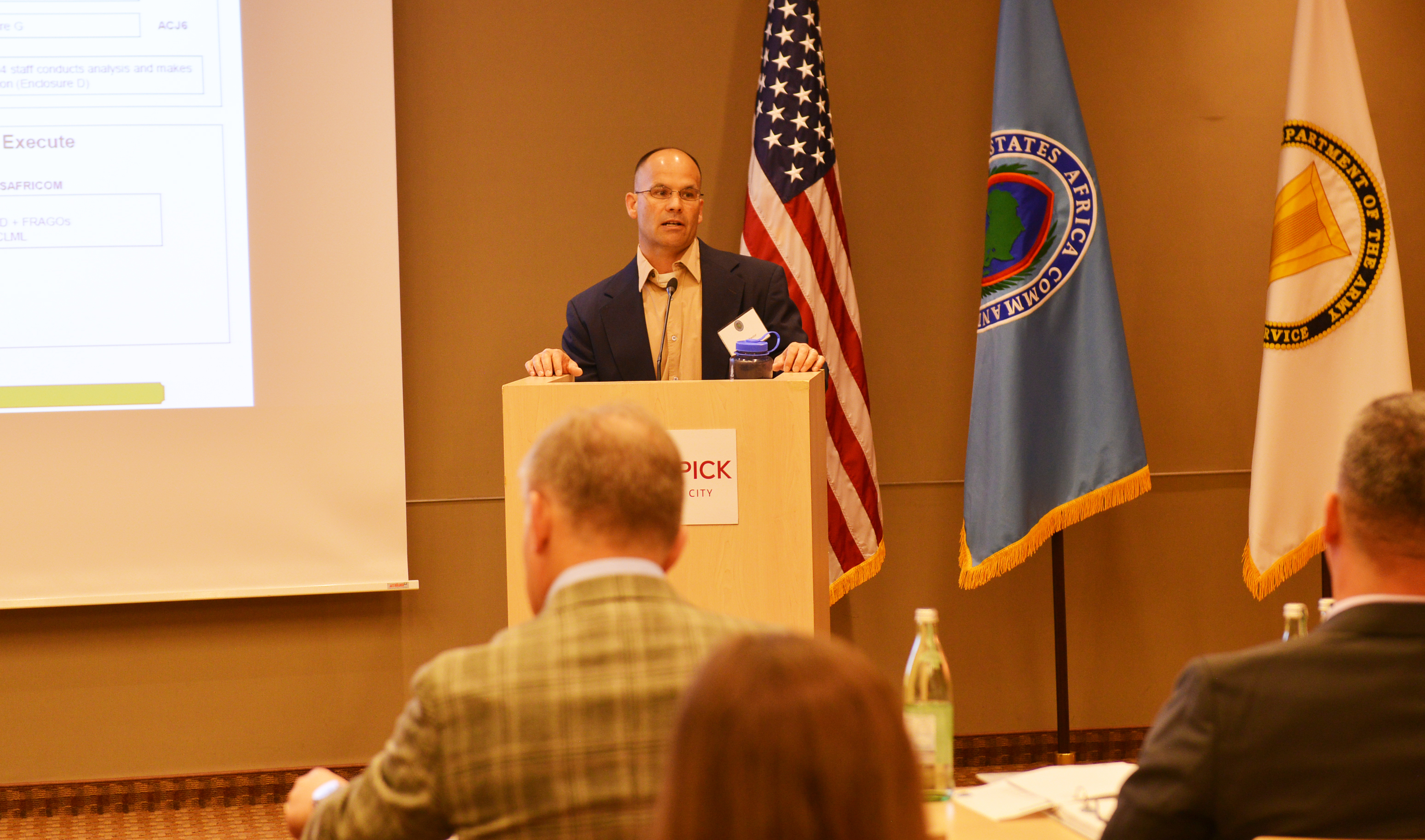 6 photos: AFRICOM Directorate of Resources and Assessments hosts annual workshop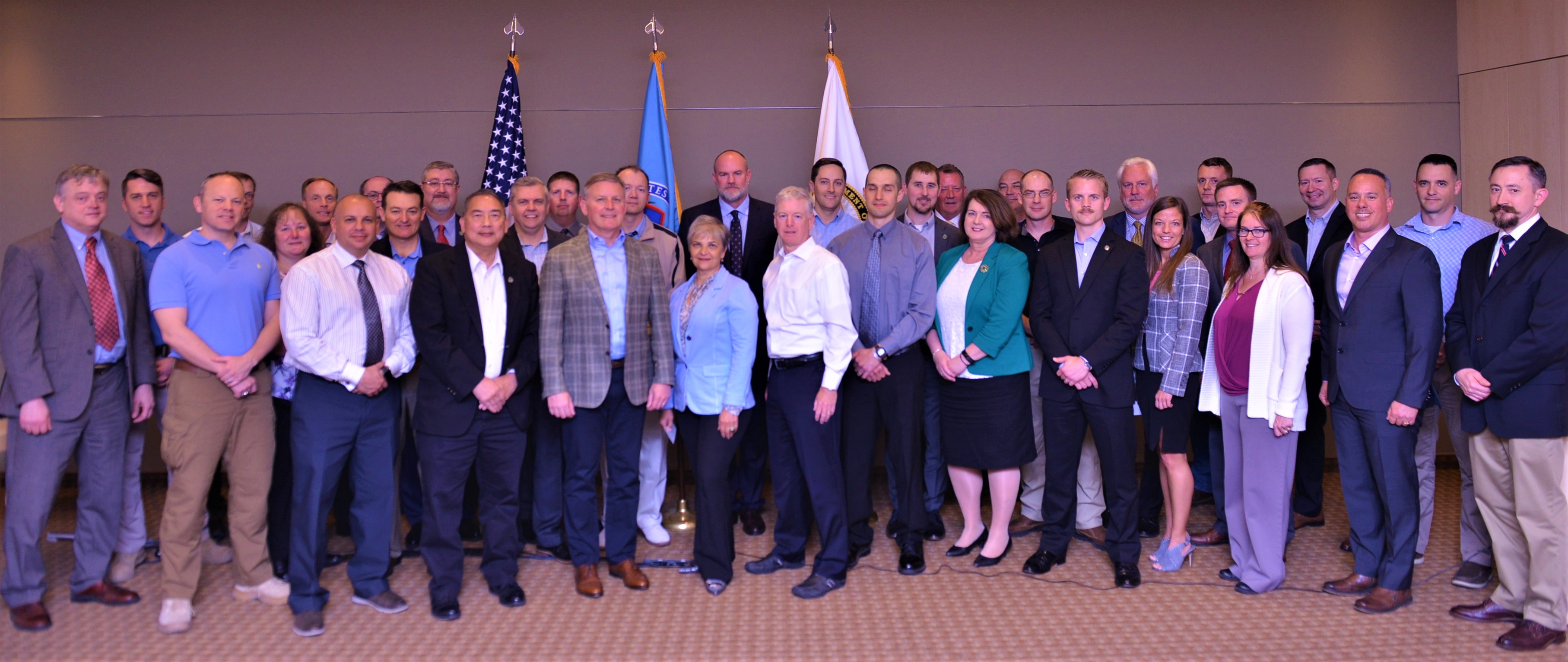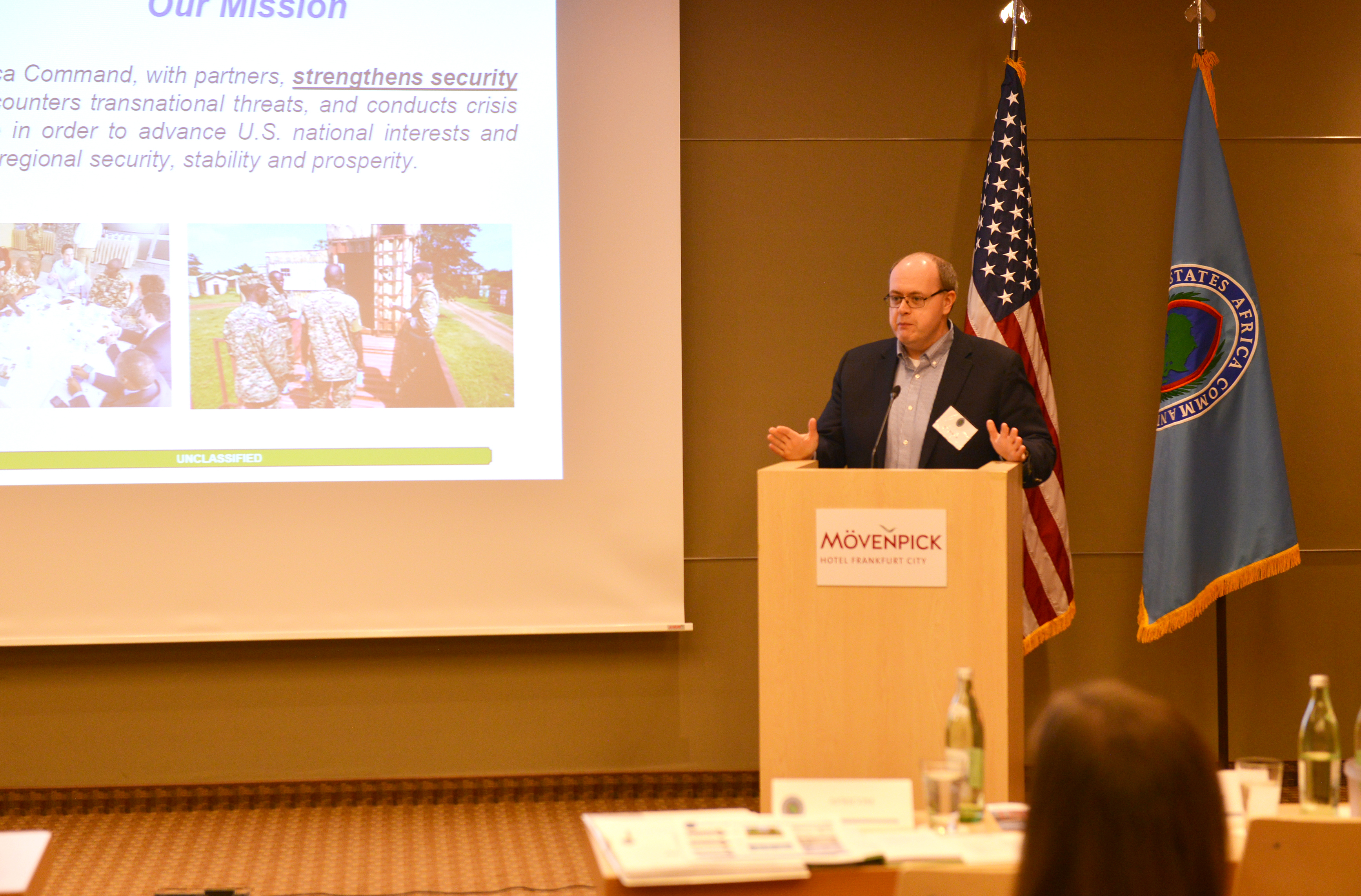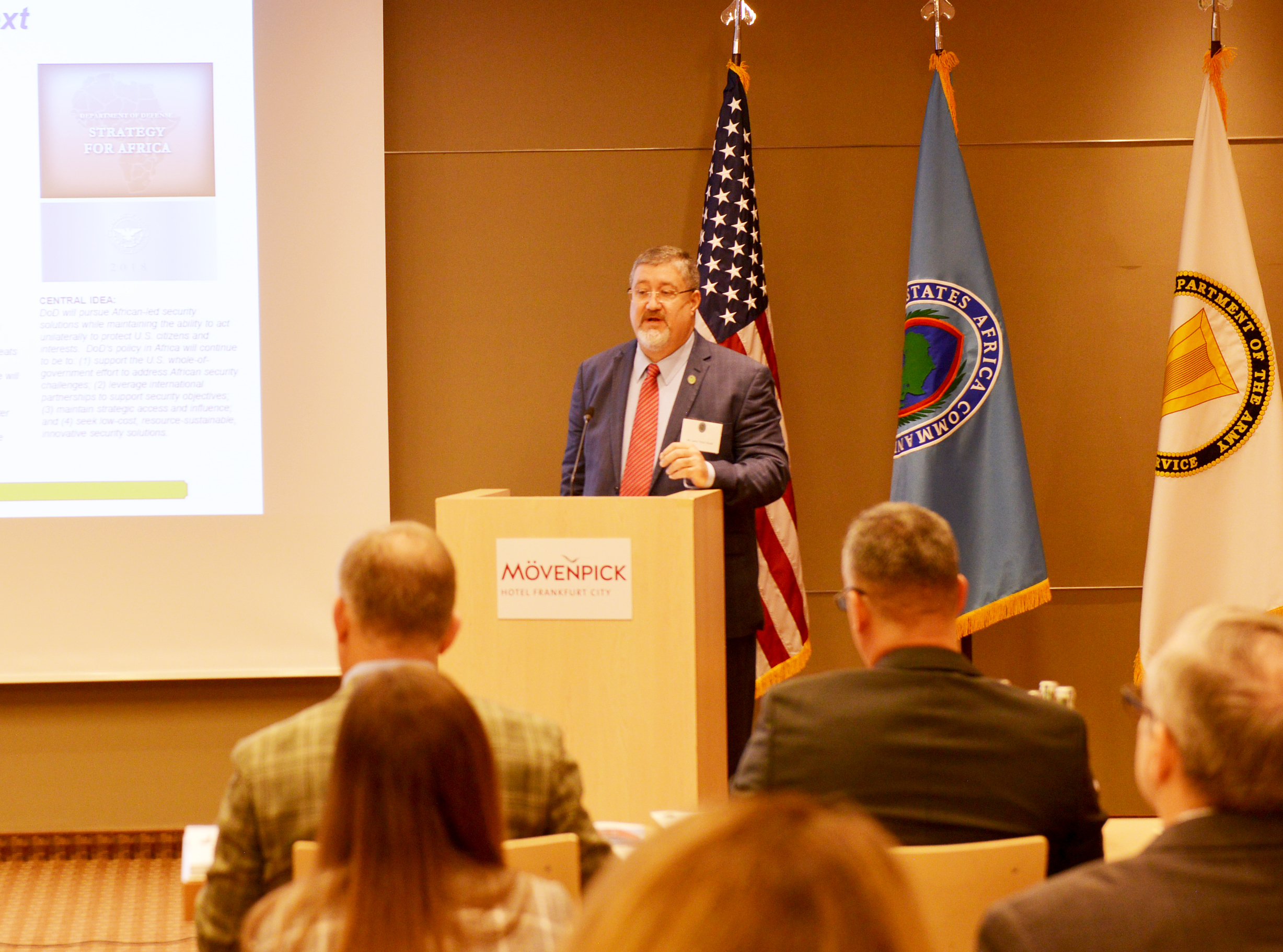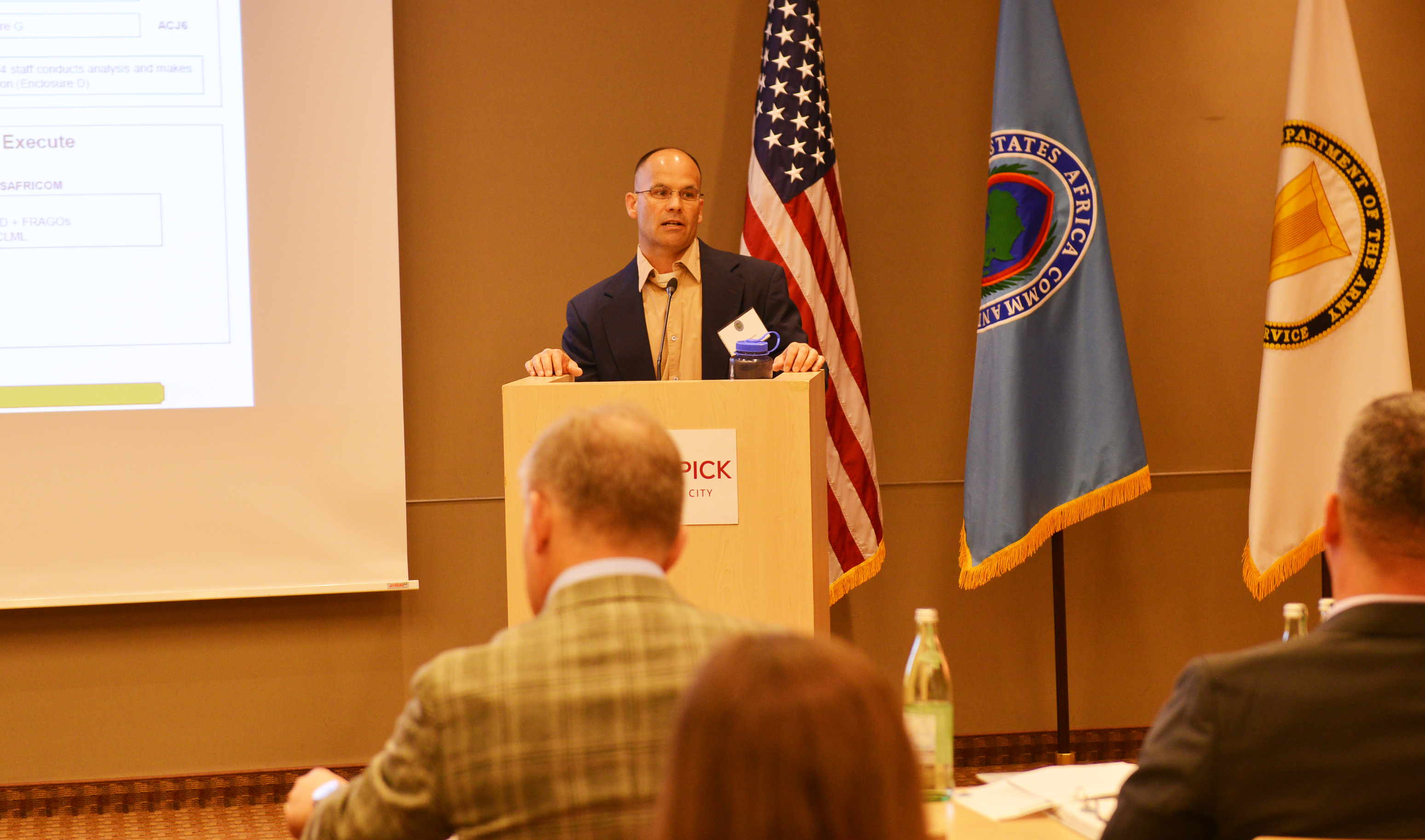 FRANKFURT, Germany – The U.S. Africa Command Directorate of Resources and Assessments - J8, hosted the 2019 Resources and Assessments Workshop, April 26, 2019, in Frankfurt, Germany.
More than 30 representatives from across AFRICOM and component commands participated in the event. This year's theme was "Resourcing the Africa Campaign Plan Posture."
"In this case, we're talking about specifically how we can better support the AFRICOM campaign plan," said U.S. Army Col. Roberto Mercado, deputy comptroller, AFRICOM J8. "This is our way of bringing together all of our resources and assessments professionals to talk about specific resource issues."
AFRICOM commander, Marine Corps Gen. Thomas Waldhauser, has emphasized the importance of building relationships in regards to resource management and J8 operations, said David Thiede, director, AFRICOM J8.
"We have bi-weekly video conferences amongst the resource management directorates, but coming together once a year, putting faces to names, and getting to know each other pays big dividends down the road," Thiede added.
Strategic Capabilities Interest
Resourcing and acquiring funds to support the AFRICOM campaign plan is always a challenge, according to Larry "Chip" Shoaf, program manager, AFRICOM J8.
Under U.S. Code, Title 10, combatant commanders are responsible for organizing, training, and equipping component commands, Shoaf said.
This means AFRICOM tasks the components according to the campaign plan, and then each service department, such as the Army, Air Force and Navy, provides funds to fulfill mission requirements.
Due to budget constraints, there are times when the services are unable to provide all requested funding.
"When this happens, part of our job at AFRICOM is to advocate and facilitate on behalf of the component commanders," Shoaf said. "We engage in advocacy with all of the service and agency leads, using multiple means. We advocate for the things that the headquarters and components need in order to fulfill their mission."
Setting the Theater
Due to the size of Africa and the low density of troops spread across its entirety, many of the funding issues are derived from providing logistical and transportation support to troops and organizations doing missions on the command's behalf, said Army Col. Don Nestor, Set the Theater Line of Effort integrator, AFRICOM J4.
"Therefore, we focused our discussion on base operating support and logistical support, and invited key players from the [AFRICOM Directorate of Logistics] J4 that have lead for these areas to present to the group," Mercado said.
Logistics in Africa
Distributing supplies and moving personnel by air and surface across a continent as large as Africa can be costly, and thus causes significant challenges for the community that has to budget and pay for these expenses, said Erick Holman, a project manager in the AFRICOM J4.
"The J8 needs accurate forecasting of what those expenses will be," he said. "We help plan the cost forecast to the financial community."
Another challenge is certain policy gaps regarding who pays transportation payments for personnel and supply movements in the region.
"The financial community of AFRICOM and components have
been working with our logistics community to build new policies to address this challenge," said Holman. "A new policy message is near completion and almost ready for publication. Once released by the AFRICOM Directorate of Operations, it will provide the rules for the entire AFRICOM J8 community."
Security cooperation programs
John Sannar, coordinator for defense institution builfing programs, Directorate for Strategy Engagements and Programs - J5, spoke about the new security cooperation legislation from the 2017 National Defense Authorization Act.
"Our responsibility is to resource the command's security cooperation objectives," said Sannar. "Security cooperation is at the heart of the AFRICOM strategy and at the heart of the AFRICOM campaign plan."
In order to resource the security cooperation objectives, it requires the AFRICOM J5 to convince individuals in Washington, D.C. of the merits of the command's proposals, which include proposals to help build the capacity of African militaries to be able to conduct counter-terrorism operations, according to Sannar.
"Our security cooperation authorities require concurrence of the Office of the Secretary of Defense, U.S. State Department and Congress, and our programs have to be accompanied by institutional capacity building in order to ensure that our African partners have the systems and processes needed to absorb and sustain the assistance provided," said Sannar.
Previously security cooperation funding was budgeted on an annual basis, said Sannar. "But now due to the changes in the National Defense Authorization Act of 2017, the Defense Security Cooperation Agency is charged to submit certain security cooperation requirements in the Future Years Defense Program five years out. It's important for us to discuss how those changes impact us."
The conference concluded with representatives from each component under AFRICOM briefing on their operations and with closing remarks from Thiede.
"The event was successful because we were not only able to better understand the requirements, but those that came and presented also learned a lot from understanding resourcing challenges," Thiede said. "It was truly a win-win event!"