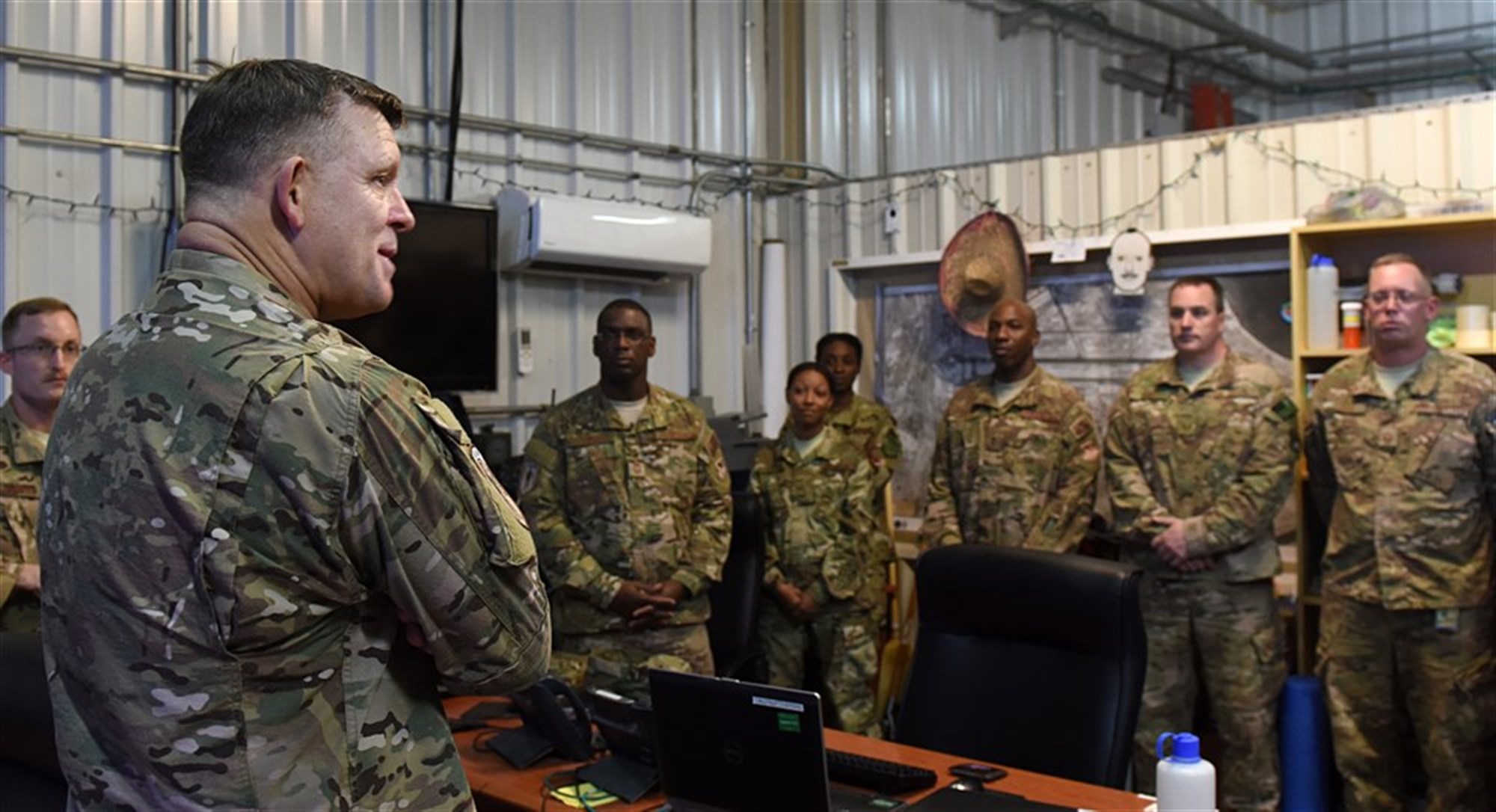 4 photos: U.S. Air Forces Africa Commander Talks Demand for Airpower (1) of (4)
4 photos: U.S. Air Forces Africa Commander Talks Demand for Airpower (2) of (4)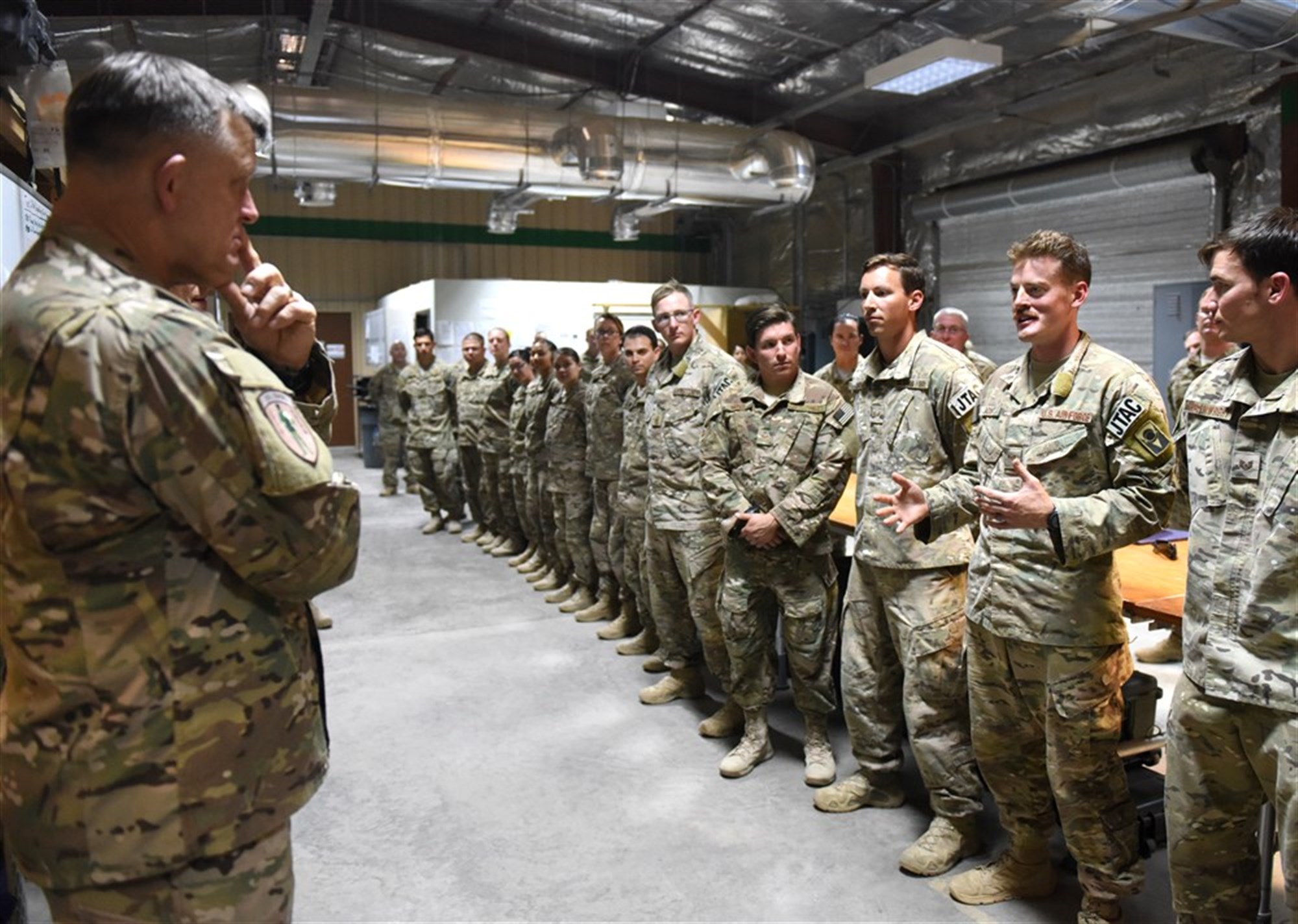 4 photos: U.S. Air Forces Africa Commander Talks Demand for Airpower (3) of (4)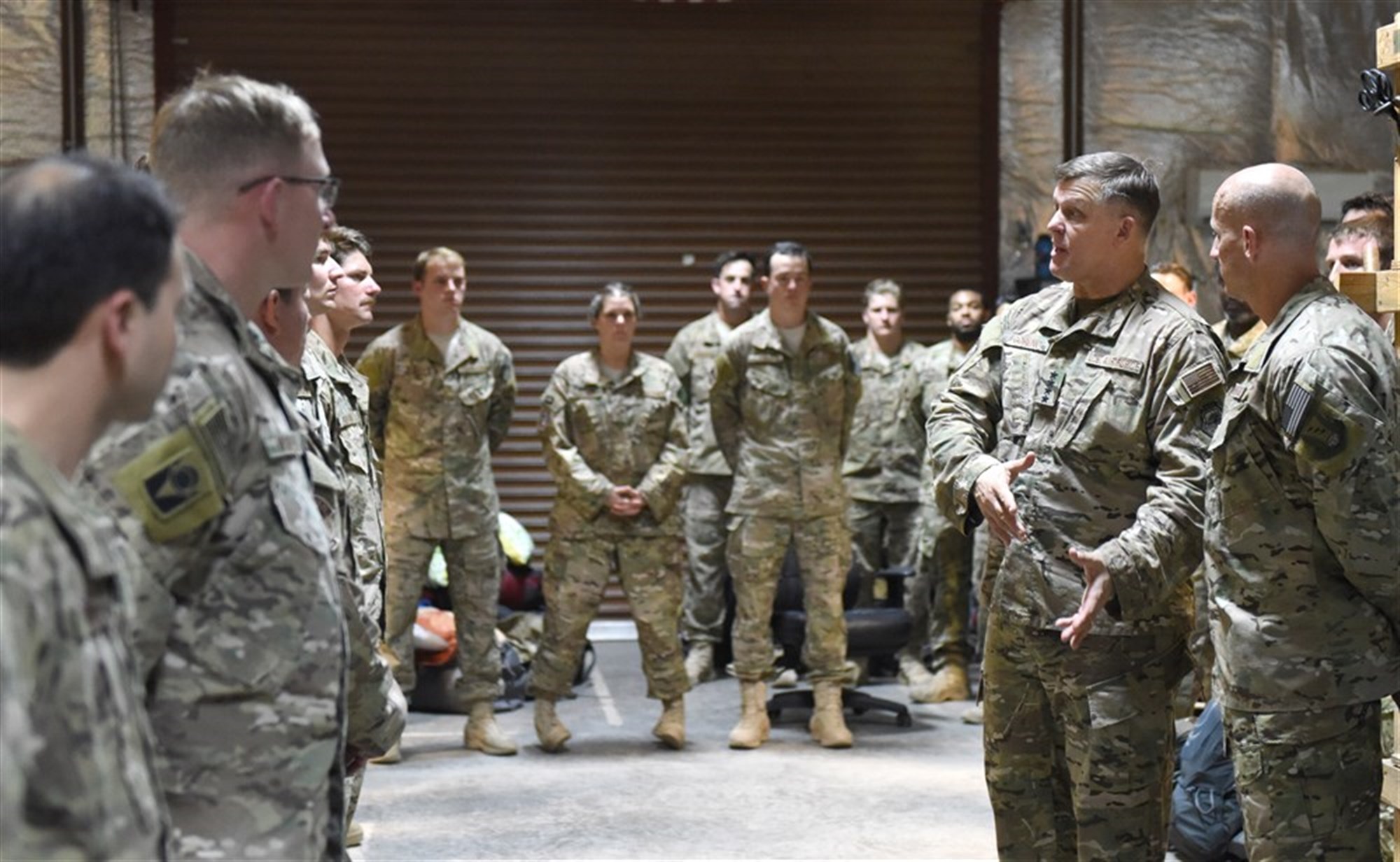 4 photos: U.S. Air Forces Africa Commander Talks Demand for Airpower (4) of (4)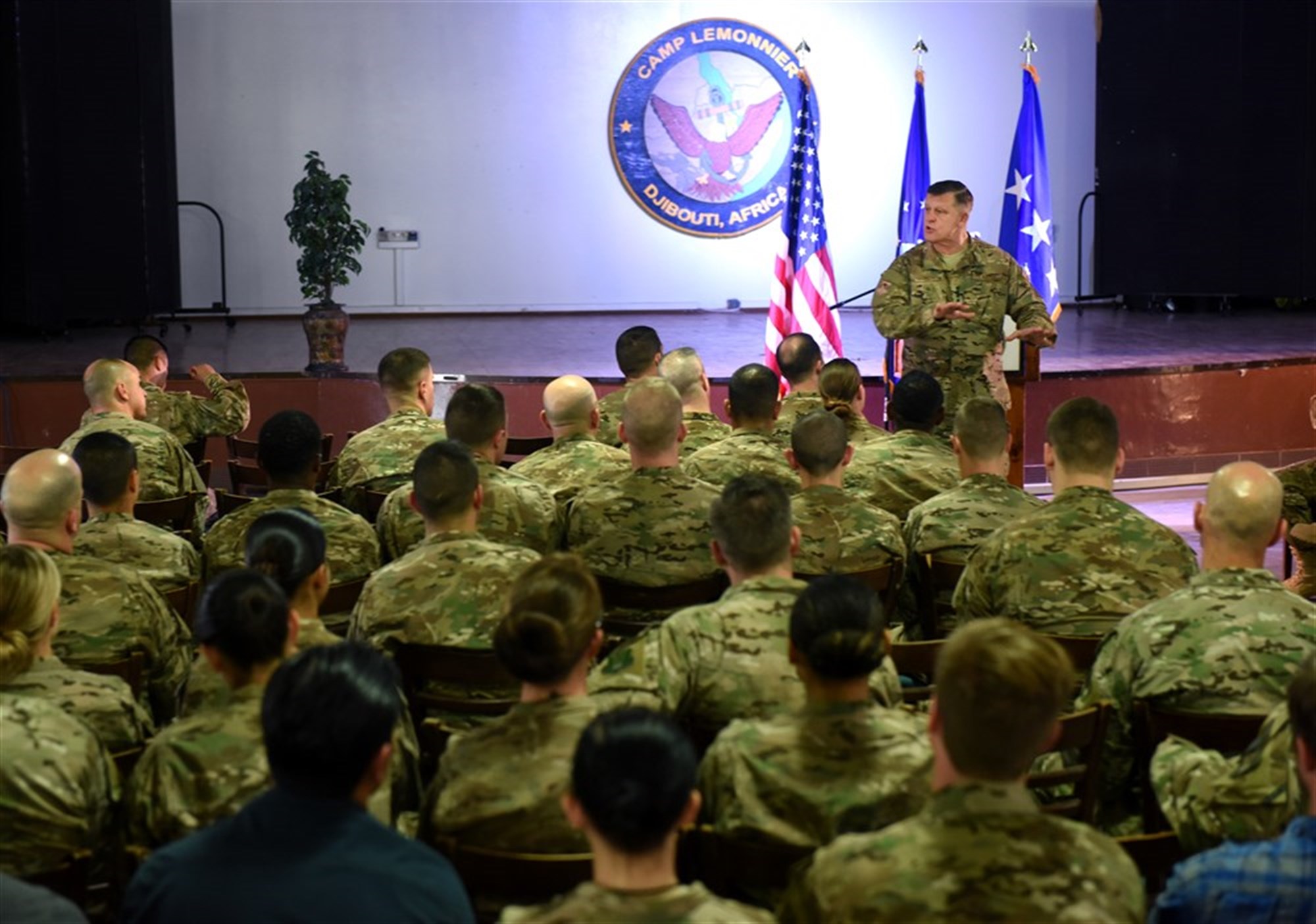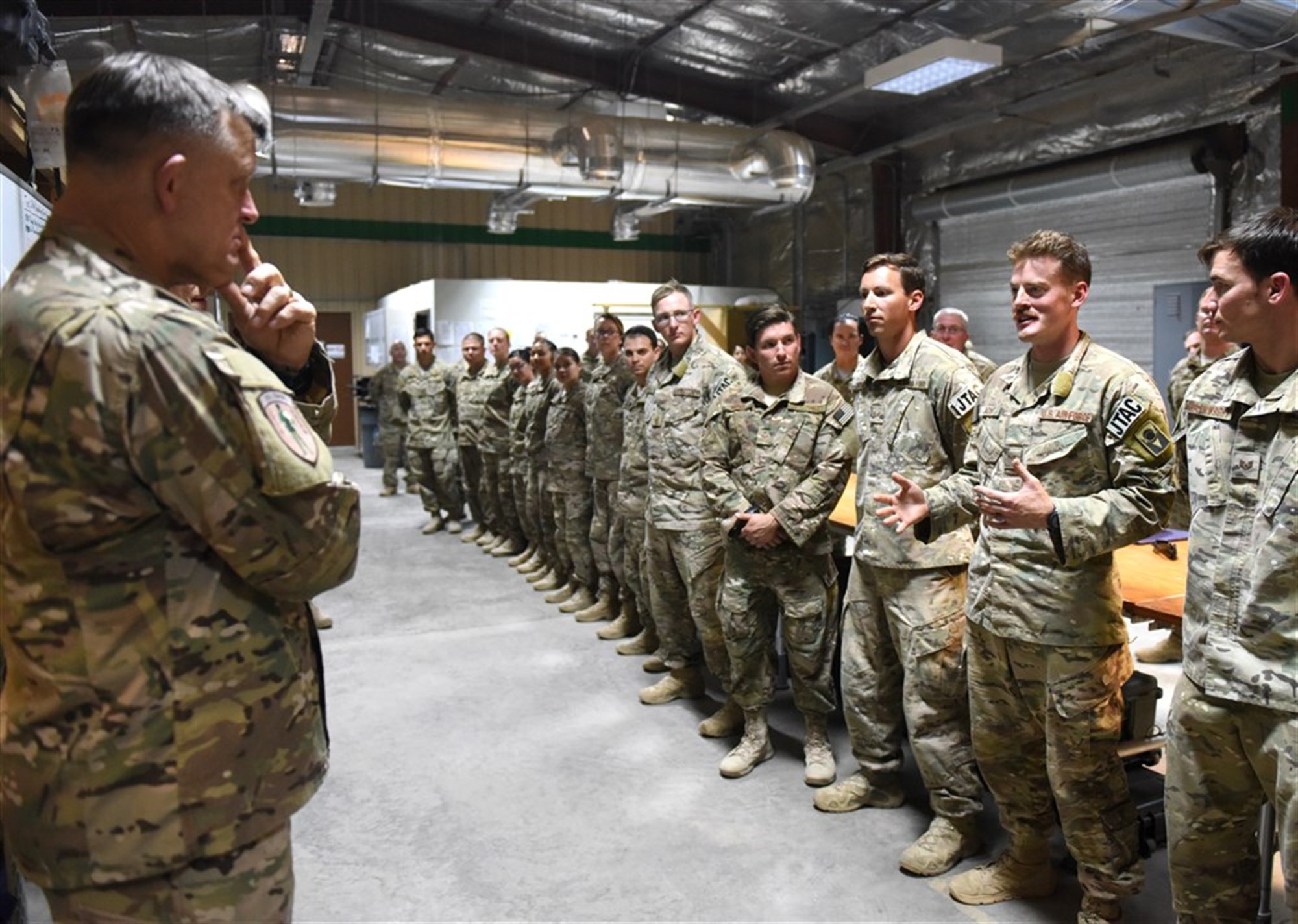 CAMP LEMONNIER, Djibouti -- Gen. Frank Gorenc, the U.S. Air Forces Africa commander, traveled to Camp Lemonnier, Djibouti, to visit deployed Airmen and highlight their importance to the East African region Feb. 2-3, 2016.
Airmen here enable Combined Joint Task Force-Horn of Africa to extend its reach in East Africa and strengthen partner nation defense capabilities, directly contributing to the safety, security and stability of the region.
"The work done here at Djibouti goes a long way to help enhance the security of the United States, and goes a long way to alleviate some of the suffering and insecurity that is abundant in these areas," said Gorenc, who commands U.S. Air Forces in Europe and Air Forces Africa.
The general visited several facilities, spoke and ate with Airmen, and hosted an All Call for all Air Force personnel assigned to CJTF-HOA. His goals were to see how the mission is going, gain some ideas about future plans, and learn more about the Airmen accomplishing the mission here.
"The Airmen have to be there to make sure the business of the Air Force is getting done," Gorenc said.
While Airpower remains in demand for both of the general's areas of responsibility, Europe has robust NATO alliances that drive a lot of European cooperation and activity, whereas operations in Africa are more austere and violent extremist organizations tend to fill in unstable power vacuums. Gorenc stressed that it's the people that ultimately control the success of the mission, whether at home or forward deployed.
"Regardless of where you're at, the Air Force provides core competencies to any kind of joint task force. What changes is the environment that we operate out of," Gorenc said. "The art of it is to make sure that we're able to take things that we're providing and adapt it to the environment that we're in. And what I've seen here during my visit, are Airmen that are unbelievably attune to that and are able to translate their mission into changing environments."
Powered by Airmen and fueled by innovation, evolution is part of the Air Force way. Airpower adds significant capabilities to the fight that Gorenc believes will only become more flexible, more agile and operating with a smaller footprint wherever it's is needed.
"We're constantly changing our technology and our aircraft, and modifying our aircraft to meet the mission. We're constantly adjusting tactics, techniques and procedures in order to better provide our capabilities." Gorenc said. "We've proven to be really resilient and we're very adaptable to (any) situation, and from my experience over my entire career, that's the business that the Air Force is in – being adaptable."
He stressed again that to power the operations, equipment and technology, Airmen are necessary, and developing and taking care of those Airmen is most important.
"What's really held true throughout my 37 years of service, is that in the end, it's all about the people," Gorenc added. "We're only as good as our people."
While people remain important across the Air Force, the general said the mission Airmen perform and support from Africa is even more impressive, considering the size of the operating area. Airmen here are implementing national and international priorities every day across an area bigger than the U.S., China and Europe combined.
"I just want the troops to know how valuable they are," Gorenc said. "Not only to the Air Force mission, but to the CJTF-HOA mission and to the security and the stability of lots of areas in the world."