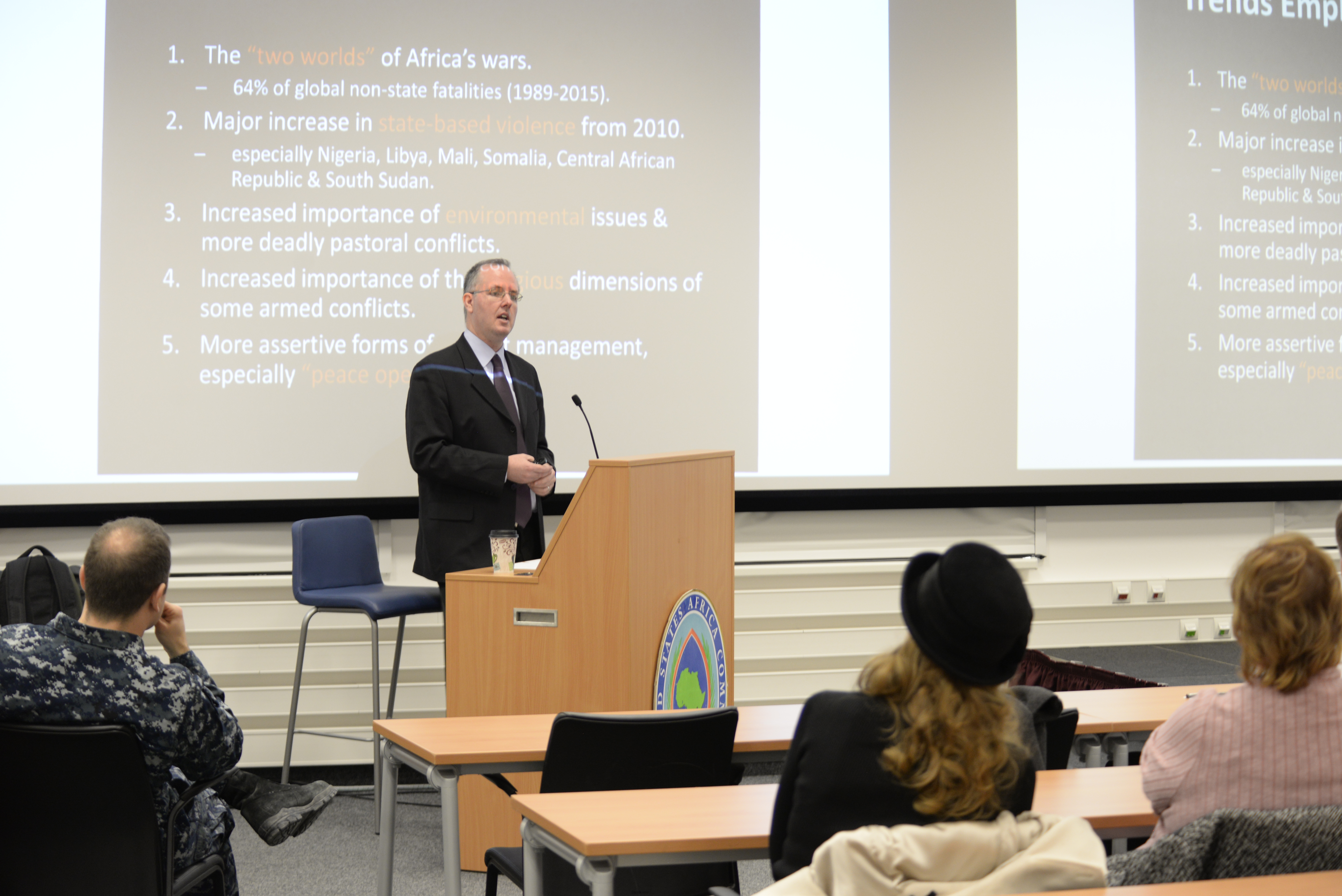 4 photos: War and conflict in Africa: subject of guest speaker series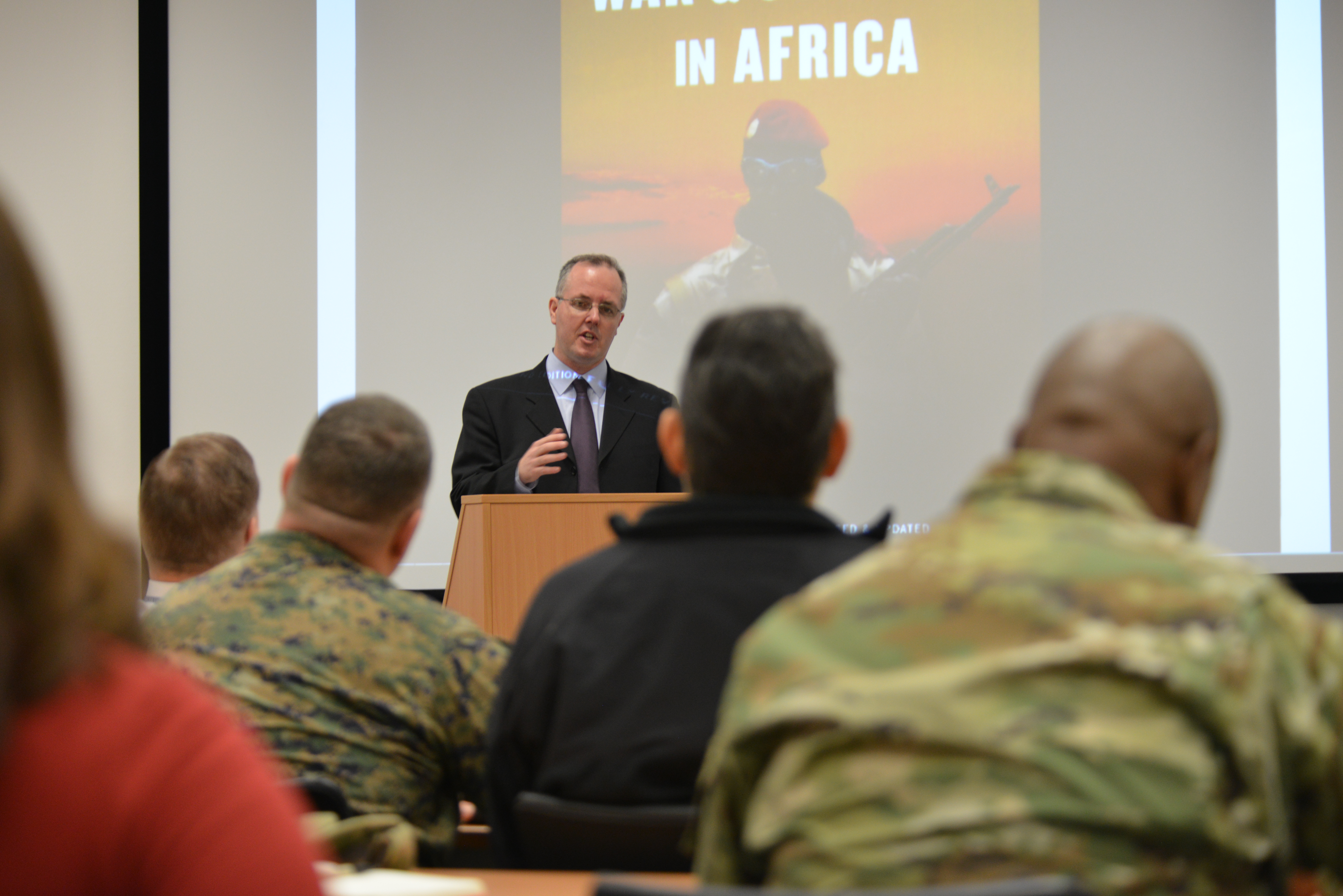 4 photos: War and conflict in Africa: subject of guest speaker series
4 photos: War and conflict in Africa: subject of guest speaker series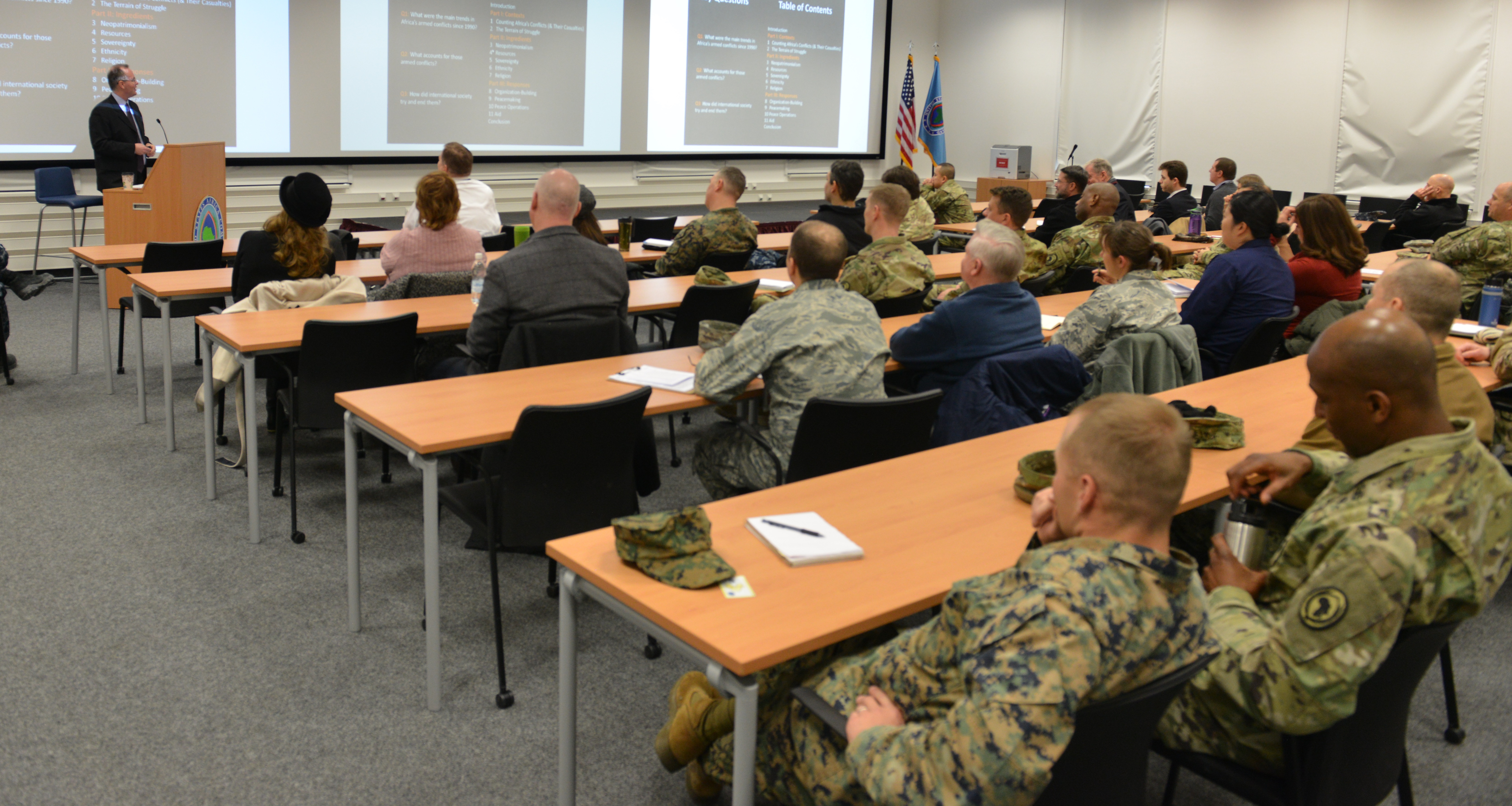 4 photos: War and conflict in Africa: subject of guest speaker series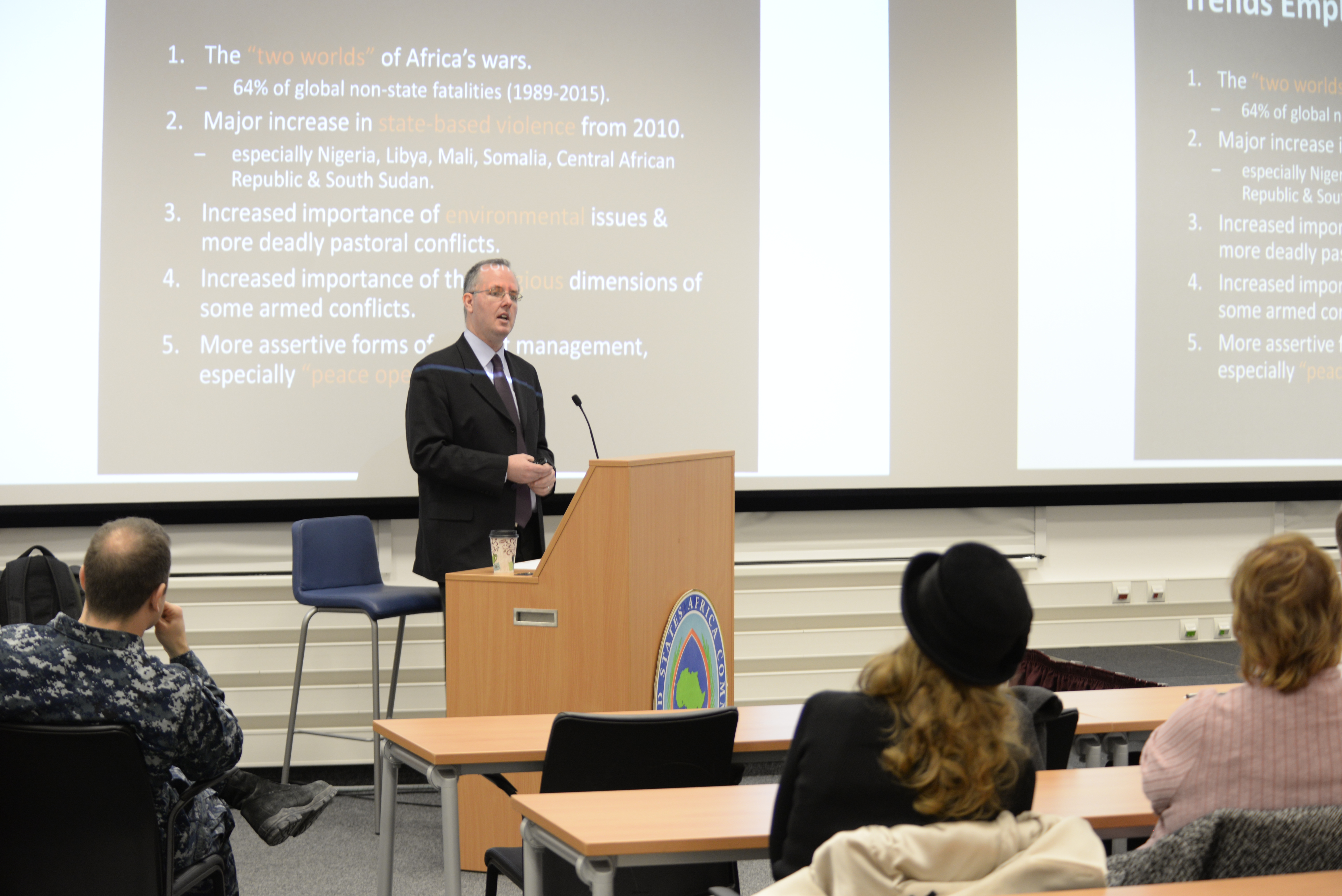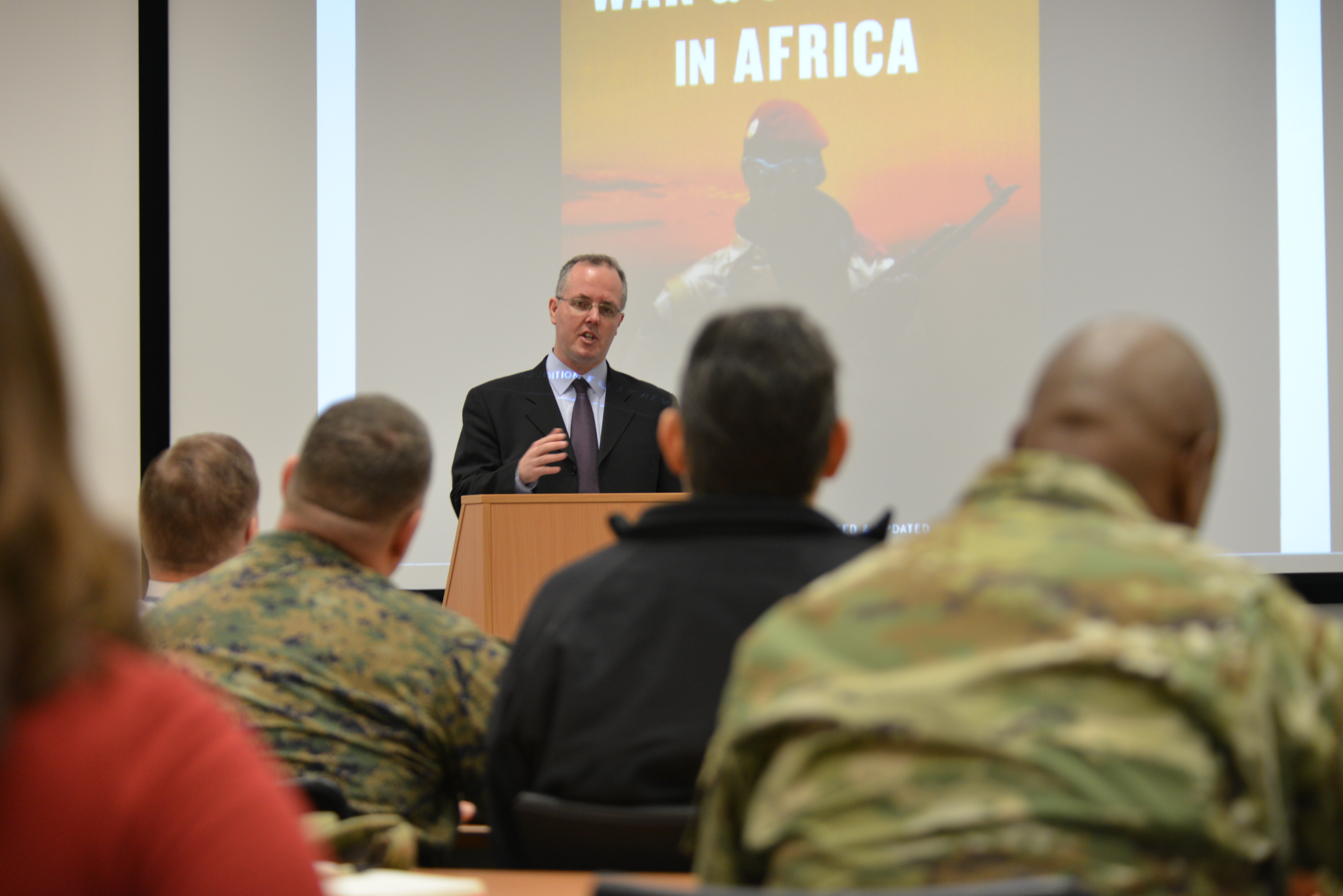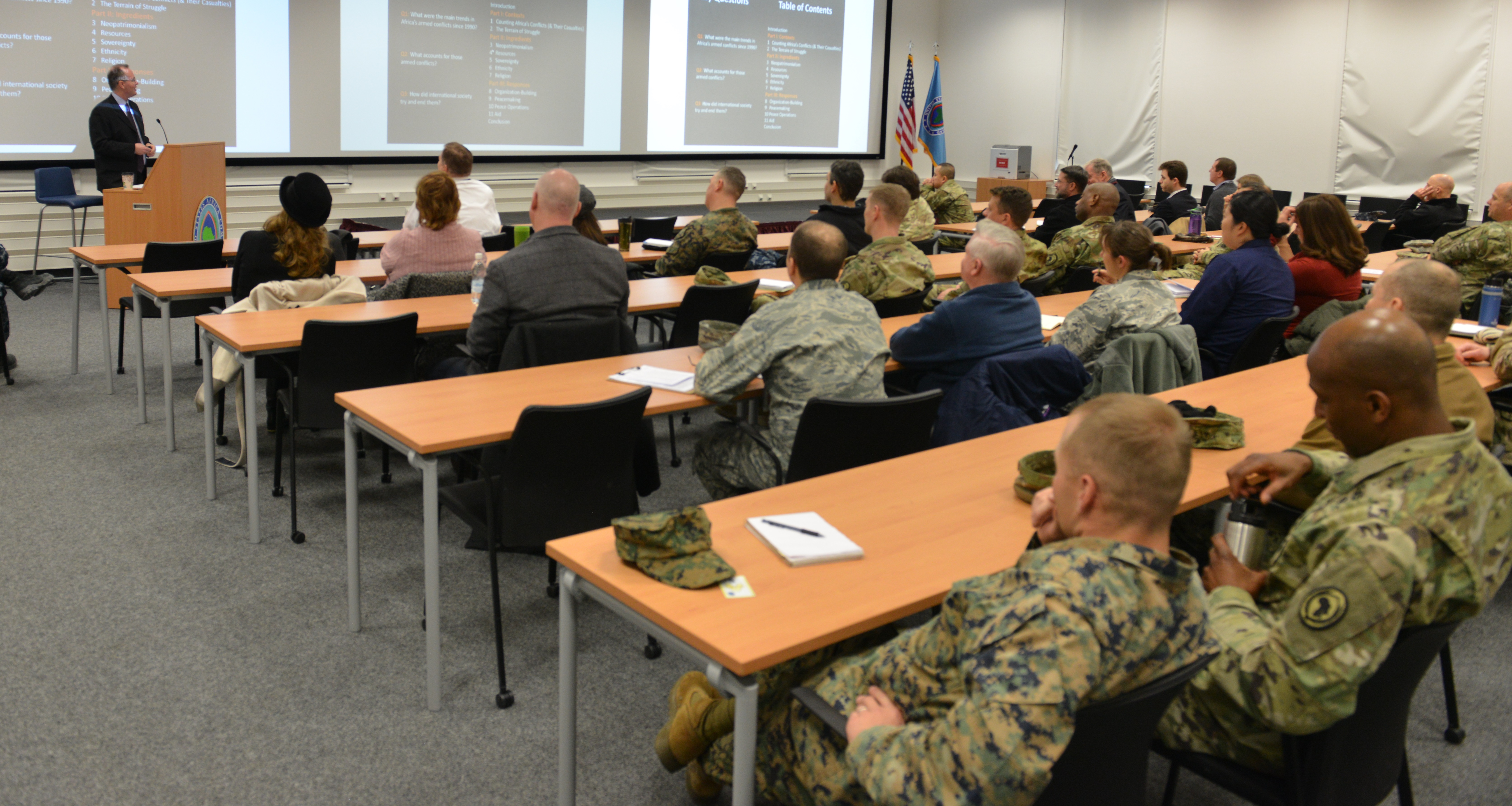 STUTTGART, Germany – After the end of the Cold War, armed conflicts on the African continent increased while other regions experienced a decline in clashes. This statement by Dr. Paul Williams, associate director of the Security Policy Studies Program at the Elliott School of International Affairs in Washington D.C., is what inspired him to research what caused the increase in wars and skirmishes across the second largest continent in the world.
"When I first started my studies in the early 90s, I was watching various African wars on television, in particular peacekeeping operations in Somalia, Angola, Mozambique and Somalia, and that got me interested in peacekeeping issues," said Williams. "So, I started following conflict trends, which led me to the conclusion that Africa had the most wars and armed conflicts than any other."
At the invitation of U.S. Amb. Donald Koran, who currently serves as the vice director, Strategy, Plans, and Programs (J5) at U.S. AFRICOM, and former U.S. ambassador to Rwanda, Williams presented his conclusions and shared his perspectives regarding the factors that resulted in the increase of war and conflict on the African continent and how they could be mitigated to reduce the trend.
Williams said he wanted to answer three seemingly easy yet quite complicated answers.
"Why did Africa have so many wars at the end of the Cold war when other regions of the world were becoming more peaceful, what are the patterns of armed conflicts across Africa after the cold war, and how did governments and international organizations respond?" asked Williams. .
In the span of 21 years, from 1990 to 2011, Williams said he documented just over 400 armed conflicts. Since then, in just six years, Williams said that number had increased by 57 percent in 2017.
"I documented over 630 armed conflicts since 1990," said Williams. "How do you explain that? Does it have something to do with African politics, regional dynamics, or leadership? How did we [the U.S.] respond?
"I wanted to know how outside actors, such as international organizations and other governments responded, and if they respond well or badly," Williams said.
"We don't want to put all armed conflicts in Africa into one box. Instead, we should split them up to understand their dynamics," said Williams.
The first classification of conflicts are fought for reasons of regime survival, international politics, or "realpolitik". The second classification involve non-state actors and is naturally more frequent and larger in number compared to state conflicts and are fought separate from and outside of the state system, according to Williams.
"These are fought by local tribal or clan groups, or different ethnic groups, mainly about natural recourse and environment issues," said Williams. "Environmental issues have driven a lot of these non-state fighting over land, water, and grazing areas."
More than 500 armed conflicts are of the non-state types, in contrast to more than 100 state-based armed conflicts, Williams said.
"These non-state conflicts are starting to bleed into one another making things more complicated," Williams said. "One example would be Fulani herders and tribesmen fighting each other in Nigeria despite the conflict involving Boko Haram. Another example would be how conflict in Somalia is not all about Al-Shabaab and how a lot more violence is going on between sub-clan militias fighting each other over control of access to land water grazing for livestock."
"In other instances involving non-state actors, there are situations such as cattle raids conducted with modern small arms and light weapons," said Williams. "The majority of conflicts on Africa are fought with the low-end spectrum of the arms platforms spectrum, and the most deadly weapon on the African continent is the AK-47."
Religious factors have also played increasingly important roles in the increased number of conflicts since 2010, according to Williams.
During his continued research, Williams concluded that many Western responses where not always successful.
"I wanted to analyze and critique how we responded to these conflicts and why we weren't getting better at preventing them in the first place," said Williams.
The need for increased focus on diplomacy and political strategy will produce better results for current and future responses on the African continent, said Williams.
"The lack of good governance lies at the heart of most of our security challenges and most of the solutions in Africa," Williams explained. "It's part of the reason why people take up arms, why people rebel and why small terror networks come into existence."
This happens because of grievances and frustration with politics, according to Williams.
"The solution lies with improving and strengthening good governance, getting good jobs for young people, building professional security forces, police and law enforcement," Williams said.
Senior leaders should consider both the primacy of politics and increased professionalism of host nation security forces across the continent, according to Williams.
"Governance of the democratic variety is at the heart of both," Williams said. "We shouldn't do anything without a viable political strategy for conflict resolution. We need to figure out how the military force and military operations fit into those broader political strategies of resolving conflicts. We have to think about how we're going to end the conflicts such as those in Somalia, Mali, South Sudan, the crisis in Gambia, asking ourselves 'What is the exit strategy?'."
Host nation military professionalism is one of the most important things that U.S. Africa Command can focus on, said Williams.
"A number of African civil wars started with tiny rebel groups but became large over time," Williams said. "In the wars in Sierra Leone, Liberia, Cote de'Ivoire, for example, the early rebels had less than 100 armed fighters. How do you have a decade long civil war with just 100 armed fighters?"
The answer is clear to Williams.
"It's because many (African) militaries can't deal with this problem, because they're unprofessional, they're not paid, don't have good equipment, and military persons don't always follow orders."
"Not all, but in many of the conflicts military unprofessionalism has been a big part of the problem," said Williams. "Corrupt soldiers have been used by authoritative presidents to extort the civilians instead of using them to protect their citizens from external threats. They're using them as domestic forms of repression."
Tracking progress with the help of experts on the ground is also important to overall success of increased governance on the African continent, according to Williams.
"In my research I tried to map all the patterns and trends of the armed conflicts, and some databases are now starting to share information about how riots and protests, and remote violence such as artillery and IEDs play into armed conflict and violence in Africa," said Williams.
There are now better ways to track factors such as insurgencies and urban uprisings, but there's no substitute for local expertise, said Williams.
"If we engage while we're ignorant of the local political and economic dynamics we have the potential to make situations worse," explained Williams. "Military and developmental operations really have to be based upon an expert understanding of the political and cultural dynamics on the ground, and that means we need people to spend time reflecting and studying these issues."
Responses might be conducted with neutral intentions on the ground, but operations might be perceived to favor one group over another group, possibly inflaming conflict dynamics instead of dampening them, according to Williams.
Increased security on the African continent is in the national interest of the U.S. and other countries, said Williams.
"Some of the wars in Africa don't stay sealed in Africa," said Williams. "They affect our national security and become transnational in a number of ways. Sometimes, it's really direct, like when U.S. Embassies were bombed and blown up in Kenya and Tanzania."
"We have to be well informed of the local settings for a winning strategy and we have to consider where we can engage more constructively," said Williams.
Williams expressed his appreciation for having the opportunity to share his knowledge with AFRICOM personnel
"It's important to come to places like AFRICOM because I think both academics who work on these issues and the practitioners (who perform) on the continent basically share the same set of challenges that we're confronting. It's better for both parties if we can discuss these issues in a frank and open manner, and share not just similar ideas but also challenge each other's assumptions about what roles we're playing," said Williams.
"I hope what I can bring to that table is reflections on some of the longer theoretical debates and historical background about these things. I hope that I will be challenged by the practitioners engaging with current issues and the policy dilemmas that they face. The dialogue that ensues is normally constructive for both sides," Williams said."
Williams expressed his desire to return to AFRICOM at a future time to speak again.