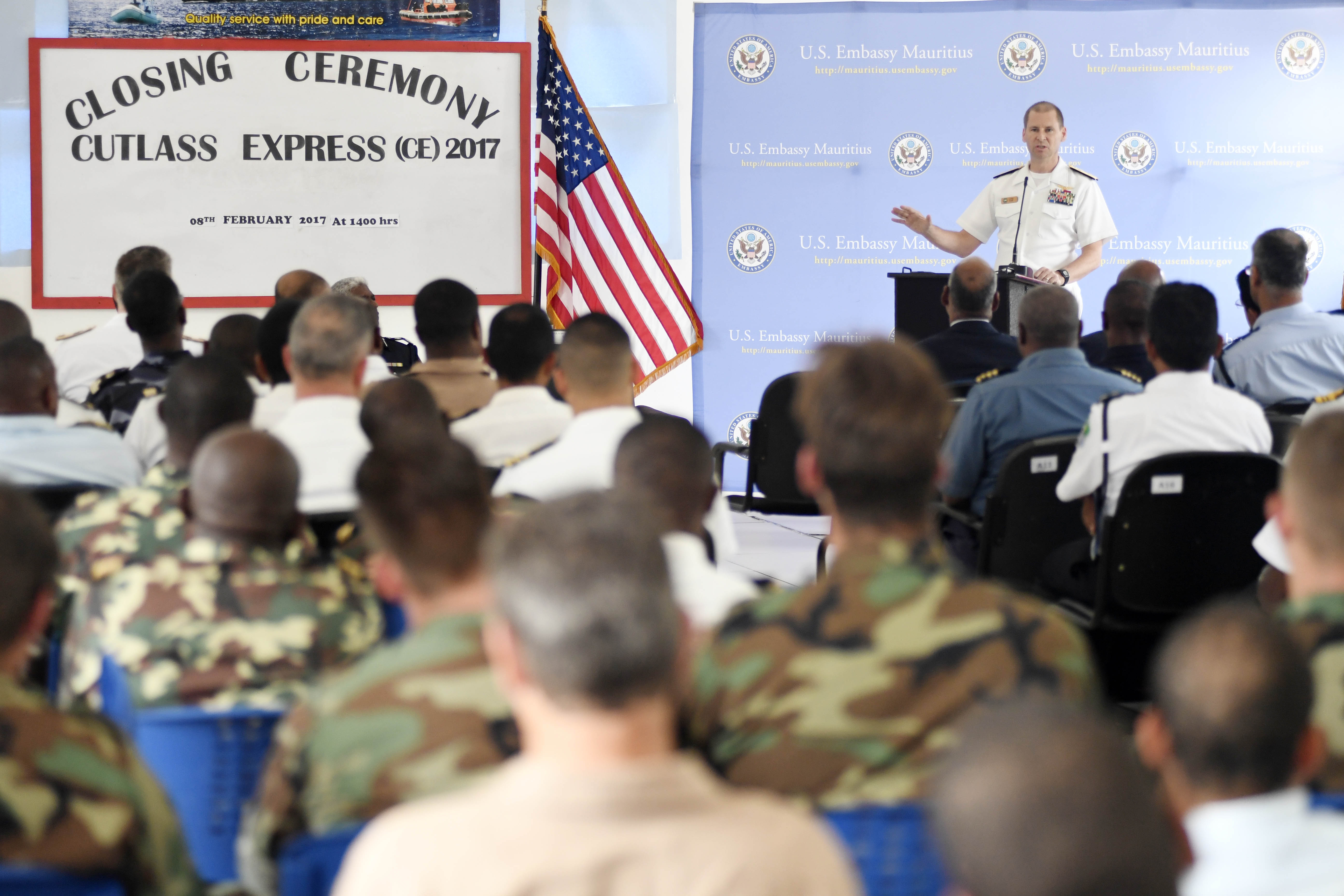 3 photos: Exercise Cutlass Express 2017 Comes to an End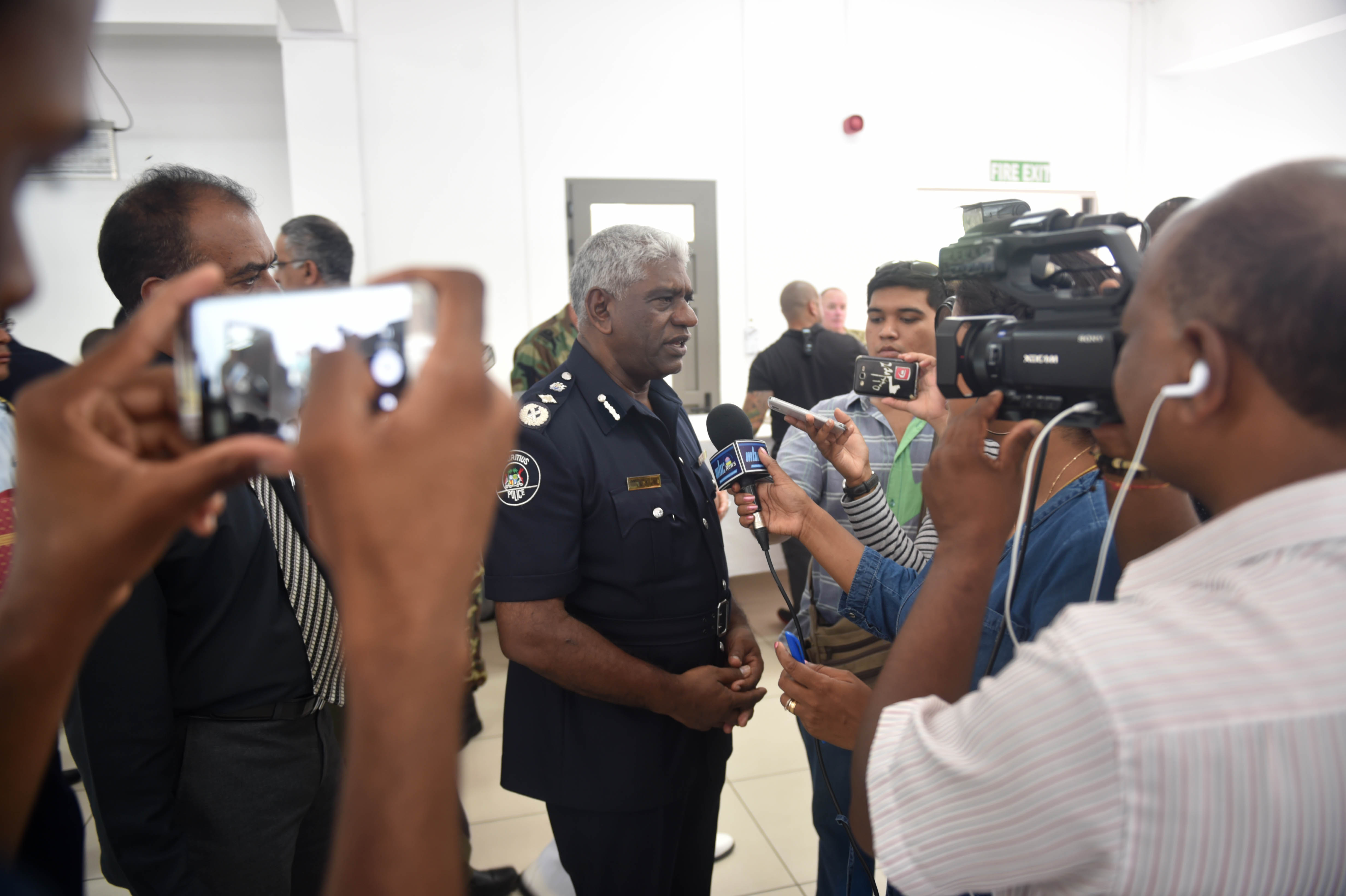 3 photos: Exercise Cutlass Express 2017 Comes to an End
3 photos: Exercise Cutlass Express 2017 Comes to an End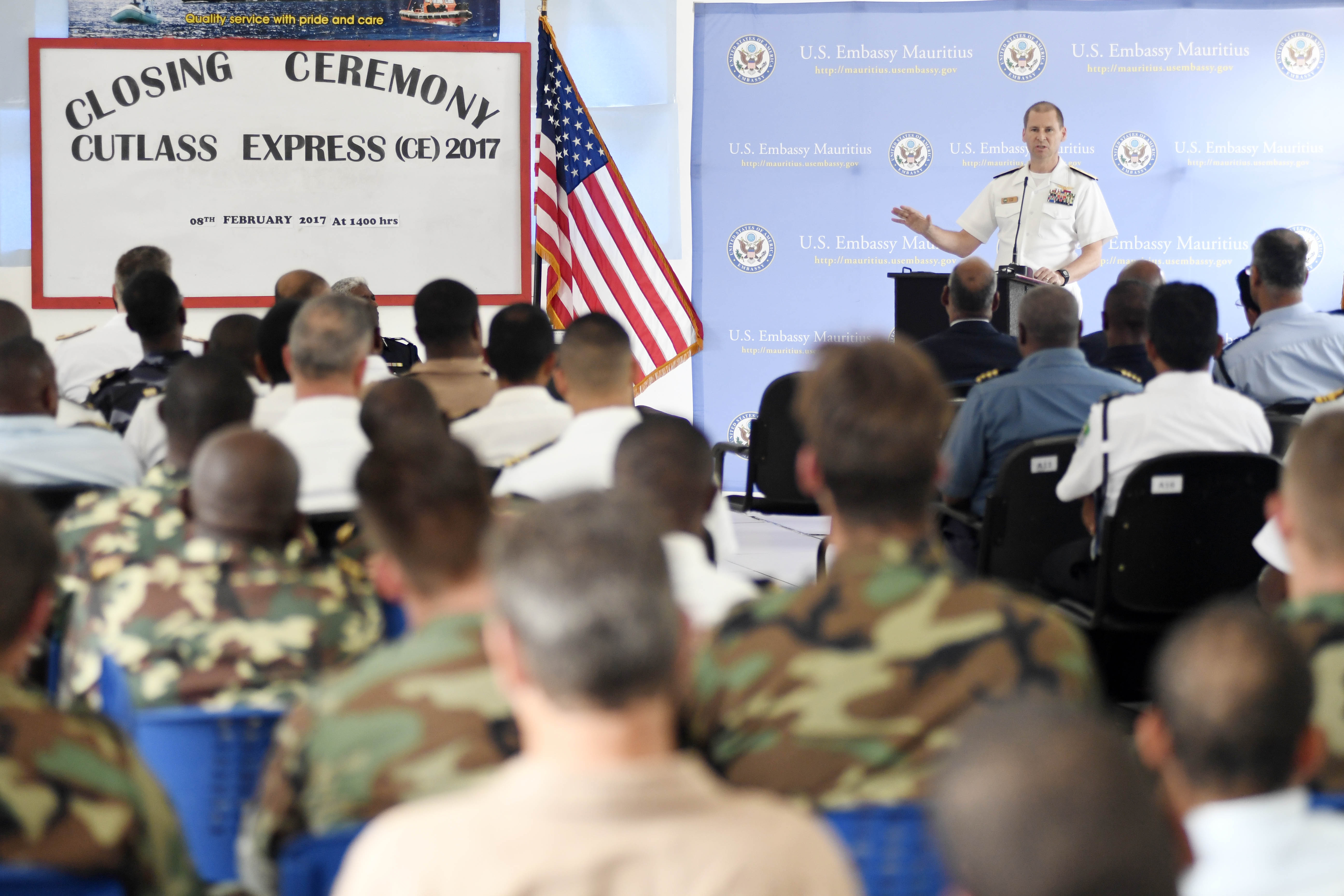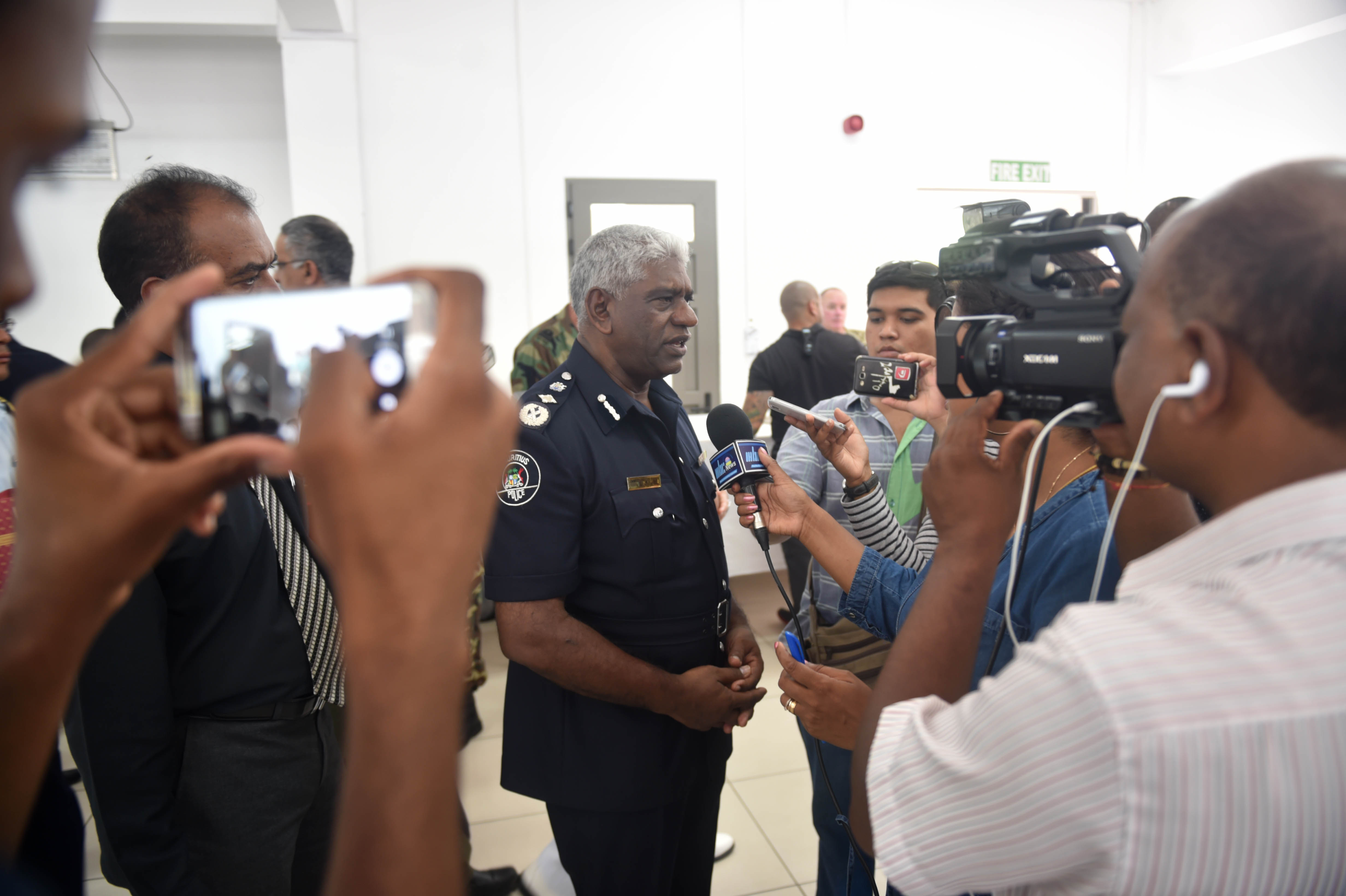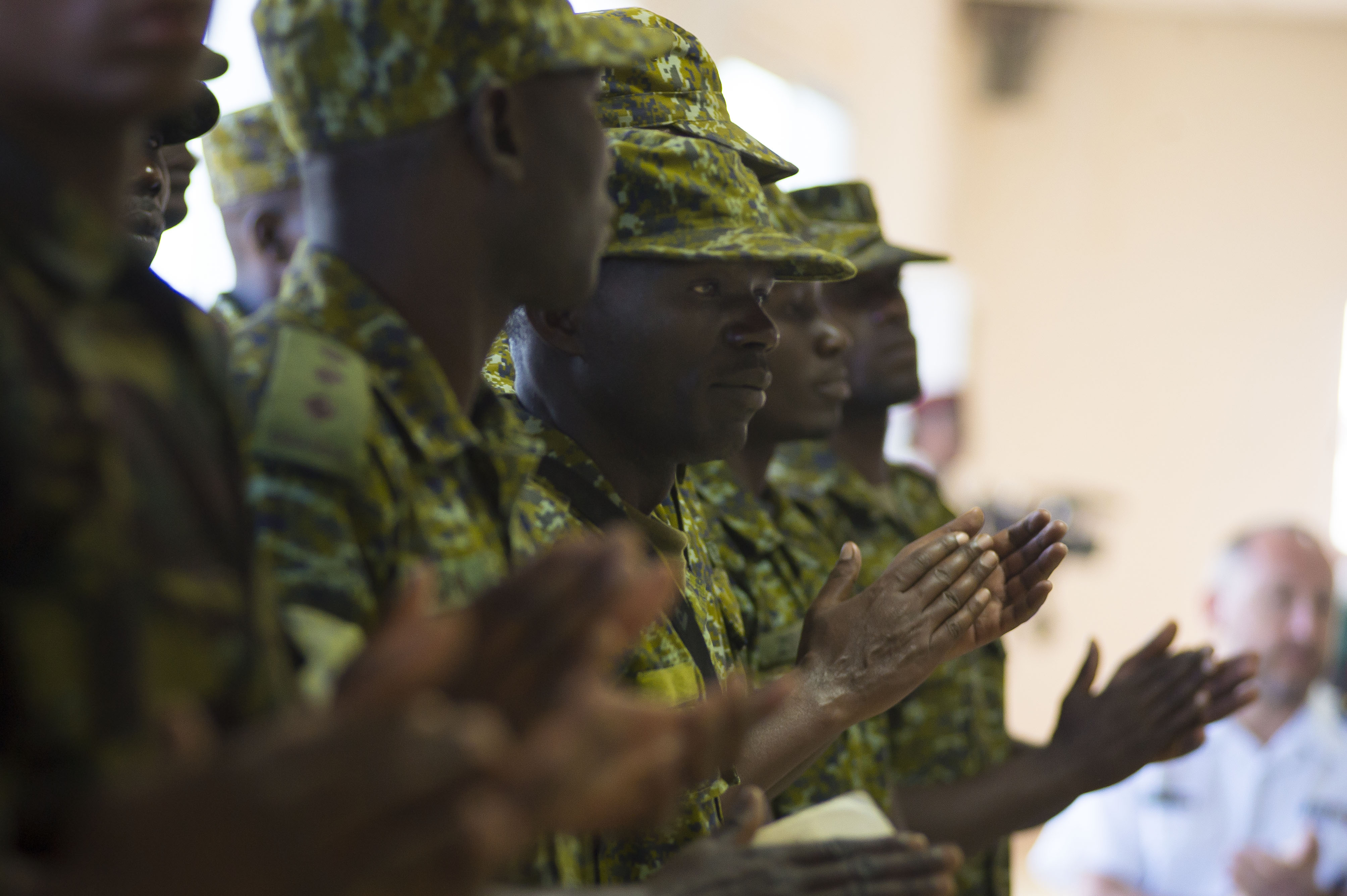 NAPLES, Italy – Maritime forces from Eastern Africa, West Indian Ocean nations, Europe and the United States, as well as several international organizations concluded the sixth iteration of the annual multinational maritime exercise Cutlass Express, Feb. 8, 2017 in concurrent closing ceremonies in Le Chaland, Mauritius and Djibouti.
Exercise Cutlass Express 2017, sponsored by U.S. Africa Command and conducted by U.S. Naval Forces Africa, was designed to assess and improve combined maritime law enforcement capacity and promote national and regional security in East Africa.
"This has been a tremendously successful exercise and I'm happy that it concluded with remarkable progress made by all the partners while building maritime stability and security throughout the region," said Rear Adm. Shawn Duane, vice commander, U.S. Sixth Fleet, and, director, Maritime Partner Programs, U.S. Naval Forces Europe-Africa.
Cutlass Express 2017 tested participating nations' ability to respond to illicit trafficking, piracy, illegal fishing, and search and rescue situations. Maritime Operations Centers gave participating nations the ability to track and report procedures of simulated suspect vessels.
"I think Cutlass Express 2017 has been a grand success," said Capt. Saurabh Thakur, commandant, Mauritius National Coast Guard. "There has been a large number of positive inputs that have been received and I'm sure the exercises in the future will be quite fruitful."
The exercise leveraged The Djibouti Code of Conduct, of which 20 nations are signatory to, as a framework for exercising information sharing practices and enforcing international law of the sea.
Scenarios focused on the globally-recognized Proliferation Security Initiative allowed endorsing nations to develop capabilities to detect and disrupt the delivery of materials used to build and develop weapons of mass destruction.
"We had great partners and great teamwork and every year we see progress from all those involved and it's becoming a very important and complex exercise throughout the region," said Duane.
The U.S. Naval War College facilitated a 4-day senior leaders' seminar with Cutlass Express participating nations to promote the development of national maritime strategies and the development of operational concepts and capabilities to operationalize maritime strategy.
Exercise Cutlass Express is one of three Africa-focused regional "Express" series exercises facilitated by U.S. Naval Forces Europe-Africa/U.S. 6th Fleet. The exercise falls under Africa Partnership Station, the umbrella program for the Express series exercises and other capacity-building initiatives throughout Africa.
Cutlass Express 2017 participating nations included Comoros, Djibouti, Kenya, Madagascar, Mauritius, Mozambique, Seychelles, Turkey, Canada, Uganda, Denmark, France, The Netherlands, and the United States.