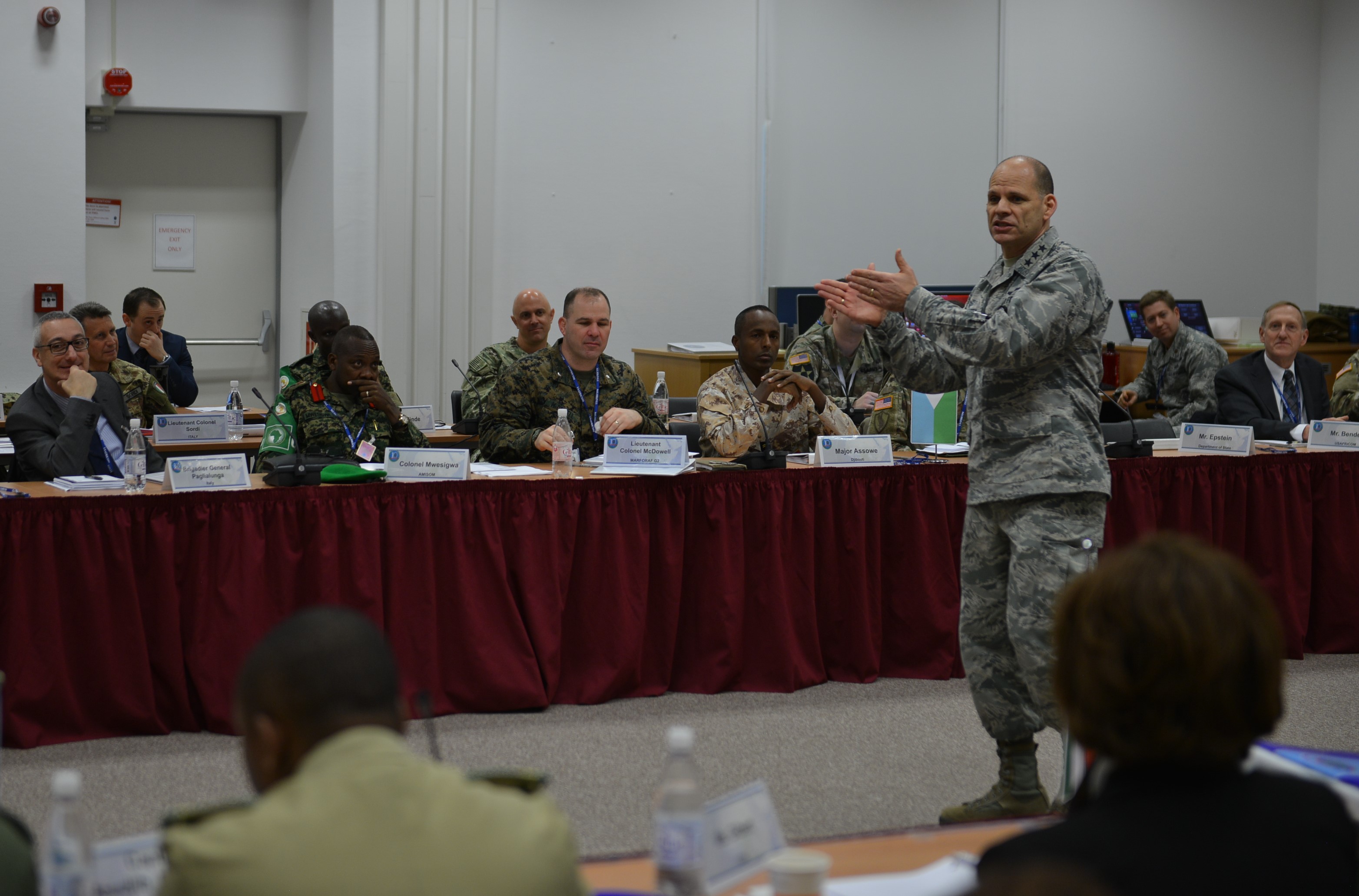 4 photos: AFRICOM Hosts East Africa Directors of Military Intelligence Conference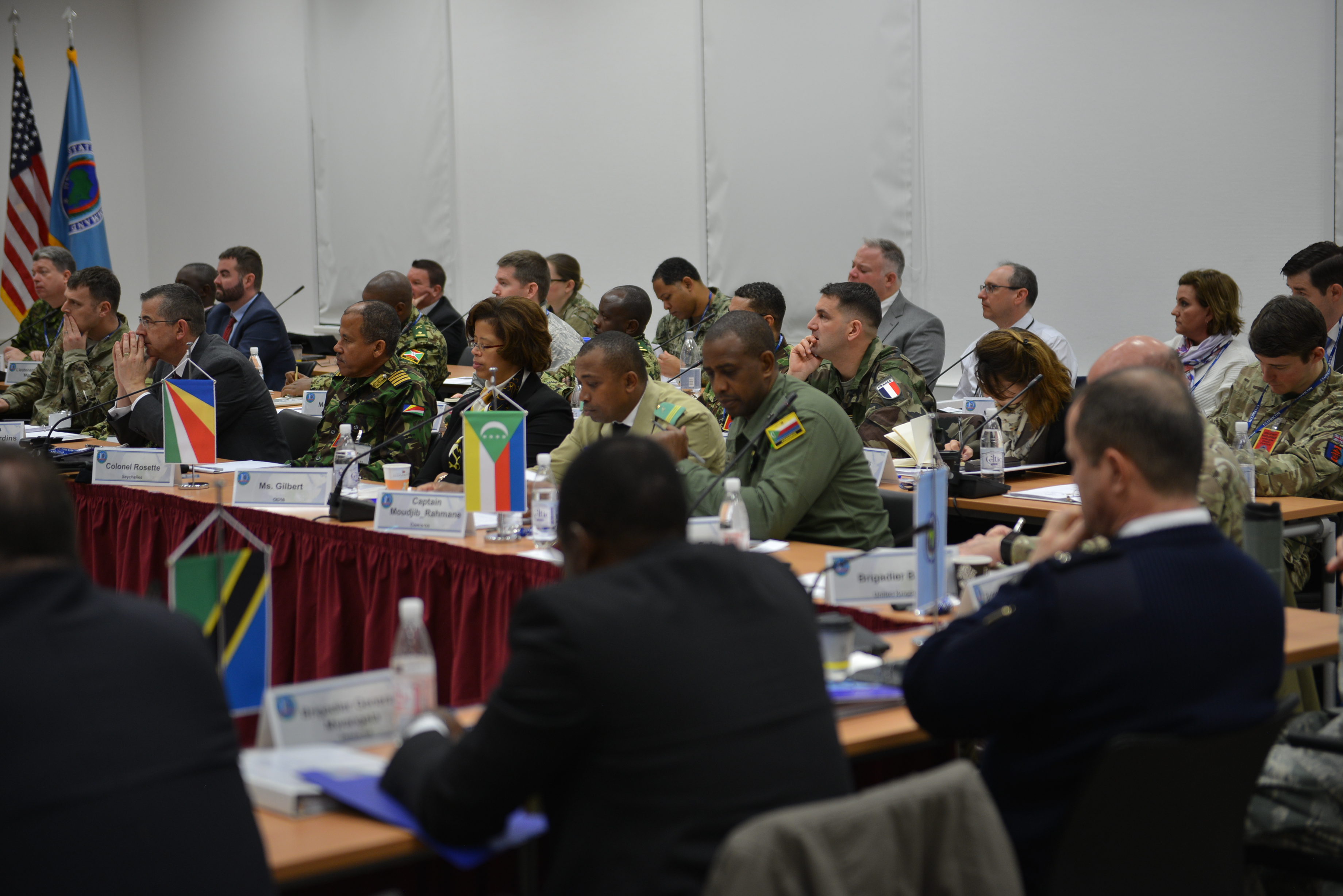 4 photos: AFRICOM Hosts East Africa Directors of Military Intelligence Conference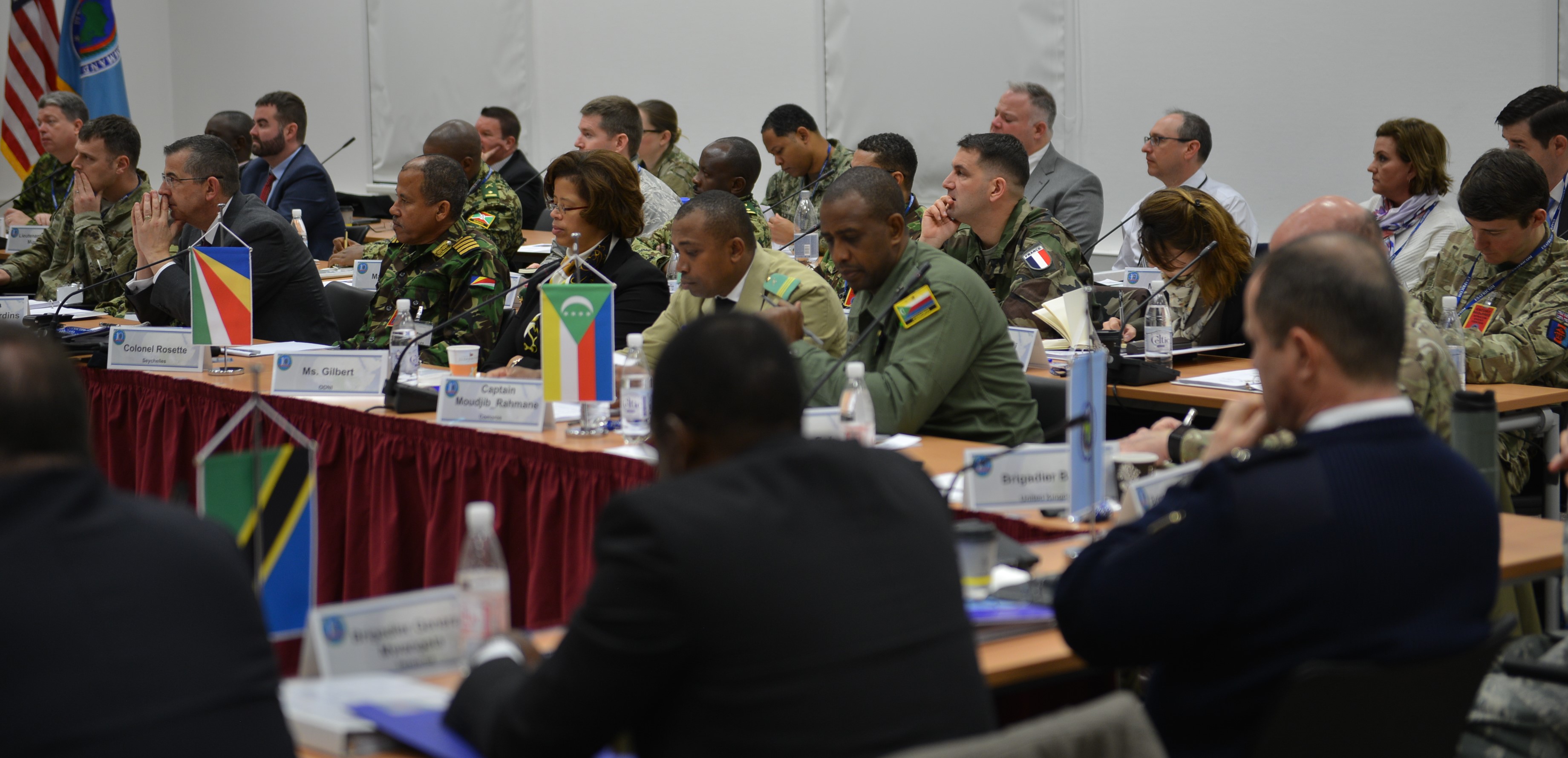 4 photos: AFRICOM Hosts East Africa Directors of Military Intelligence Conference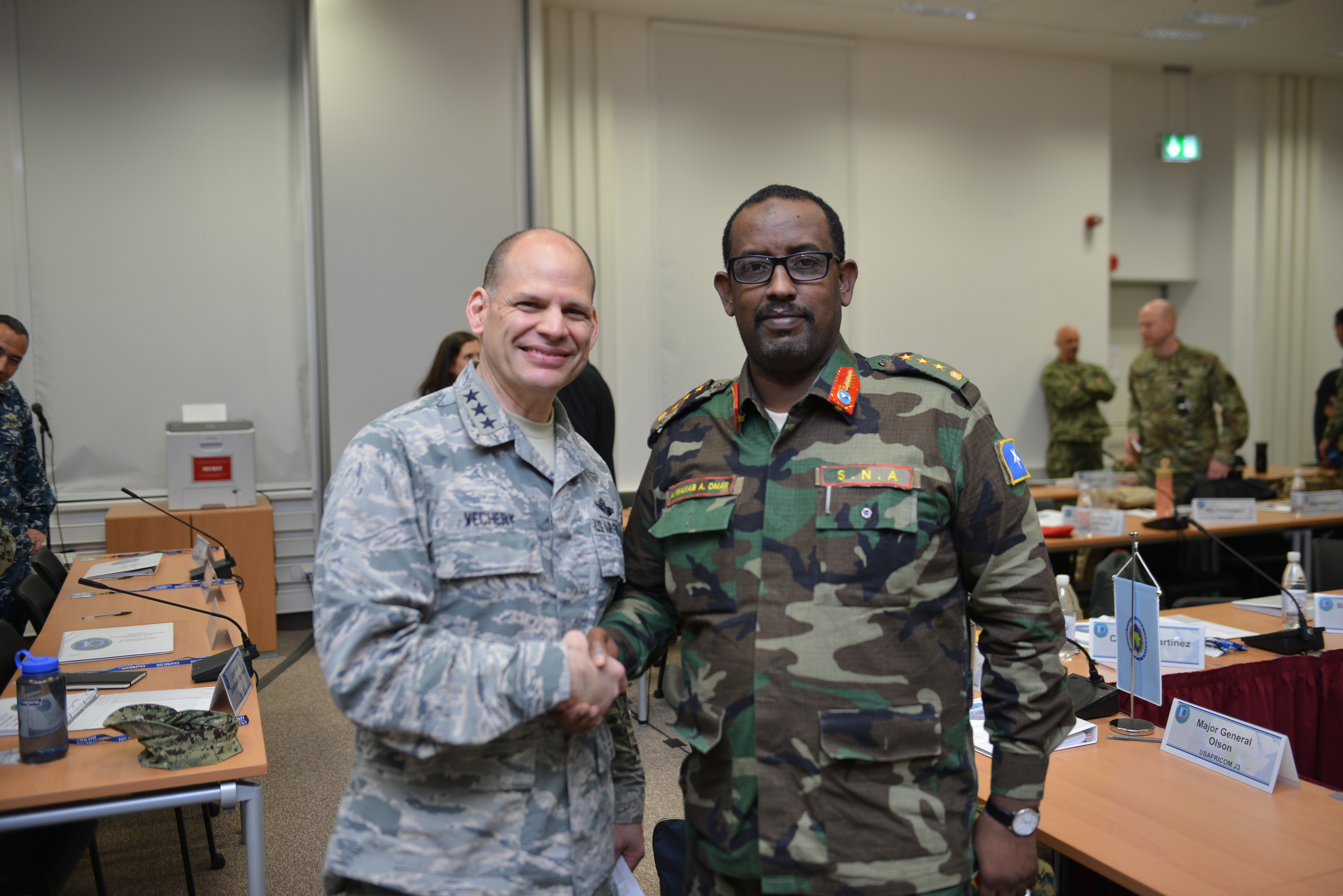 4 photos: AFRICOM Hosts East Africa Directors of Military Intelligence Conference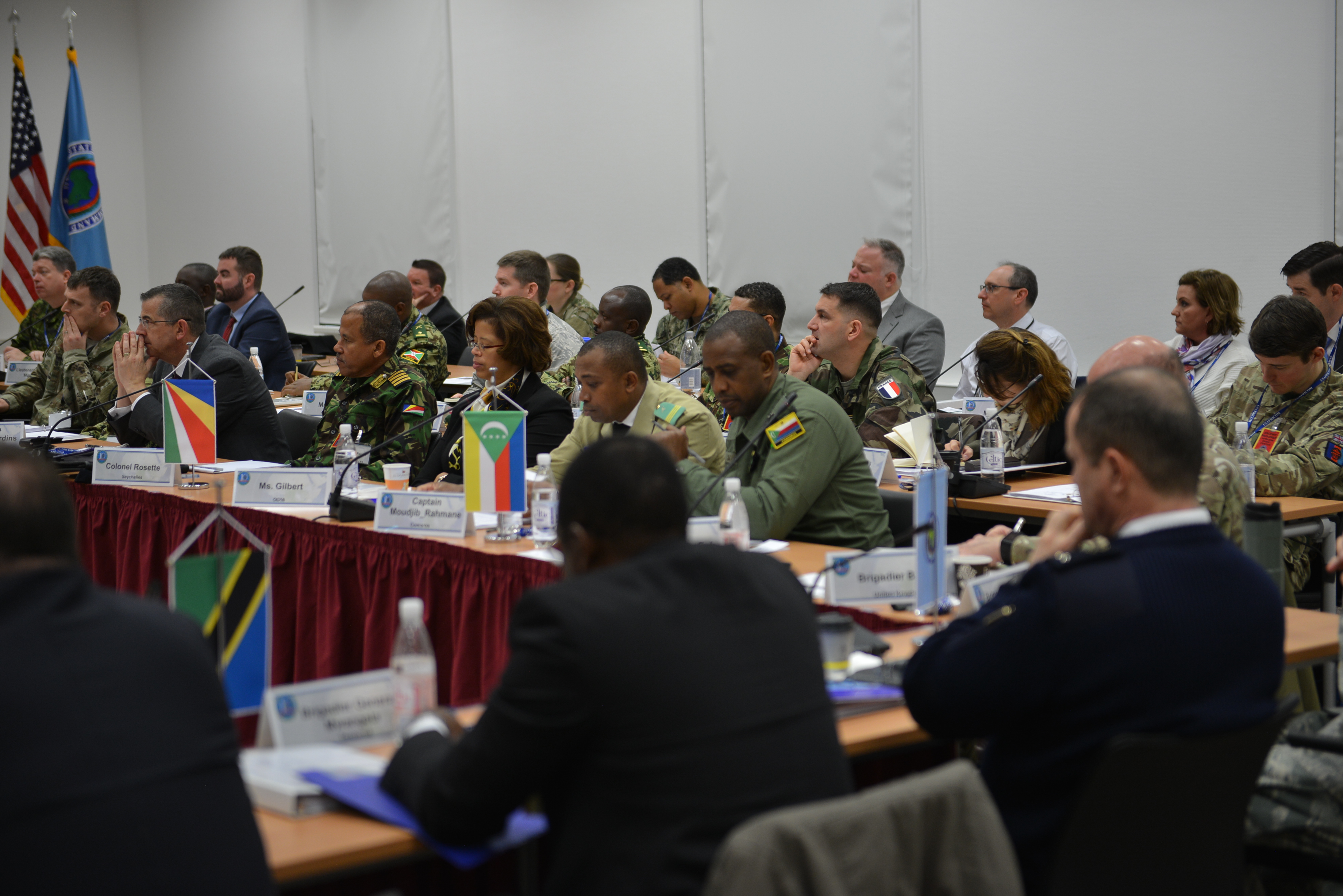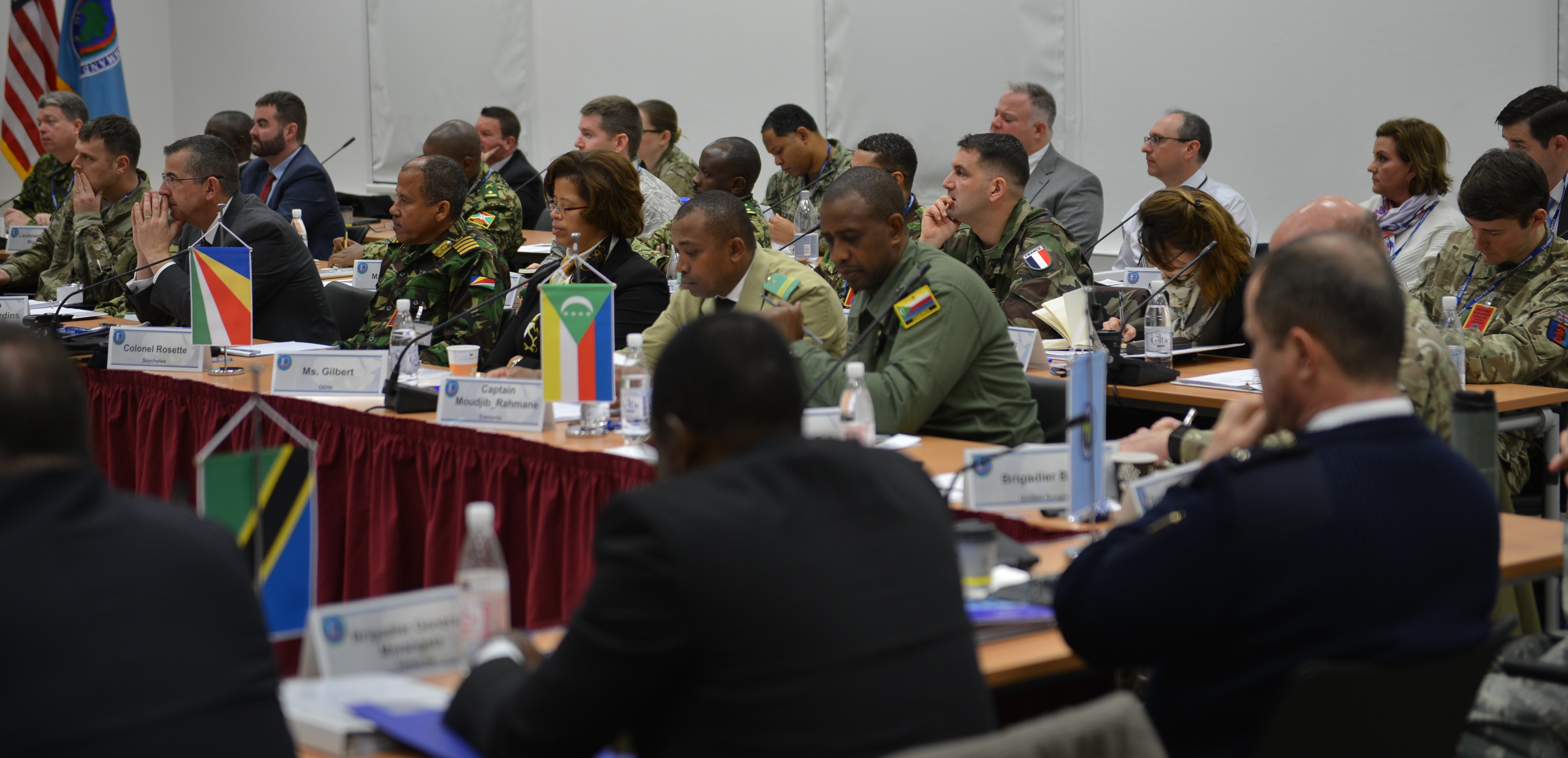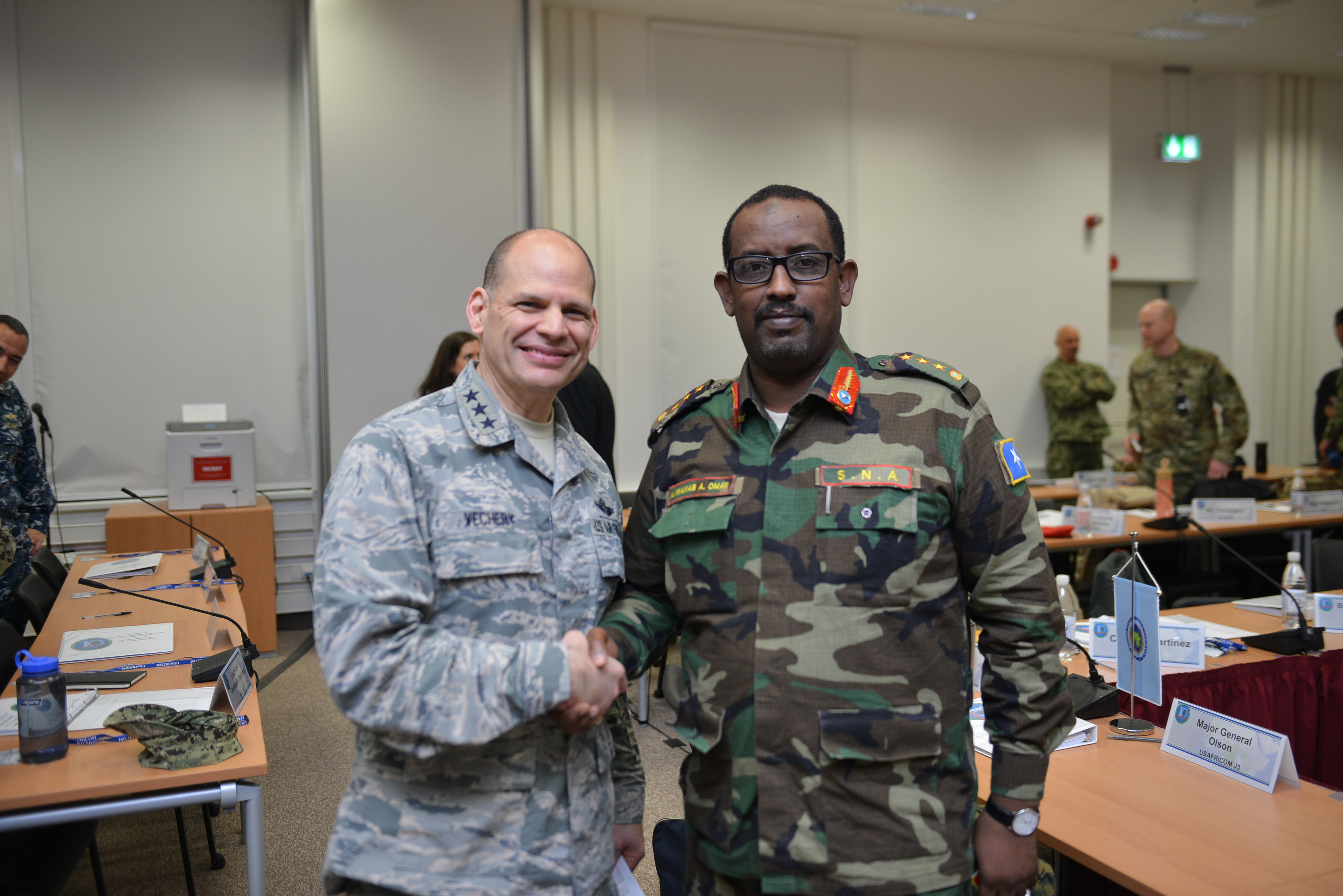 STUTTGART, Germany -- Senior military intelligence officials from East Africa, Europe, the U.S., and Canada met during the East Africa Directors of Military Intelligence (DMI) Conference Feb 21-22, 2018 in Stuttgart, Germany.
Representatives from the African Union Mission to Somalia (AMISOM) also participated.
The annual conference, hosted by the AFRICOM J2 (Intelligence) Directorate, is aimed at sharing best practices, discussing shared challenges, and developing relationships.
"Pulling back from the immediacy of events on the ground and making a concerted effort to share perspectives, best practices, and concerns does more than provide a common intelligence picture for the conference audience." said U.S. Army Maj. Matthew Engelhardt, event organizer, AFRICOM J2. "It is the basis of building on the strength of our existing relationships."
The bilateral meetings and group discussions that occur during the conference help AFRICOM learn of opportunities to better synchronize support efforts with individual partner nations, he said.
The theme for this year's event, "The Nexus of Violent Extremist Organizations and Illicit Trafficking," was chosen based on feedback from African partners that there was an intelligence gap in how maritime trafficking supported VEOs, Engelhardt said.
"Several of our regional partners from island countries like Seychelles, Comoros, and Madagascar are not as involved in countering VEOs inland, but that does not mean that their maritime operations in counter-illicit trafficking do not have an impact either directly or indirectly on the smuggling networks VEOs rely on to gain access to weapons, narcotics, and even foreign fighters through illegal immigration, he said.
"Illegal trafficking has a direct and indirect impact on our economy," said Lt. Col. Didace Hoareau, Seychelles Coast Guard Training Officer. "We are trying to stop smugglers and illegal traffickers before it reaches our shores."
VEOs rely heavily on illegal trafficking as a source of income, Hoareau said. Therefore working with other countries in the region is essential.
"This event gives us an in-depth picture of the situation in each country," he said. "What we do and what our partners are doing can all help to control the situation."
Seychelles is one of the most proactive countries in the region with their efforts to combat narco-trafficking and piracy, Hoareau said. "Our efforts are a good model for use by other countries."
For countries like Somalia sharing their first-hand experiences can help other nations in the region.
"In Somalia, we have Daesh, al Shabaab and threats from trafficking," said Brig. Gen. Abdiwahab Abdullahi Omar, Somali Director of Military Intelligence. "There are many theories on combatting violent extremism, but Somalia has faced this in practice and has experience facing these threats."
It's also important to meet with other East African countries and learn from their experiences so that Somalia can strengthen their own capabilities, he said.
Since November 2017, AMISOM Troop Contributing Countries have begun drawing down deployment numbers in order to meet the required cap on forces set by United Nations Security Council Resolution 2373, Engelhardt said.
Having the Somali Military Intelligence Director there to provide his personal understanding of the al Shabaab threat and hearing AMISOM's senior military intelligence official share his views on mitigating that threat as AMISOM incrementally decreases its presence provides a much richer and informed discussion opportunity for all the attendees, he said.
"While it's important to acknowledge the deep commitment that AMISOM partner nations have shown for over ten years to the security of the Somali people, no other attendee at this conference has as strong of a stake in the future of Somalia," Engelhardt said. "Transitioning the security responsibilities exclusively to Somalia's own security forces is meant to be a conditions based process, and an important goal of the East Africa DMI Conference is to provide a forum for all of the partnering nations involved in this effort to examine together how intelligence support conditions truly need to be set and measured."
The AFRICOM J2 holds similar events for Lake Chad Basin and North and West Africa military intelligence directors.