2 photos: U.S. Embassy Djibouti Women's Day Panel
2 photos: U.S. Embassy Djibouti Women's Day Panel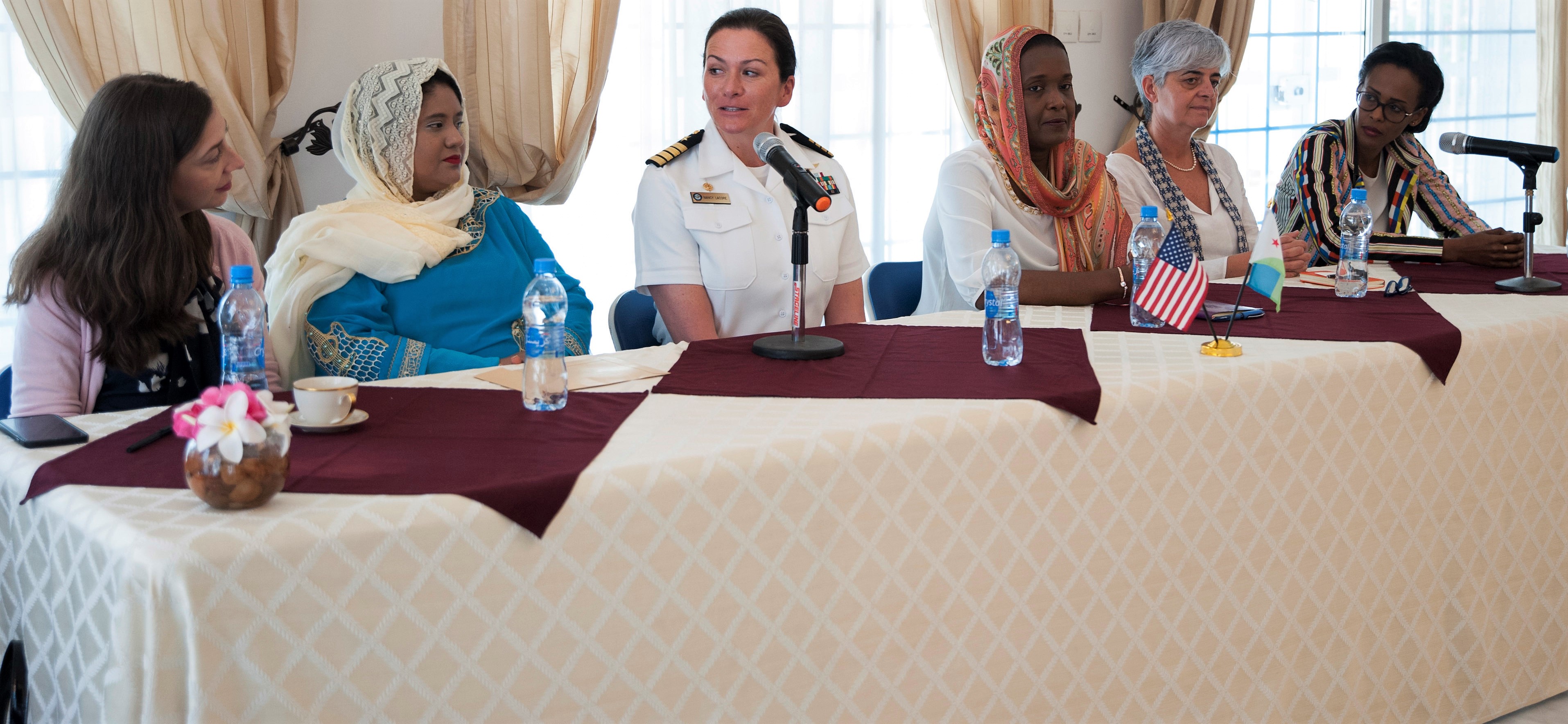 DJIBOUTI CITY, Djibouti – In recognition of Women's History Month and International Women's Day (March 8), the U.S. Ambassador to Djibouti Larry André hosted a Women's Panel event on March 19, 2018.
This year's theme for International Women's Day was "Press for Progress." The social, economic, political and cultural achievements of women that were recognized and discussed in many different forums around the world and did not end on March 8.
"We have among us here today leaders whose achievements have made history in their fields," said André. "[These are] women who have positively influenced many lives and women whose positive impact crosses borders, ethnicities, and generations."
Camp Lemonnier Commanding Officer, U.S. Navy Capt. Nancy S. Lacore, was one of five women chosen to speak as a panelist. Lacore is a graduate of the Air Command and Staff College and the National Defense University at the Joint Forces Staff College. In 1993, she completed Navy flight training and was designated a Naval Aviator.
"I like challenges and naval aviation is certainly a challenge," said Lacore. "My father was the one that actually pushed me in the direction of the military. I didn't realize it at the time, but when I think back on it, it's pretty significant for a father to push his daughter in the 90's towards the military. I'm very grateful to him for getting me started down this path."
The month of March is Women's History Month and the theme relives a phrase that was echoed last year; "Nevertheless, She Persisted." This phrase is universal and still stands true for women all around the globe, to include the panelists that shared their stories. Having the courage, tenacity, ambition, and drive to accomplish anything through persistence, commitment and boldness is commendable.
"I contribute my success to having mentors; both female and male, who pointed me in the right direction and encouraged me," said Lacore.
Panelists, including Resident Coordinator of the United Nation Development Program (UNDP), Barbara Manzi, provided insight into their goals, achievements, and challenges they faced in accomplishing their dreams.
"I'm a rebel because I come from a very traditional family," said Manzi. "I'm the first woman [in my family] to go the university, I'm the first woman that left the house without getting married, the first to live alone in another city, I was…the black sheep."
Manzi had a successful career as an architect then joined the UN, working primarily in conflict countries for the past 20 years. Her peers, family and friends have often questioned why she had chosen a profession that has put her in such risky situations.
"Through courage, demonstrated professionalism, and a little bit of business, I managed. I do it for all the children of the world, for the smiles, for the future, for all the girls of Djibouti, for all of us to give the possibility for them to have a future," said Manzi.
The Parliament of Djibouti approved a bill on Jan. 11, 2018, increasing the quota representation of women in the National Assembly to 25 percent. The bill was initiated by the President of the Republic of Djibouti Mr. Ismail Omar Guelleh in 2017.
"I applaud the government for affirming its commitment to gender equality," said André. "We at the United States Mission to the Republic of Djibouti are proud to be partners with a country that leads with action."
Additional panelist included the Djibouti Minister of Women and Family, Moumina Houmed Hassan; Nomad.com Chief Executive Officer, Kadra Abdi Douksieh and Biology Researcher and Professor, Dr. Fatima Abdelatif. The speakers each offered words of encouragement and hope to young girls that desired to get out of their comfort zone. "I would offer three pieces of advice," said Lacore. "First, trust your instincts. You might be the only one who thinks the way you think, if you're a woman in a room full of men, and that's okay. Secondly, surround yourself with someone in your immediate circle that will tell you the truth instead of just telling you 'yes'. Lastly, you can have a family and a career and if someone is telling you otherwise, you don't need to listen to them."
Camp Lemonnier is one of Navy Region Europe, Africa, Southwest Asia, installations that conducts eight lines of operation to support air operations, port operations, safety, security, housing, MWR, Fleet and Family Support and what is called the core: the fuels, water and power that keep the bases operating.
Camp Lemonnier's mission includes enabling joint warfighters operating forward and to reinforce the U.S. – Djibouti relationship by providing exceptional services and facilities for the tenant commands, transient U.S. assets and service members.