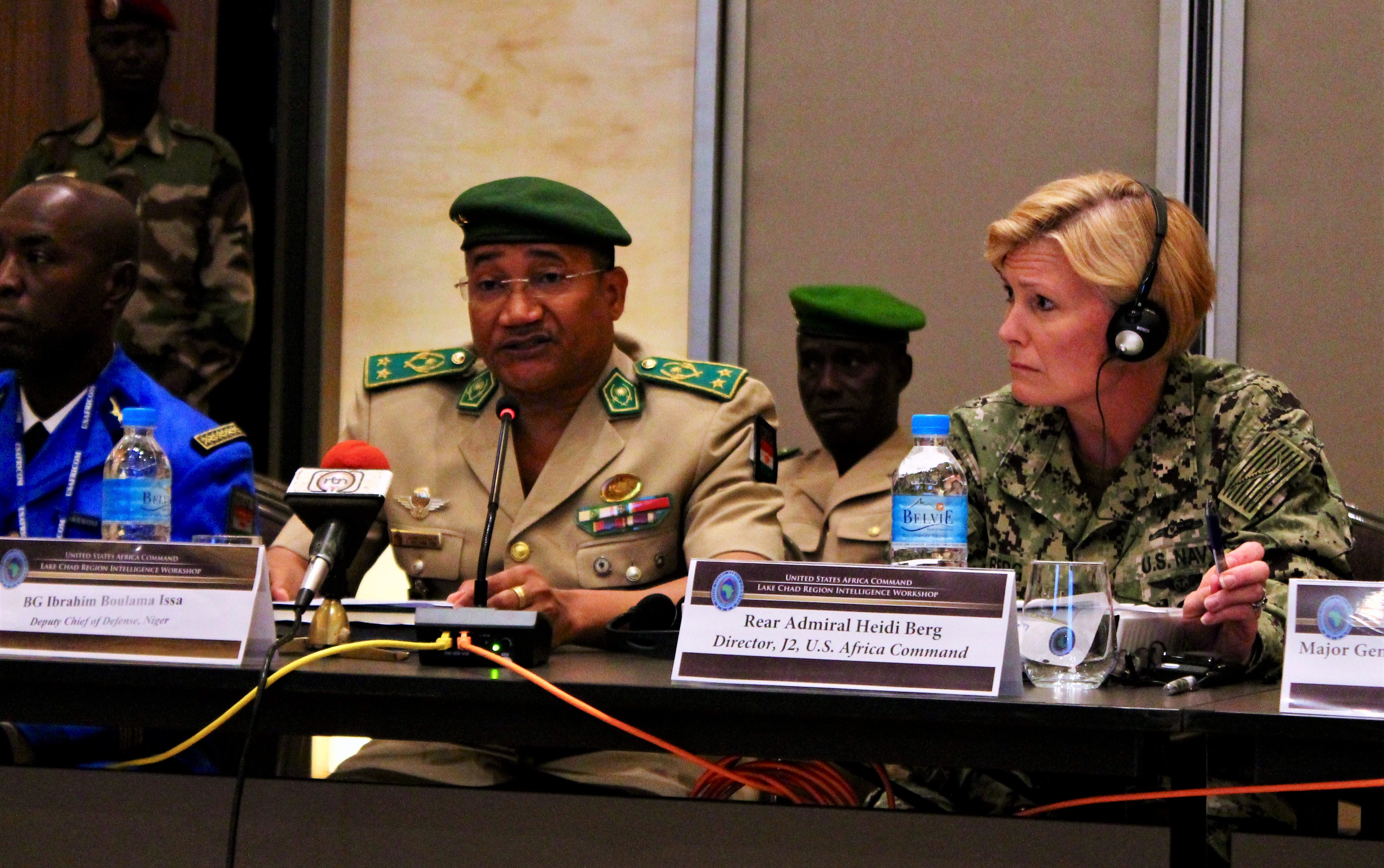 4 photos: Senior African Military Intelligence Directors Discuss Lake Chad Region Threat Environment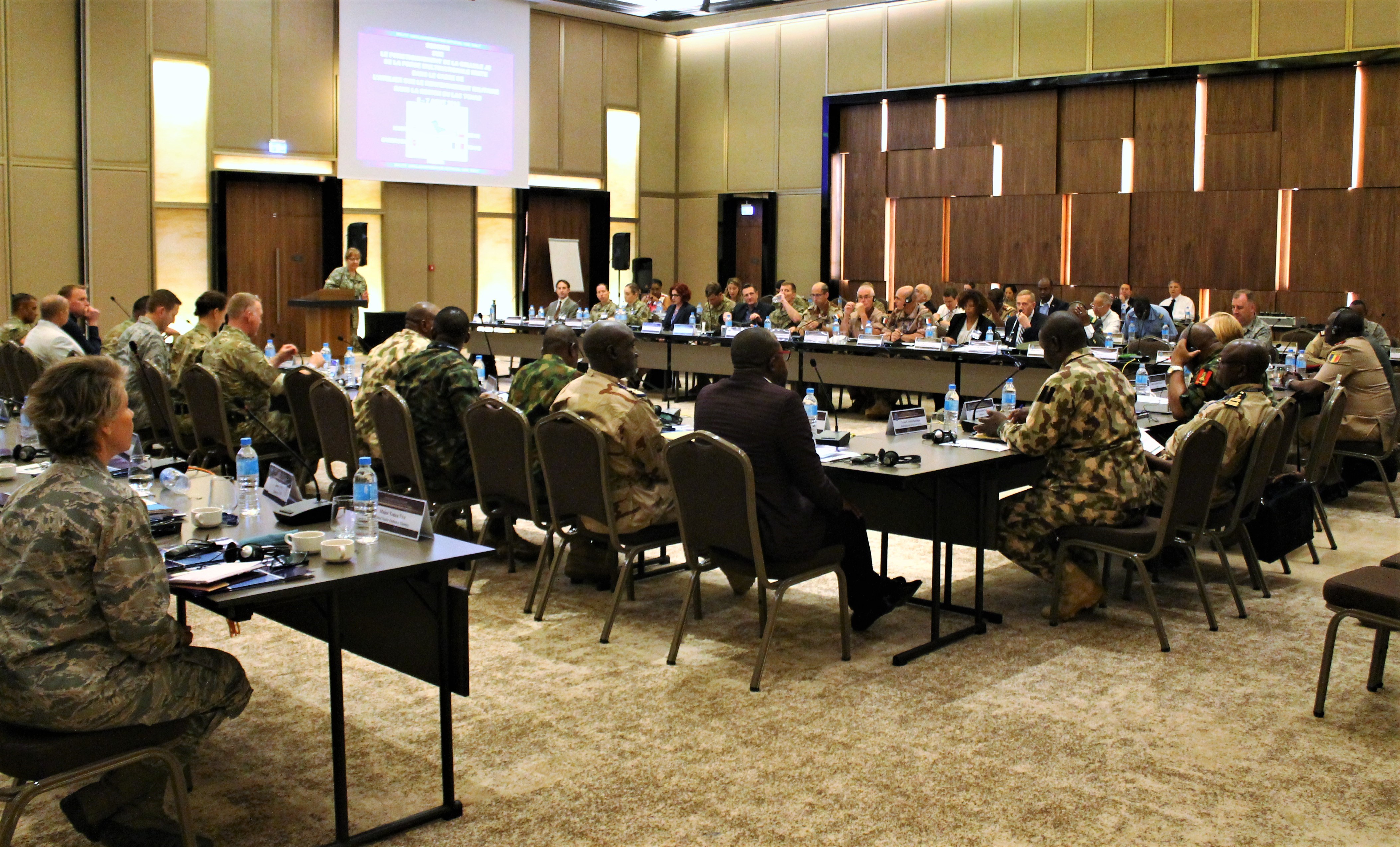 4 photos: Senior African Military Intelligence Directors Discuss Lake Chad Region Threat Environment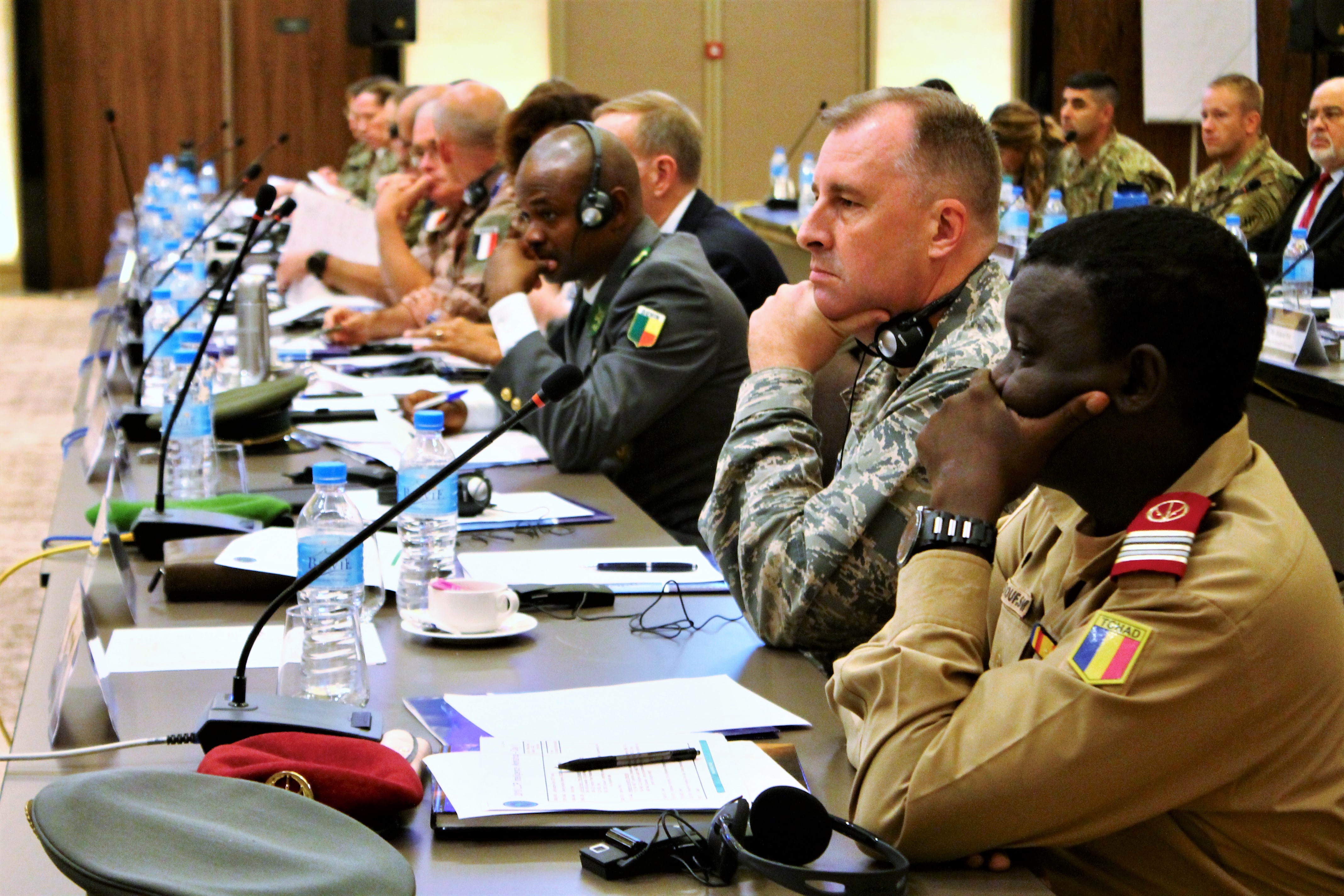 4 photos: Senior African Military Intelligence Directors Discuss Lake Chad Region Threat Environment
4 photos: Senior African Military Intelligence Directors Discuss Lake Chad Region Threat Environment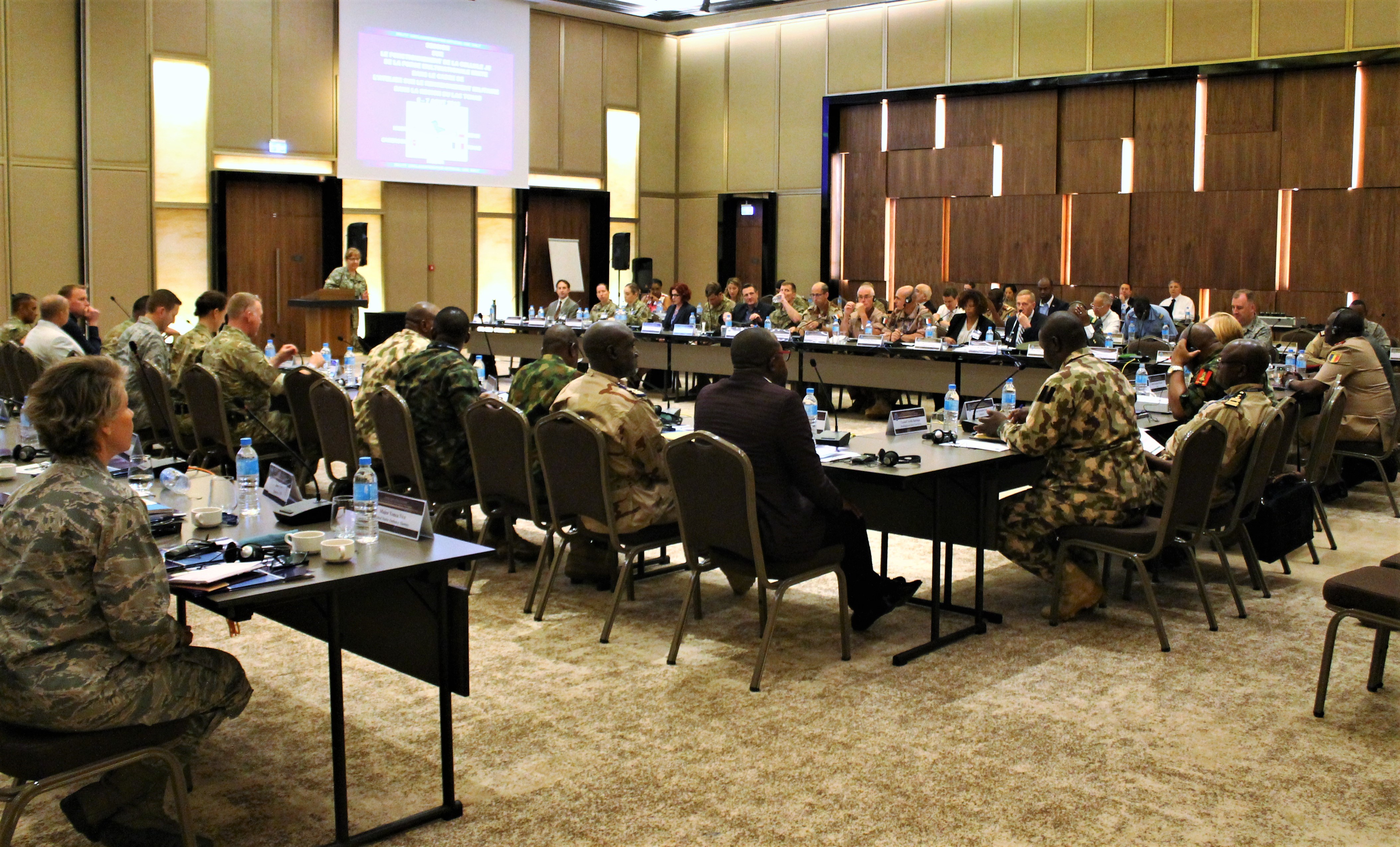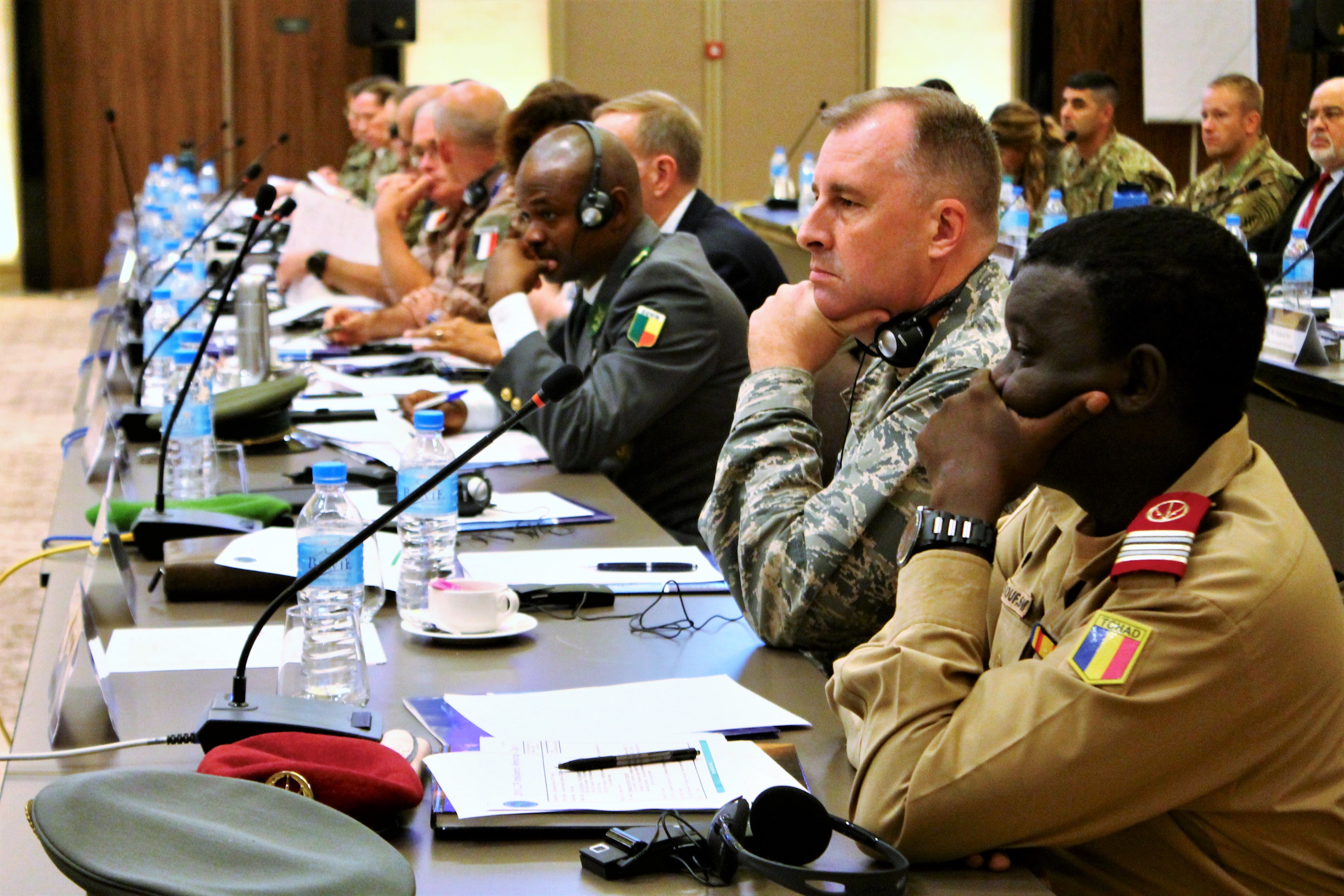 NIAMEY, Niger – Senior military intelligence directors from the Lake Chad region countries gathered with U.S., United Kingdom and French counterparts to discuss regional threat trends and perspectives, Aug. 6-7.
This two-day annual Lake Chad Region Intelligence Workshop, sponsored by the U.S. Africa Command (AFRICOM) intelligence directorate and co-hosted by Nigerien Armed Forces, provided a forum for leaders and analysts to corroborate shared understanding of the threat environment and discuss maximizing opportunities for further discussion and debate.
"In an era of constrained resources, this workshop is also an opportunity to discuss how to share our respective intelligence, training, and organization strengths for mutual benefits," said Rear Admiral Heidi Berg, AFRICOM director of intelligence.
Specific to the threat near Lake Chad, representatives from Niger, Nigeria, Cameroon, Chad, and Benin shared insights on trends on Boko Haram and ISIS-West Africa's tactics and movement.
This year's theme, "Intelligence-Operations Integration," was selected based on previous year's input and focuses on the critical role intelligence has in shaping military action.
As an example, four of the nations represented share a border where terrorists operate and having effective methods of sharing meaningful intelligence easily and quickly between neighbors can alter or modify military operations when more data is presented.
Berg echoed that to know why, where, and how an enemy will act is the crucial ingredient for effective military action.
The Multinational Joint Task Force, or MNJTF, was represented by its director of intelligence Colonel Ayuba Baningo of Nigeria, who's been in this position for more than a year.
"This workshop affords us the opportunity to meet in person to discuss issues, as well as gain broader knowledge of what assistance is available to help us," said Baningo.
This African Union-sponsored task force coordinates operations and facilitates intelligence sharing between five countries who obligate forces to restore a safe and secure environment in areas that are affected by Boko Haram and ISIS-West Africa, according to the African Union website.
The MNJTF is supported through a network of liaisons, called the Center for Coordination and Liaison (CCL), from the United Kingdom, France, and the United States out of its headquarters in N'Djamena, Chad.
Major Sophie Waters, of the British Army, serves in the CCL as an intelligence planner for intelligence, surveillance, and reconnaissance (ISR) missions and works directly with Colonel Baningo.
As part of a six-month rotational assignment, her role centers around utilizing information collection to shape ISR missions that aid MNJTF ground operators.
"This session was a useful platform to identify problems and work toward better solutions," said Waters. "Additionally, the cultural exchange of ideas was beneficial in understanding how our partners relay information."
The first day of the workshop centered on developing a common intelligence picture for the region based of individual assessments; while the second day focused on strengthening military intelligence officers and the role of human rights checks and balances in counterterrorism operations.
The integration of overlapping human rights and military intelligence was deliberate in planning the agenda for this workshop so that participants were able to discuss practical methods that safeguard the rule of law during operations.
"Adherence to the Law of Armed Conflict and value for human rights builds credibility, and when you have credibility, it incentivizes information sharing amongst partners," said Lt. Col. Jessica Farrell, assistant legal counsel for U.S. Africa Command.
AFRICOM is planning a larger conference for military intelligence directors across North and West Africa later this fall.