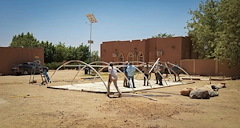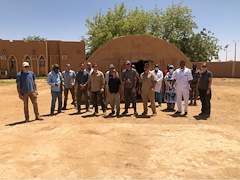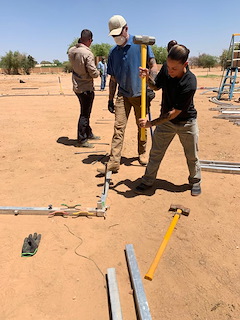 Since October 2019 U.S. Army 443rd Civil Affairs Battalion, Civial Affairs Team 219, has been partnering with local Nigerien health care professionals, educators and government officials, as well as other U.S. Defense and State Department agencies, to assist the region's communities with humanitarian aid and long-term educational and empowerment initiatives.
As the COVID-19 pandemic began accelerating around the globe, members of CAT 219, including Capt. AnnaMaria Verdura, Staff Sgt. Christopher Howell, and Sgts. Lonny Quarford, Christopher Hartmann and Rebecca Romero, were not aware of any official cases in Agadez or the surrounding communities. However, they were aware that coronavirus infections were increasing in other African nations and rapidly adapted their mission to focus to assist Nigerien partners in the battle against the infection.
The team reached out to local medical facilities to ascertain what supplies and equipment were needed to assist health care providers in protecting themselves and enhancing capabilities to prevent infections and provide effective health care for potential COVID-19 patients, Verdura said.
Dr. Agali Anaba, the Agadez Regional Public Hospital director, requested a tent to be used as a quarantine space in the case of a COVID-19 outbreak, Verdura said.
As members of CAT 219 searched for an available tent, they also collected medical supplies donated by U.S. medical staff including hand sanitizer, disposable gloves, masks and boot covers. The team also purchased five handwashing stations on the economy. All of these items were delivered to the hospital March 28.
Within three weeks of receiving the request, CAT 219 was able to procure and properly transfer a tent with 11 cots and a dedicated handwashing station to donate to the hospital.
"The tent was tricky because we had to find a tent that was not being used by anybody here." Verdura said. "We ended up getting it from the civil engineers here on base. We were excited that we were able to get the tent and get it there. It was one of those things that we felt like we were never going to be able to get done, but then all of the sudden, we were putting up a tent at the hospital."
Anaba and members of the hospital staff were thrilled when CAT 219 and U.S. Air Force civil engineers arrived April 6 to deliver and install the tent.
"They were so grateful," Verdura said. "That was the only thing the director of the hospital asked for, and he was excited that we ended up coming through for him."
CAT 219 is currently working on gathering more medical supplies to donate to other medical facilities in the surrounding communities.
"We ended up getting the associations on the base to donate money so that we can go out and buy some more handwashing stations and hand sanitizer and soap to take to the villages that have clinics," Verdura said. "That's our next project."
As the pandemic began accelerating around the globe in March, U.S. Army 443rd Civil Affairs Battalion, Civil Affairs Team 219, currently deployed to Nigerien Air Base 201 near Agadez, Niger, rapidly adapted its mission focus to assist Nigerien partners in the battle against the infection.
Powered by Froala Editor