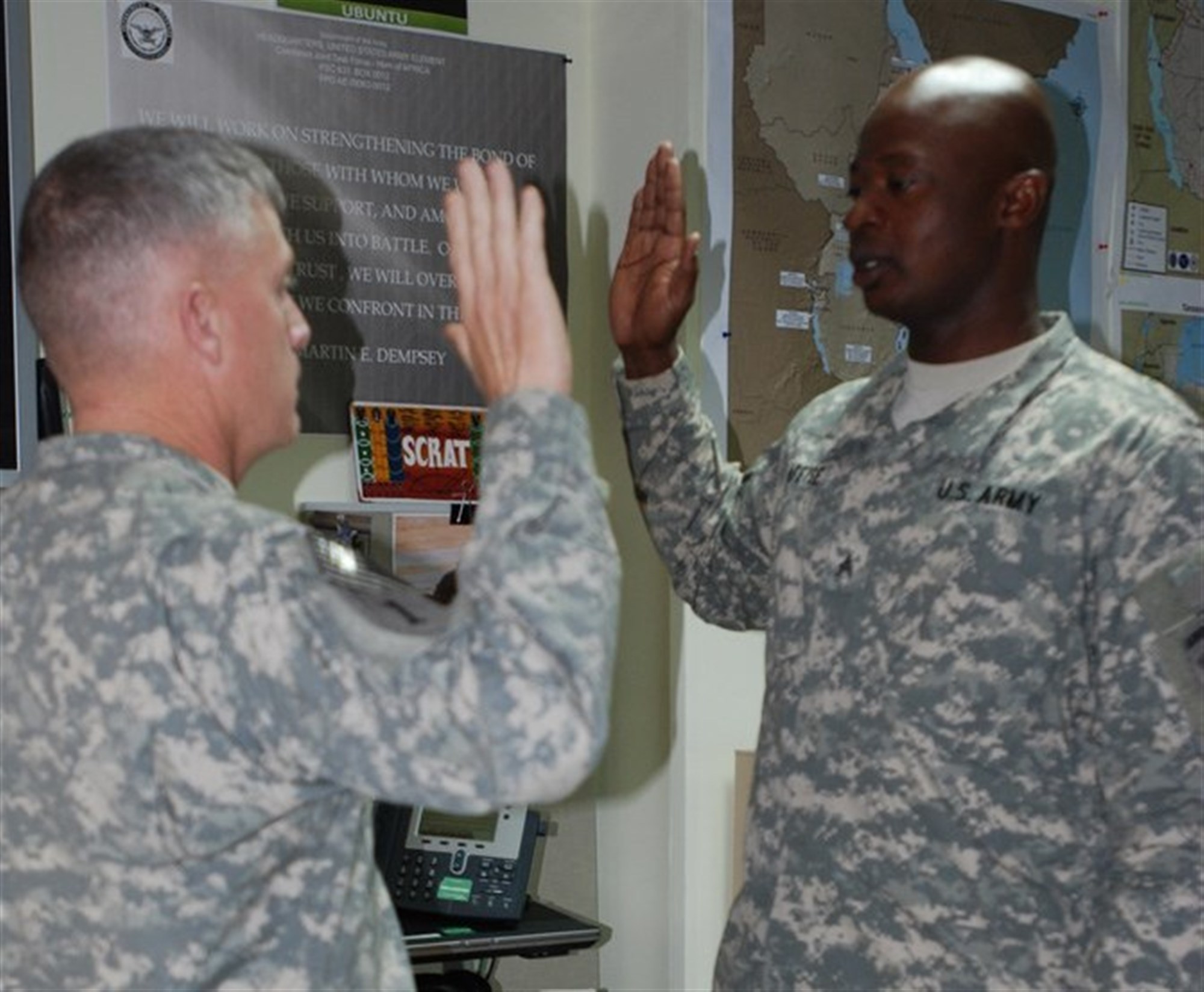 2 photos: CJTF-HOA image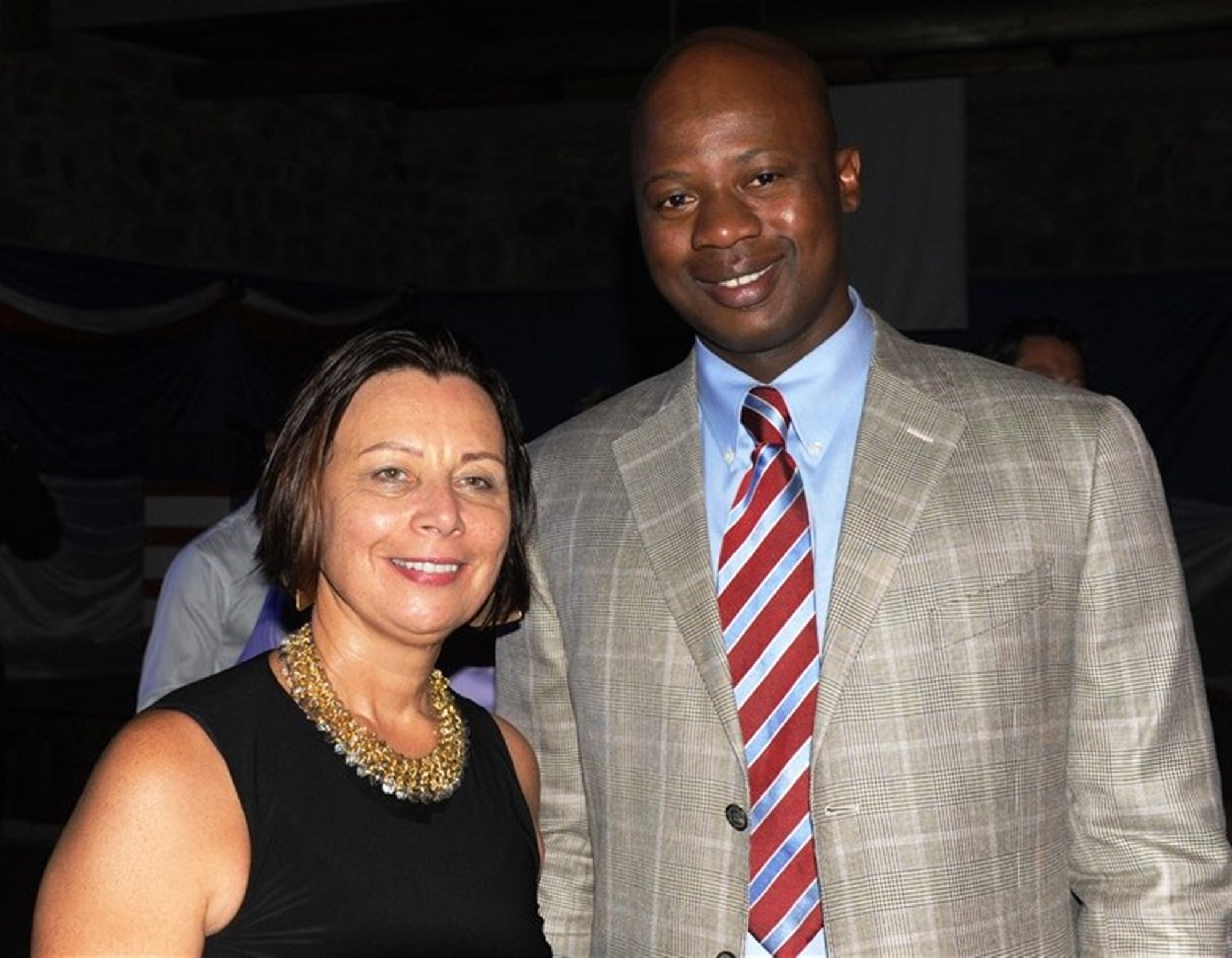 2 photos: CJTF-HOA image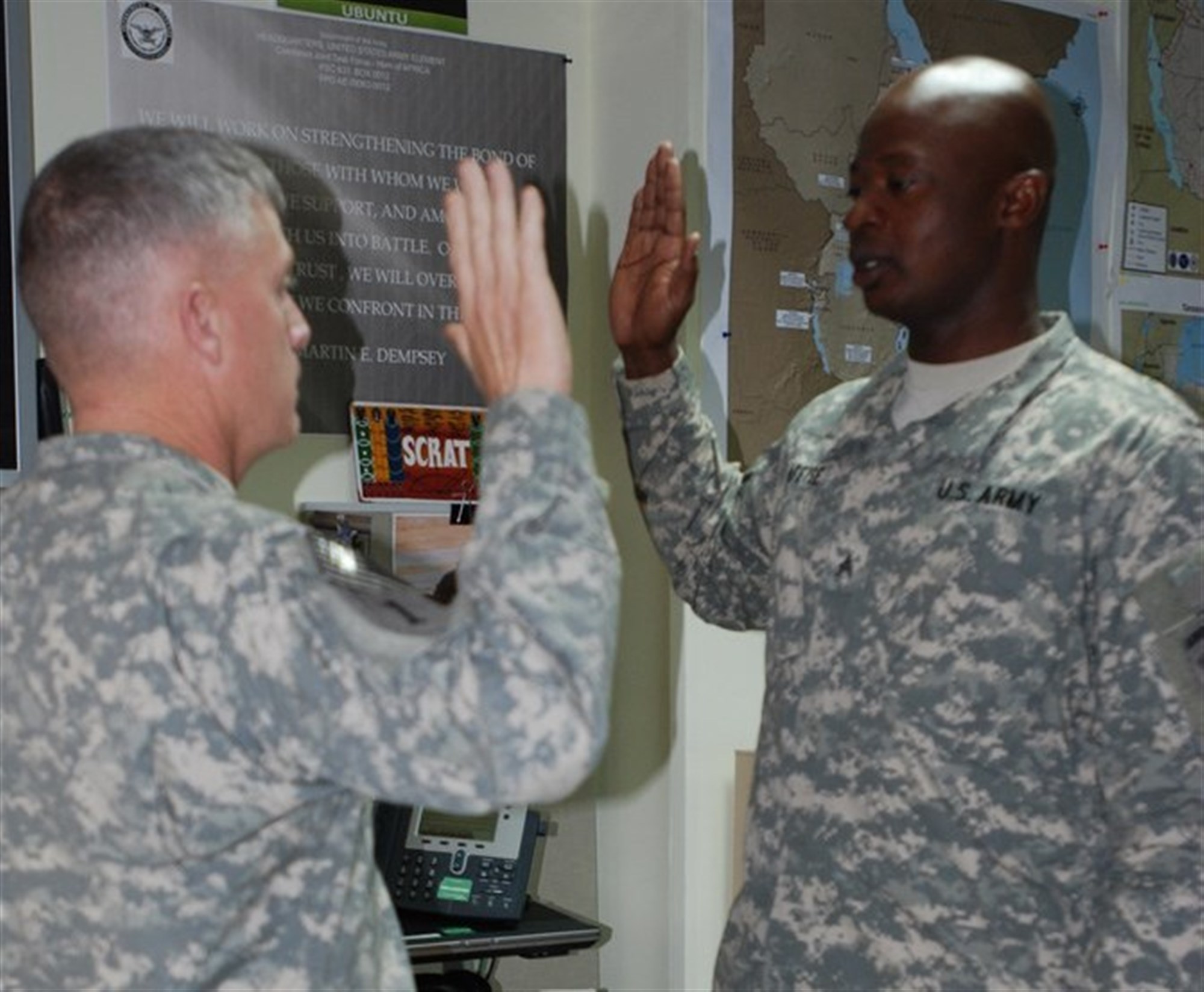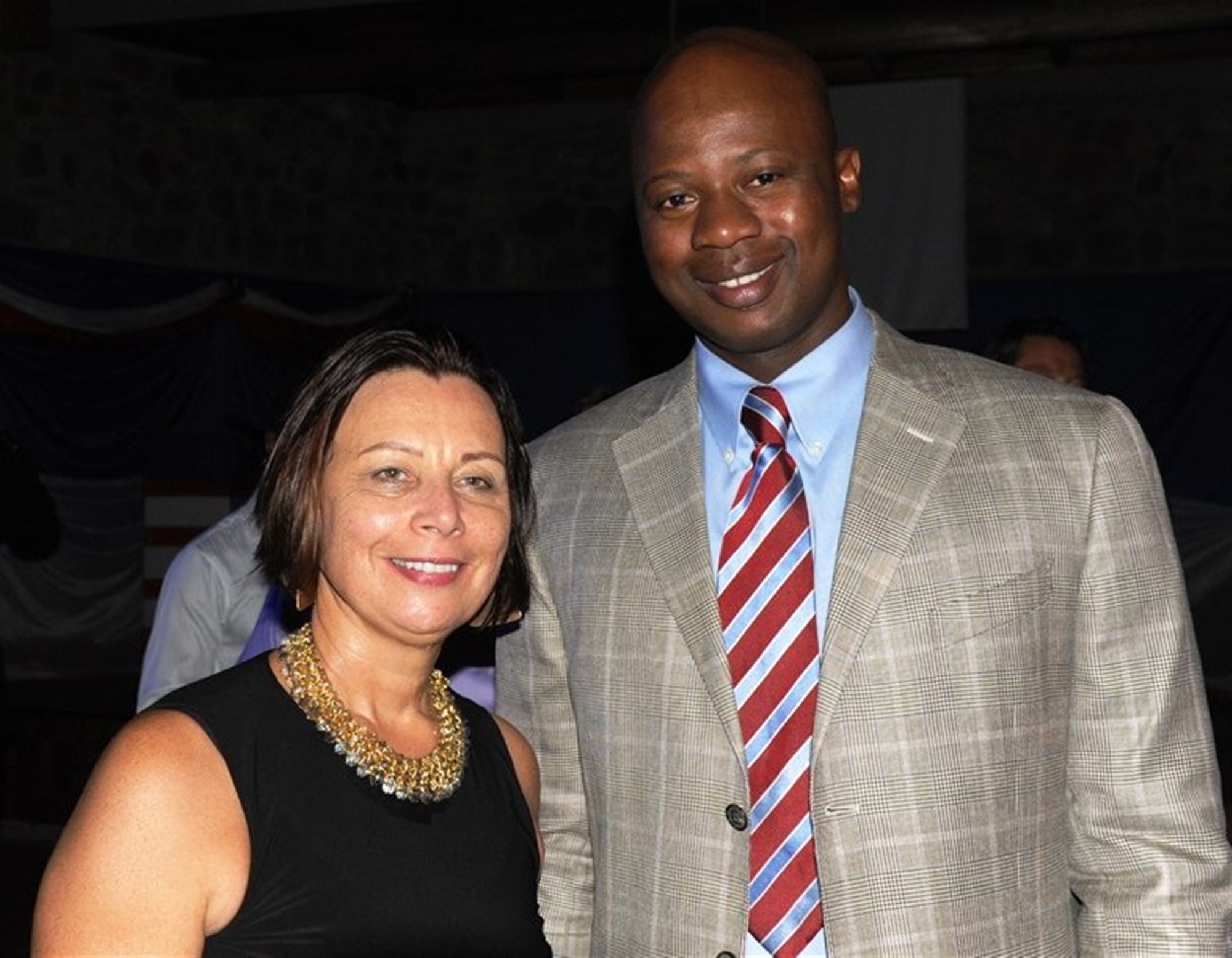 CAMP LEMONNIER, Djibouti -- The United States is known as "the land of opportunity." American history has many stories of people who immigrated to the U.S. with little or nothing in search of a better life. For one man, the tales of the American dream inspired him to do just that.
U.S. Army 2nd Lt. Komi Afetse, a U.S. Army Civil Affairs and Psychological Operations Command Soldier deployed to Combined Joint Task Force-Horn of Africa, Djibouti, earned his commission through the Army Reserve Officer Accession Program on Feb. 14, 2015.
Although earning a commission in the U.S. military is an admirable achievement on its own, Afetse had to overcome the odds to fulfill a dream that started as a young man more than 6,000 miles away from U.S. soil.
Afetse was born in Togo, a small nation of seven million people in West Africa. With high unemployment and poverty rates, Afetse knew that the opportunities were limited in his home country. When he first learned about America, Afetse began to dream about the chance to make a better life.
"I learned about the U.S. in high school history and geography classes," Afetse recalled. "The teacher shared what he knew about the U.S. from books and movies. I was 15 when I heard this and thought, 'The U.S. must be a great place.' American movies also played a huge role. I was amazed by what I saw in these movies. I said to myself, 'I must see this place. One day, I'm going to go to America.'"
While attending college in Togo, Afetse determined to satisfy this curiosity. In 2001, He applied for a student visa through the U.S. Embassy in Togo.
He was not accepted - yet this rejection did not deter Afetse from his goal.
"I first interviewed for a student visa in December 2001, but I was told I wasn't qualified. I didn't give up though. I applied again in 2002 and 2003 and they kept denying me," Afetse said. "Finally, in 2004 the U.S. Embassy granted my student visa. My persistence paid off."
Afetse was granted a student visa and so his journey began. He made his way to the U.S. with $165 in his pocket, three pairs of jeans, four shirts and three pairs of shoes. Afetse had a dream and faith that he could create a better life for himself in this strange land. It soon became clear that he would need to overcome multiple challenges.
According to Afetse, when he arrived in the U.S. he could not even spell his name in English. He knew the ability to communicate was critical and he would have to conquer the language barrier in order to be successful in America. He set out to learn the language the best way he knew.
"I started watching cartoons," Afetse said. "Cartoons are designed for children to learn. They slow down the speech and focus on pronunciation."
Afetse continued learning English through watching English news and watching movies. Movies have a narrative you must follow to understand what is happening, which Afetse said helped him to become conversational in the English language.
Afetse began attending Montgomery College in Silver Springs, Md. It was immediately clear that supporting himself and paying for school would not be an easy task. Afetse said that college tuition for international students can be up to three times more than what American students pay. Financial aid was not available since he was not an American citizen.
Afetse held two and sometimes three jobs just to get by. Between working and attending classes, he had very little time, sometimes only four hours a day, to complete schoolwork and sleep. Afetse admits that the pace was overwhelming. Even though he dropped out of college after one year he did not accept defeat. Instead, he used this time to reevaluate the best way to achieve his goal.
"I knew exactly what I wanted to do," declared Afetse. "Sometimes you have to take a step back, figure out how you are going to attack the problem, and work gradually towards your goal,"
A setback such as this would discourage most people, but Afetse found strength in the stories of other immigrants overcoming the odds to realize their dream.
"I read about other people who came to the U.S. and made it," Afetse stated. "Where I come from, the opportunities are limited. In the U.S., if you know where you want to go or at least have something in mind about what you want to be, you can work your way to it."
Afetse knew in his heart that, in "the land of opportunity," he could still make his dream a reality.
"There is no law banning you from achieving something if you want to do it," Afetse continued. "The opportunity is there if you work your way to it. I see people that came before me in similar conditions who made it. If anything is going to prevent me from reaching my goal it is me. I'm not going to prevent myself from becoming better."
It was during this reassessment that Afetse learned about the Army Reserve. He had gained permanent resident status and learned what the Army Reserve could do to help him with more than just his education.
"The Army Reserve not only paid for school, but if you are a legal U.S. resident, they will speed up the citizenship process. I got my education and my citizenship just by raising my hand and saying I want to serve." Afetse said.
Afetse joined the Army Reserve in 2010 as a motor transport operator. He cross-trained to become a civil affairs specialist in 2012 and quickly reached the rank of sergeant. He enrolled in college once again and graduated with a bachelor's degree in international relations in 2013.
Afetse had achieved his dream of earning his college degree, but he wasn't stopping there.
In 2014, Afetse applied for a direct commission to become an officer.
"It is already a privilege to be a non-commissioned officer and to serve," Afetse acknowledged. "If I can go to the next level, then why not? The Army paid for my education. If I can put myself into more service by becoming an officer, then I want to do it. It's also a challenge for me. I want to see how far I can push this dream, how far I can go."
Once again, dedication and persistence paid off and on Feb. 14, while deployed to CJTF-HOA, Afetse received notice that his direct commission was approved.
"I screamed when I got back to my room," Afetse admitted. "I got the notice while I was at my office. I couldn't believe it. When I went back to my room after work I had to shout! I was now a commissioned officer."
Afetse has already achieved more than he had ever dreamed, but he is not stopping here.
He is scheduled to take the Foreign Service Officer examination in October. Whatever the results, Afetse says he will continue to serve his new country and hopes his experience will allow him to contribute to his home continent.
"I hope that I can work for U.S. Africa Command or for the Department of State somewhere in Africa," Afetse said. "I am familiar with the languages, people and cultures. Using my experience would be the perfect way to repay the country that has given me the life I have today."
Whatever the future holds for Afetse, he says he will do whatever it takes to repay the country that has provided opportunities to create a better life.
"I am in this awesome country thinking, what can I do?" Afetse asked. "Here I am today, wearing this uniform, traveling; I couldn't pay for all this if I was back in Togo. I'm working, serving my country and getting life experience, seeing different things and going places that I couldn't go on my own. It's a win-win. You are serving your country while creating a life for yourself."
Afetse's hopes his story will serve as inspiration and encouragement to others who come to America in search of better opportunities. For those who are just starting a new life in the U.S., he passes on some words of wisdom.
"First, learn the language," said Afetse. "It's ok to hold onto your culture, but communication is the key that opens doors. You have to learn English in order to do that. Second, pick your area of interest and focus on that. If you want to be a mechanic, then be the best mechanic. If you want to be a photographer, take the best shot anyone has ever seen. Lastly, Have a plan and stick to it. Picture where you want to be in one, two and five years. Work your hardest to reach those goals and you will do it."