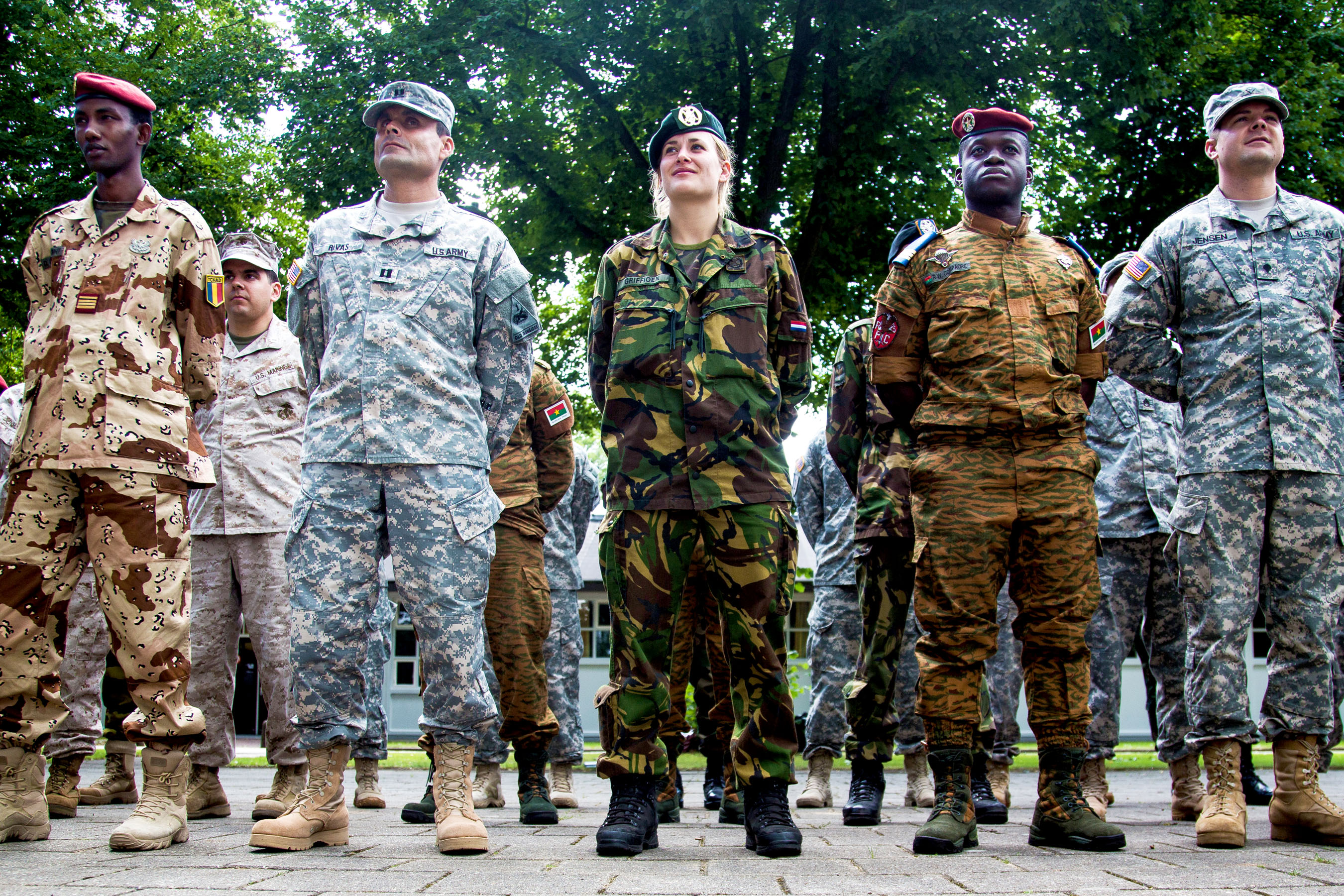 1 photo: Western Accord 2015 Closes on a Note of Cooperation (1) of (1)
HARSKAMP, Netherlands – More than 180 military personnel from 16 different countries stood in a final formation to mark the end of Western Accord 2015 at Winkelman Kazerne July 31.
The annual 12-day exercise, sponsored by U.S. Africa Command, provided participants with an in-depth academic week of study on United Nations operations, peacekeeping and military planning, followed by a week of computer simulated scenarios designed around the UN's Multidimensional Integrated Stabilization Mission template in Mali.
All staff sections within the exercise put European, U.S. and African personnel together by design; however, in the final formation nations stood together by choice.
"Amitie internationale, friendship international – that's Western Accord," said. Spc. Andrew Jensen, French linguist, Utah National Guard.
Jensen saw first-hand and became part of the building of camaraderie within the exercise. Tactical communication turned into friendly conversation by day and games of soccer and dinners in the evening.
"We all have a connection," said Jensen.
During his remarks at the closing ceremony, Adam Sterling, deputy chief of mission for the U.S. Embassy in The Netherlands, said seven decades of connection binds the U.S. to the Dutch and their NATO allies as well as decades of partnership in Africa.
"If there's one thing you all shared coming in and will share going forward, it's a commitment and a sense of duty to bring peace and security in West Africa," said Sterling. "Western Accord is one step in the process to achieve that goal together."
U.S. Army Brig. Gen. Kenneth H. Moore, Jr., deputy commanding general, U.S. Army Africa, stressed the importance of trust during his remarks to the multinational formation.
"A road to peace is paved with trust, the antithesis to Africa's greatest obstacle – fear," Moore said. "Fear is the opposite of trust. There is no cooperation without trust."
Read about last year's Western Accord here.