4 photos: US & African partner nations conclude HADR workshop in Burkina Faso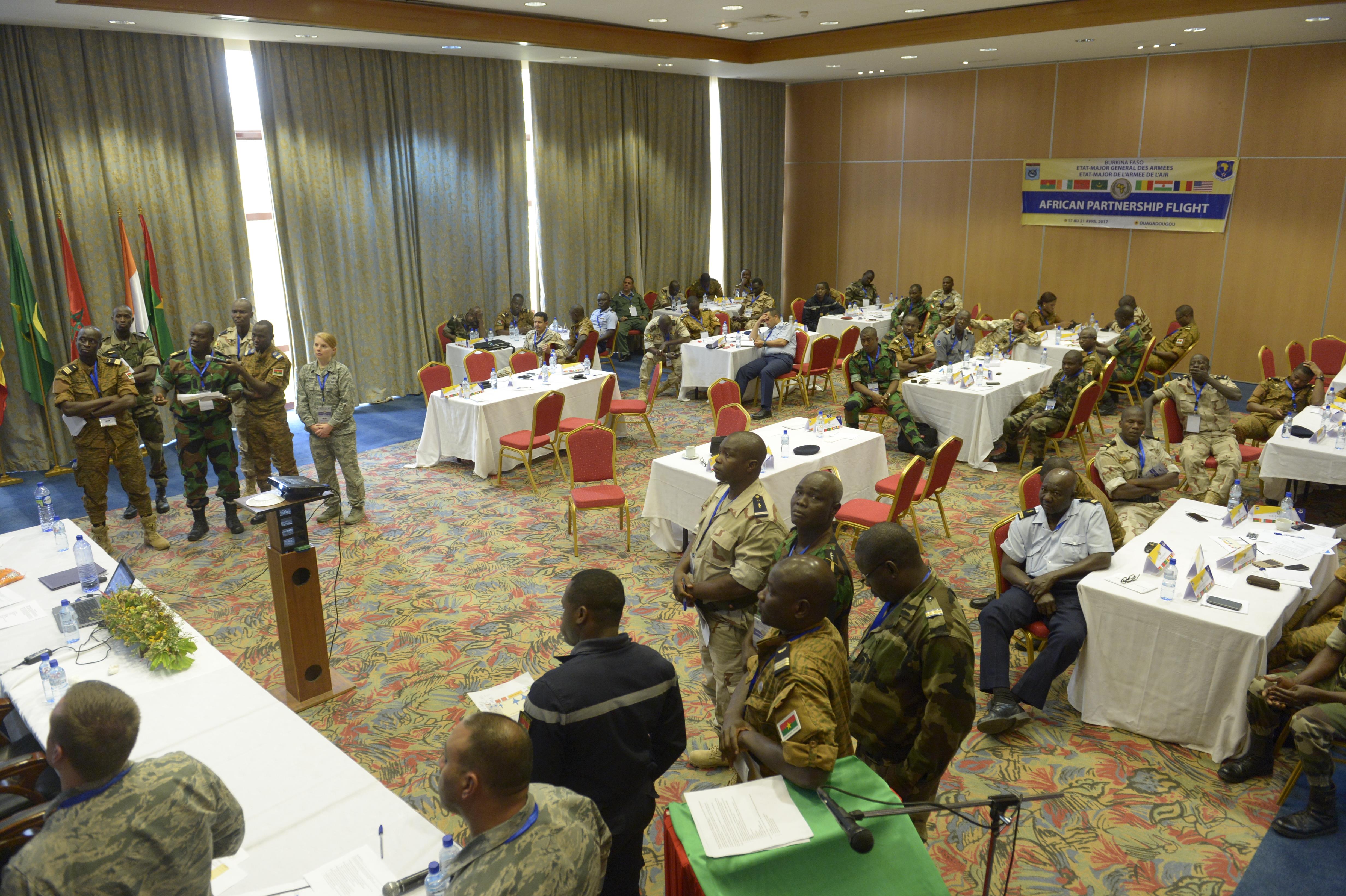 4 photos: US & African partner nations conclude HADR workshop in Burkina Faso
4 photos: US & African partner nations conclude HADR workshop in Burkina Faso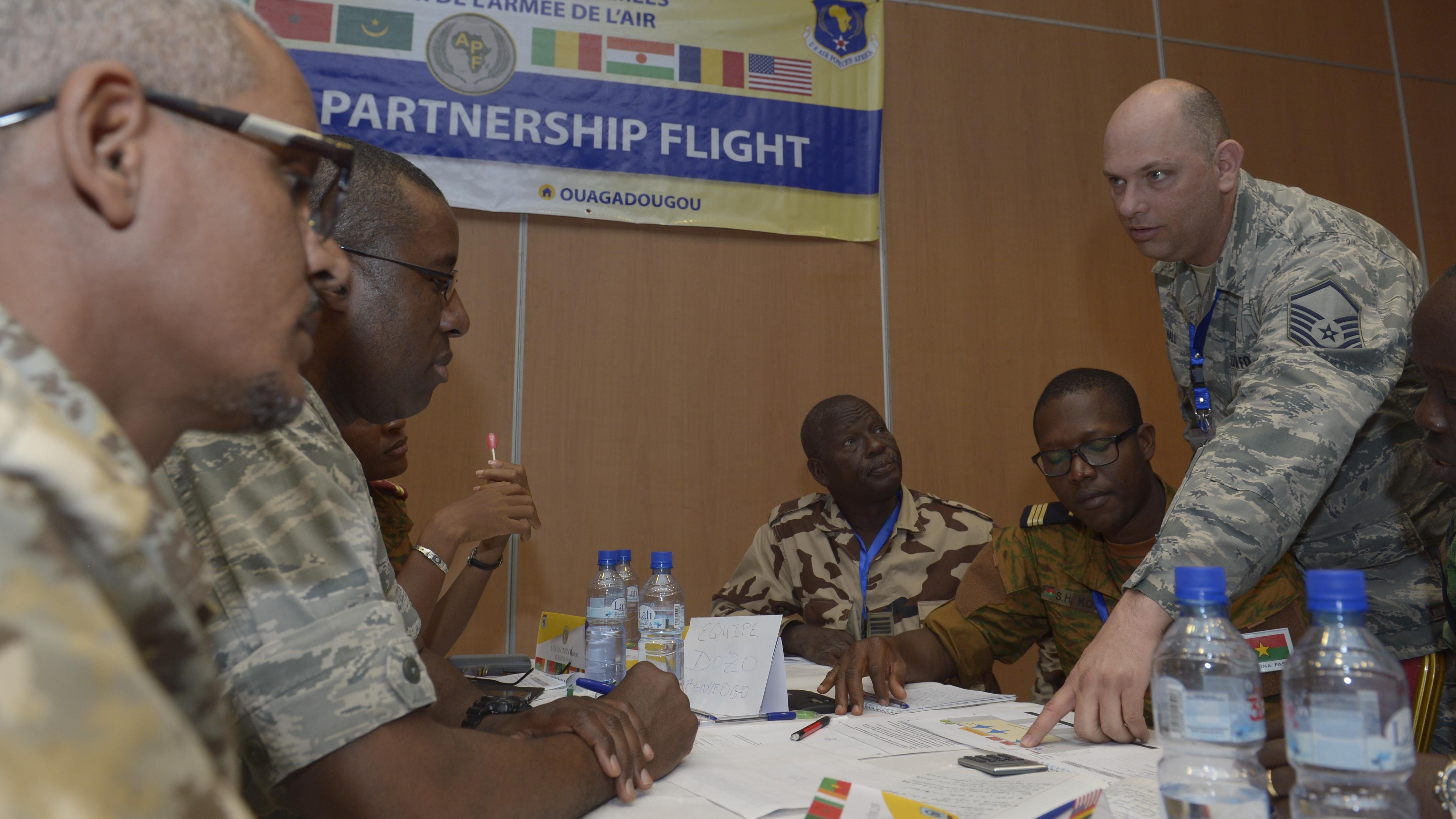 4 photos: US & African partner nations conclude HADR workshop in Burkina Faso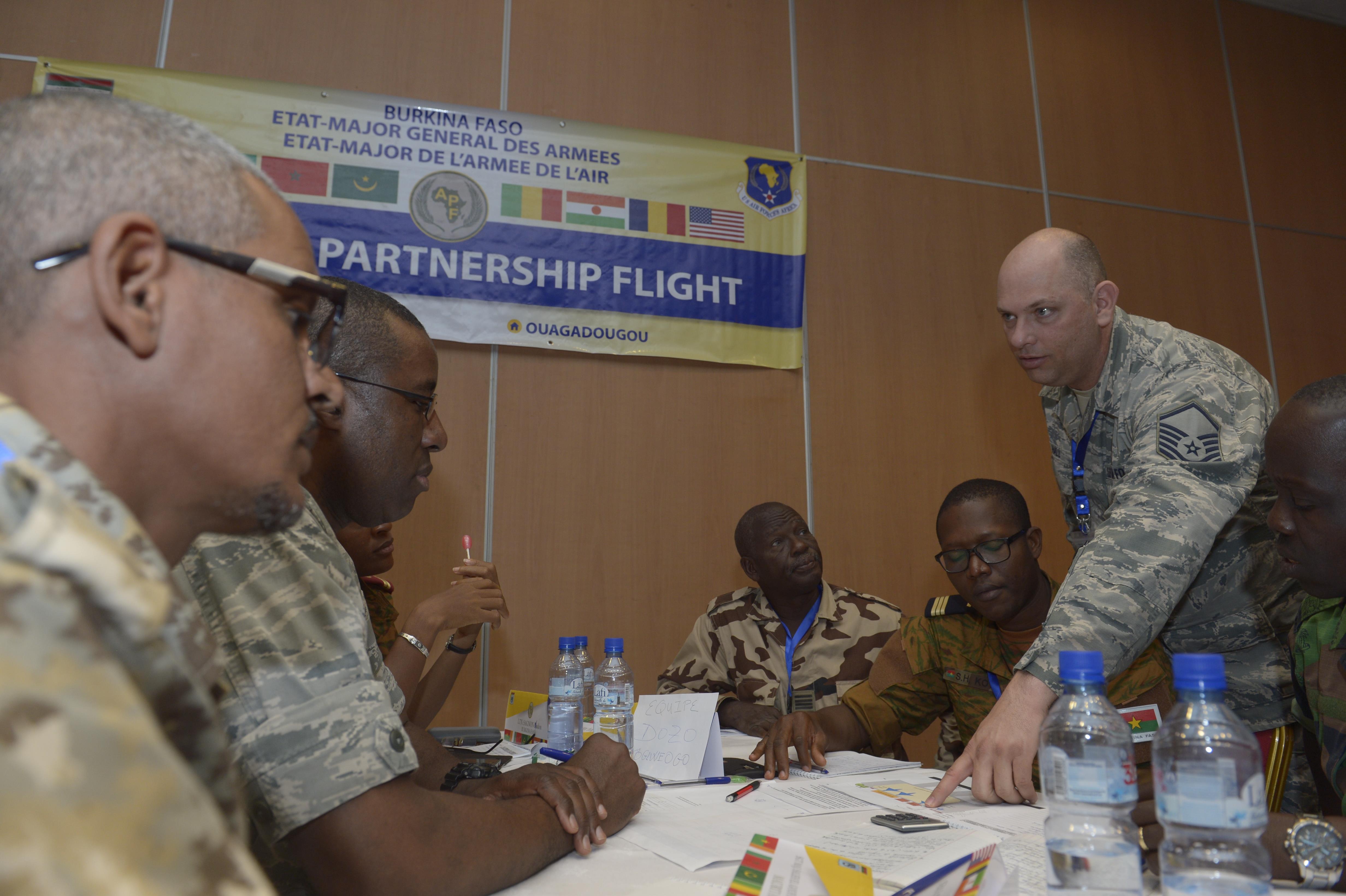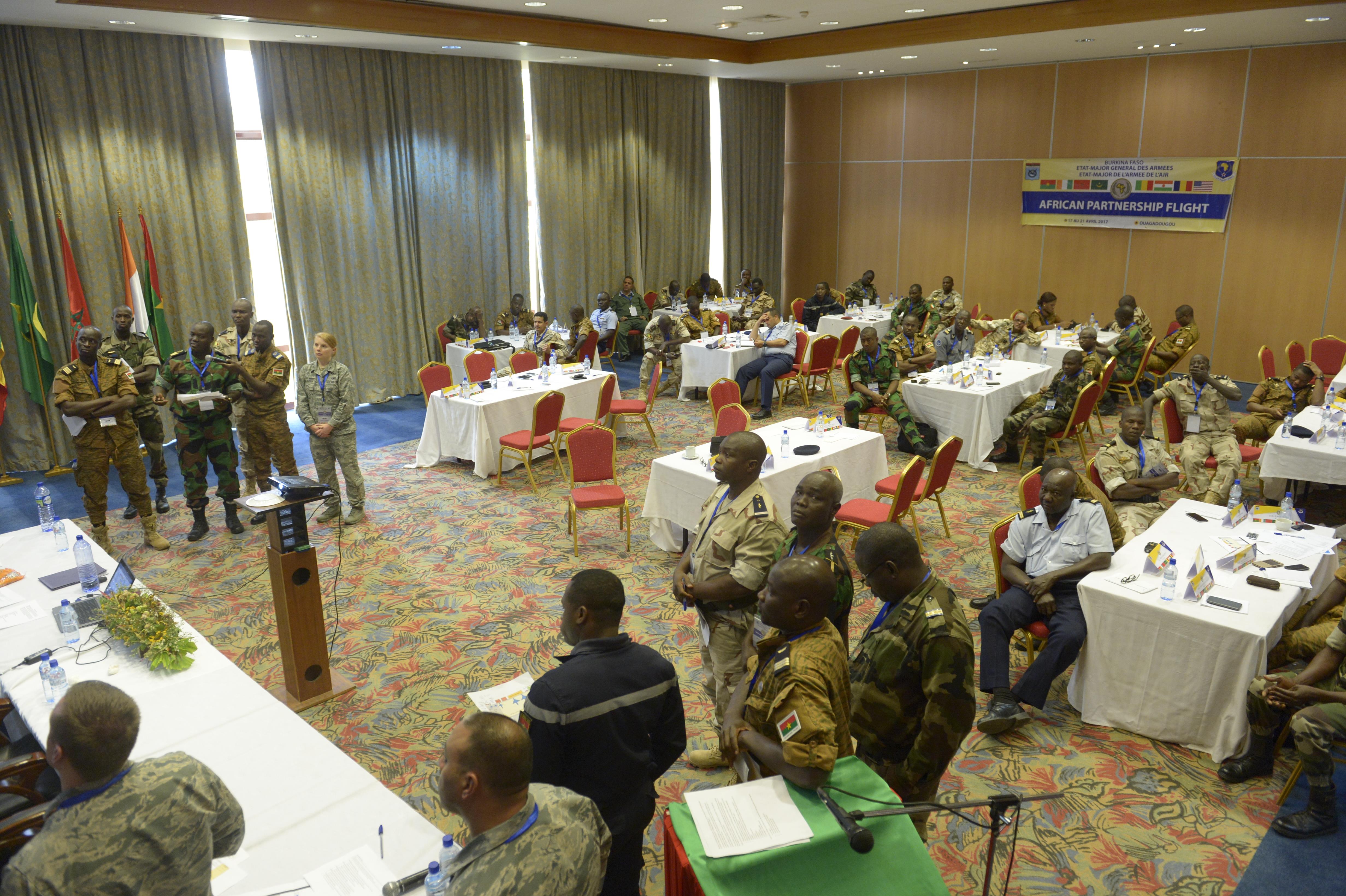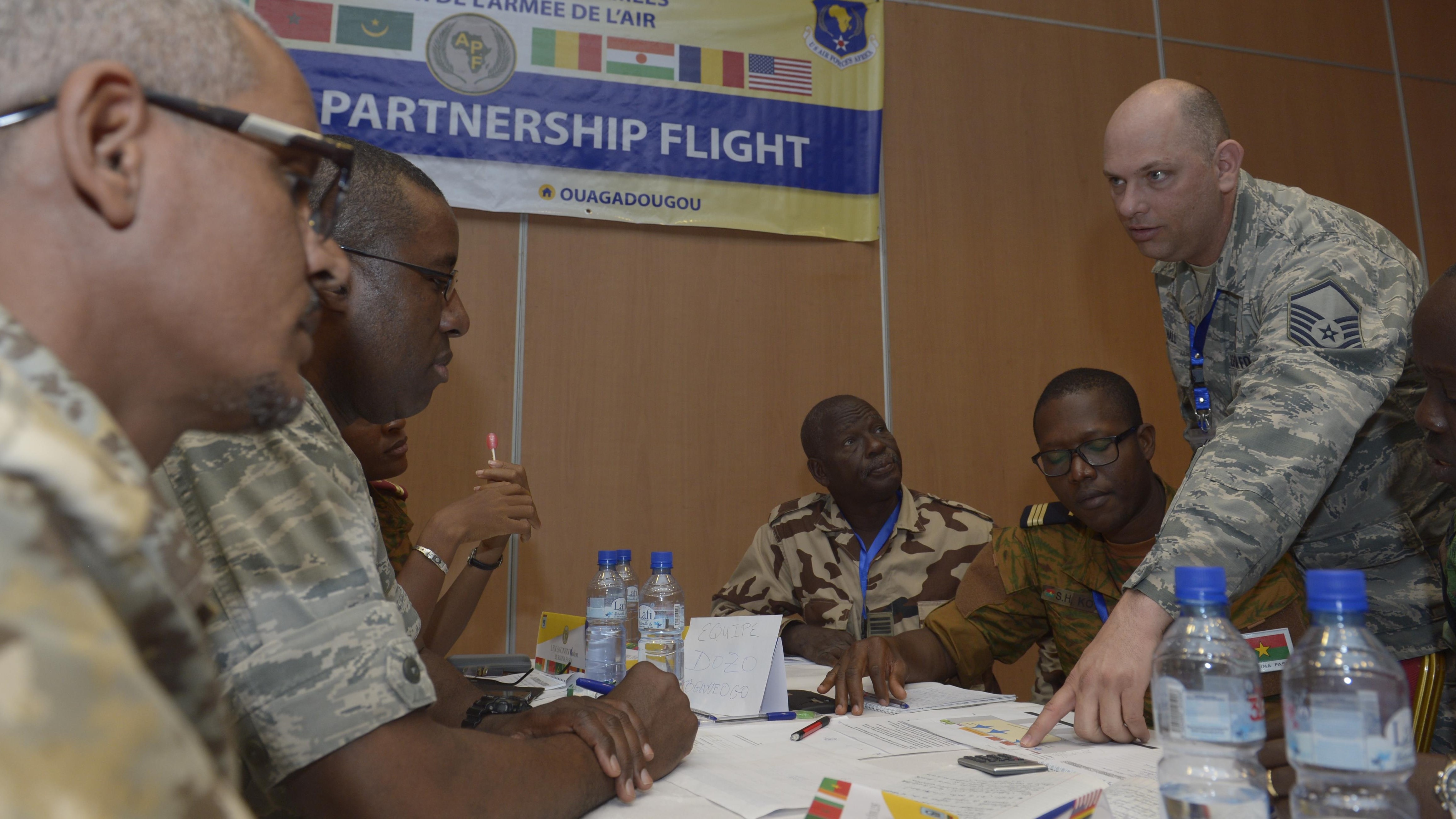 Ouagadougou, Burkina Faso -- African Partnership flight concluded a one-week event April 21st, co-hosted by U.S. Air Forces in Europe and Air Forces Africa, and the Burkina Faso air force, which brought together air forces from around Africa.

"African Partnership Flight, being a multi-lateral participation event, helps meet the needs of more than one country and allows a continual relationship with these countries," said U.S. Air Force Col. Ric Trimillos, U.S. Air Forces in Europe-Air Forces Africa division chief of international affairs.

In all, APF in Burkina Faso hosted airmen from Chad, Mali, Mauritania, Niger, Cote d'Ivoire and Morocco to help strengthen relationships and share aviation best practices through classroom instruction and tabletop workshops.

APFs are comprised of classroom discussion and scenario-based tabletop workshops designed to provide diverse experiences to different African countries at one time. The events serve as stepping stones to providing persistent diplomatic, informational, humanitarian and economic outreach efforts that support the diverse people and nations in Africa.

"I'm here to talk about logistics and how that applies to humanitarian assistance and disaster relief efforts," said U.S. Air Force Capt. Robert Kent, 305th Aerial Port Squadron operations officer. "We went over basic things to look out for and general ideas to get them thinking about how they will respond to HADR events in their own nation."

HADR was the central theme during APF Burkina Faso that included maintenance and logistics support for light utility aircraft, in addition to the maintenance and logistics requirements necessary to forward deploy light utility aircraft for HADR events.

"The participants here are very good at their jobs. We are trying to help them broaden their skillset to get them to look at the big picture--logistics wise," said Kent.

Two to three APFs are held each year in a different country with the goal of promoting regional cooperation. The ultimately goal is to strengthen the ability of African militaries to work together at a moment's notice and be able to initiate pre-coordinated response efforts that help save time and prevent potential loss of life.

APF Burkina demonstrated the ability of multiple nations working together, while providing opportunities to build important professional relationships.

"I hope what I learned here will help me a lot back in my country," said Capt. Gbassi N' Guessan Serge Emmanuel, Cote d'Ivoire air force maintenance officer. "Because that is why we are here, to learn and apply that in our country."

AFAFRICA is committed to conducting multilateral military-to-military engagements and security assistance with African air forces in order to build aviation capacity, enhance regional cooperation and increase interoperability.