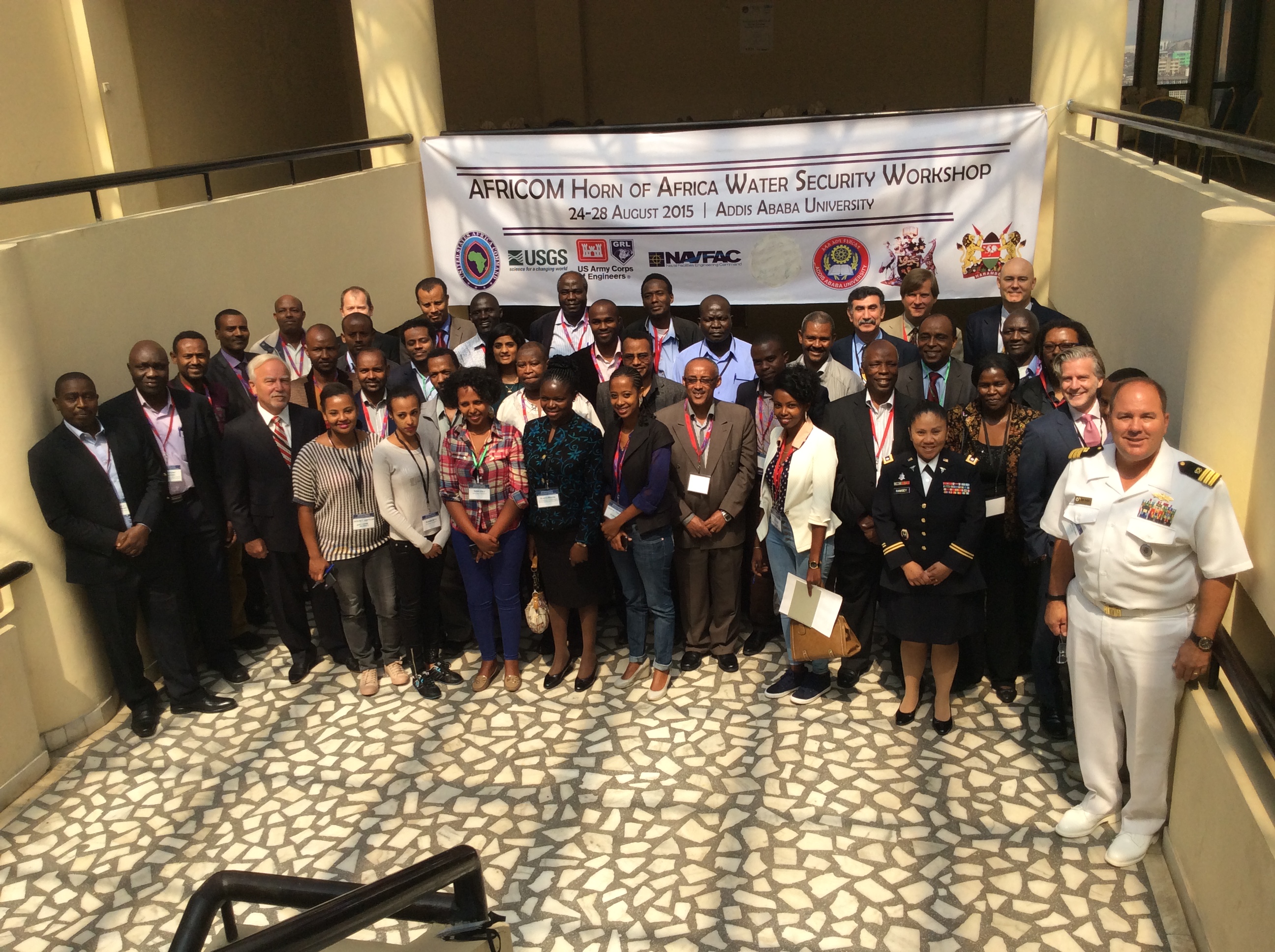 1 photo: AFRICOM Sponsors Water Security Workshop (1) of (1)
ADDIS ABABA, Ethiopia -- Natural resources experts from Ethiopia, Kenya, South Africa, and the U.S. gathered in Addis Ababa, Ethiopia Aug. 24-28 for the Horn of Africa Water Security Workshop.
Sponsored by U.S. Africa Command and hosted by Addis Ababa University School of Earth Sciences, participants discussed addressed shared interests in water resource management. The workshop participants engaged in discussions on issues regarding climate change, water, and sustainability strategies.
The AFRICOM Environmental Security Program, in concert with international partners, participates in African environmental engagements to promote a stable and secure environment.
"The reason we hosted the Horn of Africa Water Security Workshop was to develop new partnerships and to address water sustainability issues within the region," said Jeffrey Andrews, chief of environmental security at AFRICOM.
This workshop has laid a foundation for future collaboration between civilian and military institutions in Kenya and Ethiopia in the area of water security. AFRICOM will build on this success by facilitating additional technical exchanges and expanding the partnership to include other nations in the Horn of Africa region.
"This workshop builds on our collaboration in water security capacity building in Ethiopia and Kenya going back to 2005. Partner nations have expressed appreciation for the technical training," said Ken Kaempffe with the U.S. Navy Facilities Engineering Command.
Additional participating organizations included the Ethiopian Ministry of Water Irrigation and Energy; Ethiopian National Defense Force; University of Nairobi; Kenyan Ministry of Environment, Water and Natural Resources; and the Kenyan Ministry of Defence.
Dr. Marius Claassen of the Council for Scientific and Industrial Research said, "The event was a valuable opportunity to share knowledge and build a dynamic network to strengthen resilience towards water security in the region."