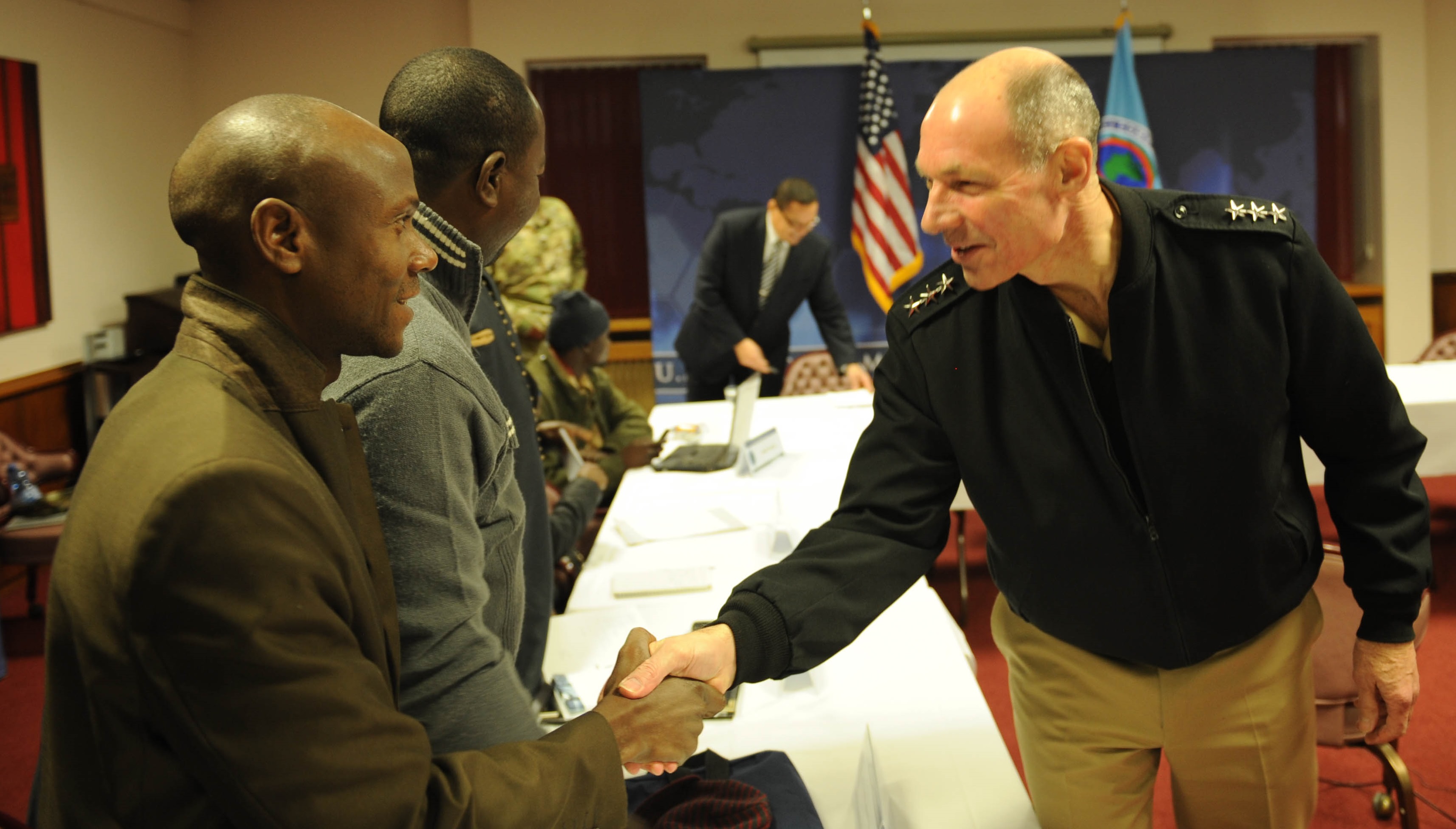 1 photo: AFRICOM hosts media delegation
STUTTGART, Germany – Fifteen journalists from Africa participated in a media delegation visit hosted by U.S. Africa Command, Nov. 28 – Dec. 1, 2016, at Kelly Barracks, U.S. Army Garrison Stuttgart.
Media representatives from Cameroon and Niger, as well military representatives from the Multinational Joint Task Force geared toward countering Boko Haram, attended the event, which was designed to explain the overall mission of AFRICOM.
"The opportunity to bring journalists and military public affairs officers from Africa to our headquarters to help us all learn from each other is invaluable, said Col. Mark Cheadle, AFRICOM chief of public affairs and communication synchronization.
This was the 13th media delegation hosted by AFRICOM since 2010, with Niger being the first repeat country to send media representatives.
"We're pleased to have the journalists, as well as guests from the Multinational Joint Task Force based in N'Djamena, Chad, here to learn more about AFRICOM and what we do," said Chief Master Sgt. Ramon Colon-Lopez, AFRICOM command senior enlisted leader. "In working with our African partners, we aim to be transparent, honest, and open about our intentions and actions."
The first day focused on explaining the overall mission of AFRICOM, its role on the African continent and its current missions.
"Before coming here I had skeptical ideas of AFRICOM, but now I have bigger and better ideas," said Jean Bruno Tagne. deputy general manager, Canal 2 International television station in Cameroon. "What's important is that AFRICOM's mission isn't mainly military operations, it's about humanitarian actions, such as like the efforts during the Ebola outbreak."
"The whole concept behind the media delegation visits is that it allows us an opportunity to meet face to face with media representatives from across the continent of Africa," said Cheadle. "We extend invitations, and with the assistance of our embassies, they nominate top journalists in Africa who write or produce stories and content on things such as the military, regional security, and humanitarian issues.
"In bringing some of these journalists to AFRICOM, the benefit is two-way. We hear from them first-hand what their questions are about AFRICOM, and they learn from us first-hand about our mission, programs and operations.
The second day focused on partnerships with other U.S. Government agencies, organizations, and international partners.
"Now I know more about the different organizations that work with AFRICOM like U.S. Agency for International Development, U.S. Geological Survey, and U.S. Customs and Border Protections program," said Atta Badyne Oumar, editorial secretary, Cameroon Radio Television . "I also learned about U.S. military force's missions and objectives on the African continent and how they provide assistance and support to the African nations with intelligence, surveillance and humanitarian aid to African partners."
The participants received further briefs about the mission and roles of AFRICOM's component military organizations which include U.S. Army Africa, U.S. Naval Forces Europe-Africa, U.S. Air Forces Europe-Africa, U.S. Marine Corps Forces Europe-Africa and the Combined Joint Task Force-Horn of Africa.
"It's important for the media delegation to see how the U.S. values the capabilities of each specific component and how those capabilities are employed to bring the entire force together to support the overall mission of the combatant command," said Maj. Mark Cramer, staff officer at U.S. Air Forces Europe–Air Forces Africa.
One of the topics that generated a lot of discussion during the delegation visit was the humanitarian missions supported by U.S. AFRICOM.
"What's most important to us is that AFRICOM is not only about weapons," said Bouba, "but there are other programs to help rebuild confidence of the African people."
The capstone event of the week provided the journalists an opportunity to conduct interviews with AFRICOM's deputies to the commander, Vice Adm. Michael Franken, deputy for military operations, and Amb. Alexander Laskaris. deputy for civil-military engagement.
"The last day was very important because we got information directly from high ranking officials," said Monglo Bouba, an information specialist who works at the U.S. Embassy Yaounde in Cameroon. "We asked tough questions, but received good answers from the deputies. We understand that not all can be said about military operations for reasons of security, but the information we received can help shape the (public) opinion in a positive way for U.S. AFRICOM working in Cameroon and other countries in Africa."
"This event allowed me to know more about U.S. Africa Command, its purpose, and what to expect from the organization," said Lt. Col. Mamadou Dandy of the Niger Armed Forces who is assigned to the Multinational Joint Task Force in N'Djamena, Chad.
"This group from Cameroon and Niger were very impressive with their insightfulness, and this led to many engaging discussions throughout the week," said Cheadle.
"Making those connections builds bridges of communication and media relationships that can matter in times of crises – and Ebola is a good example of that," said Cheadle. "We laid the foundation of relationships that helped us, and the people on the ground in Africa that ultimately saved lives."