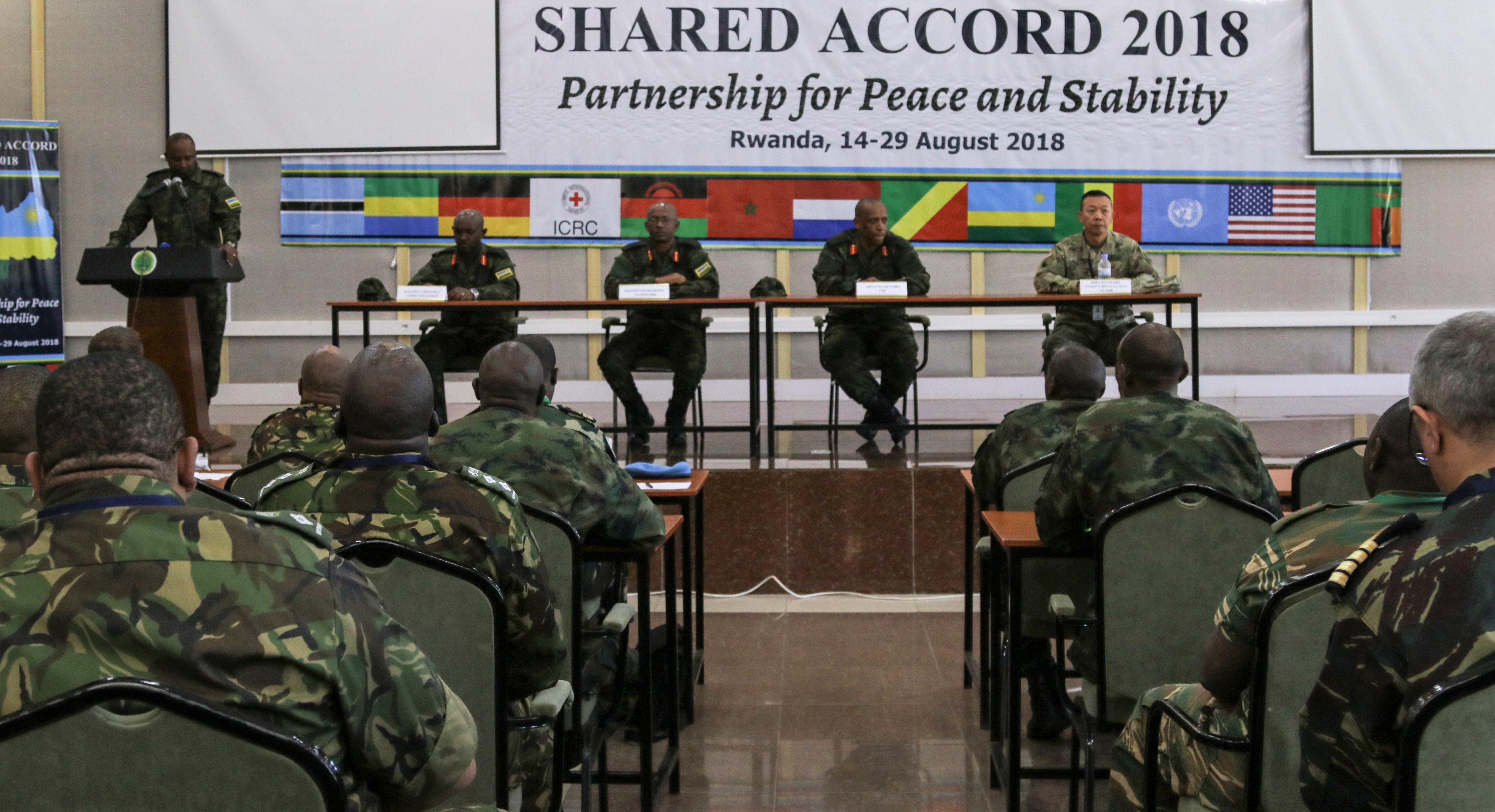 1 photo: Exercise Shared Accord 2018 commences
GAKO, Rwanda – Participants from 15 nations and three international organizations gathered for the U.S. Army Africa-led exercise Shared Accord 2018, which is taking place at the Rwandan Military Academy Aug. 14-30, 2018.
"This exercise will help enhance participant understanding of the United Nations conduct of peace operations," Maj. Gen. Innocent Kabandana, the Rwanda Defence Force exercise co-director said to nearly 200 participants. "By the end of this exercise participants are expected to have the ability to plan and execute U.N. missions."
Shared Accord is a multilateral exercise intended to enhance U.S. and African forces' capabilities to perform peacekeeping operations in support of United Nations and African Union mandates, while shaping the security environment and deterring violent extremist organizations. It also provides an excellent opportunity to build relationships with partner countries in Africa who share a similar vision of security and stability.
The exercise consists of academic classes and discussion-based practical events, a computer-based exercise and a medical readiness training exercise that is centered on the United Nations Multidimensional Integrated Stabilization Mission in the Central African Republic (MINUSCA).
"U.N. peacekeeping remains one of the most effective tools available to the international community to respond to the challenges of global peace and security," said Brig. Gen. Lapthe C. Flora, deputy commanding general for U.S. Army Africa. "MINUSA remains focused on its core peacekeeping tasks of protecting civilians as well as supporting the process in a mission that is among the most dangerous."
MINUSCA troop contributing nations will spend 17 days working together through relevant scenarios to enhance staff capabilities to respond to United Nations and African Union peacekeeping operations, exercise regional interoperability and build stronger partnerships.
The MINUSCA mission began April 10, 2014 to protect Central African Republic civilians under Chapter VII of the U.N. Charter: "Action with Respect to Threats to the Peace, Breaches of the Peace, and Acts of Aggression." Its mission is to support the transition process, facilitate humanitarian assistance, the promotion and protection of human rights, support for justice and the rule of law, disarmament, demobilization, reintegration, and repatriation processes.
The exercise host, Rwanda is one of the world's largest troop contributing countries of peacekeepers, and one of the first to deploy peacekeepers to the Central African Republic in 2014. Currently, the Rwanda Defence Forces maintains one infantry battalion and a level two hospital under MINUSCA. Rwandan troops are specifically charged with providing security for high-ranking government officials and securing key state installations.
"The planning and preparation of this exercise that brings together participants from across the world and other stakeholders is the pillar to achieving success in peacekeeping missions," said Gen. Patrick Nyamvumba, chief of defence staff during the opening ceremony. "This exercise will give us the opportunity to give our fullest to international peacekeeping operations."