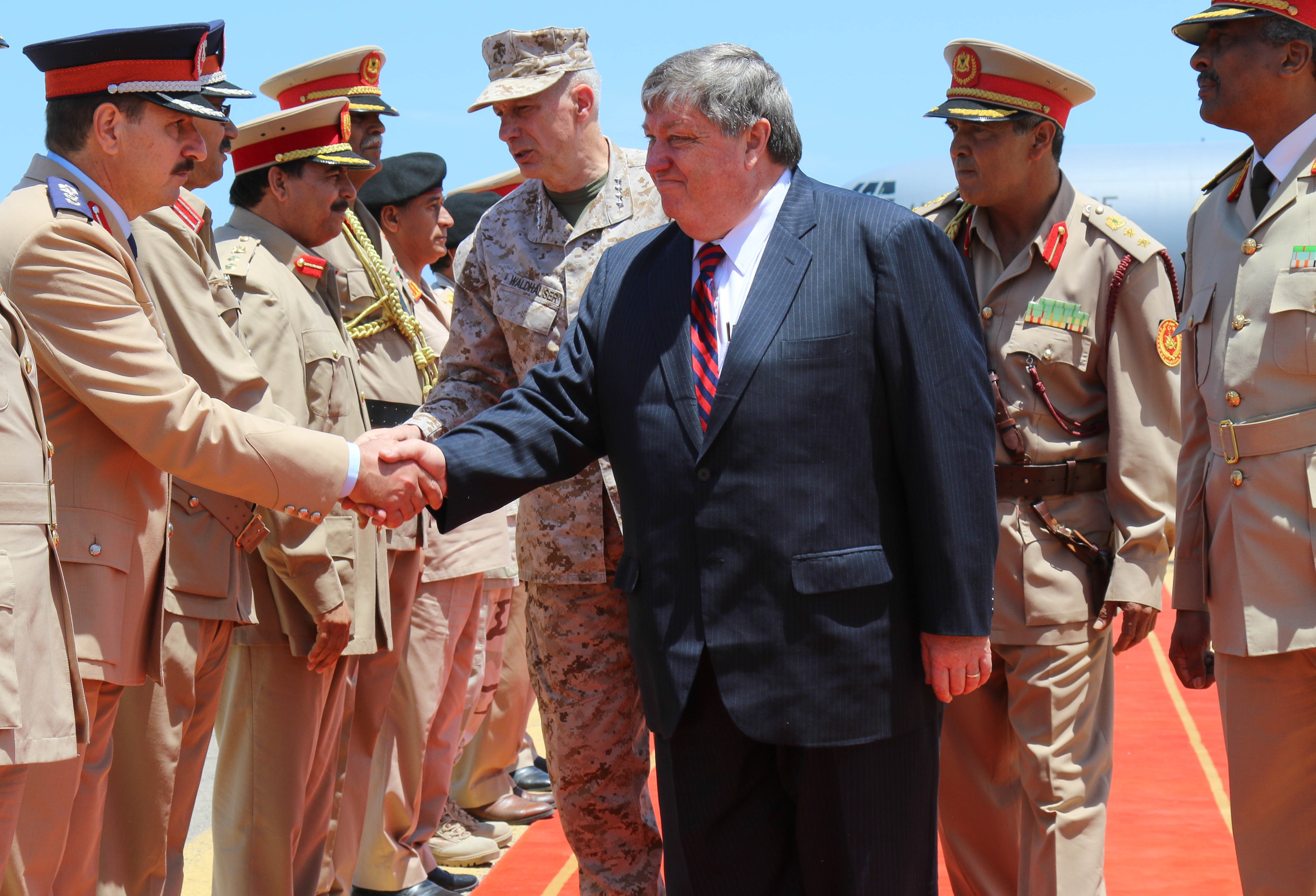 1 photo: Amb. Peter Bodde, Chargé d'affaires a.i. at the Libya External Office, visits AFRICOM
Amb. Peter Bodde, Chargé d'affaires a.i. at the Libya External Office, visited U.S. Africa Command headquarters in Stuttgart, Germany Nov. 14, 2018.
The purpose of the visit was to meet with U.S. Marine Corps Gen. Thomas D. Waldhauser, commander, U.S. Africa Command, and to participate in discussions with other key AFRICOM leaders regarding the security and political situation in Libya.
Bodde is the former U.S. Ambassador to Libya and will return temporarily to the Libya External Office in Tunis to serve as Chargé d'Affaires ad interim.
"We were privileged to host Ambassador Bodde here today in order to reignite the stellar partnership we had previously developed during his past tenure as the ambassador to Libya," Waldhauser said. "We look forward to continued partnership with the Libya External Office as we work toward greater security and stability in Libya."
Bodde's visit to the command comes after his attendance at the Palermo Conference on Libya held Nov. 12-13 in Palermo, Italy.
The Palermo conference, hosted by the Italian government, brought Libyan and international leaders together to advance shared goals of helping Libya's institutions break their political deadlock.
On Nov. 8, United Nations Special Representative of the Secretary-General (SRSG) Ghassan Salamé presented the U.N. Action Plan to the U.N. Security Council. This plan calls for a Libyan-led National Conference to be held in the first weeks of 2019 and a subsequent electoral process to begin in the spring of 2019.
"The Palermo conference underscored that achieving such progress will require sustained attention to the economic and security aspects of the conflict," Heather Nauert, U.S. Department of State spokesperson said in a statement about the conference. "The United States is proud to stand with all Libyans who are prepared to seize the critical opportunity to set their country on course for a brighter future for all its citizens."