9 photos: AFRICOM and DOJ hosts first DOJ - Africa Symposium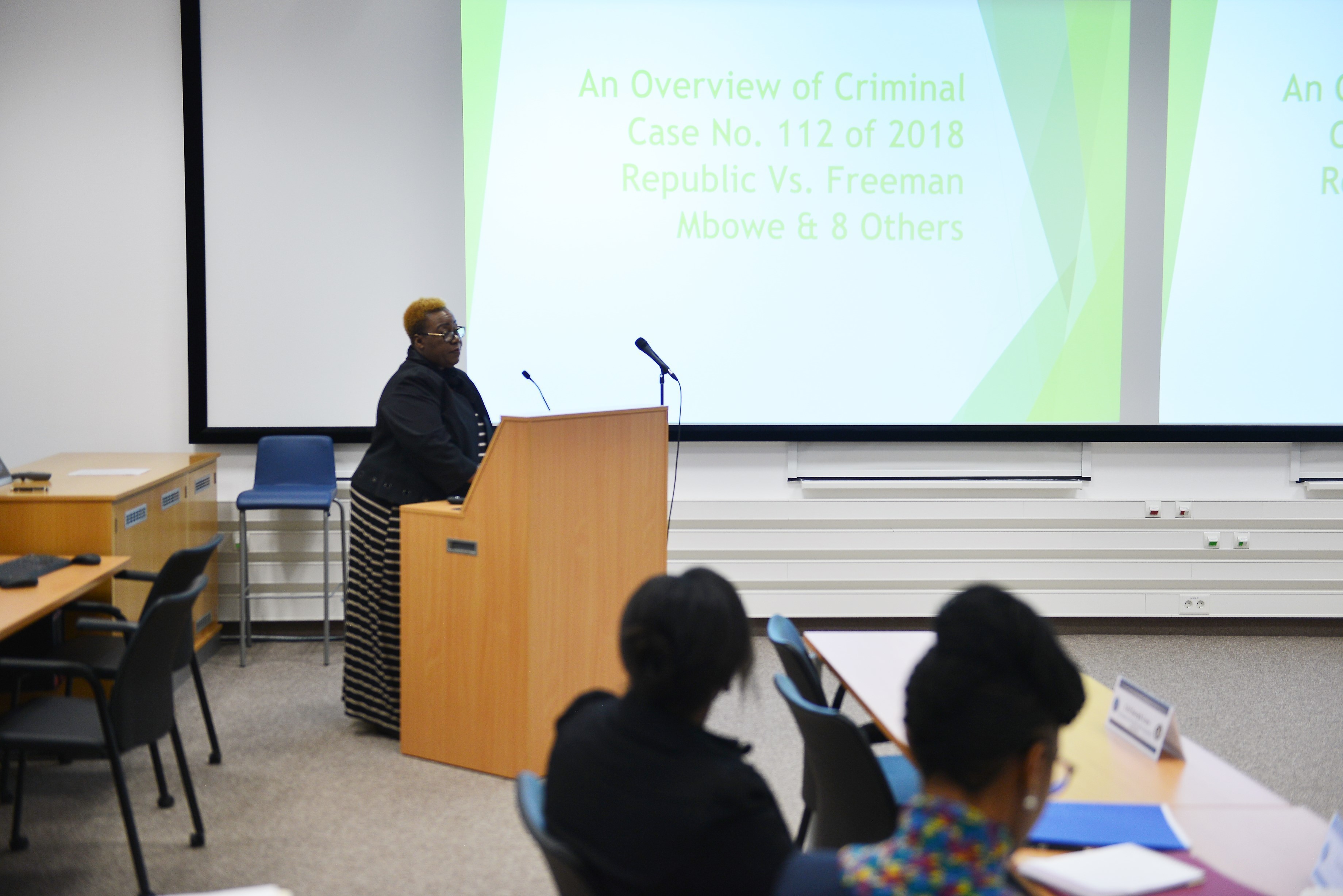 9 photos: AFRICOM and DOJ hosts first DOJ - Africa Symposium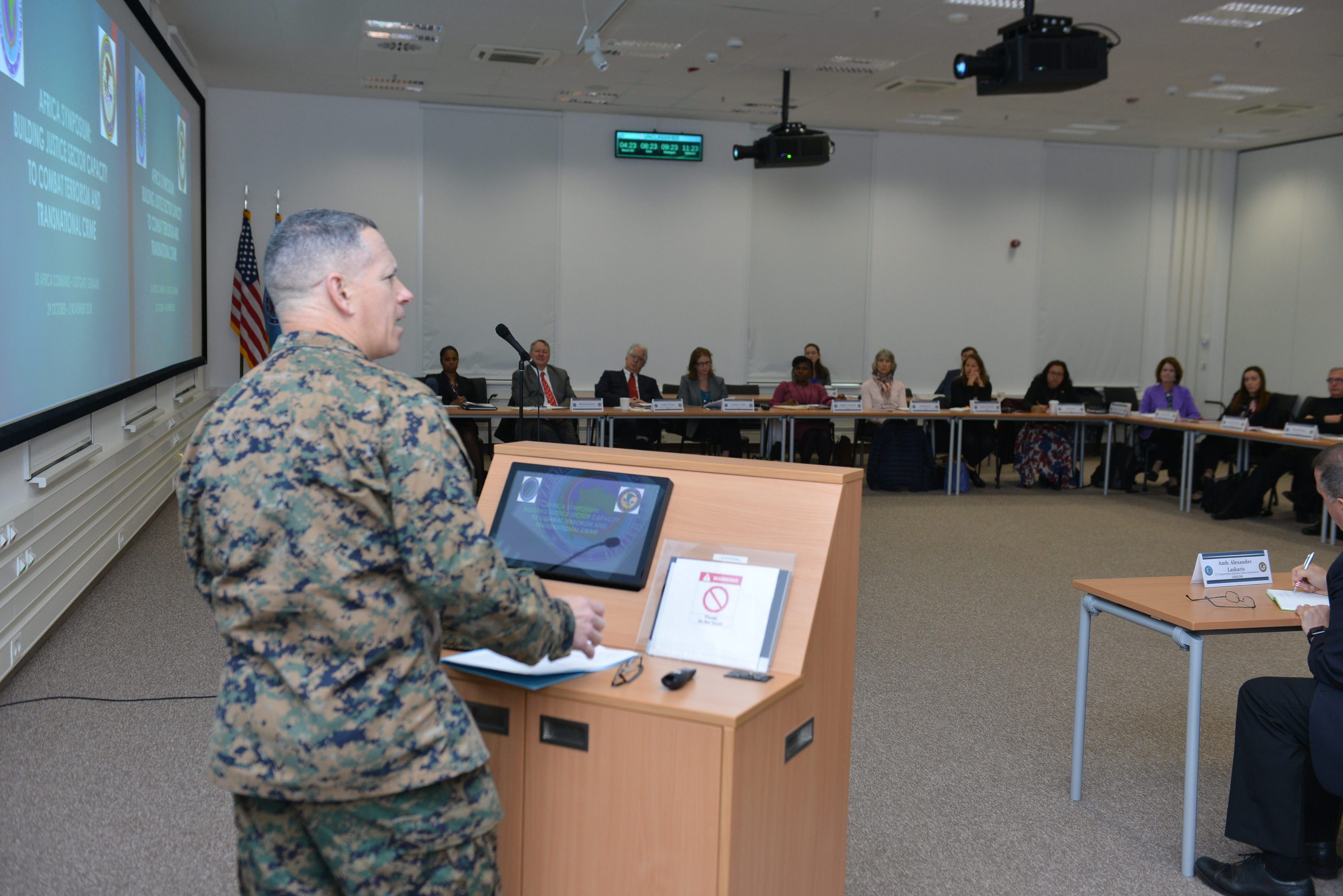 9 photos: AFRICOM and DOJ hosts first DOJ - Africa Symposium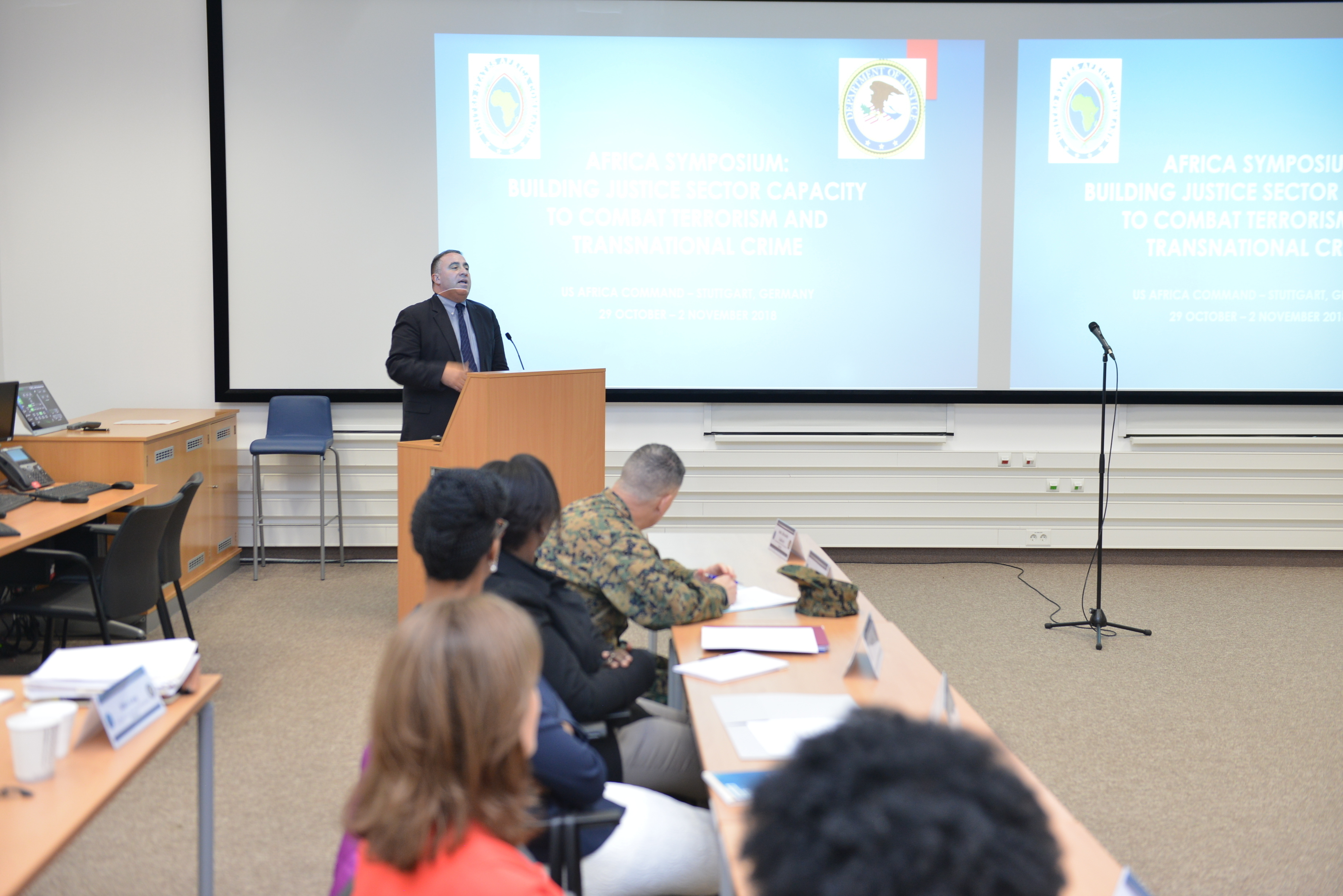 9 photos: AFRICOM and DOJ hosts first DOJ - Africa Symposium
9 photos: AFRICOM and DOJ hosts first DOJ - Africa Symposium
9 photos: AFRICOM and DOJ hosts first DOJ - Africa Symposium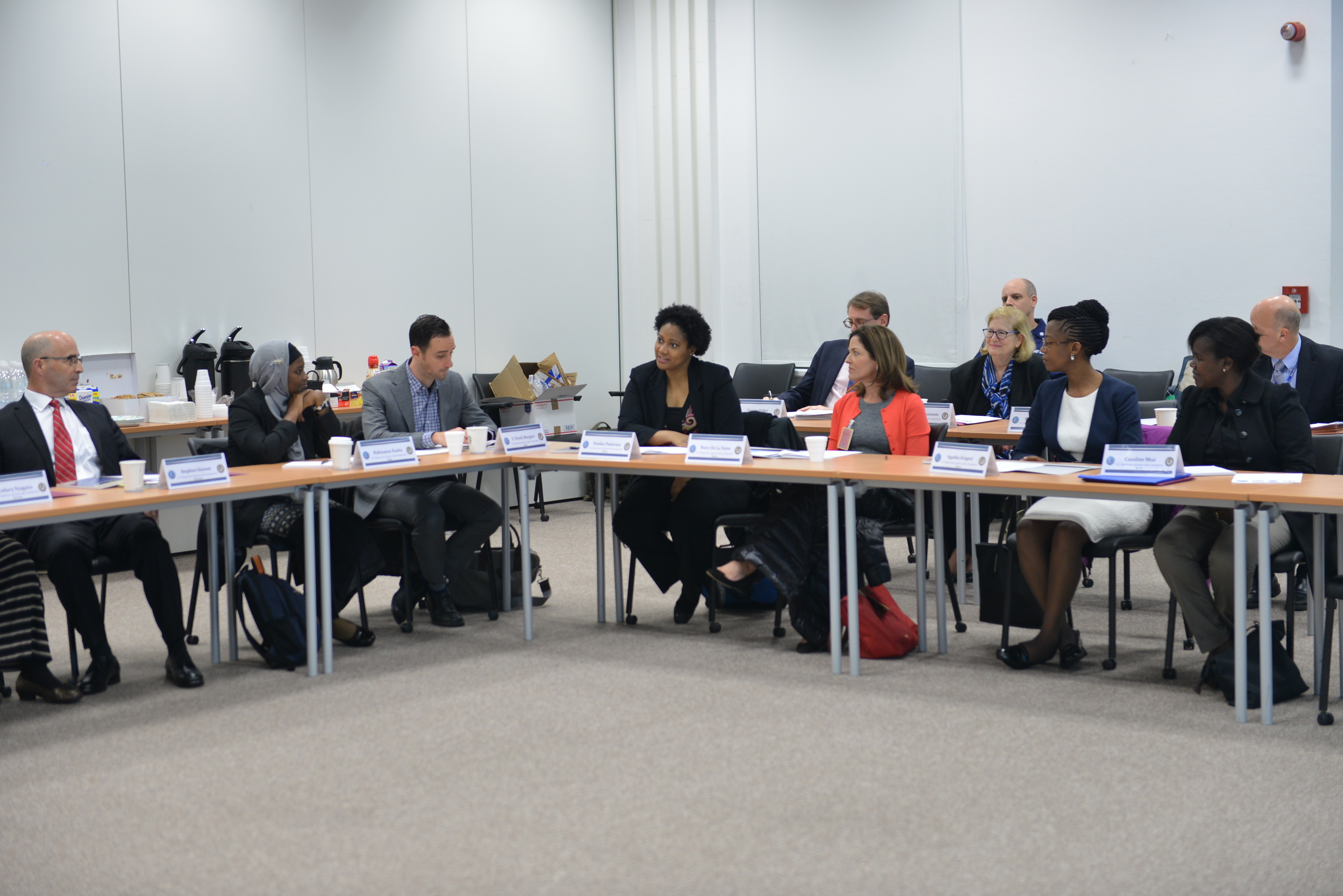 9 photos: AFRICOM and DOJ hosts first DOJ - Africa Symposium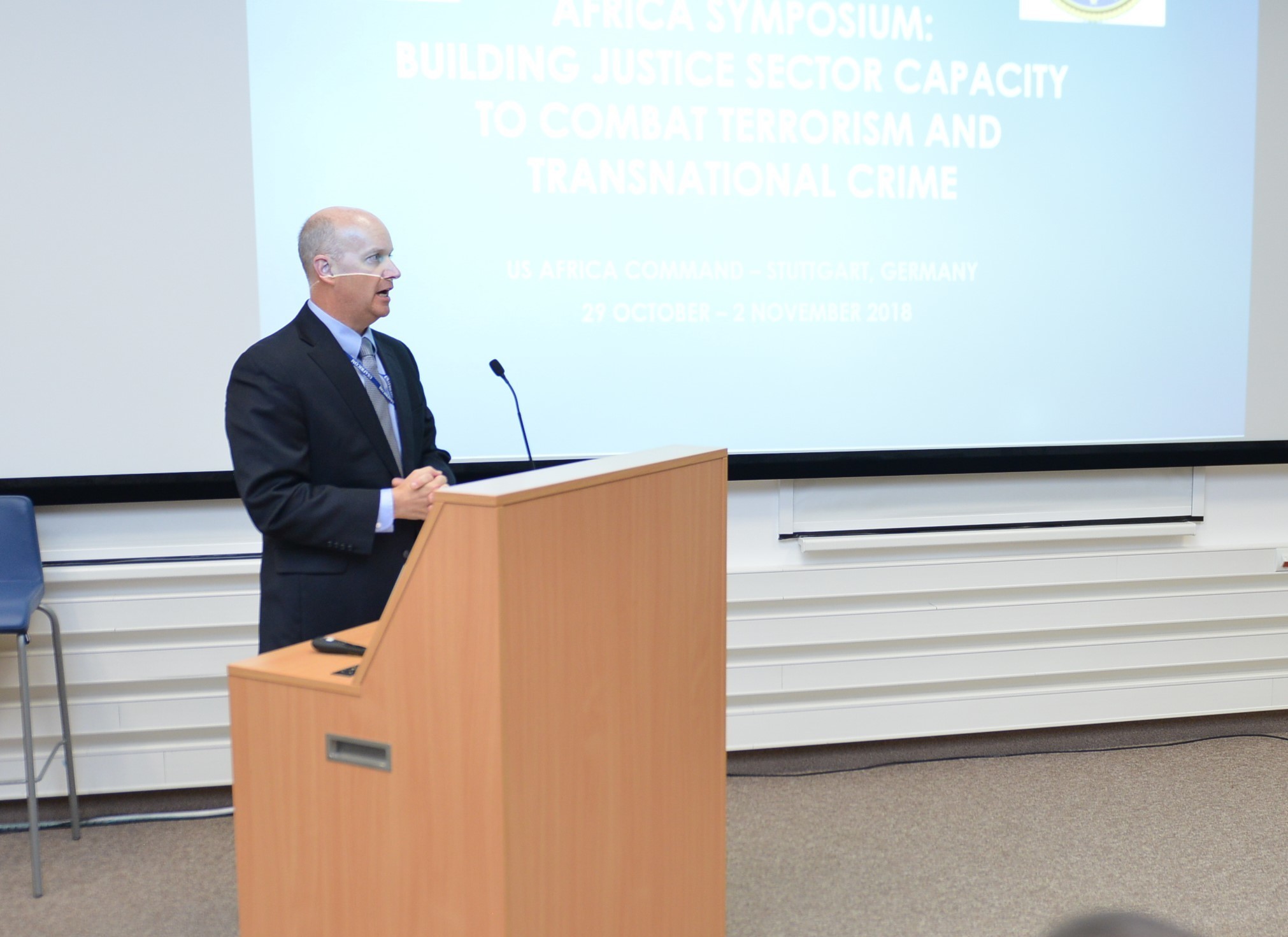 9 photos: AFRICOM and DOJ hosts first DOJ - Africa Symposium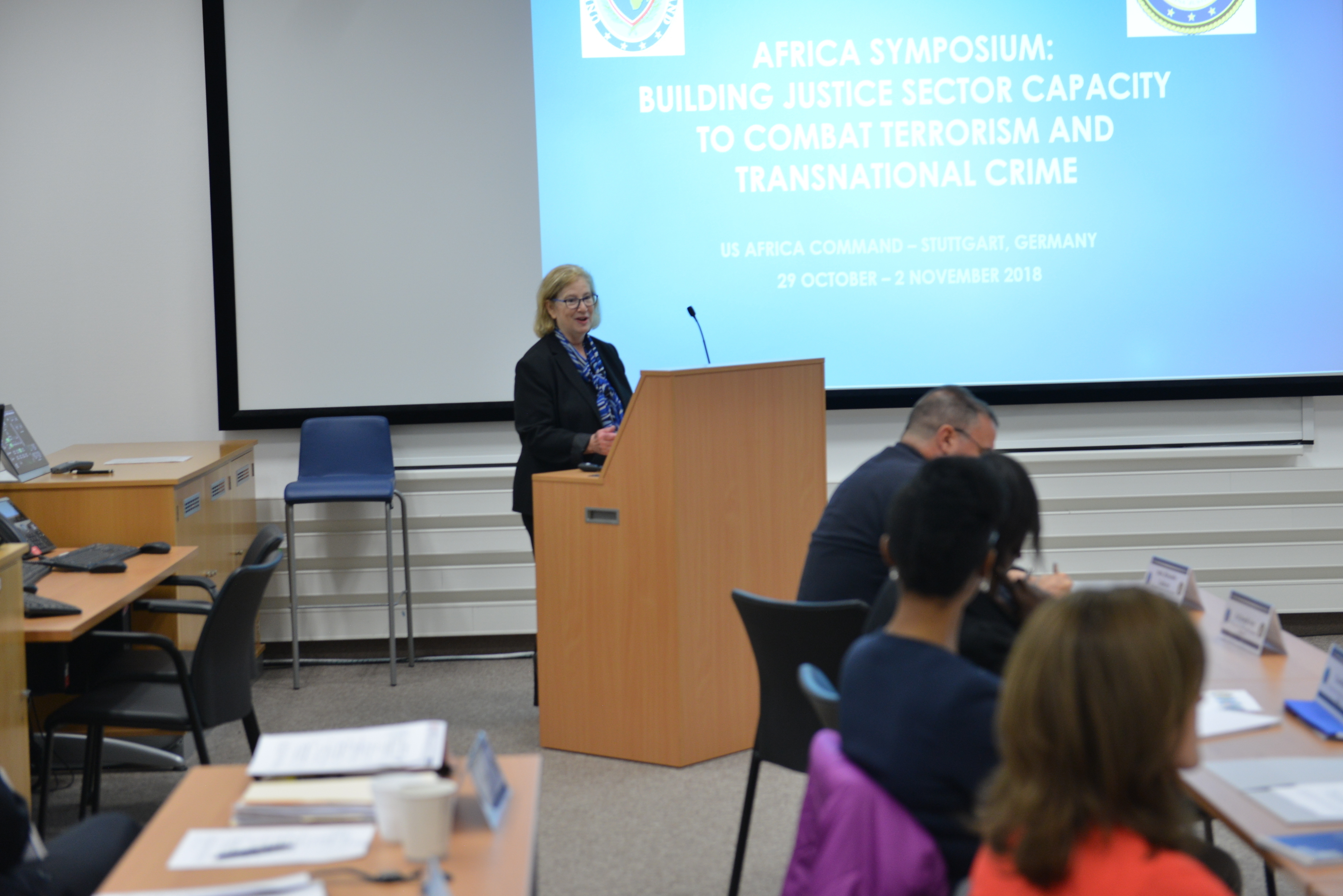 9 photos: AFRICOM and DOJ hosts first DOJ - Africa Symposium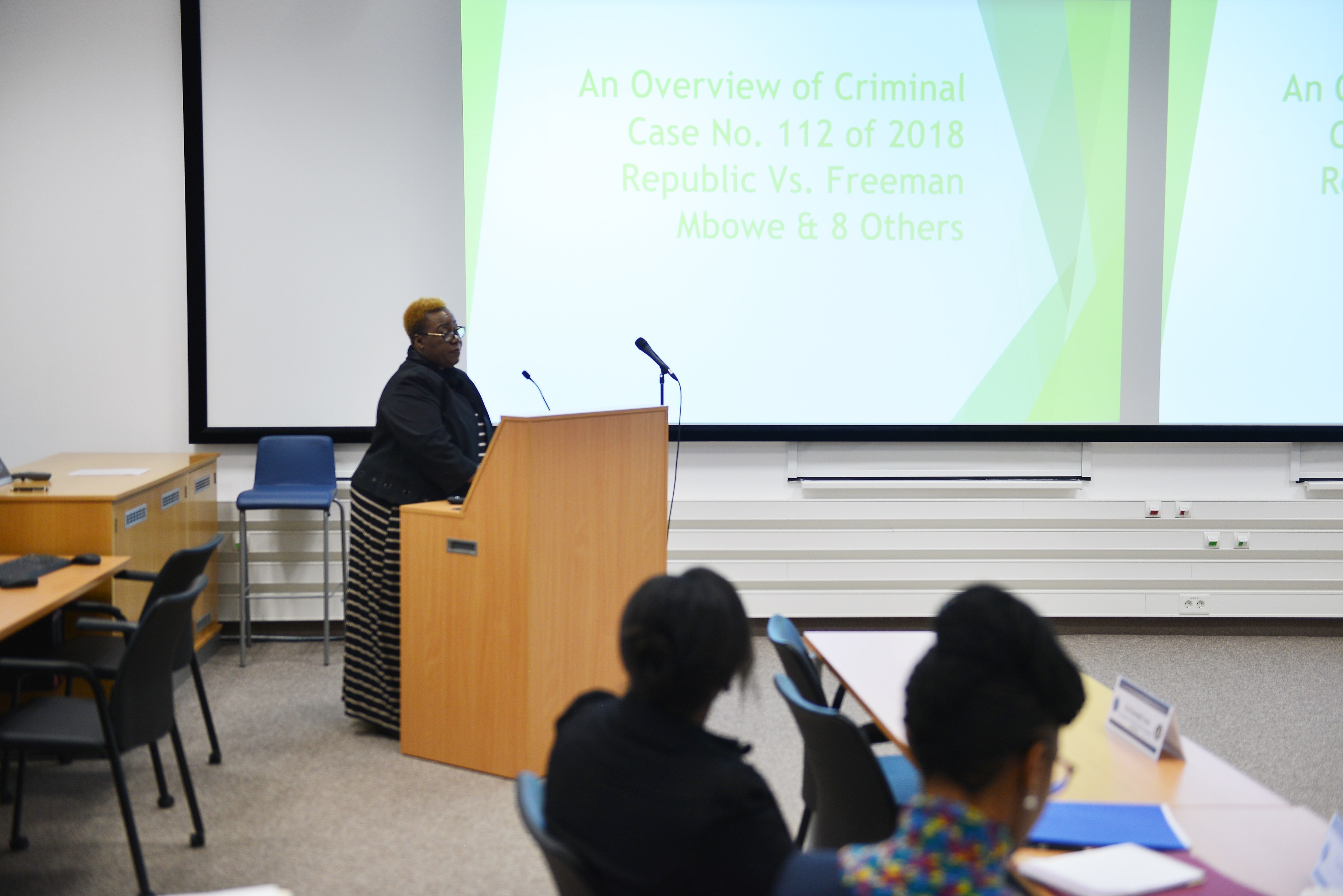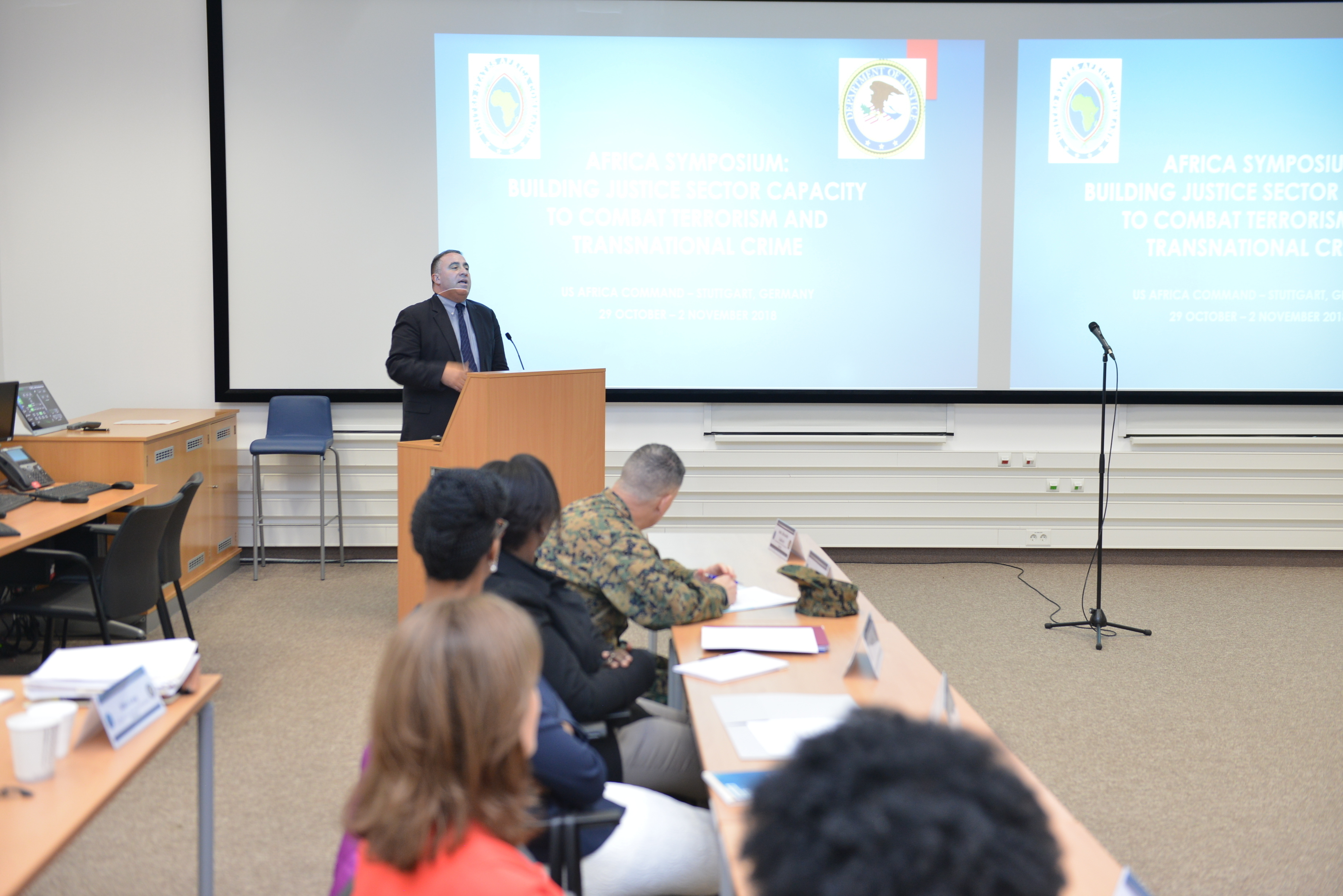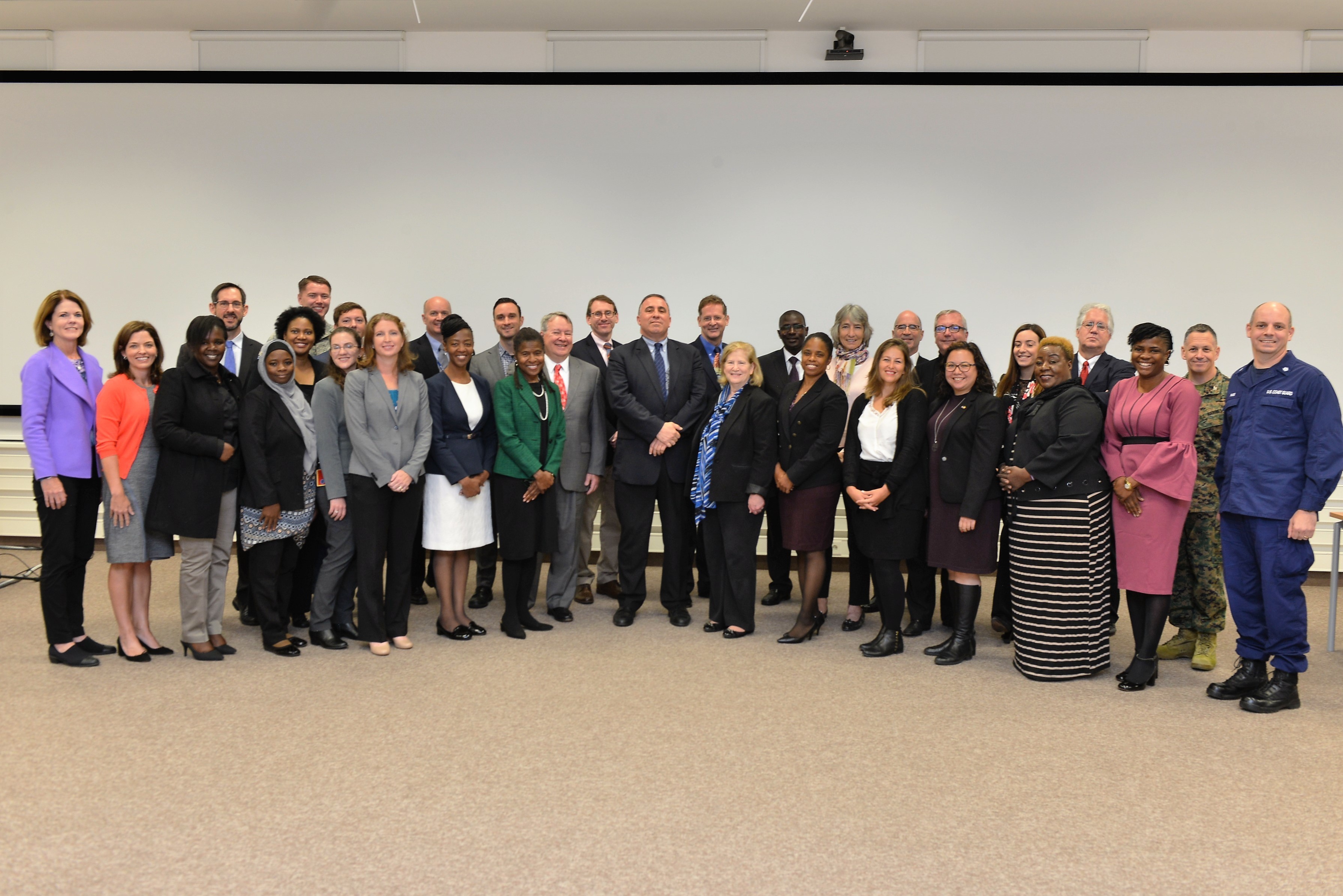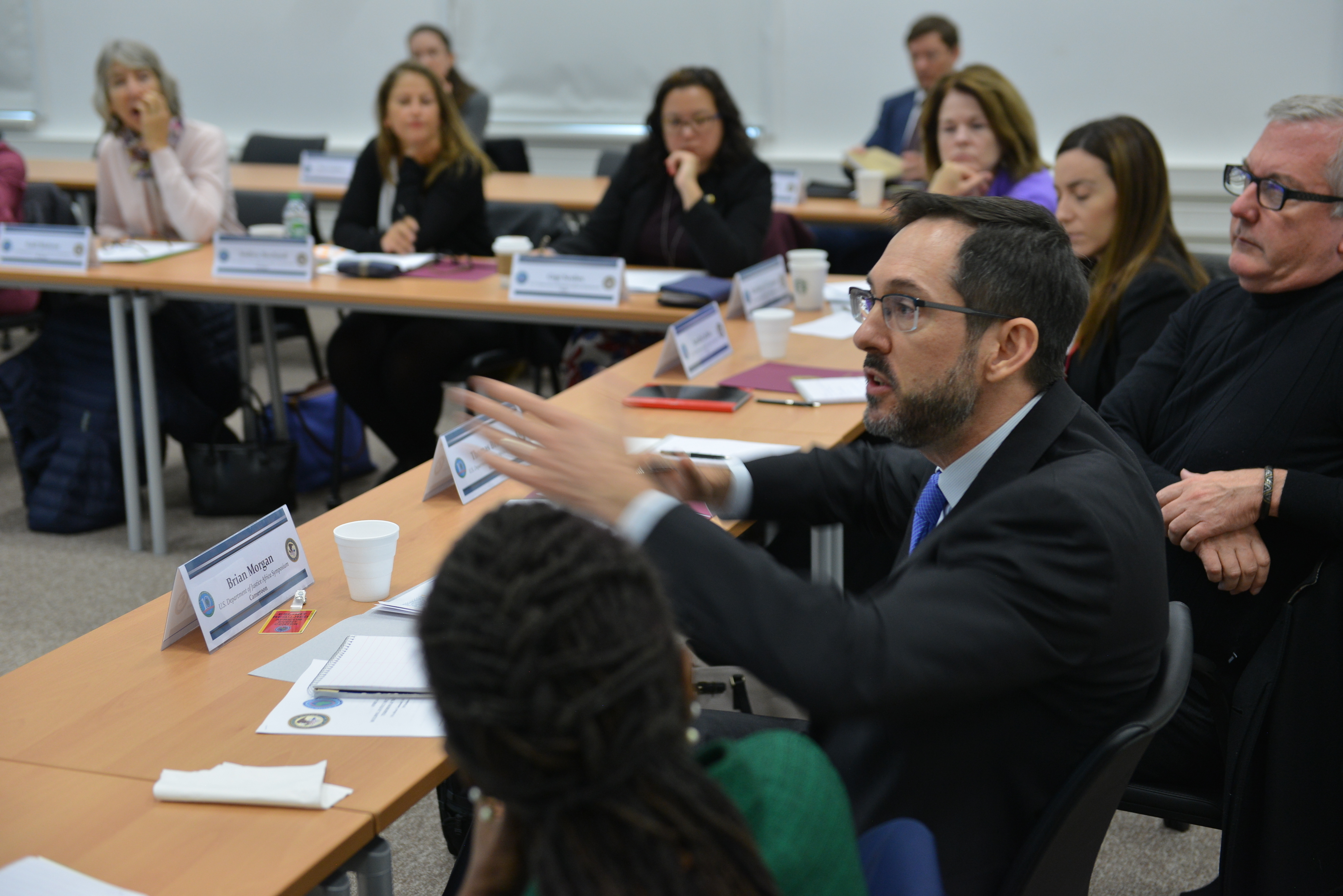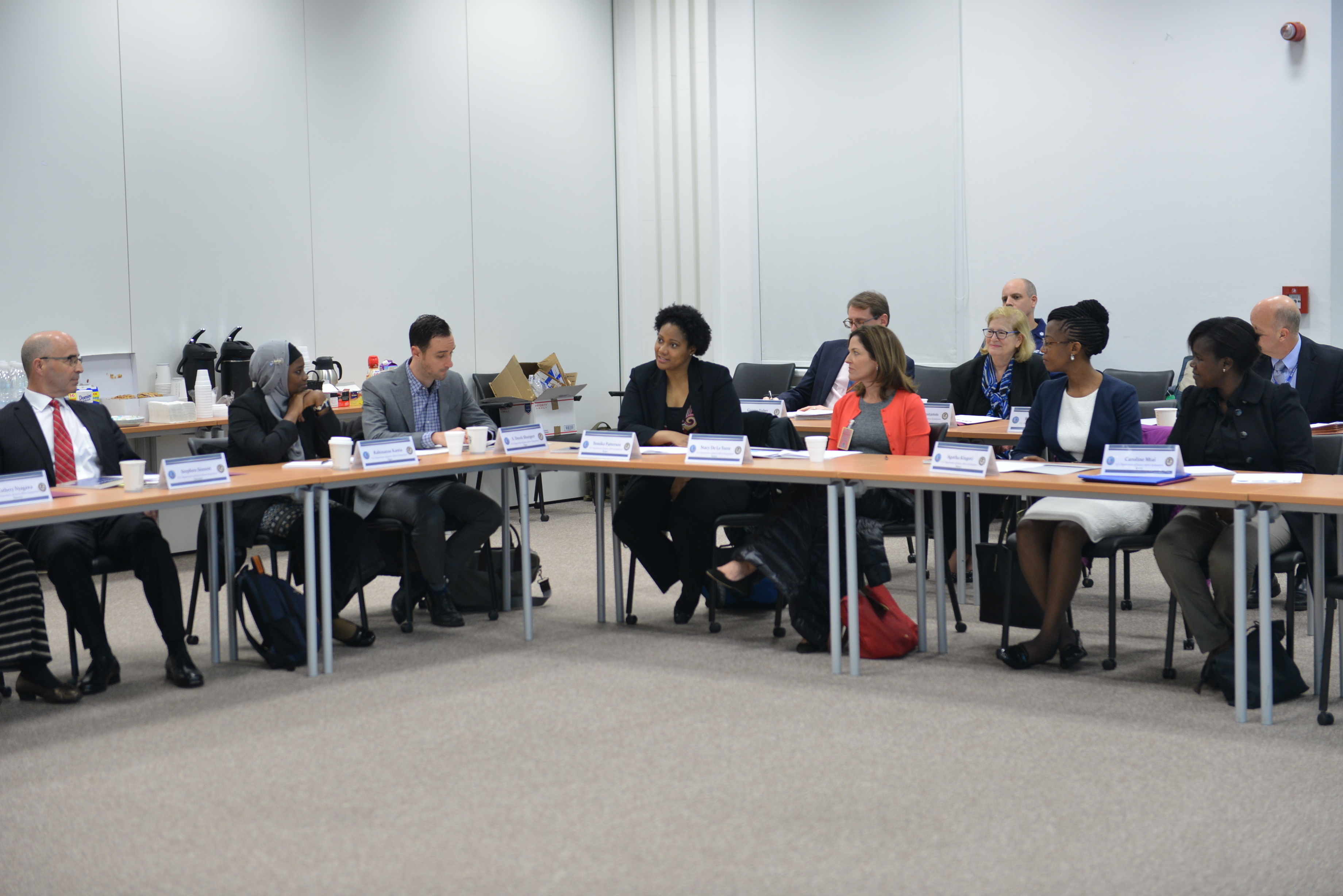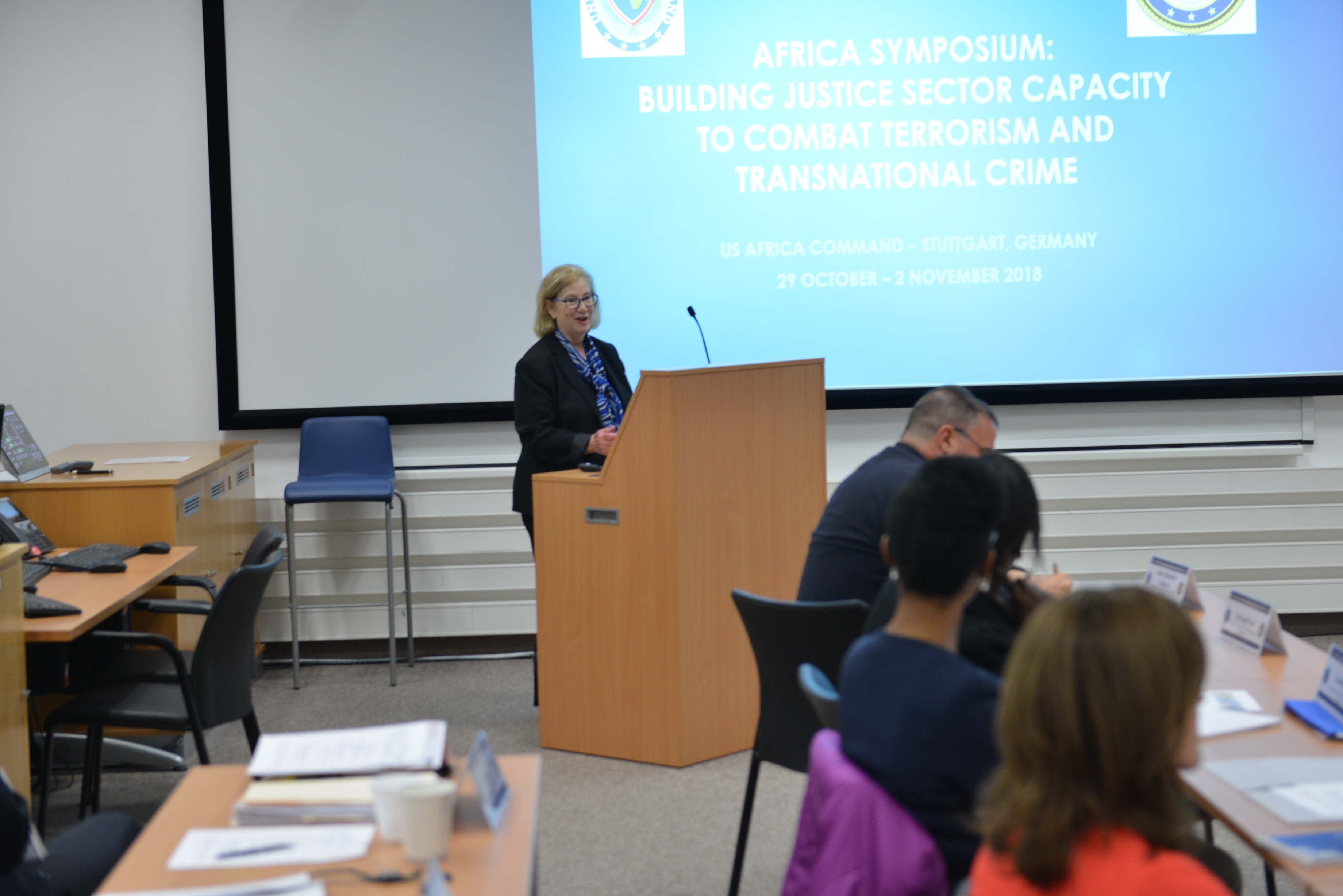 STUTTGART, Germany— U.S. Department of Justice & U.S. Africa Command (USAFRICOM) hosted the first DOJ Africa Symposium, Oct. 29 to Nov. 2, 2018 at the Kelly Special Events Center, U.S. Army Garrison Stuttgart.
The event brought together more than 25 Justice Department legal advisors, legal staff and partners working in Africa to learn about regional developments and ongoing challenges related to justice sector efforts.
The overall goal of the symposium is to combat transnational organized crime and terrorism, by sharing experiences and best practices in order to design and implement programs intended to assist African countries with improving their capacities to combat crime within the rule of law.
The event opened with remarks given by Ambassador Alexander Laskaris, the AFRICOM Deputy to the Commander for Civil-Military Engagement, who emphasized the importance of having legitimate governments and military forces in the eyes of the people.
"Do civilians in danger run away from the military or do they run towards the military, and do the security services behave and are they subject to the restraints of the rule of law?" asked Laskaris. "If not, I don't care if they are an African, European, or an Asian army, civilians are going to run away."
"Our key strategic goal here, is to help build African armies to which civilians in distress run towards, not away from," said Laskaris.
"Increasing the legitimacy of our work in Africa is the way to reach the desired effects," said Michael Lang, a Justice Department Resident Legal Advisor assigned to AFRICOM.
"This means people respecting the rule of law," said Lang. "What it really comes down to is if people in Africa feel like they can be safe, that they can be protected not just from enemies, but from their own governments, and from their own military forces."
Dept. of Justice Legal Advisors working in Africa
Lang arrived as AFRICOM's first DOJ legal advisor billet a little over a year ago and is one of only two DOJ resident legal advisors working in a U.S. Unified Combatant Command. His arrival was part of a push for AFRICOM to become better at coordinating with the DOJ in Africa.
"I bring decades of experience in civilian justice, which is what we're doing in Africa," said Lang. "My presence here was designed to build those bridges. I worked and lived in Africa and worked with civilian justice sectors throughout West Africa."
At any given time, there are approximately 62 DOJ/OPDAT legal advisors stationed throughout the world, according to Faye Ehrenstamm, Director of the Office of Overseas Prosecutorial Development, Assistance and Training, Criminal Division, DOJ.
"We're pleased to have Lang stationed here at AFRICOM," said Ehrenstamm. "It enhances our joint work toward the rule of law in the respective areas of responsibility."
The DOJ legal advisors at the U.S. Embassies typically have local attorneys and legal assistants as a part of their staff.
"Most DOJ Legal Advisors are career lawyers who have lived and worked in the U.S. most of their lives, said Lang. "The local staff members give us the local expertise. These guys are the experts on the local laws and the constitution of their respective countries and they are professionals who really care about this type of work."
"It's important to have the opportunity to sit together and share experiences, to brainstorm on solutions and to help each other out as a group," said Kathleen O'Connor, director of programs for the International Institute for Justice and the Rule of Law, Malta.
"All of our prosecutors are in various countries, with different legal systems, different cultures, and different approaches to terrorism," said O'Connor. "Including AFRICOM in that discussion is important. We're looking for not only how AFRICOM can help us, but how we can help AFRICOM. Ultimately, we're all here to insure the national security of the U.S. while helping our counterparts overseas."
Building Justice Sector Capacity through partnership.
The group discussed various subjects such as implementing of plea regimens, prison reforms, battlefield evidence collection process, and making arrests leading towards prosecutable cases.
"Our partner military forces are detaining violent extremists, they are arresting people, they're locking them up, they are interviewing those people, and they are collecting evidence and biometric information from them," said Lang. "All of these have potential for justice sector application."
This symposium will help AFRICOM increase the utilization of the DOJ advisors in each country for exercises, said U.S. Coast Guard Cmdr. Bryan Pape, Chief of Legal Engagements, Office of Legal Counsel, AFRICOM.
"We are working with African partners to create procedural guides of how to do a procedural case, from the collection of evidence to the actual prosecution." said Pape. "It starts with the exercise and goes from boarding a vessel, collecting evidence, to eventually taking it to prosecution; practicing that process is a part of the exercise."
Pape said this process was included for the first time in this year's Obangame Express exercise.
"They're getting better at the prosecution overall and they're focused on narcotics and counter terrorism cases," said Pape. "Efforts like these help to increase the legitimacy of a government in the eyes of the people."
The way ahead for the Rule of Law in Africa
The attendees of the symposium agreed that the event was productive and time well spent. For Esthery Nyagawa, justice specialist, DOJ sector, U.S. Embassy in Tanzania, prison reform should be more than just training the corrections officers.
"I've learned that many of our colleagues do more on prison issues," said Nyagawa. "It's important because prisoners are human beings and they have already been convicted and are serving jail time. It's not good to degrade them more than they are."
How each country deals with justice sector challenges was beneficial to Agatha Kingouri, legal administrative assistant, DOJ sector, U.S. Embassy-Kenya.
"I was able to see what other teams are doing, the issues they are grappling with," said Kingouri. "It was interesting how each team handles their own situations and problems, and how they put their programs together."
The symposium was very informative and it was a great opportunity to learn more about AFRICOM, said Ibrahima Ba, legal assistant, DOJ sector, U.S. Embassy in Mauritania. "It's good to know how the command can be a great asset for us in our respective countries.
According to Lang, this is the first of more DOJ legal engagements in regards to Africa.
"We view this as a long-term project," said Lang. "We think in terms of a generation. It's going to take 20 years, if not multiple generations. We know which countries are the short-term ventures and which ones will take longer."
"I am honored for AFRICOM to have hosted our event this week," said Ehrenstamm. "The mutual engagement of civilian and military authorities, with respect to the rule of law, and prosecutorial and judicial development in Africa is vital, and we look forward to enhancing our mutual engagements with AFRICOM as we move forward with our programs with our partner countries in Africa."
AFRICOM continues its mission of working towards a stable, secure, and prosperous Africa, an enduring interest to the U.S.