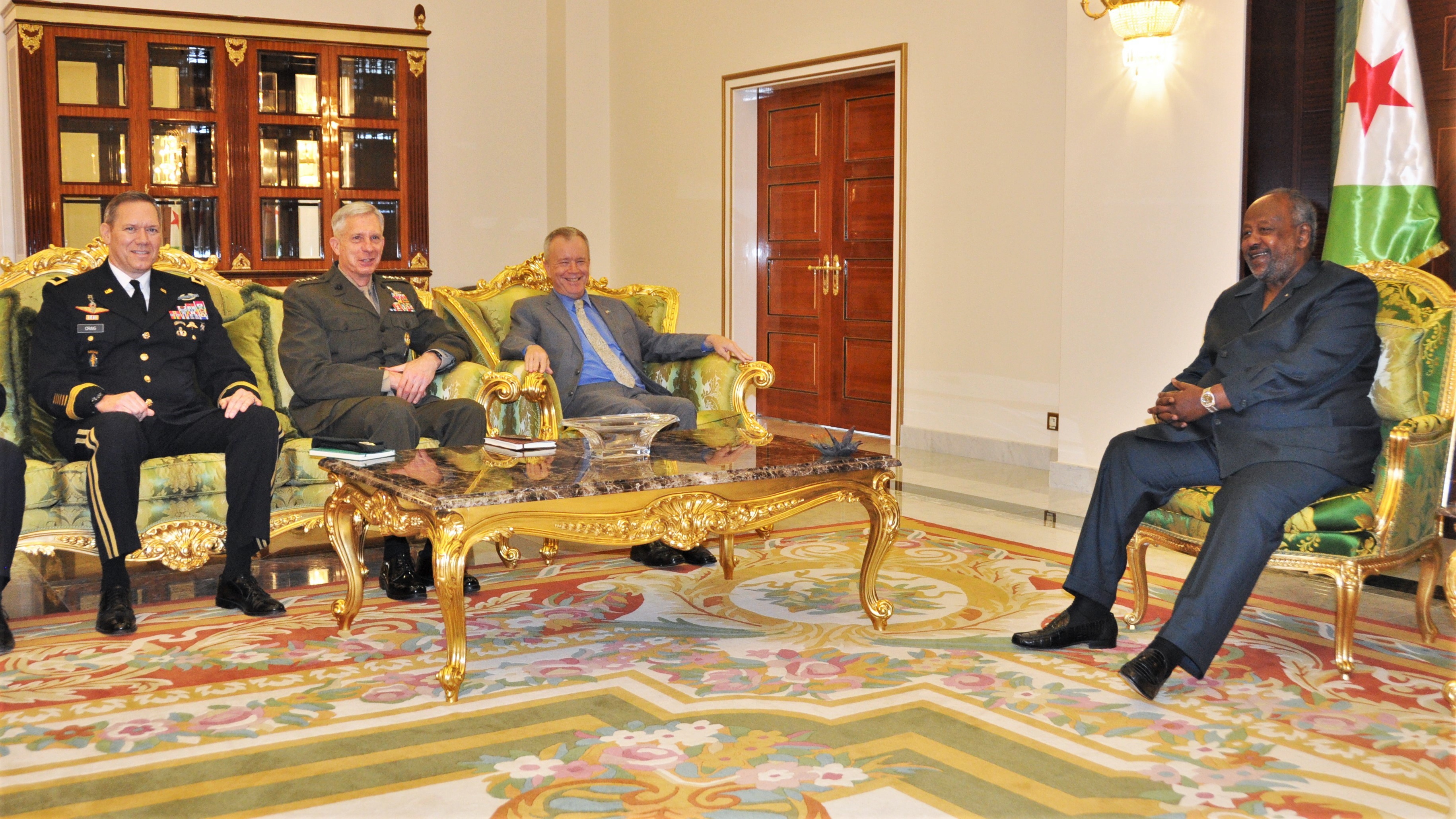 10 photos: AFRICOM Commander meets with Djiboutian President, key leadership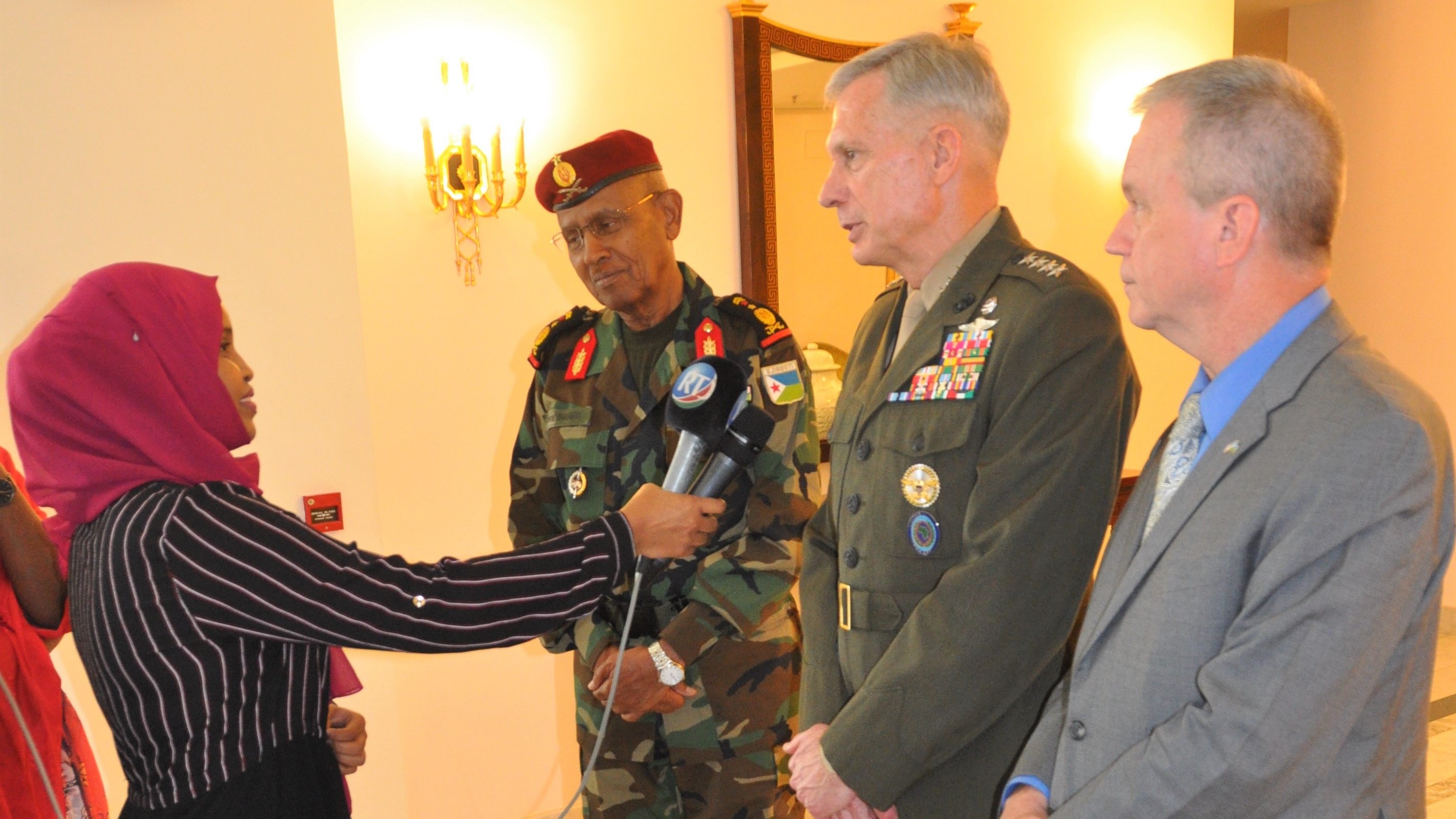 10 photos: United States Africa CommaAFRICOM Commander meets with Djiboutian President, key leadershipnd Image
10 photos: AFRICOM Commander meets with Djiboutian President, key leadership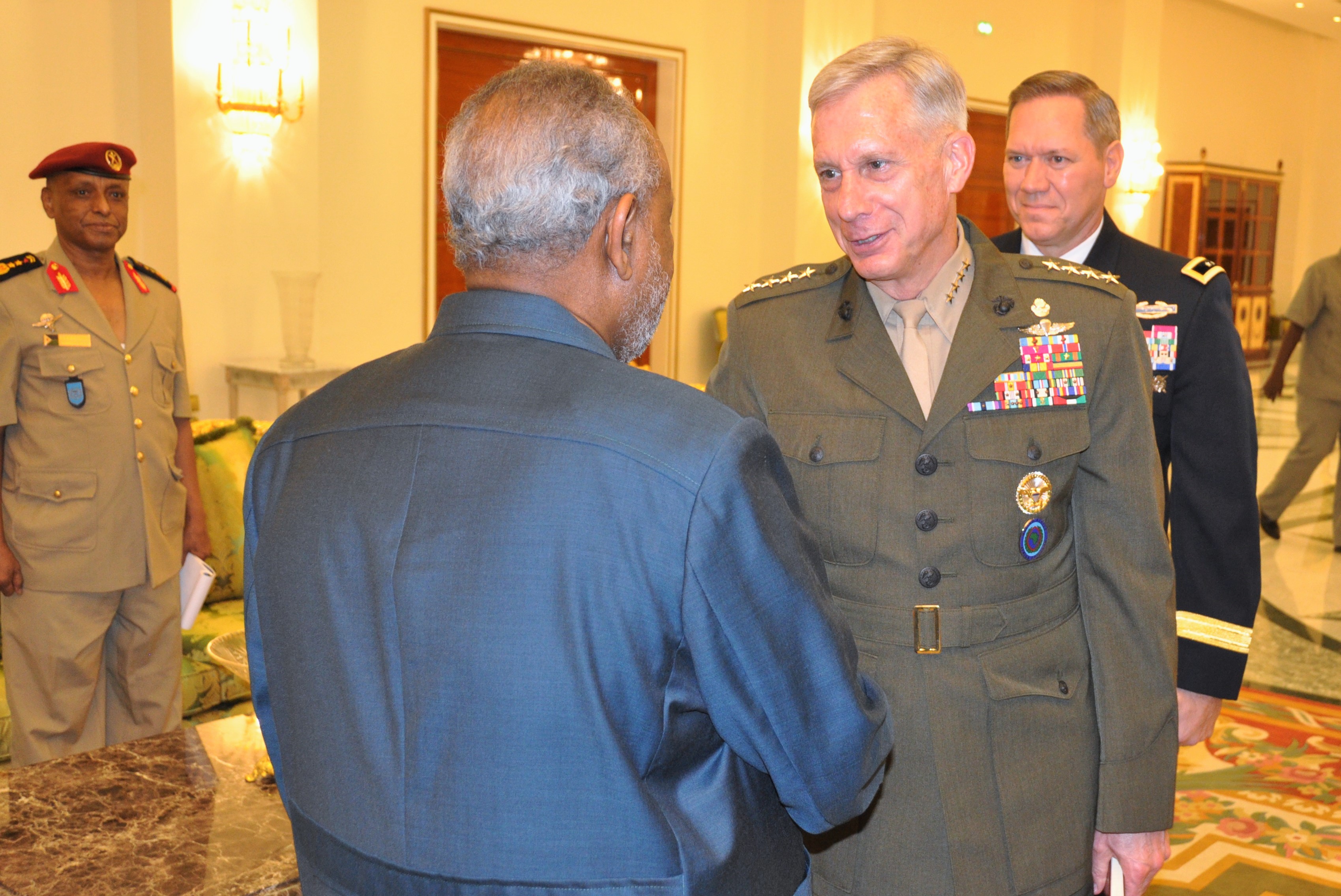 10 photos: AFRICOM Commander meets with Djiboutian President, key leadership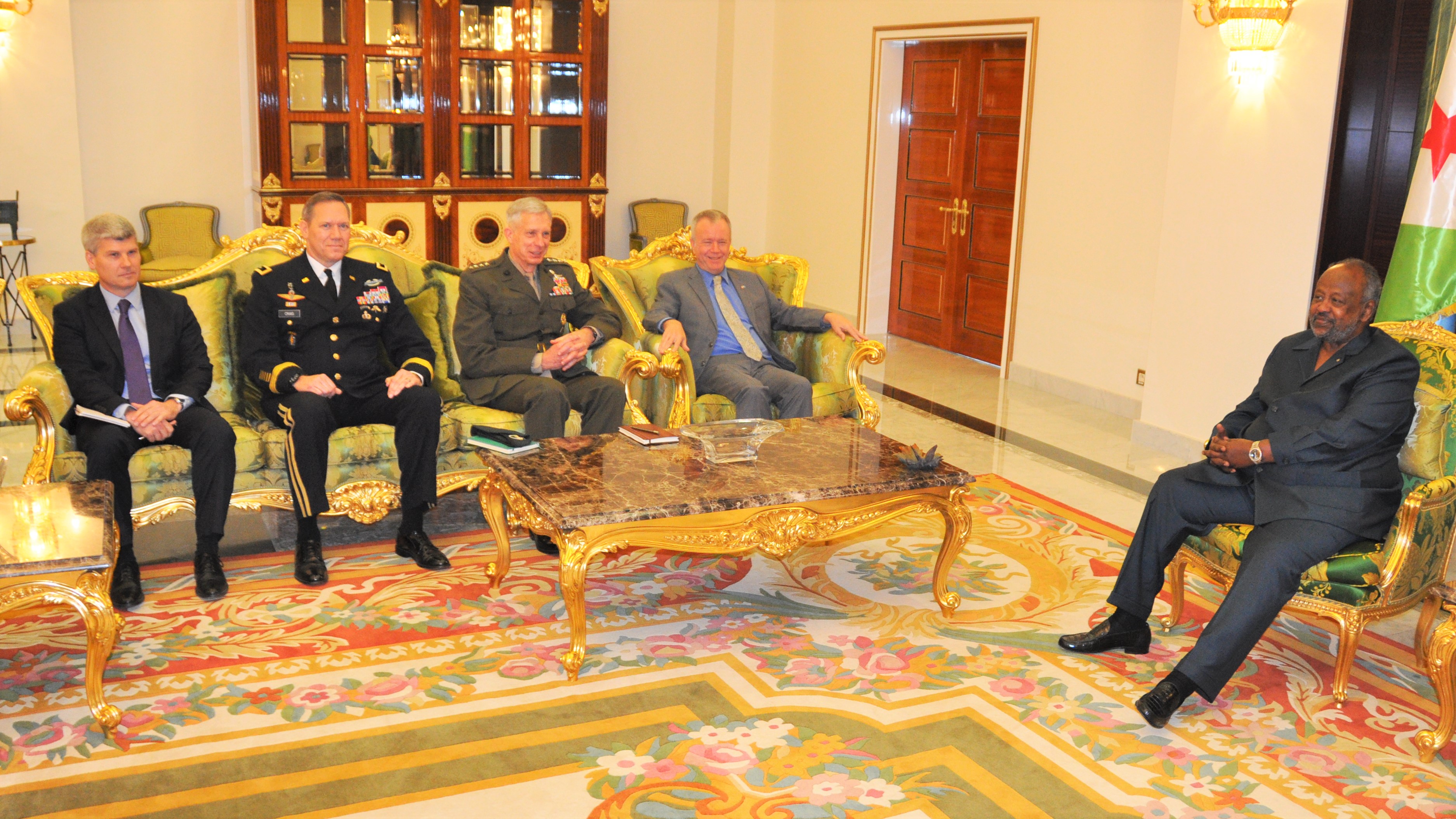 10 photos: AFRICOM Commander meets with Djiboutian President, key leadership
10 photos: AFRICOM Commander meets with Djiboutian President, key leadership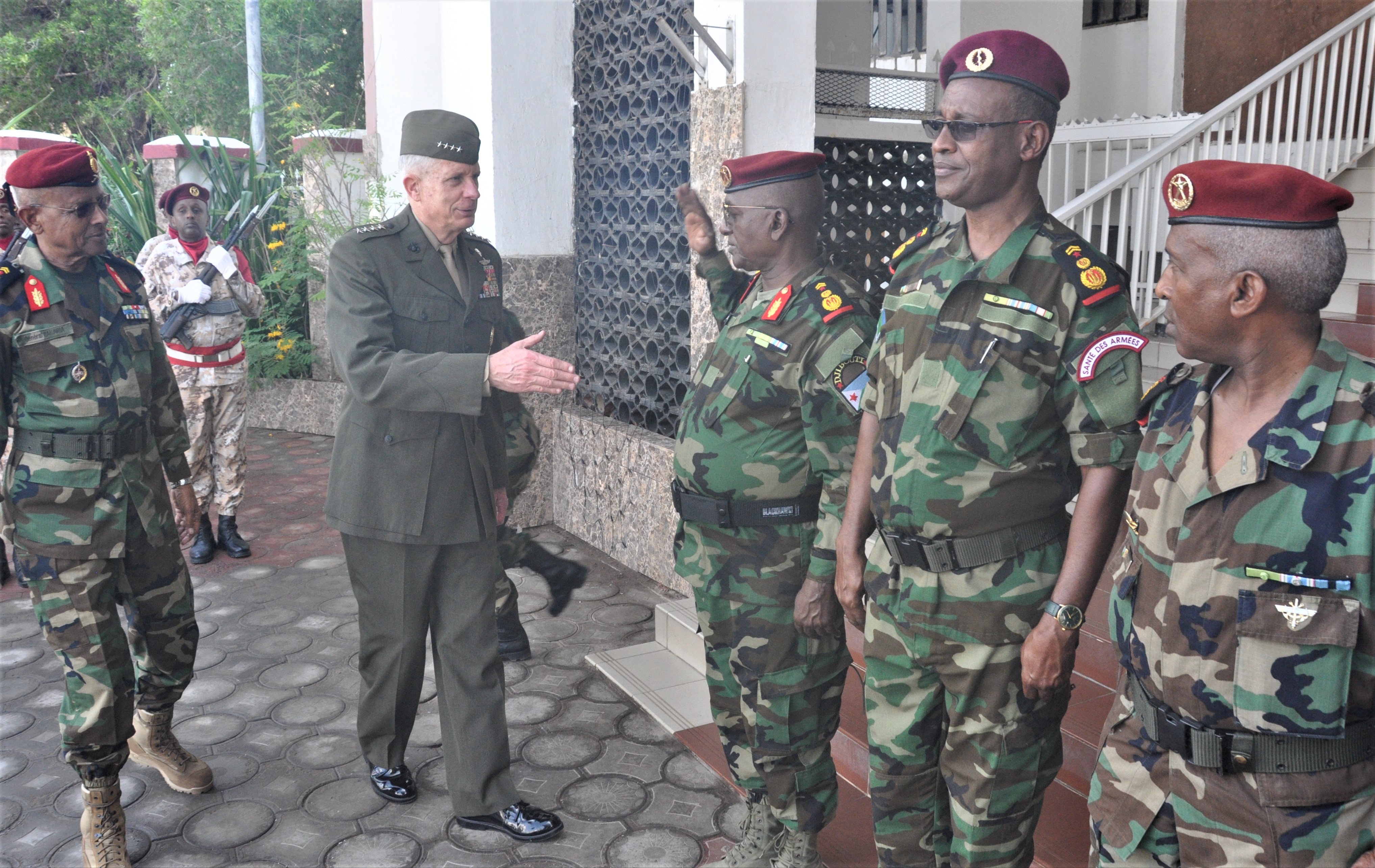 10 photos: AFRICOM Commander meets with Djiboutian President, key leadership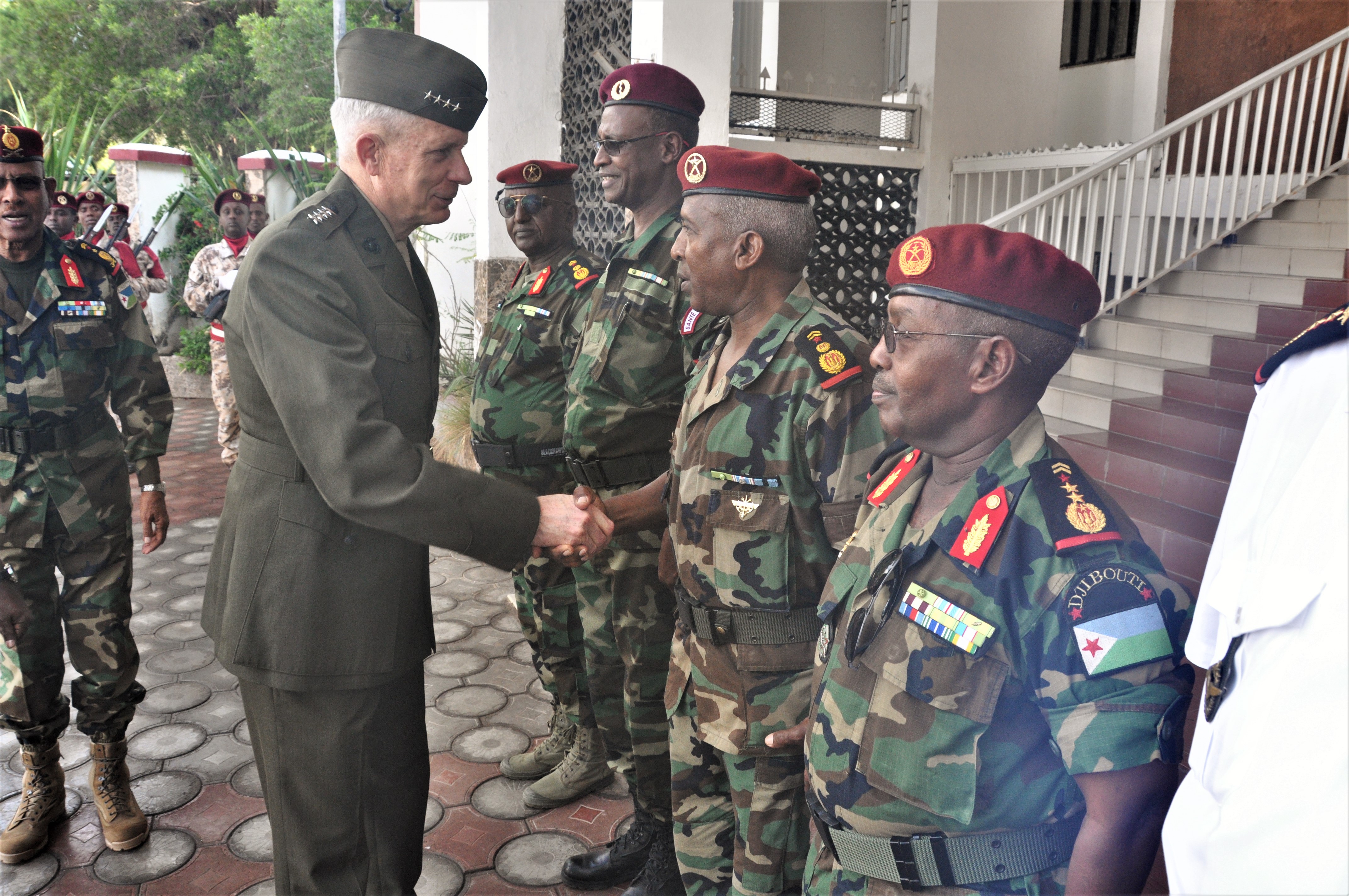 10 photos: AFRICOM Commander meets with Djiboutian President, key leadership
10 photos: AFRICOM Commander meets with Djiboutian President, key leadership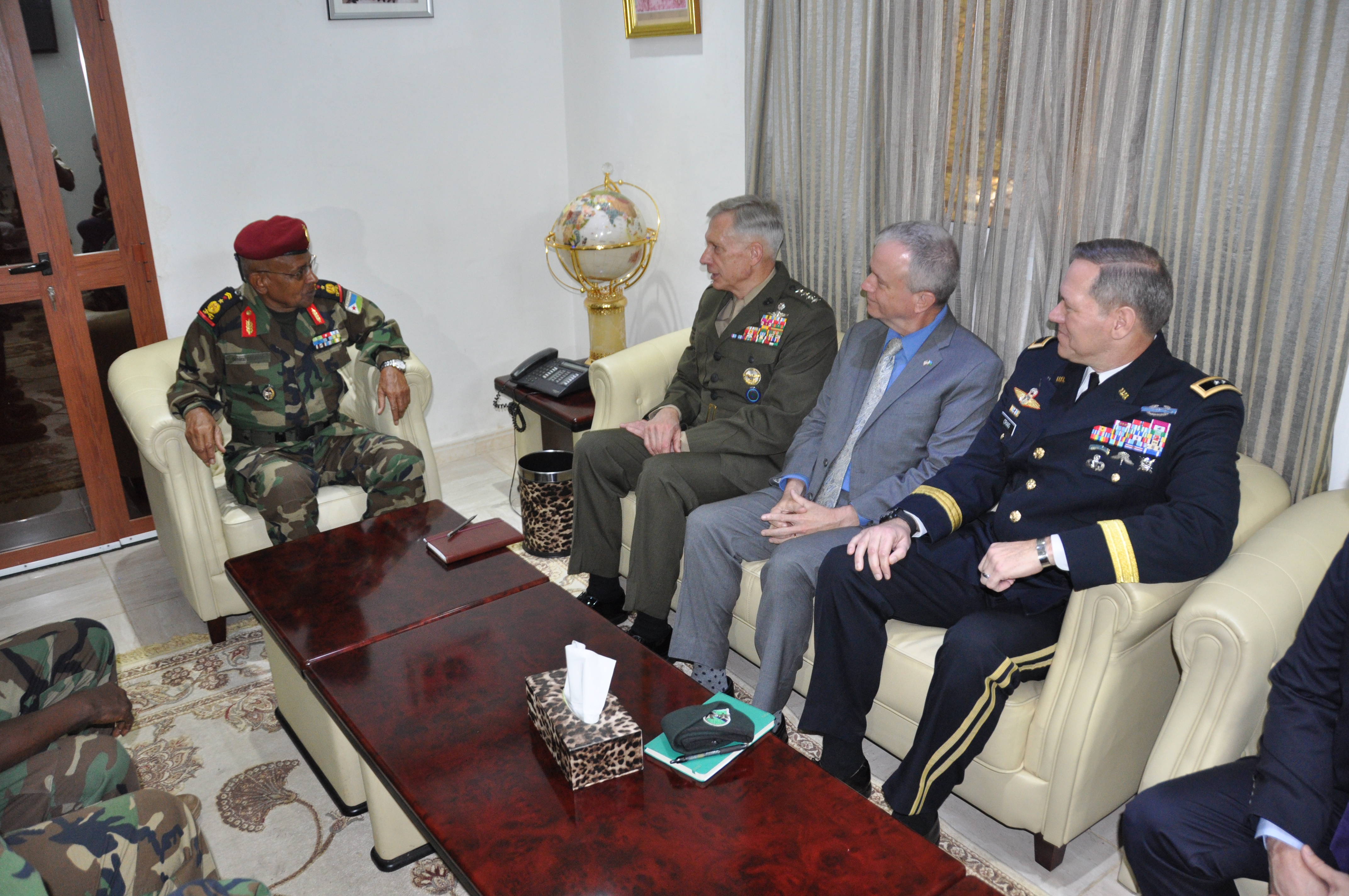 10 photos: AFRICOM Commander meets with Djiboutian President, key leadership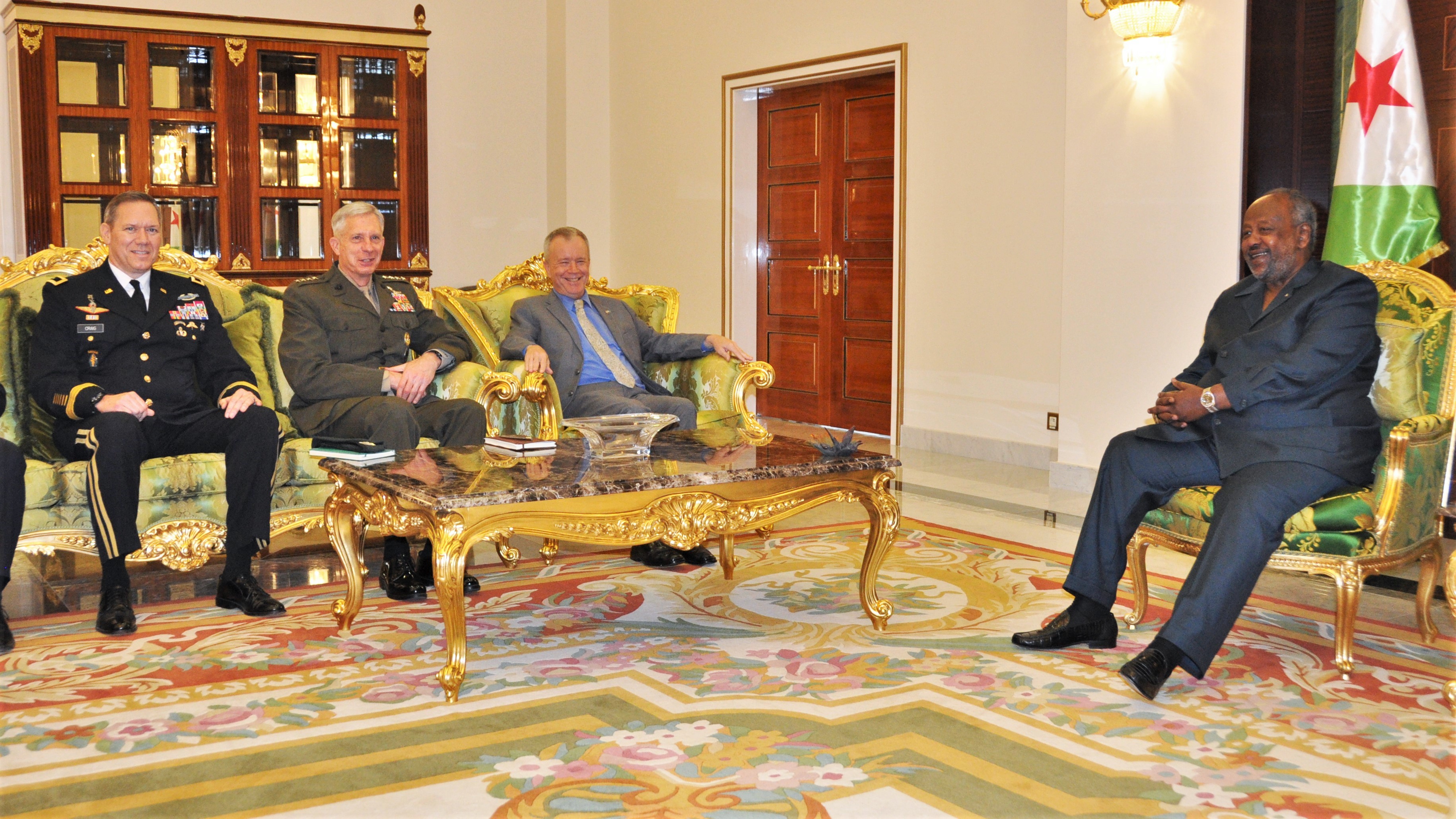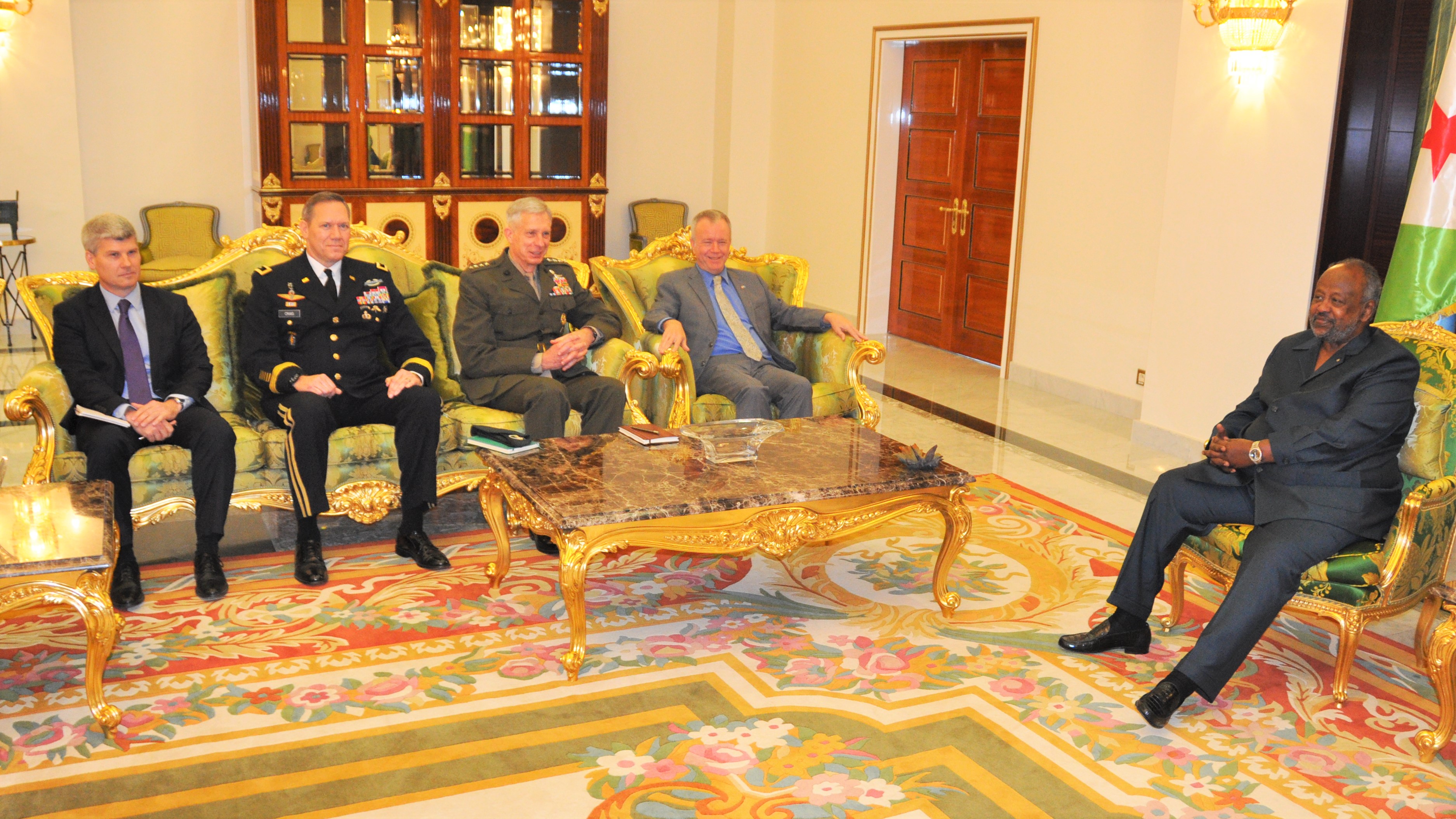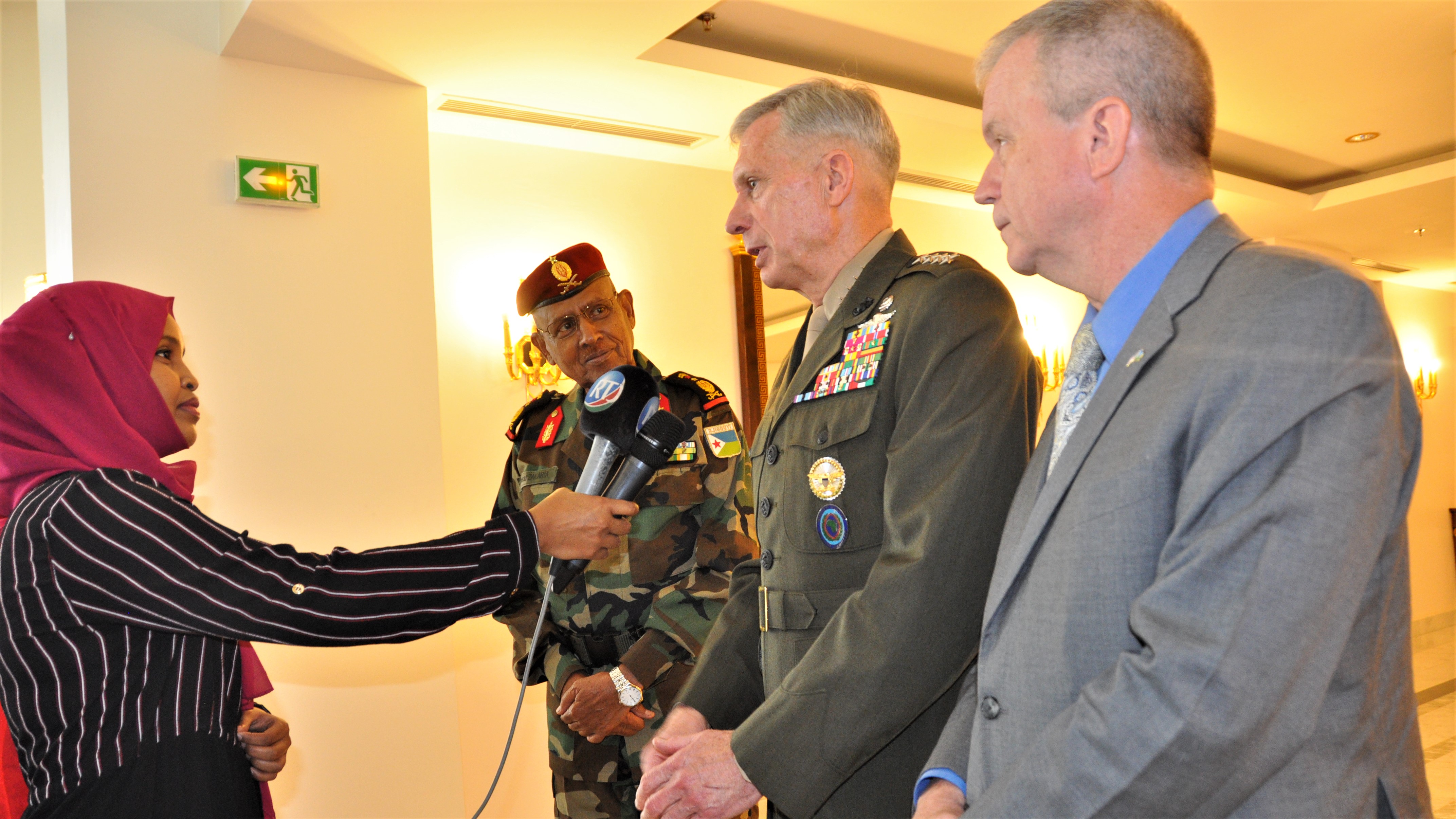 DJIBOUTI CITY, Djibouti—During a four-day trip to East Africa, Gen. Thomas D. Waldhauser, commander of United States Africa Command (AFRICOM), met with senior Djiboutian officials, including President Ismail Omar Guelleh, on Nov. 29, 2018, in Djibouti City, Djibouti.
"We have a strong, cooperative relationship with the Republic of Djibouti," said Waldhauser, "and we view security and access to Djibouti as a top priority."
Strategically located in the Horn of Africa, Djibouti is a key U.S. partner on security, regional stability, and humanitarian efforts across the region.
Furthermore, Djibouti hosts the only enduring U.S. military presence in Africa at Camp Lemonnier, which serves as a vital hub for security force assistance, operations, and logistics for five combatant commands. Employing over 1,000 Djiboutian nationals and continuously supplying contracts to local businesses, Camp Lemonnier provides, operates, and sustains superior service in support of combat readiness and enables operations in the Horn of Africa, while fostering positive U.S.-African relations.
"The United States is a long-term partner of Djibouti, of the government, and of the people," Waldhauser said. "As long-term partners, we want to see Djibouti, and the Djiboutian people, prosper and thrive."
Detailed within its campaign plan, AFRICOM's first line of effort is focused on strengthening mutually beneficial networks between the U.S. and its key partners. These improved and expanded relationships have two benefits. First, they solidify the U.S. and its allies' position as the preferred regional security partners in Africa. Second, they help mitigate non-African competitor state practices that undermine African development.
"Our strategic approach continues to posture the United States and our closest allies as the partners of choice in Africa," said Waldhauser. "We continue to provide a preferable alternative to partnering with other external actors who may undermine economic, political, and security institutions, as well as increase instability."
While in Djibouti, Waldhauser also met with U.S. Ambassador to Djibouti Larry André, as well as Djibouti Chief of Defense Gen. Zakaria Cheikh Ibrahim in order to discuss the growth and development of Djiboutian security forces.
"Our command's core mission is centered on helping our partners to strengthen defense capabilities," said Waldhauser. "We concentrate our efforts on helping African nations and regional organizations build capable and professional militaries that respect human rights, adhere to the rule of law, and more effectively contribute to stability in Africa."
AFRICOM's primary tools to assist its partners in strengthening their defense capabilities are military-to-military engagements, programs, exercises, and operations, which are all coordinated with the respective Department of State country team and each African partner nation.