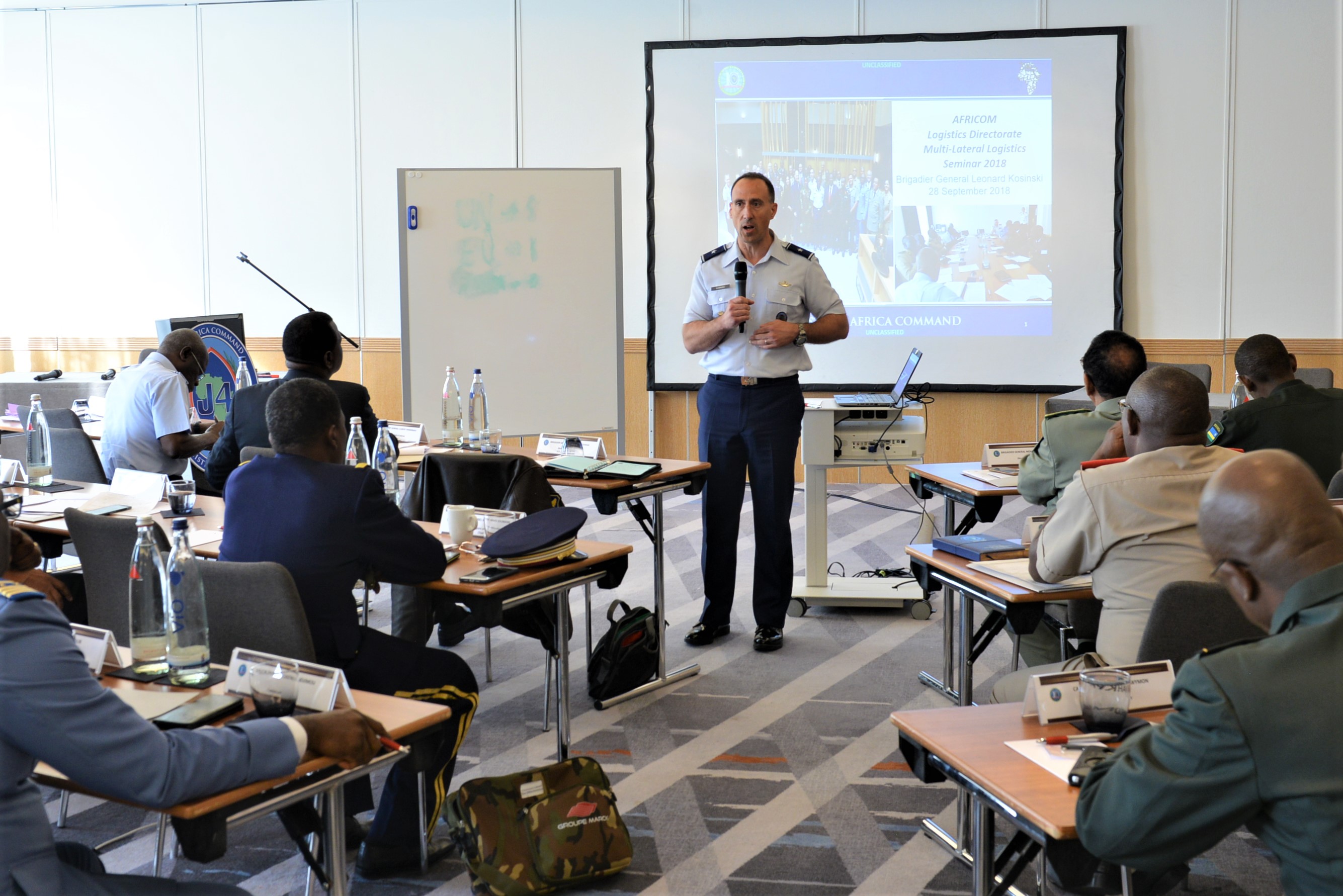 1 photo: U.S. Africa Command Director of Logistics discusses environment, role with transportation leaders at Scott AFB
SCOTT AIR FORCE BASE, Illinois -- The U.S. Africa Command director of logistics met with Air Mobility Command, combatant command and logistics component leaders at Scott AFB Feb. 20 to ensure the defense logistics enterprise understands today's environment and the vast responsibilities on the 54-nation continent. One of six geographical combatant commands, U.S. Africa Command provides support to 53 countries in its area of responsibility.
Brig. Gen. Leonard Kosinski, a former 62nd Airlift Wing Commander and now AFRICOM director of logistics, talked about plans to ensure logistical support aimed at conquering the tyranny of distance across the world's second largest continent at the semi-annual Joint Deployment and Distribution Executive Board, chaired by the commander of U.S. Transportation Command.
The African continent, which is more than three times the size of the continental United States, may not be prominently featured in strategies associated with near-peer competition, but Kosinski pointed out that significant great power activity is occurring there, and it is an environment and reality the U.S. will continue to operate in.
"China and Russia have been in Africa for many years," he said. "Africa is home to China's first ever base outside of China, Chinese investment is up and Russian equipment sales are in play."
The rapid global mobility provided by AMC plays a critical role in helping the U.S. become a partner of choice with African nations.
"In Africa we operate by, with and through our partners," said Kosinski. "The U.S. aims to become a partner of choice on the continent, and air mobility plays a huge part in that goal by enabling all of our missions."
The speed provided by air mobility is a particular force multiplier in Africa because of its 11.73 million square miles of varied terrain and inconsistent transportation infrastructure.
"One of the challenges we face in AFRICOM is the limited development in land transit infrastructure," Kosinski said. "Rapid global mobility plays a key role in mitigating this limitation."
Though fewer than a dozen mobility aircraft are assigned to the command, AFRICOM is finding innovative ways to exploit the reliability and immediacy that rapid global mobility provides.
"One program under development is the West Africa Logistics Network," said Kosinski. It's a hub and spoke approach to logistics that uses C-17s and C-130s to provide predictable airflow to ensure U.S. and partner nation troops on the ground have what they need when they need it,"
In addition to regular logistical transfers of equipment, supplies and personnel, mobility Airmen and aircraft are integrally involved in contingency response planning for the protection of U.S. diplomatic personnel on the continent.
Kosinski said AFRICOM is working with USTRANSCOM to expand its use of air logistics through available platforms including C-130s, C-17s and commercial air carriers.
"The tyranny of distance is formidable, but with rapid global mobility we can mitigate it," said Kosinski. "Nothing we do here would be effective without it. It is critically important to setting the theater and ensuring equipment, supplies, and expertise are available to our African partners when desired."