2 photos: African partners visit NCO Leadership Center of Excellence
2 photos: African partners visit NCO Leadership Center of Excellence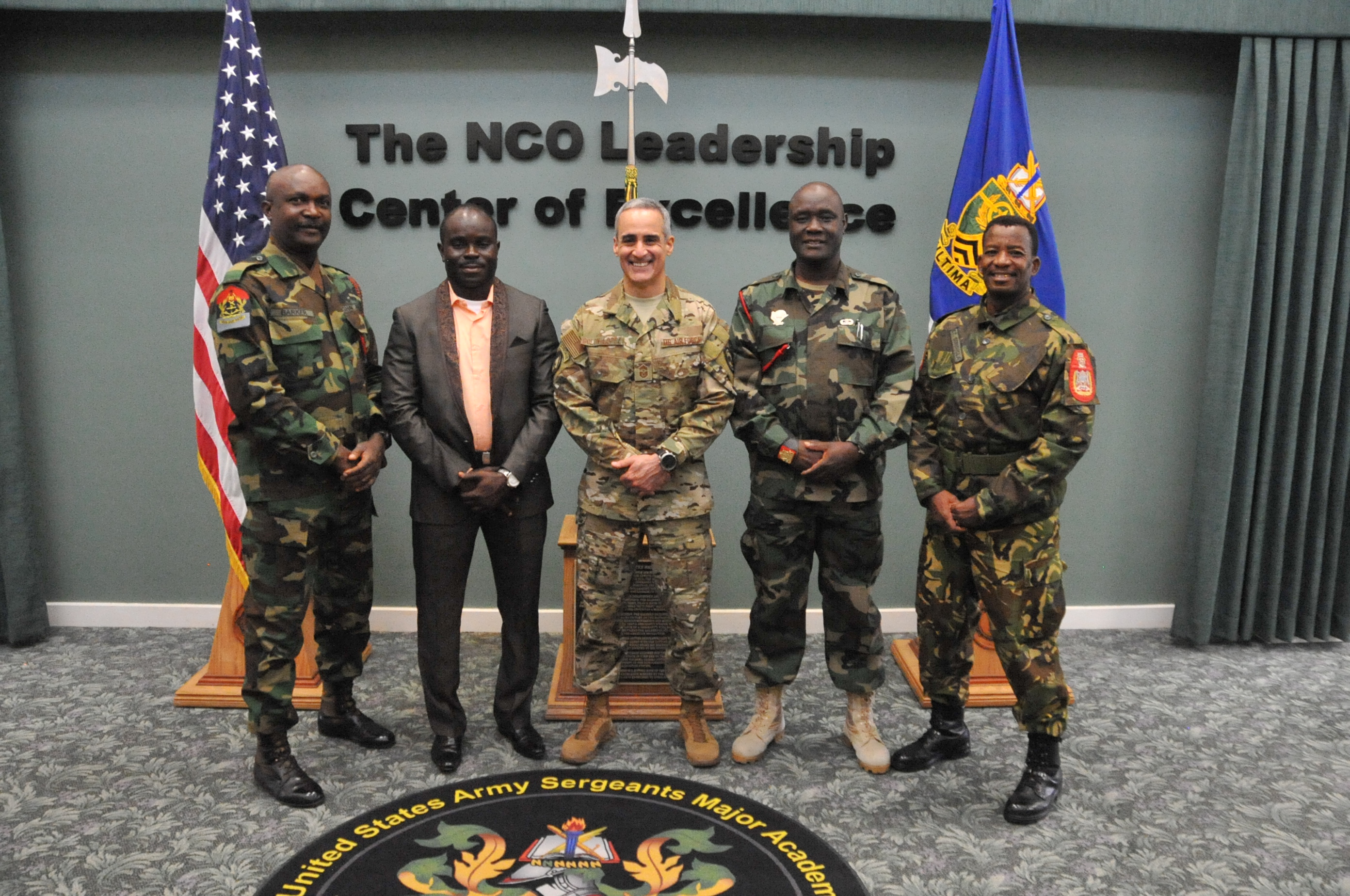 The African countries of Malawi, Liberia, Ghana and Botswana, specifically their top enlisted leaders, spent the day March 11 touring the NCO Leadership Center of Excellence receiving briefings and learning about enlisted education.
"The purpose of the visit is to give them, our African partners, sort of a glimpse of how we develop our enlisted force," U.S. Marine Corps Master Sgt. D'Angelo L. Beard, executive officer to the Command Senior Enlisted Advisor, Africa Command, said. "We are giving them exposure and helping them to build their forces better."
Escorting the group was U.S. Air Force Command Chief Master Sgt. Ramon Colon-Lopez, command senior enlisted leader for U.S. Army Africa Command. He explained the visit to the NCOL CoE is the first of three engagements – Army, Air Force and Marine Corps and is a part of the African Enlisted Development Strategy, a plan that was approved last summer.
"The purpose of that strategy was to figure out how in a resource constrained environment to be able to maximize our engagement and funding for African professional development, specifically the enlisted force," Colon-Lopez said. "These four countries represent some of the most stable governments that have the empowerment from their senior officers and are the ones who are the most capable of taking the lead on training the other African countries."
The strategy, he said, is to have these four military forces become self-sustainable and be able to train the other African partners. Every single one of these countries has a lot of progress, a lot of promise, and a lot of courage to press forward and take the challenge to being centers of excellence in Africa so others can benefit from their teachings.
"This visit is to provide the African partners with different NCO development methods the U.S. employs so that they can take best practices and lessons learned to be able to refine their processes," Colon-Lopez said. "To help them be able to take a regional approach to NCO Development on the continent."
Malawi Defense Force Sergeant Major, Warrant Officer One George Bisalomu, said the visit to the NCOL CoE was very important to himself as Malawi has started their own Sergeant Major Academy.
"This allows me to see where we are going, where we are doing well and also where we are not doing so well," he said. "So, this tour is very important for me to make some changes in our NCO development and the Sergeant Major Academy."
Malawi's academy is currently open to 12 other African countries but hopes to expand to 20 countries beginning with its next class, Bisalomu said. He added that he has learned much during his visit.
"I think when I go back to Malawi, I will try to convince the commander in terms of how we can develop our Sergeant Major Academy instructors," he said. "We need a course which can assist the instructors make it better than what we are doing now. If you have well trained instructors, it is easy to develop our sergeant majors."
Master Sgt. Gant of Liberia, who is from a training background, said Liberia has a short-term plan to establish an NCO Academy.
"This is an eye-opener for me to be able to get feedback for our army general," he said. "I am looking at the instructors, how they are organized, the program of instruction and once I get to understand how it comes together, we will try and develop ours."
Sgt. Maj. Elvidge Serumola, Botswana Defense Force, Force Sergeant Major, said there are a lot of things he is learning as well – professional development of the NCOs, the implementation of the courses and how they are developed.
"Mostly I am looking at is empowerment. I have seen here that when NCOs are empowered, allowed to exercise their intelligence, their power, they can take the military to another level," he said. "It shows how much they can do; how much they can lead and apply themselves."
Chief Warrant Officer Kwame Ramous Barker, the sergeant major of the Ghana Armed Forces said his country is about 85 percent complete in establishing their NCO Academy facility.
"We already have some programs in place in terms of NCO development," he said. "There is a saying in my country, 'Too much meat won't spoil the soup.' Too much meat doesn't spoil the soup, it enhances it. No matter the level of training we already have, there is still more room for improvement."
One issue found in many of the African militaries is a lack of discipline – not because they are bad, Colon-Lopez said, but because they haven't been taught any different.
"We are going to put forth our best effort to help them get to that point where the Soldiers are obeying the rule of law and where the Soldiers are the entity the public runs to, not away from," Colon-Lopez said.
The NCOL CoE develops, integrates and delivers education and readiness, and is known as the premiere institution driving innovative development for enlisted leaders; constantly focused on readiness. Currently the NCOL CoE has 58 international students representing 34 partner nations as part of Sergeants Major Course Class 69.