3 photos: African Partners Collaborate at Senior Leader Communications Symposium, Africa Endeavor
3 photos: African Partners Collaborate at Senior Leader Communications Symposium, Africa Endeavor
3 photos: African Partners Collaborate at Senior Leader Communications Symposium, Africa Endeavor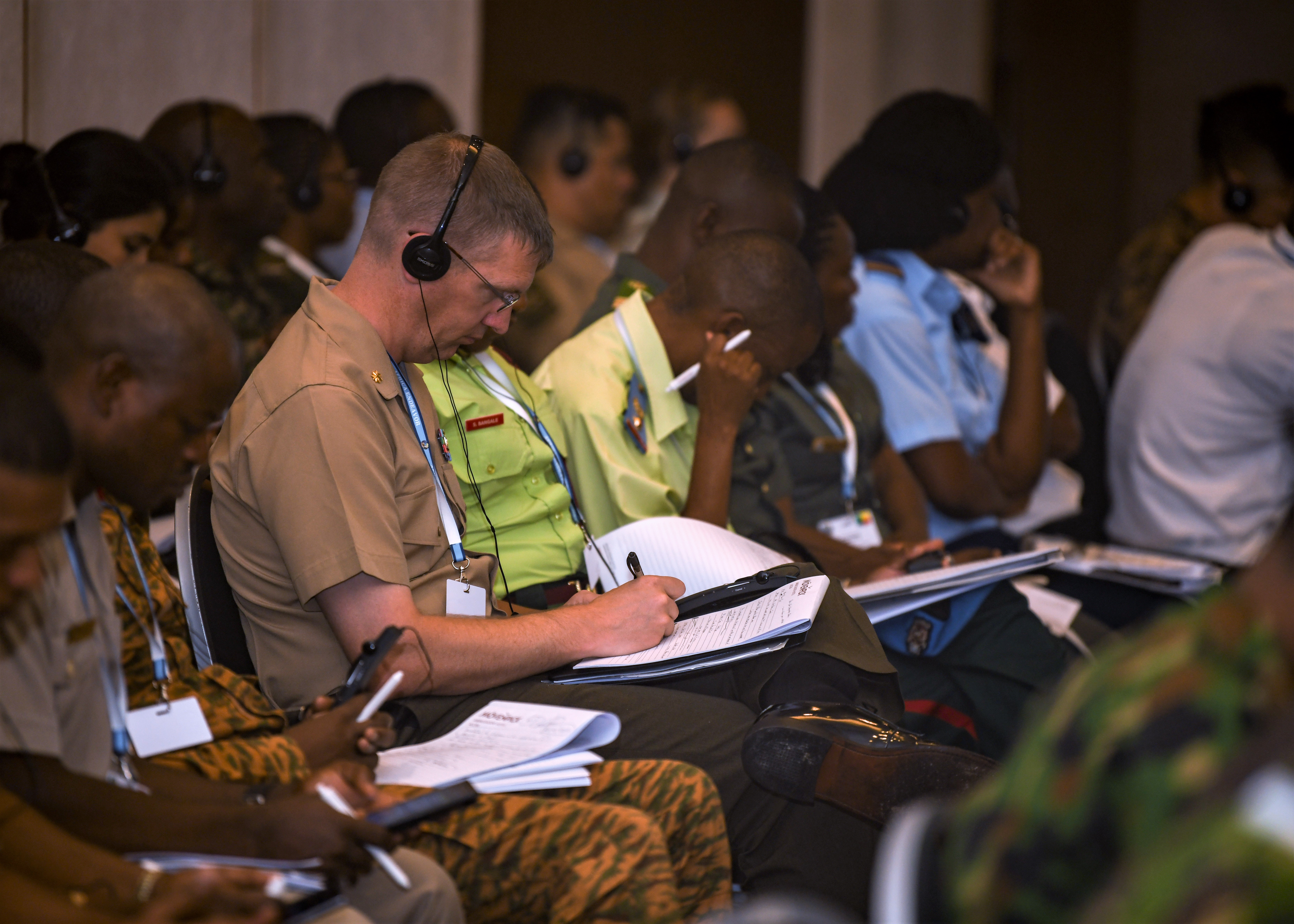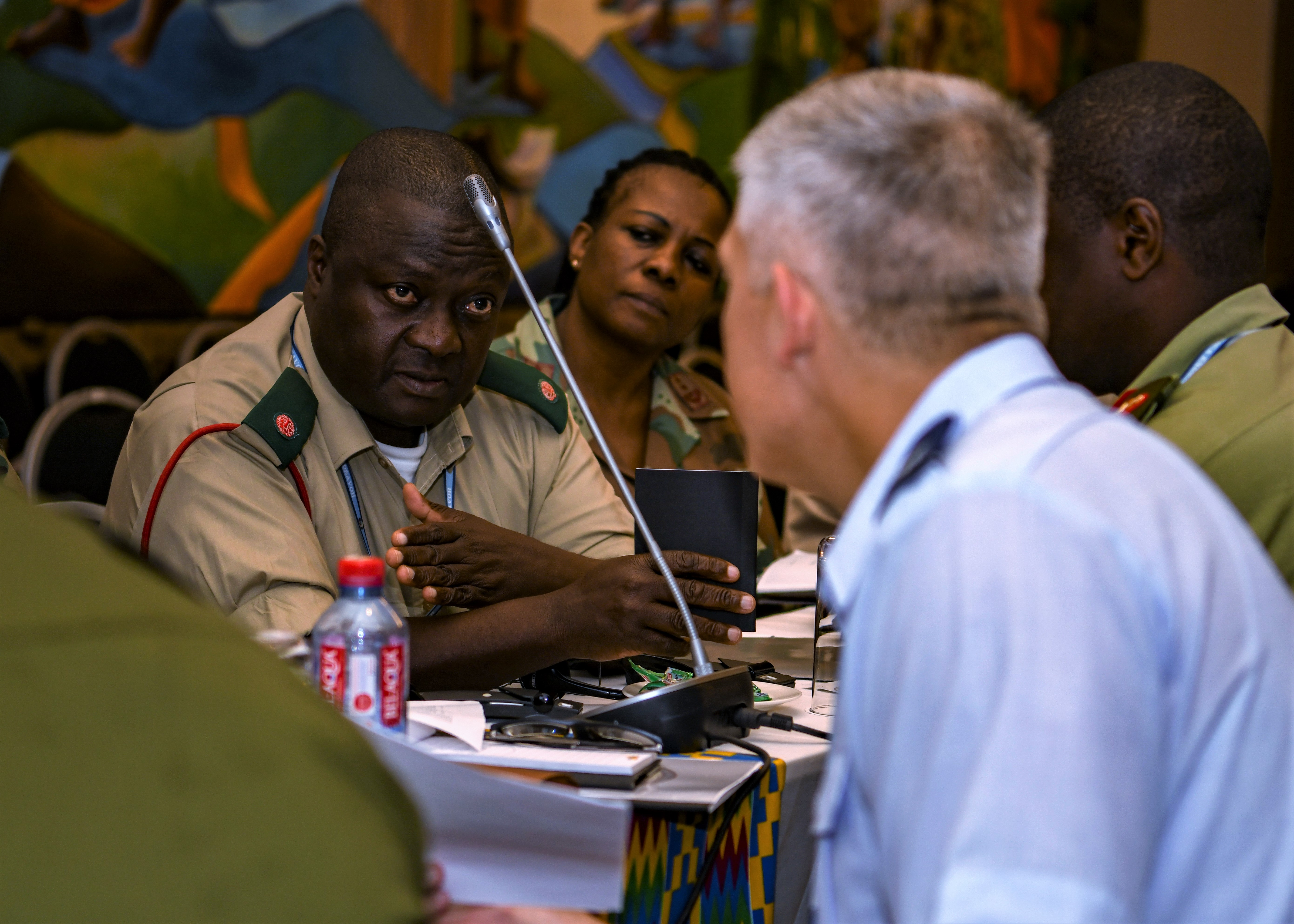 ACCRA, Ghana -- The Ghana Armed Forces and U.S. Africa Command co-hosted the 14th annual Senior Leader Communications Symposium and Technology Exposition, Africa Endeavor, Aug. 18-23, 2019 in Accra, Ghana.
More than 165 representatives from 42 African nations, as well as international and regional organizations, attended to discuss communications challenges and share best practices. This year welcomed many "firsts" for Africa Endeavor. A Women's Signal Forum, the first formal women, peace and security event, and the first field study review of co-host, Ghana, successes in cybersecurity.
"Ghana has been able to really drive their national policymakers to realize that cybersecurity is a vital national interest, moving their entire strategy forward," said U.S. Army Col. Jeffrey Schroeder, director, U.S. Africa Command communications directorate. "Our partners have a sensational appetite for how they can properly defend themselves in the cyber domain… and we've seen a phenomenal response from these small but substantial additions to the program."
Discussing the new elements of the Africa Endeavor program, Schroder said the collaboration will bring immediate value to AFRICOM and its partners. The introduction of a new feedback-loop for peacekeeping operations brought three signal chiefs from UN peacekeeping missions to speak with participants about communications mission planning.
"We talked to members about the after-action items they have about troop-contributing nations, challenges of the mission, and things that the UN can help with, to make those missions function at a higher level," said Schroeder. "It's been an immense learning experience for all of the partners."
The symposium provides a venue for senior military leaders in communications across Africa to review and analyze their countries capability to collaborate and exchange information with partners during multinational operations, and to develop standardized training and procedures to improve future training and support.
The theme this year - Signal Training! Install, Operate, Maintain, and Protect - focused discussions on training and workforce development, with a heavy emphasis on cybersecurity and interoperability.
"The key to success in cyber, not just in Africa but on any continent, right now is collaboration and information sharing," said Canadian Army Brig. Gen. Paul Peyton, vice director of plans and policy, U.S. Cyber Command. "We need to communicate together to understand what the threat is and how we can collaborate, and burden share to become more efficient with our resources. Not one of us is smarter than all of us, we all have something to contribute to the discussion."
Ghanaian Army Lt. Col Eilkem Fiamavle emphasized that building partnerships is key to sharing information and advancing capabilities. Not just partnerships with other countries, but also within country. He said political commitment and support is critical for slowly building cybersecurity proficiencies. This year's symposium highlighted some of Ghana's cyber security successes.
"The field study has enriched the whole Africa Endeavor Program," said Ghanaian Brig. Gen. Maxwell Appiah-Kubi, director general, department of defence communications and information systems, and co-host for Africa Endeavor 2019. "It is important that participants see what Ghana, as a host, is doing as far as cybersecurity is concerned. In seeing it, cooperation with AFRICOM and our partners can be strengthened."
The field study allowed Africa Endeavor participants to visit one of five Ghanaian communications institutions: the Ghana National Computer Emergency Response Team, Ghana National Communication Authority National Telecommunication CERT, Ghana Technical University College (GTUC), Ghana Armed Forces CERT, or the Kofi Annan Cyber Crime School.
Welcoming 20 Africa Endeavor participants to GTUC, university vice president, professor Isaac Abeku Blankson said, "I see a lot of different representation from the African continent. That is a good thing for us because we know cyber security transcends one country, and actually transcends continents." He added, "It is very encouraging that we come together, and put our heads together under the leadership of United States Africa Command. I think we can achieve a lot more."
Elaborating on working together, Dr. Kester Quist-Aphetsi, the head of the computer science department at GTUC, discussed the cutting-edge research taking place at the university, the partnerships among the interagency, and other steps it took to get the university, and Ghana to its current level of success.
GTUC is exploring the future combat environment, researching robot programming and facial recognition programs that profile potential terrorists. GTUC also provides training to more than 5,000 security personnel on cyber security and how to combat threats and malicious activities using technology.
"Within the global space, everything is about collaboration and information sharing… we have various departments of research that provide training to our people within the ministry of defense and national security," said Quist-Aphetsi. "Our critical goal is to ensure that we maintain cyber dominance within the sub-region, and we are actively trying to achieve that."
Since its inception, Africa Endeavor has seen a steady increase in the participation of African women communications specialists. This year, 17 % of symposium attendees were women.
"Anytime we have the time to bring women together it's very important because we draw strength from each other and we import best practices… and knowledge is always power" said Ghanaian Brig. Gen. Constance Edjeani-Afenu. "In the [defense] area where there is so much talk about gender, we need to increase female opportunities in leadership positions and participation."
Looking forward, AFRICOM plans to continue to leverage the expertise of European partners, and collaborate more with the African Union and United Nation, to provide communications solutions supported by an international body.