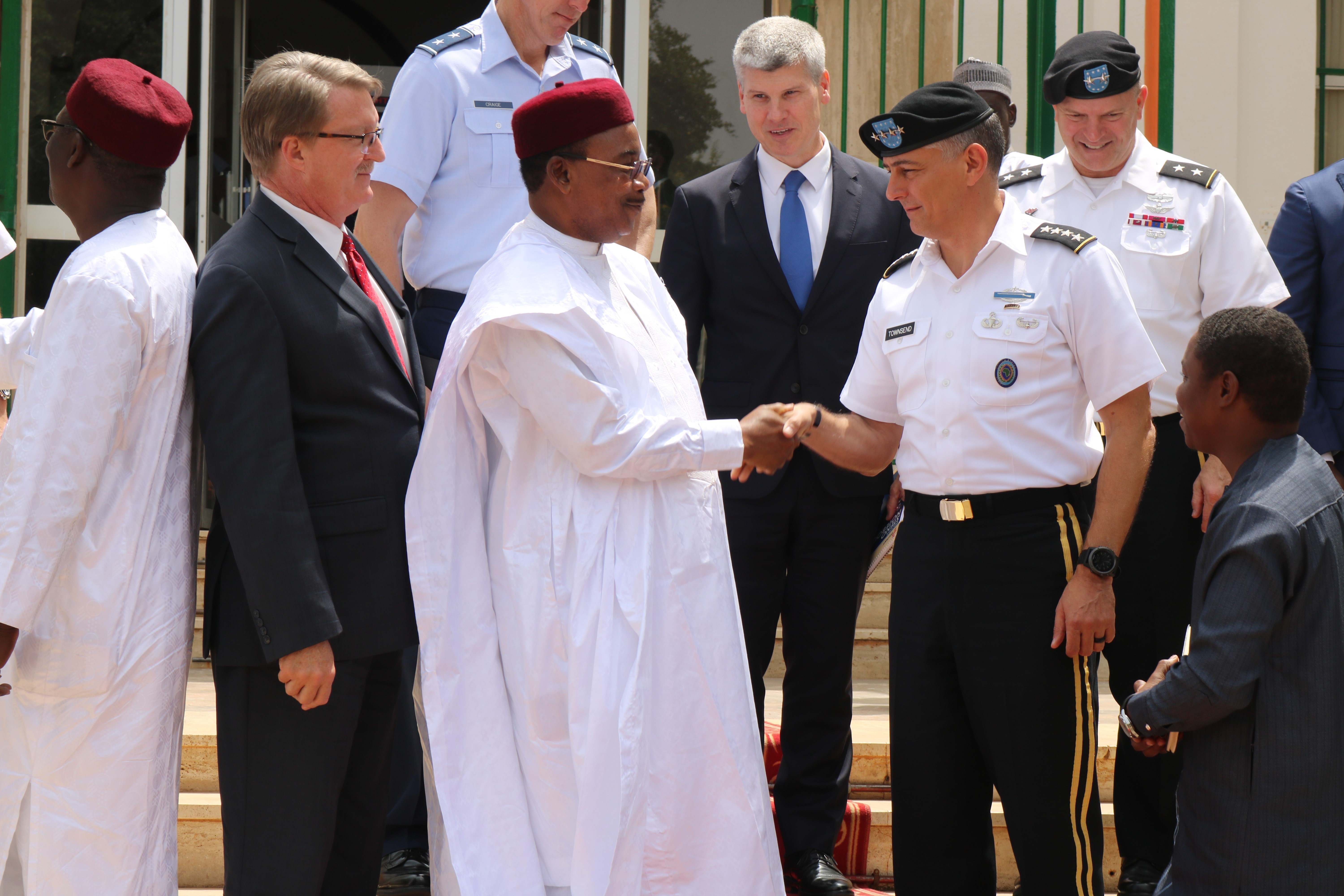 5 photos: AFRICOM Commander Visits West Africa
5 photos: AFRICOM Commander Visits West Africa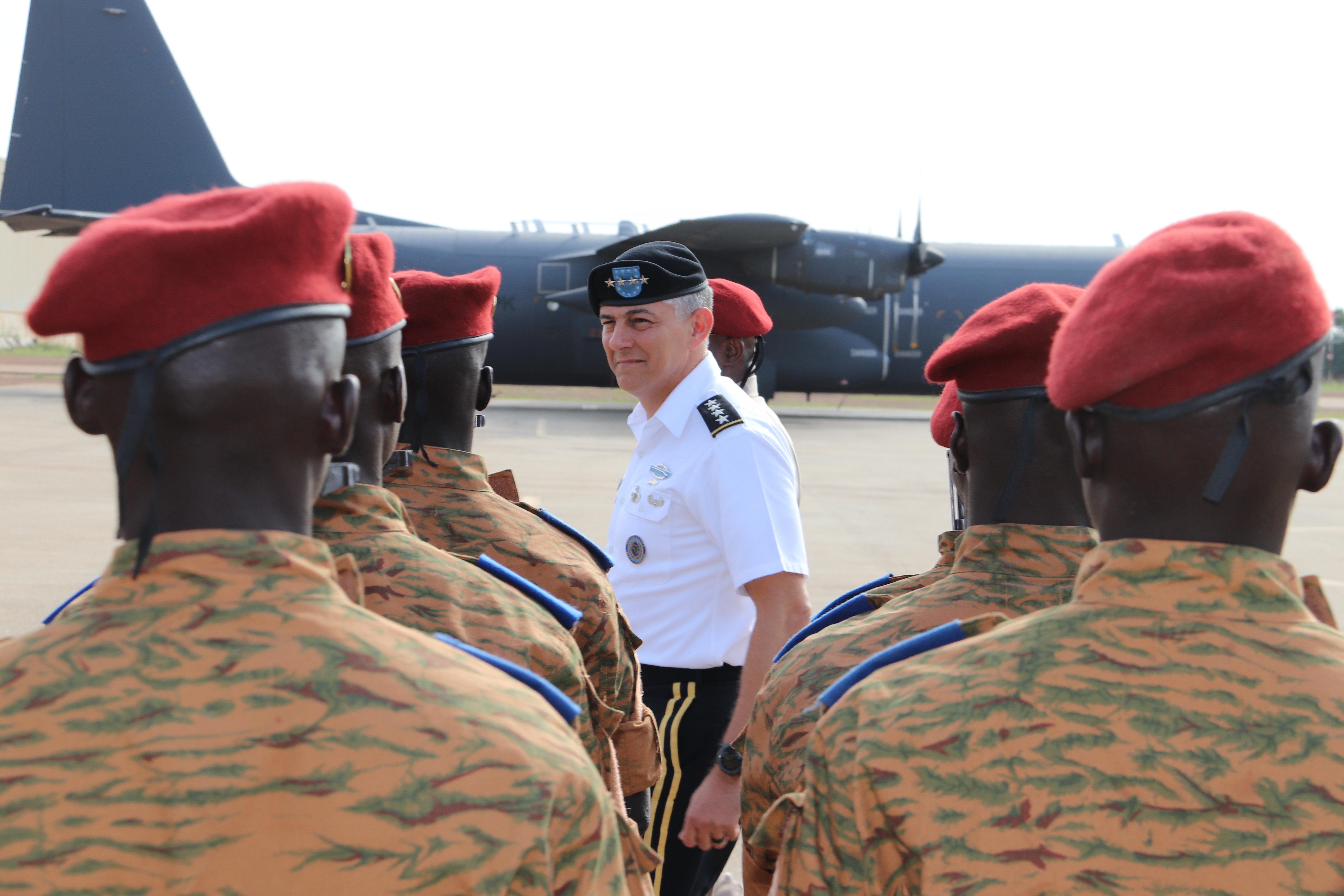 5 photos: AFRICOM Commander Visits West Africa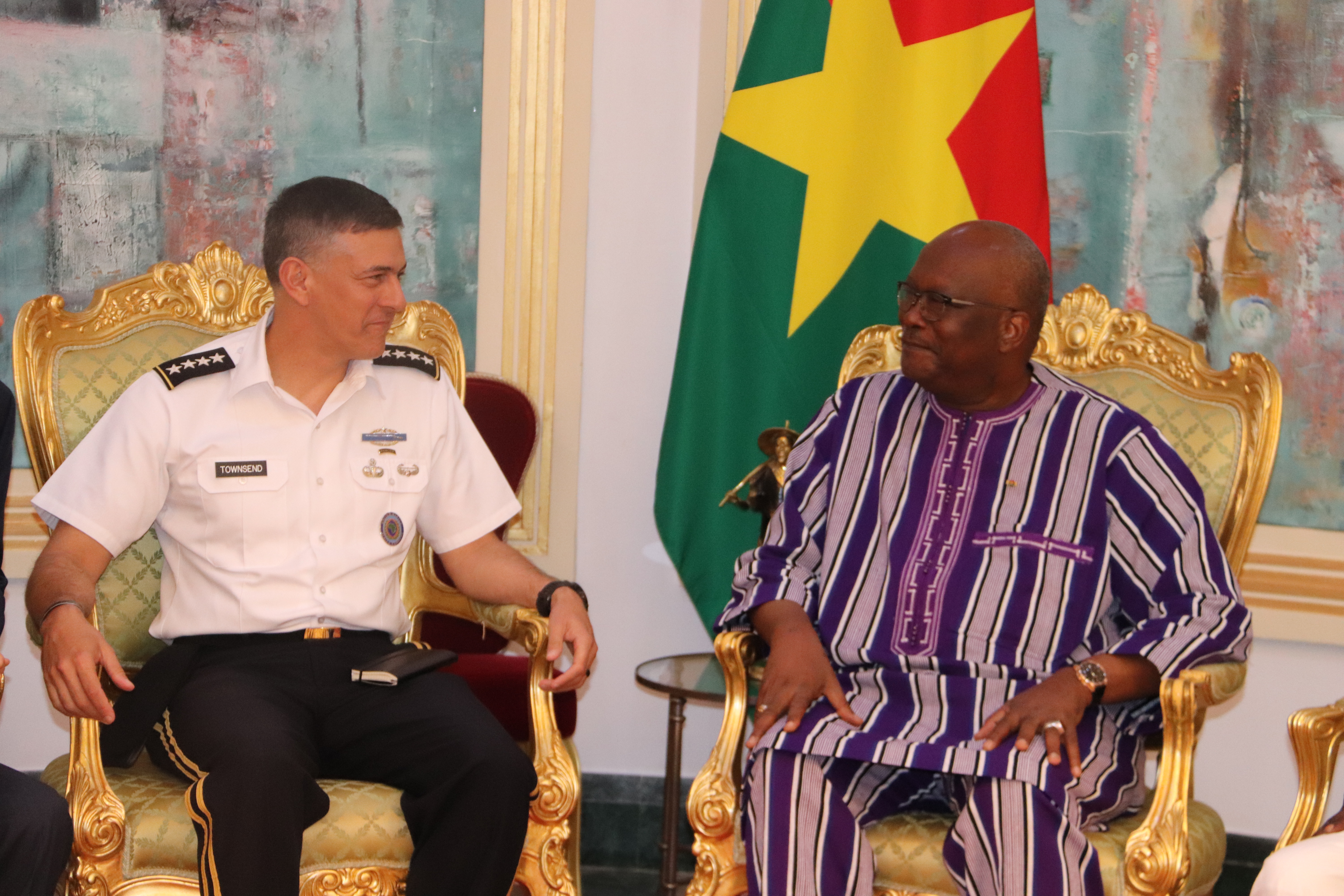 5 photos: AFRICOM Commander Visits West Africa
5 photos: AFRICOM Commander Visits West Africa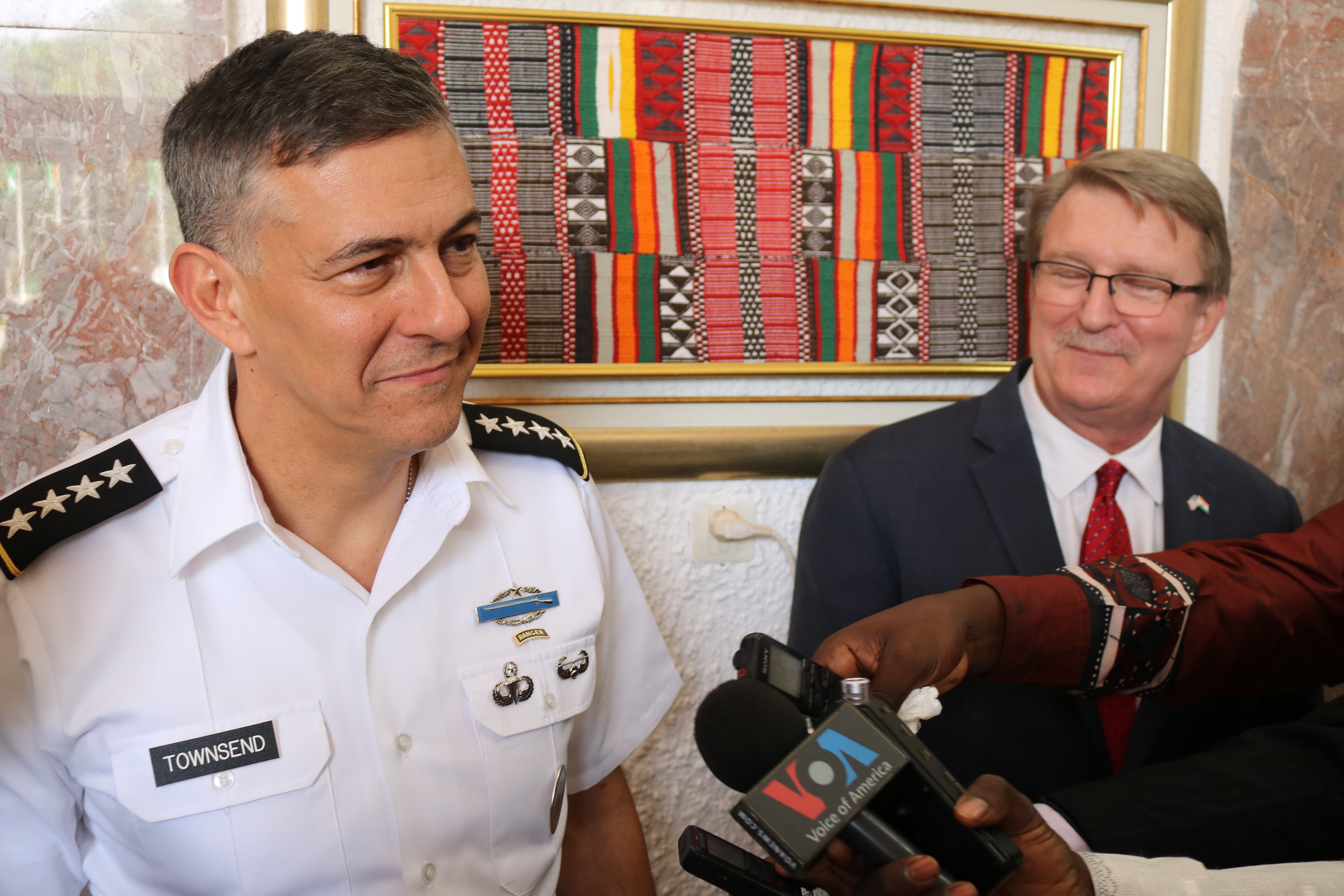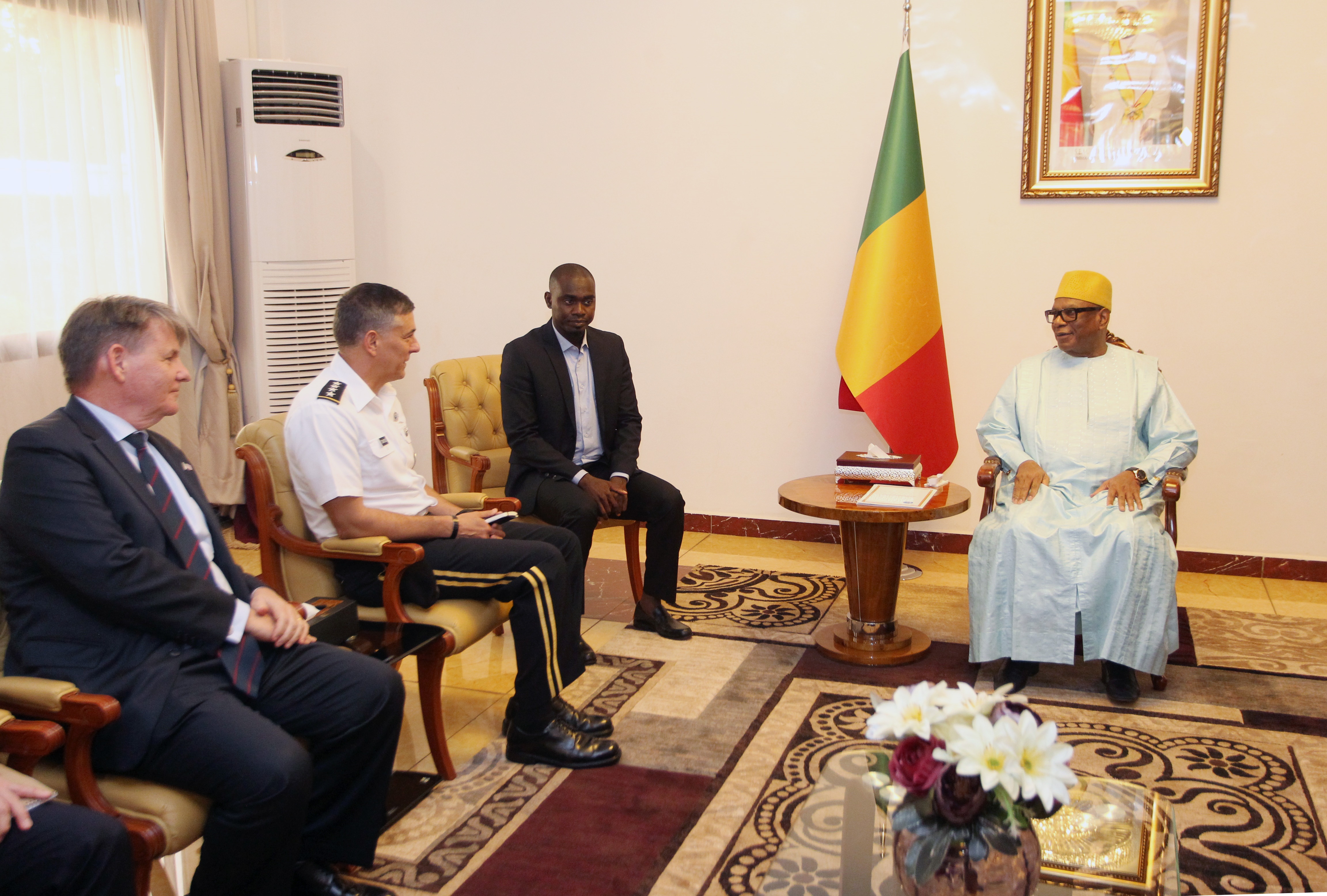 STUTTGART, Germany – U.S. Army Gen. Stephen Townsend, commander, U.S. Africa Command visited Mali, Burkina Faso and Niger Sept. 16-19, 2019 marking his first trip to West Africa since taking command in July.
During the trip, he met with partner nation government and military officials to discuss defense and security issues related to the complex and evolving threat in the Sahel.
Mali
In Mali, Townsend met with President Ibrahim Boubacar Keïta, senior Malian military leaders and leaders of the G5 Sahel Joint Task Force. This African-led organization is comprised of five neighboring countries that respond to transnational security, humanitarian and development challenges in the Sahel.
In its first year, the nascent G5 Sahel Joint Force continues to grow and make operational strides.
"The G5 Sahel Force has a tough mission," Townsend said. "Our continued assistance and partnership will help them, the Malian security forces and our other partners as they work to achieve it."
U.S. military funding to the G5 Sahel Joint Force provides equipment, training, and advisory support to allow G5 members to operate, protect, and maintain mobile infantry forces in their fight against violent extremist groups in the region. In addition to the Joint Force support, AFRICOM provides bilateral assistance to strengthen the military, justice, and law enforcement capabilities of our G5 partners.
The primary U.S. military focus in Mali is defense institution building with the goal of positioning African partner self-sufficiency, enabling them to address and resolve issues on their own.
"Working together, our governments are better able to combat the root causes of terrorism, contain threats, and improve the prosperity and long-term stability of this beautiful country and region," said Amb. Dennis B. Hankins, U.S. Ambassador to Mali.
Burkina Faso
In Burkina Faso, Townsend met with President Roch Marc Christian Kaboré and several other Burkinabe and allied military leaders.
Within the last twelve months, there has been an increase in violent extremist attacks in the northern part of the country near the tri-border with Mali and Niger. It was important for the commander to gain an increased understanding and assessment of the situation.
"We know the security challenges in Burkina Faso are significant and wide-ranging, but we are committed to helping them improve their capacity and security capabilities," Townsend said. "It is important for the U.S. to continue to support the international effort taking place in Burkina Faso while containing the spread of terrorism."
While there, Townsend stressed that Burkina Faso's security challenges requires broad political, economic, as well as military initiatives to bring about positive change. He emphasized the importance of exercises such as Flintlock and how AFRICOM provides military support to diplomatic and developmental efforts during meetings with the U.S. embassy team in Ouagadougou.
"The United States is a trusted partner standing with the government and people of Burkina Faso as they strive to create a bright future made by their own hands in the face of complex political, economic, and security challenges," U.S. Ambassador to Burkina Faso Andrew Young said, "Our approach focuses on strengthening the capability and capacity of all elements of Burkinabè society, government, security forces, and the people themselves as they respond to these threats."
Niger
In Niger, Townsend met with President Mahamadou Issoufou, senior Nigerien military officers and deployed U.S. troops.
Niger's participation in multinational operations geared at countering threats on multiple borders. Niger is one of two countries that contribute to both the G5 Sahel Joint Task Force and the Multinational Joint Task Force. Chad also contributes to both.
"Niger has been a willing and engaged partner in the fight against violent extremist organizations," said Townesend. "Niger is committed to building its defense capacity and containing and degrading terrorist networks in Africa."
He added that one way the U.S. military supports its partners is through intelligence, surveillance and reconnaissance (ISR) collection and sharing that information with our partners.
Currently, ISR operations are conducted out of Nigerien Air Base 101 in Niamey. Upon completion of civil aviation assessments of the recently completed runway, Nigerien Air Base 201 in Agadez will offer enhanced capability to regional partners. Nigerien Air Base 201 will ultimately possess an ability to support an array of aircraft and missions to include added ISR options.
"Nigerien Air Base 201 will offer tremendous capability, agility, versatility and provides a range of security options to Niger," said Townsend. "This capability will benefit the entire region."
While awaiting the official assessment required by the Nigerien Civil Aviation Authority, the Nigerien Air Force and the U.S. Air Force agreed to begin flying limited operations at Air Base 201 on Aug. 1.
Ambassador Eric P. Whitaker noted that the commander's visit underscores the United States' commitment to training and equipping Niger's defense and security forces to counter regional threats and deter criminal activity as a part of our strong bilateral partnership.
"Our U.S. military and defense colleagues work with Nigerien military and police throughout the country," said Ambassador Whitaker. "Our goal is to enable Niger's defense and security forces to develop and sustain a professional force and contribute to peacekeeping efforts."
"Niger is a regional security leader," said Townsend. "We believe strongly in this shared partnership and look forward to continuing our cooperation in order to bring increased security and stability to Niger and the region."