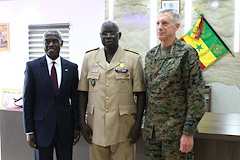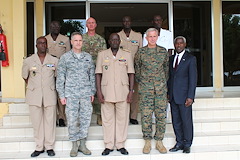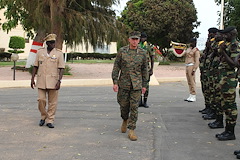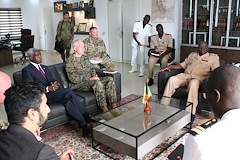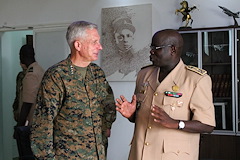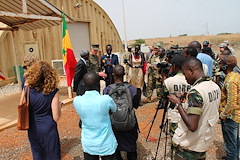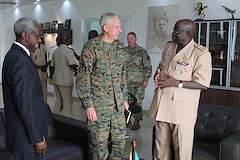 DAKAR, Senegal--U.S. Marine Corps Gen. Thomas D. Waldhauser, commander, U.S. Africa Command, met with several senior government and defense officials during his inaugural visit to Senegal on July 30 – August 1.
Senegal is a strong U.S. ally and as a regional, diplomatic, and economic partner. AFRICOM's primary support to the Armed Forces of has focused on building the maritime security, peacekeeping, and counter-illicit trafficking capacity.
Upon his arrival, Waldhauser, accompanied by the U.S. Ambassador to Senegal Tulinabo Mushingi, met with members of the local and international press at the Cooperative Security Location (CSL), located at Captain Andalla Cissé Air Base in Dakar, Senegal. This location is one of twelve U.S. CSLs across the African continent, and the U.S. are tenants of this Senegalese air base.
Waldhauser reiterated that AFRICOM has no intentions of establishing a permanent U.S. military base in Senegal, despite previous allegations in local reporting.
"This location is very important to us because it helps mitigate the time and space on the continent the size of Africa," said Waldhauser. "We're appreciative of the country to allow us to use this location to better address security issues in the region."
Members of the press were able to tour this 2.2 square-acre lot, which had episodically hosted U.S. forces to assist in various humanitarian assistance missions that build the partner nation's capacity.
Most notably in Dakar, the U.S. military coordinated with the Government of Senegal to utilize this location as a staging site for the Ebola crisis in 2014. Through this cooperative agreement, the U.S. was able to facilitate and expedite the transportation of equipment, supplies, and personnel to combat the epidemic and address the resulting humanitarian crisis.
During the remainder of his visit, Waldhauser met with the U.S. Embassy country team and participated in a roundtable discussion with several senior leaders of the Armed Forces of Senegal to include the Chief of Defense Staff, Lt. Gen. Cheikh Gueye, who reiterated its strong partnership with U.S. forces.
"We share the same core values as you do," said Gueye, "and we are proud of our relationship with the United States."
Both Waldhauser and Gueye discussed a variety of shared defense issues specific to Senegal, to include its defense support to The Gambia, its participation in MINUSMA (UN peacekeeping mission in Mali), and its robust relationship with the Vermont National Guard as part of the State Partnership Program.
This West African engagement was combined with a visit to Cabo Verde, where Gen. Waldhauser met with senior government officials and participated in the opening ceremony for Africa Endeavor 2018.