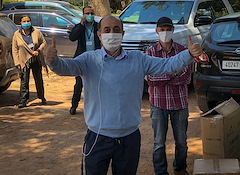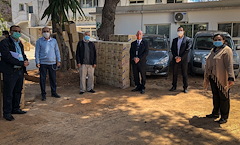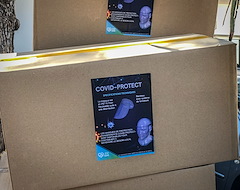 The U.S. Mission to Morocco, through the office of the Defense Threat Reduction Agency (DTRA), transferred a supply of personal protective equipment to laboratory technicians at the National Institute of Health and Hygiene April 28 in Rabat, Morocco. The equipment goes directly to safeguarding the lives of Morocco's healthcare workers who are on the frontlines in the fight against the novel coronavirus, helping them to continue testing and screening for COVID-19 with sufficient protections in place.
The equipment transfer highlights more than seven years of close cooperation between DTRA and the Government of Morocco, a partnership focused on saving lives and mitigating threats to ensure the national security of both countries.
"We are about investing in institutions, and in people, in the capacity of Moroccans to serve their country and their fellow citizens," said U.S. Ambassador to Morocco David Fischer. "At times of crisis like this, we can all be proud of the deep and long-standing relationship that makes this kind of cooperation possible."
Powered by Froala Editor