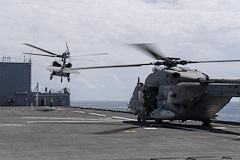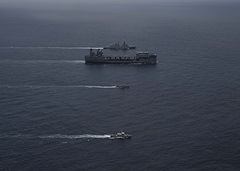 The Expeditionary Sea Base USS Hershel "Woody" Williams (ESB 4) arrived at Naval Station Rota, Spain, Oct. 22, marking the end of a 43-day underway operating alongside partners and Allies off the coast of Africa.
While operating in the U.S. Africa Command (AFRICOM) area of operations, the ship conducted six maritime evolutions alongside African partner nations, participated in a major multinational exercise, and conducted refueling operations.
Most recently, Hershel "Woody" Williams joined NATO Allies and African partner nations from for the French-led exercise Grand African Navy Exercise for Maritime Operations (NEMO) 2020, Oct. 5-9. The week-long exercise involved more than 30 ships and aircraft from 14 different nations, which conducted more than 20 scenarios on important maritime issues such as combatting illegal fishing, piracy, drug trafficking, pollution, and rescue at sea.
Grand African NEMO 2020 participants included Benin, Brazil, Congo, Democratic Republic of the Congo, France, Gabon, Gambia, Guinea, Italy, Liberia, Nigeria, Senegal, Togo, and the United States.
Capt. David L. Gray, commanding officer, Hershel "Woody" Williams, Blue Crew, said that the time underway in such a vital area of operations was an incredibly rewarding experience.
"It was very exciting to have been part of the French-led Grand African NEMO and to be invited back next year," said Gray. "It has been an absolute honor to be a part of our increased U.S. presence in Africa working and training alongside our partners and Allies."
While in the AFRICOM area of operations, Hershel "Woody" Williams also conducted:
A communication exercise with Cabo Verde;
A TRACKEX and PHOTOEX with the Ivoirian Navy ships OPV C.F. Sekongo and OPV L'Emergence, the Italian Navy Frigate Federico Martinengo (F 596), and the Abidjan Maritime Operations Center;
A TRACKEX with the Italian Navy frigate ITS Federico Martinengo (F 596) and the Ghanaian Navy Snake-class patrol vessel Ehwor (P 37), including joint flight operations between an Italian NH 90 helicopter U.S. MH-60S Seahawk helicopter, and a brief stop for resupply off the coast of Tema, Ghana, with the Ghanaian oil tanker African Runner and Ghanaian tugs; and
A TRACKEX with the Nigerian Navy NNS Prosperity (P 21), NNS Okpabana (F 93) NNS Nguru (P 187), and the NNS Ekulu (P 188) and the Lagos Maritime Operations Center; a UAV demonstration with the Nigerian Navy; and maneuvers and honors with Nigerian Navy frigate NNS Okpabana (F93) and Nigerian Navy patrol boats NNS Prosperity (P 21), NNS Nguru (P 187), and NNS Ekulu (P 187) in honor of Nigerian Independence Day.
Other operations and training the ship can conduct include support to Special Operations, command and control, and staging of equipment and other assets, as directed.
"The USS Hershel "Woody" Williams enables U.S. forces to execute a multitude of capabilities, including in support of theater security operations, maritime domain awareness, and a full spectrum of maritime operations from non-combatant evacuation to high-end warfare," said Gray.
Hershel "Woody" Williams is homeported in Souda Bay, Greece, and conducts AFRICOM missions in the Mediterranean and the waters around East, South, and West Africa to include the Gulf of Guinea, operating with regional partners. The ship will be a long-term presence assigned to the AFRICOM mission set and will support security cooperation missions and operations in and around the African continent.
U.S. Naval Forces Europe-Africa Fleet, headquartered in Naples, Italy, conducts joint and naval operations in order to support regional allies and partners and U.S. national security interests in Europe and Africa.