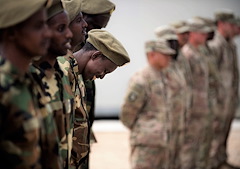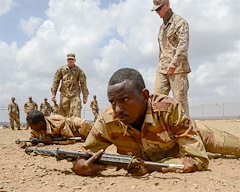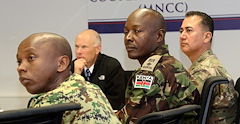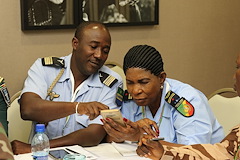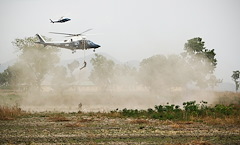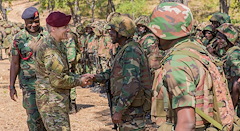 As U.S. Africa Command celebrated its tenth anniversary, 2018 was another milestone year for the command.
Initially activated on Oct. 1, 2007, AFRICOM became fully operational as a unified combatant command a year later. Since then, the command has worked with our African, international, and interagency partners to help establish a more secure, stable and prosperous African continent.
Building Partner Capability
AFRICOM's core mission remains one of helping our partners to strengthen defense capabilities. Many of AFRICOM, and its components, efforts are focused on military-to-military engagements, programs, and exercises.
In Fiscal year 2018 (Oct. 1, 2017 – Sept. 30, 2018) AFRICOM and its components conducted more than 1,300 theater security cooperation events in more than 45 African nations. Some of these events marked historical firsts while others built off of previous engagements.
In April, 34 Uganda People's Defense Force soldiers made history as the first UPDF service members to become civil affairs qualified. The soldiers graduated from a 10-week Civil Military Operations course held at the Peace Support Operations Training Center at Camp Singo, Uganda. The course, facilitated by U.S. Army Civil Affairs Soldiers attached to Combined Joint Task Force-Horn of Africa, is the first of its kind offered at Camp Singo and founded in NATO civil military and U.S. military civil affairs doctrine.
In May, members of the Djiboutian Army's first ever Rapid Intervention Battalion (RIB), graduated from training. The training, provided by Task Force Bayonet, Texas National Guard, assigned to Combined Joint Task Force- Horn of Africa (CJTF-HOA), consisted of U.S. Army basic warrior tasks, U.S. Army combatives, and combat life-saving. The RIB's mission is to serve as a reactionary force to accomplish specified tasks directed by their higher command in the Djiboutian army.
In August, U.S. Army Soldiers with the 10th Mountain Division, based out of Ft. Drum, New York, completed logistics training with soldiers from Somalia's Danab (Lightning) Advanced Infantry Battalion in the country's capital region of Mogadishu. This is the second year U.S. Soldiers have provided logistics training and equipment in order to assist building the logistics network of the Somali National Army. The U.S.-led training built upon the ground work laid back in May 2017, when the 101st Airborne Division conducted the inaugural iteration of the course.
U.S. Air Forces Africa's Africa Partnership Flight is the premier security cooperation program which partners U.S. and African personnel to improve professional military aviation knowledge, skills and cooperation. In 2018, the program was held in Senegal, New Jersey and Germany. The German iteration, held in January, was focused on aeromedical training and was the first to ever bring together participants from Africa and Europe during the same event.
Multi-National Exercises
In FY 2018, AFRICOM and its components executed exercises that impacted more than 40 African nations, were supported by more than 90 international and regional partners, and involved more than 10,000 personnel.
U.S. Army Africa held its annual four-part Accord series of exercises. These regionally-focused exercises, are Unified Focus, Justified Accord, United Accord and Shared Accord. This year, Accord series training included discussions on the importance of professional militaries respecting the rule of law and human rights, on responding to allegations of abuse, and on the importance of female peacekeepers.
In 2018, Naval Forces Africa continued its Express series of exercises. Also regionally focused, the annual Express series aims to build the capacity of African nations in the maritime domain. The series consists of Phoenix Express, Cutlass Express, and Obangame Express. This year's Obangame Express included participation from the Somali Maritime Police, marking the first time in nearly 30 years that Somalia has participated in a security event outside of its borders.
U.S. Marine Forces Africa continued with its annual Exercise African Lion, which took place in Morocco and Tunisia. During the exercise, service members conducted low-level mountain flying, aeromedical evacuation training, combat off-load and on-loads, 81 joint-personnel drops, 21 low-cost/low-altitude parachute drops, 19 dirt landings, 18 free-fall parabundle drops, and 12 emergency aircraft egress landings.
Approximately 1,900 service members from more than 20 African and western partner nations participated in Flintlock 2018, Special Operations Command Africa's annual special operations exercise. Flintlock 2018 took place in multiple locations in Niger, Burkina Faso, and Senegal. Though Flintlock has been an annual exercise since 2005, this year's exercise was entirely facilitated by the special operations force units of the African nations with the support of western nations.
Building and Maintaining Partnerships
Conferences, symposiums, and other key events allow African partner nations, regional organizations, the U.S. and other international partners to come together, discuss shared challenges and learn from each other.
In April, forty African land force chiefs represented their countries at the sixth African Land Forces Summit in Abuja, Nigeria. Co-hosted by the Nigerian Army and U.S. Army Africa. ALFS was a weeklong seminar designed to bring together land force chiefs from nations across Africa to discuss and develop cooperative solutions and improve transregional security and stability.
In October, Air Chiefs and senior leaders from 28 African air forces along with senior leadership from U.S. Air Forces Africa met together for the 8th annual African Air Chiefs Symposium in Morocco. The AACS is an annual forum for air chiefs across Africa to meet together with the U.S. to discuss continental defense issues and increased cooperation among African air forces.
In 2018, there were multiple AFRICOM-led conferences covering topics such as logistics, public affairs, rule of law, intelligence, and communications.
In February, senior military intelligence officials from East Africa, Europe, the U.S., and Canada met during the East Africa Directors of Military Intelligence Conference. Other regional-focused directors of military intelligence conferences were held in North and West Africa.
In April, the Africa Logistics Symposium 2018, held in Ethiopia, brought together more than 80 logistical professionals from 21 African nations, four European countries, Japan and Brazil. The forum was sponsored by the African Union, in conjunction with AFRICOM.
The annual AFRICOM sponsored senior leader and communications symposium, Africa Endeavor, was held July 30-Aug.3 in Cabo Verde. Africa Endeavor 2018 brought together senior communications representatives from more than 35 African and Western nations and regional and international organizations to discuss communications challenges and share best practices.
Coordinating with our Allies and International Partners
Foreign Liaison Officers allow for direct coordination between partner nations. At AFRICOM there are FLOs from 11 countries and the European Union Naval Forces located at the AFRICOM Headquarters in Stuttgart, Germany. In addition, there are six countries represented within AFRICOM's component command staffs. There are another four countries that have representatives located at the U.S. European Command Headquarters in Stuttgart, but are shared between AFRICOM and EUCOM. Two countries have visiting FLOs, which means they regularly visit the command for coordination but do not physically have offices in Stuttgart or at the component commands.
At CJTF-HOA, FLOs are an integral part of the task force staff. FLOs educate the CJTF-HOA staff on their nations and help build cultural understanding. The benefits are mutual. FLOs located within the CJTF-HOA staff creates a deeper knowledge of the U.S. military and it helps build an understanding of AFRICOM's mission.
Key Leader Engagements
An important aspect of building and maintaining partnerships is continued engagement between key leaders. In FY 2018, AFRICOM and its components conducted more than 2,200 key leader engagements in Africa. U.S. Marine Corps Gen. Thomas D. Waldhauser, commander, U.S. Africa Command visited 16 African nations. Countries visited in 2018 include Cabo Verde, Djibouti, Ethiopia, Kenya, Libya, Mali, Niger, Senegal, and Somalia. U.S. Air Force Chief Master Sgt. Ramon Colon-Lopez, AFRICOM command senior enlisted leader, visited eight countries during FY 2018 including Ghana, Liberia, Malawi, and Uganda.
State Partnership Program
The Department of Defense State Partnership Program has been successfully building relationships for 25 years and now includes 75 partnerships with 81 nations around the globe. SPP links a unique component of the DoD - a state's National Guard - with the armed forces or equivalent of a partner country in a cooperative, mutually beneficial relationship. In Africa, there are 13 state partnerships.
In FY 2018, there were more than 100 SPP events in Africa that impacted more than 3,000 partner nation personnel. Partnerships include Benin, Ghana, Togo/North Dakota, Botswana/North Carolina, Djibouti/Kentucky, Kenya/Massachusetts, Liberia/Michigan, Morocco/Utah, Niger/Indiana, Nigeria/California, Senegal/Vermont, South Africa/New York, and Tunisia/Wyoming.
Senior Enlisted Leader Development
Developing senior enlisted leaders across the continent was a major focus of the Command Senior Enlisted Leader's office in 2018. For the second time, the Africa Senior Enlisted Leader Conference brought together Senior Enlisted Leaders from 25 African partner nations, the U.S. and NATO. One of the prevalent topics during the conference in 2017 was professional military development. This led to the creation of the Africa Enlisted Development Strategy.
As part of the strategy, AFRICOM will utilize several efforts such as mobile training teams and the DoD SPP to help enhance African professional military education institutions. The goal is to ultimately create regional centers of excellence that can train other African nation senior enlisted leaders.
The strategy focuses on four priority countries per year. In fiscal year 2019, Botswana, Ghana, Liberia, and Malawi are the focus countries. These countries were chosen because they are already leading the way when it comes to enlisted development in Africa. The Malawi Defense Force Sergeants Major Course, located at the Malawi Armed Forces College is a prime example of the emerging military education institutions gaining prominence in Africa. The Malawi institution is based on the construct currently in place at the NCO Leadership Center of Excellence at Fort Bliss, Texas. The Malawian academy's first offered course was in 2014 and to date has produced over 240 African sergeants major, both male and female, from 18 African countries.
Senior Enlisted Leaders were also included during U.S. Army Africa's African Land Forces Summit. Senior enlisted military leaders from 13 African countries, along with six U.S. service members, attended the event. While ALFS is an annual opportunity for African militaries to share their best practices and challenges, the Senior Enlisted Program's purpose is to discuss the benefits and constraints of developing noncommissioned officers throughout their careers.
Operations in Support of Partners
In 2018, AFRICOM continued to provide security in support our Somali and Libyan partners to help them degrade violent extremist organizations operating in their countries.
To support the Federal Government of Somalia's continued efforts to degrade al-Shabaab, U.S. forces conducted airstrikes targeting al-Shabaab. Alongside our Somali and international partners, we are committed to preventing al-Shabaab from taking advantage of safe havens from which they can build capacity and attack the people of Somalia. In particular, the group uses portions of southern and central Somalia to plot and direct terror attacks, steal humanitarian aid, extort the local populace to fund its operations, and shelter radical terrorists. The desired end state in East Africa is one in which terrorist organizations cannot destabilize Somalia and its neighboring states, nor threaten the interests of the U.S. and its international allies in the region.
In coordination with the Libyan Government of National Accord, AFRICOM conducted precision airstrikes against al-Qa'ida in the Islamic Maghreb (AQIM) and ISIS terrorists. AFRICOM is committed to maintaining pressure on the terror network and preventing terrorists from establishing safe haven. United States' goal in Libya remains a stable, unified Libya able to stand on its own, counter terrorism, partner with the international community, and deliver security and prosperity for all Libyans
Way Forward
As 2018 ends, 2019 is already shaping up to be another milestone year. Events, exercises, conferences, and engagements are already in the planning stages including the 2019 Africa Land Forces Summit which will be held in Botswana. These activities, guided by the National Defense Strategy and White House Africa strategy will help build the capability of our African partners, continue to develop partnerships and help establish security, stability and prosperity in Africa.